Why Building a House Is So Expensive?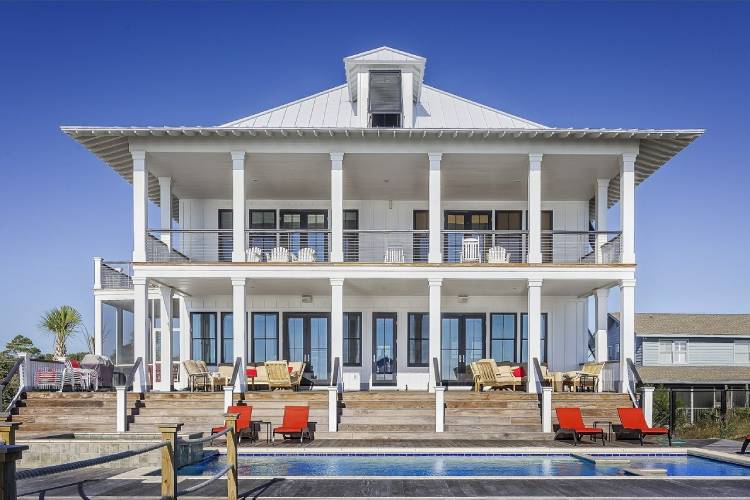 It's costly to build a house, and it can reach up to millions of dollars. A new home is actually 5 or 6 times more expensive than an existing one. And this is the important reason for the construction of a house to be so expensive! You'll need a lot of land, graded, drained, and landscaped, as well as associated construction work such as streets, walks, sewers, gas and electric cables, and so on to construct a house.
The construction cost is the central part of the expense involved in building a house. However, the overall price of your home depends on several factors. You'll have to hire a team of professionals who can help you make decisions about the building process. You shouldn't make all the decisions yourself; otherwise, it may cost more.
Reasons for the Increase in the Price of House Building
Several factors lead to the increase in the price of house building. A few of them are given below:
The Real Estate Market is in Full Swing
Due to the increase in demand in the housing market, the price of land has gone up. The price of construction materials is also increasing day by day, mainly due to high transportation costs and import charges. With the rising population, the demand for new homes is also growing. And with increased demand, the prices of home construction have increased. It is an interrelated phenomenon that is closely linked to the rate of economic growth. If the economy is doing well, people save more money to buy their dream home. This boosts the demand for new homes and also increases their prices. The low-interest rates on bank loans have also fueled demand for building materials. Individuals have borrowed against their homes' equity to finance projects.
Supplier Chain Disruption
When the COVID-19 epidemic struck the United States in March 2020, it wreaked havoc on the economy. Because millions of individuals stayed at home to battle the virus, supply chains became more vital than ever. Many products around the nation have been slowed due to the epidemic, and companies have had problems obtaining many resources. It also affected the construction business, which directly caused the rise in the prices of House buildings.
The Price of Land has Gone Up
If you have plans to build a house, then the price of land will play a significant role in your decision-making. The reason is that this cost goes into determining the final selling price. With time, especially in urban regions, prices will continue to rise. This phenomenon happens because more people are looking to buy land in a particular area. If you can locate an affordable piece of land, the chances are that it will be very far from your place and may require significant renovation. Also, don't forget about the price of digging utilities such as electricity and water hookups for your new home.
Inspection Costs
There must be multiple inspections to guarantee that your new home complies with local and state laws. The builder may take care of this for you, but who will pay for it? It's a good idea to have an independent third party conduct a last inspection before signing off on the house (not the builder). You should add the cost of inspections into your budget. Read our article on what is the importance of home inspection.
Construction Regulations Have Changed
There is much more regulation involved in building a house today than there were years ago. This means that you will have to spend more time dealing with the local building authority and securing the necessary permits.
Your local building and planning office will receive plans. If there are any issues, the builder will be asked to make modifications. Even after approval, the builder must acquire a permit before beginning construction. These costs differ significantly from one jurisdiction to another. They can add a few thousand dollars to the overall cost of construction.
The Labor Cost has Gone up.
Labor costs are one of the primary reasons behind the increased house building price. Wages and salaries of labor have increased 4.6% till September 2021. The labor cost continues to grow because of several reasons such as inflation, shortage of available skilled labor, and lack of uniformity among employers regarding wages and benefits.
Inflation has also affected the price of house building because of the increase in the price of materials used for construction and services rendered.
Building Materials Costs Have Increased
Materials required for the construction of a home have become more expensive. The cost of the land on which you are planning to build your house has also gone up. House Building labor costs have also increased. Most merchants charge a lot more than they did five years ago.
For example, price of Copper, a highly used material in house building, cost $4,810/Ton in March 2020. However, the cost rose to $10 221/ton in May 2021. Concrete and cement prices, for example, rose from 165.8 in January 2018 to 183.6 in April 2021, according to the consumer price index of concrete and cement. The cost of lumber had also increased over the last several years, as seen in March when it was $311 per 1000 board feet but climbed to $1686 per thousand.
Many chemical factories were shut down by the winter storm in Texas, causing a delay in paint manufacturing. The cost of the home described by Bloomberg rose from $11,852 to $16,495. The drywall price has risen by more than 20-25% due to the increase in demand. In Texas, an enormous number of PVC goods are produced. Winter Storm Uri disrupted those operations, contributing to a price rise of nearly 50%.
If you plan to build your own home, you should do some market research before starting with the project. This will help you in saving money and time.
Also See: How much time does it take to build a New House?
Other Factors Affecting the Price of House Building
The size and shape of your house will also affect the cost. A bigger house costs more, but it doesn't mean that a smaller house is cheaper than a larger one. There are many other variables such as land value, geographical location, real estate costs, quality of materials used for construction, and so on that need to be considered when you're determining the cost of building a house.
Your geographical location also plays a vital role in determining the final price tag for your dream dwelling. The cost of building a house varies from state to state because the material and labor costs vary too.
See Also: How does location and size affect Real Estate? | Why Buying Bigger House is not always advisable?
Do your Homework
Because constructing a home might be quite expensive, it's essential to understand all the variables before proceeding. This will help you save time and money. Keep in mind that the cost of building a house is more than just the price of construction materials. So do your research before purchasing land or starting any construction project!
Also, don't forget to contact an attorney who can go through the construction agreement with you before signing it to begin the project and buy the house. You may also go through our blog on Mistakes to avoid while building a new house.
What Are Some Other Options for Increasing Housing Affordability?
If you're looking for an inexpensive house, then your best bet is to find a bigger plot of land but with less value. Under such conditions, it is possible to build a house at lower costs compared to the market price of similar size and quality houses in that area. Unlike traditional homes, modular homes are much cheaper to build. Such homes can be assembled in a factory and then delivered to your site. It's less expensive to build a modular home than to buy an existing one from the market!
To cut down on construction costs, you can look for inexpensive building materials such as low-cost foundations, carpeting, tiles, and insulation. You can also look for building materials made of recycled goods, which are cheaper and eco-friendly.
Conclusion
If you are in the market for a new home, then the chances are that it will be expensive. There is no way to avoid this reality if your goal is quality construction and modern amenities. However, there are some steps you can take to reduce the cost of building a house while still maintaining high-quality materials. One strategy would be to purchase land with less value but more space so that you have room for an affordable design without sacrificing aesthetics or functionality. You could also look into modular homes, which are cheaper than traditional houses but offer all the same features people love about their current living spaces! Finally, when shopping around for buildable materials, make sure they're eco-friendly and made from recycled goods because these typically come at discounted prices too!
Also See: Why buying a house is so expensive? | Should you Buy or Build a House?
Frequently Asked Questions
Is it costly to build a house?
The average cost to build a house is $280,00 to $ 300,000; however, the house building price may vary from one another. Depending on the options you select, the materials you choose, labor costs, and even where in the country you are building your home, the cost of a custom house will vary.
Is it cheaper to build a house or buy one built?
It is more expensive to build a house than buy one that has already been built, but some people find it's worth the cost if they can design their own home. A custom-built house also gives you more space and freedom when choosing finishes and decorations.
Is there a way I can reduce the cost of building a house?
Yes, there is. You can reduce the cost of building a house by choosing cheaper materials and using recycled materials. Also, it will reduce the cost if you buy land with less value but more space so that you don't have to pay extra for the land.
What is the most expensive thing when building a house?
When building a house, the most expensive thing is the land, which you buy at higher prices. Next, the labor cost is also a large part of building a house because there are many people involved in the process.
Why are new builds so expensive?
Building a new home is expensive because the custom home industry is a luxury business. In addition, many costs go into building a house, such as land, labor, and materials. These items tend to be expensive.