Leaving Denver? 5 Best Places To Move From Denver


VanLines Inc
Secure Storage
Easy Booking Process
Fully Trained Employees
GET QUOTE

Colonial Van Lines
Storage Services
Long-Distance Moves
Corporate Relocations
GET QUOTE

Moving APT
Available Nationwide
Award-Winning Movers
Extensive Vetting Process
GET QUOTE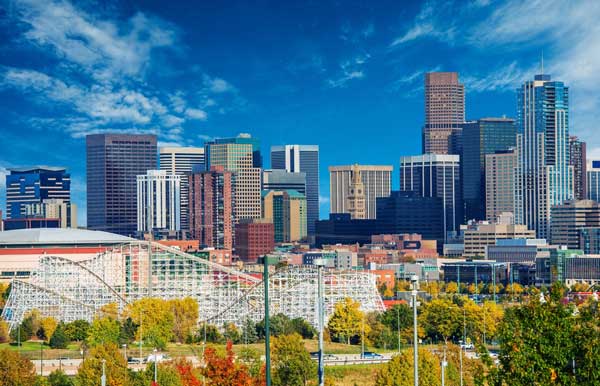 The city of Denver is known for offering a perfectly balanced life where the modern meets the outdoor. It can certainly be a top choice for many but living in a big city is not always the easiest or most affordable. So, if you are considering leaving Denver, know that you aren't alone. Many people have been moving from the Mile High City because of its sky-high cost of living, bad traffic, and limited public transportation.
Whether you want to move to a different city within the state of Colorado or completely want to move away to a different state, we've got suggestions. Here are the 5 best places for you to check out that probably will make you believe you're moving towards better things in life.
5 Best Places To Move From Denver
Fort Collins, Colorado
Colorado Springs, Colorado
Greeley, Colorado
Boise, Idaho
Santa Maria, California
Fort Collins, Colorado
If you are moving away from Denver due to its population and chaotic traffic but your heart still resides in the Rocky Mountains of Colorado, then Fort Collins should be your ideal pick. The city of Fort Collins has everything you can find in Denver along with more peace and less crowd. It is located in the northern part of Colorado and can be said as a better and more affordable alternative to Denver.
By living in Fort Collins, you will also save overall money because the cost of living is affordable. It is possible to stretch your budget and save in almost all the departments ranging from housing to groceries. The City of Choice is also a great pick if you want to move somewhere safer than Denver which has a pretty high crime rate. Fort Collins has less crime rate and a thriving job market with Colorado State University being one of the most important universities and job providers.
By moving here, you will have plenty of choices when it comes to jobs, ranging from tech companies, educational institutions, and breweries. You will never run out of options if you enjoy the outdoors. Fort Collins is also known as Colorado's Craft Beer Capital, so if your idea of fun is beer and outdoors, it's a match better than any dating profile can figure for you.
Downsides: Overall a great city, Fort Collins lacks the diversity that you must be so used to in Denver. It makes sense because Denver is a big city that is almost 6 times more populous than Fort Collins but it still can be a concern for many. You will also not be escaping from the extreme heat and chilly winters because both the cities are pretty close when it comes to the climate conditions.
Population: 1,76,000
Median Home Value: $557,048
Monthly Median Rent: $1,755
Median Household Income: $87,406
Unemployment Rate: 3.4%
Best Neighborhoods To Live In: Terry Point, Maple Hill, University Park, Old Prospect, Huntington Hills.
Colorado Springs, Colorado
As you must be aware, the state of Colorado is known for its natural beauty and charm. So if Denver is becoming too urban for you, then what better alternative than Colorado Springs. You would be living in the epitome of natural beauty. The stunning city is located at the eastern foot of the Rocky Mountains, near glacier-carved Pikes Peak in the state of Colorado. Colorado Springs is known for various natural attractions and you will experience the best quality of life because Colorado Springs is known to provide exactly that.
The weather plays an extremely important role in the overall quality of life. In terms of weather, Colorado Spring can be a dream come true because the city has pleasant weather year-round so, for most days, no harsh winters or brutal summers. You and your family will have plenty of outdoor activities to experience on the weekends and the breathtaking Garden of Gods is located at the center of the city.
The city is not only gorgeous but also one of the most affordable places to live with a community that takes a healthy lifestyle very seriously hence it is preferred by many veterans too. The job market of the city is also pretty solid with varied job opportunities. The city is also home to U.S. Olympic Training Center and Olympic Committee so if you and your children are into sports, you can not ask for stronger roots.
Downsides: One and probably the only downside of otherwise perfect Colorado Springs is its high crime rate. The city of Colorado Spring has high crime rates in the states of Colorado and even in America so you might not feel completely safe while living the otherwise perfect life. The increasing homelessness can be one of the prime reasons behind the growing crime rate in the city.
Population: 495,182
Median Home Value: $469,987
Monthly Median Rent: $1,465
Median Household Income: $84,708
Unemployment Rate: 4.1%
Best Neighborhoods To Live In: Park Hill, West Side, Spring Creek, Kissing Camels, Briargate
Also read: Best Moving Companies In Colorado
Greeley, Colorado
Another great alternative to Denver, the small town of Greeley can offer you the perfect peace and quiet if you prefer calm living over the chaos of the city. Greeley is known as one of Colorado's richest agricultural regions and will be a great place for families. It isn't for everyone because it's an old and humble town but it will certainly be an ideal place for those who prefer local restaurants, tall trees, and authentic adorable shops.
The charming town also has one of the best healthcare facilities and top rates schools to help you set a strong and safe foundation for your family. The city of Greeley offers you various outdoor activities and places to explore at an affordable cost of living and housing. Living in Greeley will save you from the traffic and sky-high housing rates.
Downsides: If you are a big city person, Greeley might not be the best for you because it is an old agricultural town that is still set in its ways and likes to keep it that way. You can miss the modern comfort and fast-paced life of Denver.
Population: 112,171
Median Home Value: $428,359
Monthly Median Rent: $1,374
Median Household Income: $72,302
Unemployment Rate: 4.2%
Best Neighborhoods To Live In: East Greeley, Auburn, Kelly Farm, Summer Park, Fox Run
Boise, Idaho
If a long-distance move is on the table and you don't mind leaving the state of Colorado, Boise can be a great fit for you. Many people from Denver are moving to Boise because of its low crime rates, plenty of healthcare, and affordable housing options. If you prefer a compact city with less traffic yet proper amenities, Boise should be for you. It is not too big to fall into a big city category but has all the facilities and connectivity that one might need for a comfortable life.
Just like Denver, you can easily drive up to many great outdoor activities places and the overall cost of living will be 15.9% cheaper in the city of Boise as compared to Denver. Boise has also been ranked as the fastest-growing city. It can offer you a perfectly balanced life with your family, it has a wonderful food scene and great walkability. Even if you are considering a place to retire, it can be an excellent fit because of its wonderful hospitals, clean and huge public parks.
Downsides: The city of Boise is not as great as Denver in terms of Diversity. One major con can be the fact that you will experience a strong stink in and around the city due to various sewage plants along with over 170 landfills concentrated in the city.
Population: 230511
Median Home Value: $534,806
Monthly Median Rent: $1,574
Median Household Income: $82,424
Unemployment Rate: 3.1%
Best Neighborhoods To Live In: Barber Valley, Depot Bench, East End, Downtown, Highlands
Santa Maria, California
The state of California is a wonderful place to be and the city of Santa Maria can be an ideal place to move to if you do not want to live in the big cities like Los Angels. Unlike many cities in the Golden State, the crime rate of Santa Maria is not that high and it will also be not too heavy in your bank account. Agriculture and Manufacturing are the major industries in the city which offer plenty of work opportunities and not to forget the pleasant California weather.
You will be living in the heart of a city that is known for its amazing wine and barbecue. You and your family will not run out of good food options. Preisker Park is one of the main gardens of the city that offers you various fun activities. The city has some great schools that are run by Santa Maria Joint Union High School District and you will also be in close proximity to many good colleges and universities.
Downsides: Though the city is a lot cheaper in terms of cost of living as compared to many cities in the state of California, it still is pretty expensive in terms of living. The crime rate in the downtown area is also high so you should be cautious while selecting which neighborhood you will live in.
Population: 107,399
Median Home Value: $569,284
Monthly Median Rent: $2,208
Median Household Income: $76,951
Unemployment Rate: 4.7%
Best Neighborhoods To Live In: Nipomo, Guadalupe, Casmalia, Huasna, Orcutt
See Also: Best Neighborhoods in Denver for Singles and Young Professionals
Summing Up
The city of Denver must have been a pleasant experience but it certainly is not for everyone and we hope that this article offered you the clarity that you might be seeking before settling on the decision to relocate to a new city. You can have a similar or even better life without compromising on the beaches and affordability.
We are hopeful you will find your next home city in our top picks. We will strongly advise you to look at the job market and secure a job before making the final move. Lastly research well about your new place and once there try to fully immerse into the culture and vibes of the new city.
See also: Best Moving Companies in Denver CO
FAQs About Leaving Denver
Where Is The Best Place To Live Near Denver Colorado?
Denver is a great city with many great places within and around the city to live in. If you do not want to live in the main city, there are great options around in form of various suburbs. Some of the best suburbs around Denver are Lakewood, Golden, Ken Carolyn, Littleton, Columbine, Centennial, etc depending upon your choice of preference and budget.
Where Should I Not Live Near Denver?
Every city has some bad areas and so does the city of Denver. Capitol Hill, City Park, Five Points, Auraria, Baker, and Stapleton are some of the most unsafe neighborhoods in the city that you should probably avoid for your own safety.
What State Is Most Like Colorado?
The state of Colorado is an amazing state and is one of the most loved states in the country but the state shares similarities and borders seven American states that include Kansas, Oklahoma, Wyoming, Nebraska, Utah, Arizona, and New Mexico. Utah, Arizona, New Mexico, along with Colorado are known as the Four Corners so you will find many cultural overlaps in these states.