Moving to Denver | 2020 Cost of Living & Relocation Tips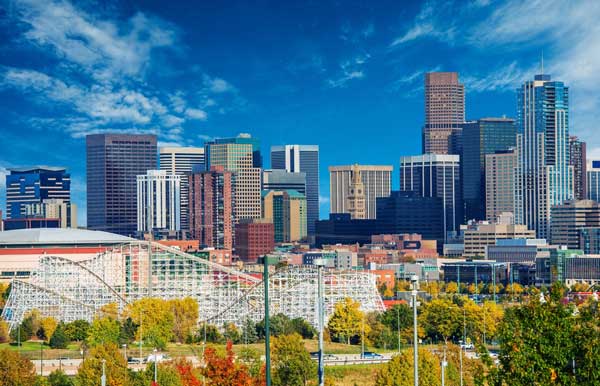 Denver, CO is one of the fastest-growing cities in the U.S. Its plentiful selection of outdoor activities, love for animals, and splurging economy all contribute to the city's tremendous growth. Moving to Denver is a big change for anyone coming from another state or even one of the smaller towns in Colorado. Use the information below to ease the transition and enjoy the city of 682,600 the way that you should.
Did You Know?
The Denver/Aurora metro area is home to more than 2.8 million people. English is the official language in Denver, although more than 145 languages are spoken by the city's residents. This includes Spanish, Arabic, Zuni, and Somali, among others.
See also: 10 Best Cities to Live in Colorado
Moving Costs to Denver, CO
Online moving calculators help better determine the costs to relocate to Denver from your current state or country. Factors that affect the moving costs include the amount of stuff being moved, distance, moving company chosen for the move, etc. It's best to get quotes from a few moving providers and research several moving options to find the deal best suited for your needs.
Housing Costs in Denver
Denver is mixed with homeowners and renters so you will fit in with others no matter which category you fall into. How much does it cost to by a home in this beautiful Colorado city? $410,600 is the average median price for a two-bedroom, single-family home in Denver. This price is considerably less than comparable large cities. For example, a two-bedroom single-family home in Los Angeles has a median sales price of $709,400 while a two-bedroom apartment in New York City averages a median sales price of $916,304.
Rental rates are equally affordable in Denver in comparison to other major cities. A three-bedroom in the downtown Denver area rents for an average price of $3,200 monthly while outside the downtown area rates average $2000 monthly. London, Los Angeles, Sydney, Dubai, New York City, and many other major cities rent for 30%+ more per month. Of course, many more affordable cities are also out there, including Houston, Paris, and Toronto.
How to Save Money on Denver Housing Costs
Many Denver residents share homes to split mortgage and rental costs. Many sites make finding a roommate simple, including Trulia, Craigslist, and others. Consider the different Denver neighborhoods to find something that is more affordable for your budget. The downtown area, Capital Hill, and the Golden Triangle Museum District are among the most expensive in Denver. Five Points is a friendly, affordable neighborhood that many newcomers choose. It's trendy and close to the hottest marijuana spots for those with an interest. And, of course, if you buy a home, you'll find cheaper rates for your monthly mortgage payment.
Food & Grocery Costs in Denver, Colorado
Denver has a variety of restaurants and grocers to choose from. The usual fast-food chains are spread throughout the city and you'll find the organic, local producers as well. It costs an average of $22 to dine out at an inexpensive Denver restaurant, while you'll spend about $6 for a cup of coffee at a local coffee shop. Vegetables are exceptionally affordable in Denver. All locally sourced produce keeps prices low. A gallon of milk costs about $2,50 while a dozen eggs cost $2.00. New York City restaurants and food prices are 24.5% more expensive than Denver prices. Een Los Angeles restaurants are about 4% more expensive than Denver.
**Tip Time**
There are hundreds of grocers in the metro Denver area. Research the grocers, check out the sales ads, use coupons, and comparison shop to find the best deals on all the items needed to stock your kitchen. Don't forget the awesome farmer's markets found in the area, as well as the ethnic markets.
Restaurants are also plentiful in the city. You'll find five-star eateries just as easily as you'll find a Carl's Jr. or a McDonalds. There are also some pretty nice food trucks that locals love. You'll find those you love the most in due time. There are also tons of local mom and pop style restaurants. Add your name to email newsletter lists, take advantage of coupons, and dine during special priced happy hour and other special evenings for savings when you dine out.
Alcohol in Denver
Denver is home to a large number of craft breweries and hangout spots that will fill your time with fun and great beer. You'll also find an assortment of name brand beers, cocktails, liquor, wine, and more. A pint of beer at a bar or restaurant costs about $5.00 while a bottle of wine at the supermarket or liquor stores average a cost of about $25.00. Keep an eye peeled for happy hours at local establishments to save money on alcohol -and experience a good time. It's a great way to meet people and make friends when you're a newbie to the city.
Transportation in Denver
Denver has a great public transportation system offering public bus and rail. More than 1,000 buses serve 125 routes throughout the city. The railway provides even quicker and more efficient transportation throughout the city. A single bus ride for an adult costs $2.60 or an all-day ticket costs $5.20. Buy a monthly pass for $99.
Many people use Denver public transportation to get around, however, alternatives include biking, which is a popular activity for many people in the city, as well as walking, which is possible for people who live in many Denver neighborhoods.
Owning a Car in Denver
Many people in Denver prefer the convenience that comes when they own a car. Rush hour can be pretty hectic. Out-of-state drivers must update their address upon moving to Colorado. Foreign drivers may hold their license for up to 12-months as a tourist but must get an American license after this time. Costs of buying a car in Denver are average for other major cities. Auto insurance rates in Denver average $1,355 for women and $1,223 for men per year. Use public transportation to save money and look for carpools and car-sharing as additional ways to save money on car costs.
Denver Taxes
Everyone in Colorado is subject to state and federal taxes. Sales tax in Denver is currently set at 7.65%. Tax is charged on most goods and services offered for sale in the city. Rates for marijuana sales in the city are slightly higher than the current sales tax rate. Property tax is added to home purchases and there is a real estate transfer tax in the city.
How Much Does it Cost to Fly to Denver, CO?
Flights to Denver vary in cost. Many factors influence the cost of the flight, including the airline, the time of the flight, the number of layovers, and other similar information. On average, however, a flight from New York City to Denver costs about $391 while a flight from Los Angeles averages a rate of $312. Just as you want to compare the costs of other services before moving to Denver, it is also important to compare costs of flights before booking in order to get the best rates.
Moving to Denver: Important Information
Denver is filled with many bars, pubs, nightclubs, and other hot spots that make it easy to meet other people. The city also offers many groups offering various sorts of activities for various interests. Finding new friends upon arrival in Denver is fairly simple. Many events take place in Denver throughout the year to support various activities and interests. Make plans to attend the events of interest to enjoy your new activity and make a few new friends.
Families also fare well in Denver. Excellent schools and low crime rates are two perks of the city. Families tend to fare well in the Washington Park neighborhood, as well as Highlands. There are many recreational activities for families in each of these neighborhoods, though finding kid-friendly fun is possible no matter where you're at in Denver. The Denver Zoo, Science Center, the Art Museum, Red Rocks Park and many other activities are available.
See also: 12 Best Places to Raise a Family
Technology, telecommunications, and travel are the city's top three major employment areas, although careers and jobs exist in a versatile range of categories. Rate of pay differs greatly from one industry to the next. Minimum wage in Denver is currently set at $11.20 bt will raise in the next years. Denver was ranked fourth by Forbes on the list of 'Best Places for Businesses and Careers' in 2014 and again in 2016.
Moving to Denver is exciting, but if you're not prepared it can certainly cause some anxiety. Use the information above to ensure a smooth, stress-free move to Denver and enjoy the city and all the fun that it offers without the worry that you don't. Denver is a great place to live in 2020 and beyond.
See also: Moving to Colorado