Moving to Florida | 2022 Cost of Living and Relocation Tips


VanLines Inc
Secure Storage
Easy Booking Process
Fully Trained Employees
GET QUOTE

Colonial Van Lines
Storage Services
Long-Distance Moves
Corporate Relocations
GET QUOTE

Moving APT
Vetting Process
Award-Winning
Available Nationwide
GET QUOTE
Our Take
Price
Rating
Minimum Shipment Size
Storage
Booking Deposit
Cancellation Policy
Quoting Options
Discounts

Best Overall Value


GET QUOTE

2+ bedrooms




Free 30 Days




10%

Free up to 72 Hrs

Phone / FaceTime / Text

Senior / Same day Booking

Best Industry Reputation


GET QUOTE

1+ bedrooms




30 Days




20%

Free up to 72 hrs

Phone / Facetime

Seniors Discount

Best Customer Service


GET QUOTE

1+ bedrooms







Free up to 72 hrs

Phone / Virtual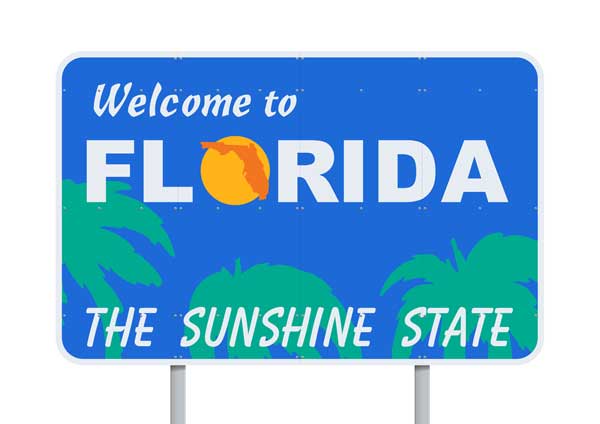 Things to Know and Consider Before Relocating to Florida
Statistics don't lie – every day one thousand people move to the State or Florida. With a nickname like "The Sunshine State", Florida is a popular destination for those seeking warmer climates and a slower pace. It also features some of the most beautiful beaches in the world and nightlife that is second to none. In short, Florida offers something for everyone, but for those who are considering a permanent move, there are some main considerations to keep in mind before relocating to the sunshine state.
Weather
The most compelling reason to relocate to Florida for many is it's fabulous weather. You can expect sub-tropical climates that feature lengthy summers and mild, short winters. In the northern part of the state, temperatures are in the mid-50's. In the southern part of the state, average temperatures are in the upper 60's. Rainfall is frequent – Florida receives about 55 inches a year. Brief, 45 minute rain showers in mid-afternoon are a common occurrence in the summer and they serve to cool down the peninsula.
Older population
Florida is famous for its retirees. Seniors flock to Florida for its year-round warm weather and tax-friendly laws. Florida offers some of the best 55 and older living facilities that cater to the senior generation. Brimming with activities and events designed to promote the senior lifestyle, Florida is the place to be for those entering their Golden Years.
Wildlife
Florida's Alligators get most of the publicity, but Florida is known for a diversified array of wildlife. You will encounter any number of exotic land and sea animals when you take up residence in Florida.
Land Animals
Pythons, iguanas, alligators, raccoons, opossums, fox squirrels and armadillos are all common land animals you can expect to see in Florida. Therefore, hike and swim with caution and be reminded that pythons will commonly curl up under a porch.
Aquatic Animals
Featuring the largest number of amphibians than any other state, Florida has frogs, lizards, turtles and a variety of freshwater rivers, tidal flats, lakes and the Atlantic Gulf Stream for fishing enthusiasts.
Insects
Florida's landscape and year-round warm weather give rise to a host of insects such as spiders, fire ants and palmetto bugs. Some lesser-known insects that are common in Florida are walking sticks and cicadas. Keep a fly swatter handy and find a local exterminator when you move in.
Birds
Florida is home to nearly 500 native bird species.
Plants
Florida's climate is subtropical and supports nearly 4,000 flowering plant species that thrive in the sun such as palms and orchids. Florida is also home to the most tree species in the country.
All of the above make their homes along Florida's rivers, lakes and canal banks.
Nightlife abounds – in select locations
Just like the senior contingent does not dominate the entire state of Florida, neither does the nightlife. There are select cities where nightlife lives – Miami primary among them. The southern part of the state is known for its nightlife scene. A little further north of Miami is Fort Lauderdale which is a known party town. On the West Coast, Clearwater and Tampa also have their nightlife sub-sects. These are the most well-known party towns in Florida but you must hunt and peck your way around the State to take advantage of the best Florida nightlife.
North and South Florida
The northern part of the state features the capital and the weather differs greatly from that of southern Florida. Southern Florida features a Latin – Caribbean influence and is far harder than the northern part of the state. Climate change also is impacting the southern part of the state with regard to rising sea levels. The northern part of the state has not seen such an impact relative to climate change thus far. The cultures of southern and northern Florida are very different and you should consider these influences if you are purchasing a home in Florida.
See also: Florida DMV Change of Address
Florida Weather & Terrain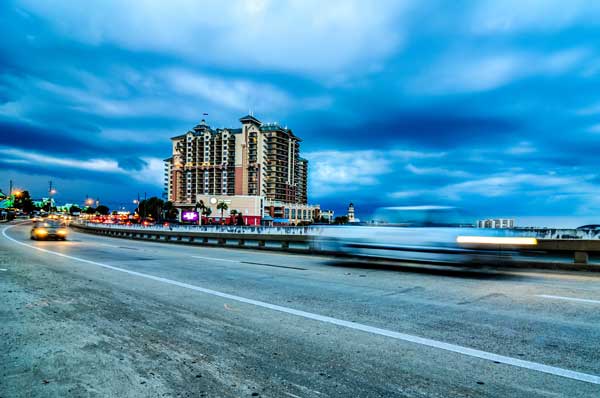 Hurricane Heads Up
The southern part of the state specifically is where most hurricanes strike. If you are considering moving to Florida-specifically South Florida – you should become familiar with hurricane safety. It is more likely than not that you will encounter at least one hurricane during the time you reside in Florida. Understanding what is required during a hurricane in terms of safety precautions is important because boarding up windows or taking up shelter with no electricity for any period of time can be a major inconvenience if you're not prepared.
Sinkholes
Because Florida sits on an unbroken bed of limestone, sinkholes are common. Sinkholes are more common in Florida than any other state – the ground opens and engulfs homes and cars. This is a legitimate concern that you should investigate before making any definitive plans to move to Florida.
Politics is big
As many people know, Florida is considered one of the main swing states in politics. This means that there are heavy political campaigns throughout the state throughout the year. Expect to be bombarded with political advertisements, announcements and propaganda just about every day of the year. Political discussions are frequent and you may receive a number of knocks on your door from advocates of each political party.
Tremendous Tourism
Florida is a known tourist destination and features a number of well-known tourist attractions. Miami is known for its night life and art – deco culture. Fort Lauderdale is a well-known spring break town. Orlando has Disney World and there are also the Everglades, the Florida Keys and beaches up and down each coast. Understand that thousands of tourists will likely enter any city you move to so be prepared to encounter out-of-towners just about everywhere.
Visit Disney World
A world famous attraction, visiting Disney world is almost a must whether you live in Florida or not. Visiting universal studios while you are at Disney World also should be on the agenda. Disney World is a Florida staple and taking the time to experience something so heavily embedded in Florida culture and history is worth your while if you are going to move to the state.
Sports – NASCAR, Golf & Baseball
NASCAR
The Daytona 500 is almost as well-associated with Florida as Disney World is. NASCAR has a very heavy influence in Florida. The Daytona 500 is also known as the Great American Race and taking it in at least once will get you into the vibe of true Florida culture.
Golf
Florida is known for its lush golf courses where the temperature is always right for a round of 18 holes. There are numerous professional and amateur golf tournaments held in Florida pretty much every month of the year. Golf enthusiasts swear by Florida's courses, so be prepared to encounter them on a regular basis. Taking up the sport also isn't a bad idea since it is good exercise and will enable you to make fast friends.
Baseball
Featuring Major League Baseball, Florida has exhibition games starting in February extending through the regular season into September. Tickets are not that expensive and it is a nice night out with family and friends.
Florida's History & Nature
History
"La Florida" was settled by the Spanish empire when America was under Spanish colonization. Saint Augustine is the nation's oldest city and was founded by admiral Pedro Menéndez de Avilés (the first Governor of Florida) on September 8, 1565. The city served as the capital of Spanish Florida for 200 years. Florida has some of the nation's deepest Indian tribe roots tracing back to native Creek Indians who are now known as Seminole (meaning "wild people" or "runaway"). Creek tribes migrated from Alabama and Georgia to escape conflict with Europeans, ultimately settling in Florida in search of new fields to plant their crops.
Nature
Florida offers more than just beautiful beaches and coast line. For outdoor enthusiasts, there is hiking, kayaking, zip lining,hot air ballooning, wetlands to explore, underwater adventures, horseback riding, scenic trails and cycling.
Education
Top-Rated Florida Colleges
University of Florida, Gainesville, FL
University of Miami, Coral Gables, FL
Florida State University, Tallahassee, FL
University of South Florida, Tampa, FL
University of Central Florida, Orlando, FL
Florida International University, Miami, FL
Florida Institute of Technology, Melbourne, FL
Nova Southeastern University, Ft. Lauderdale, FL
Florida A&M University, Tallahassee, FL
Florida Atlantic University, Boca Raton, FL
Top-Rated Florida Schools
School for Advanced Studies, Miami, FL
Pine View School, Osprey, FL
Young Women's Preparatory Academy, Miami, FL
Westshore Junior/Senior High School, Melbourne, FL
Stanton College Preparatory School, Jacksonville, FL
Design and Architecture Senior High, Miami, FL
Archimedean Upper Conservatory Charter School, Miami, FL
International Studies Charter High School, Miami, FL
Jose Marti Mast 6-12 Academy, Hialeah, FL
Edgewood Jr/Sr High School, Merritt Island, FL
Cost of Living and State Income Tax
Cost of living in Florida
The cost of living in Florida is notoriously low. Because of the warm weather, you will spend less money on fuel, heating and winter clothing. However, you may be required to purchase a flood insurance policy if you are buying a home that is designated in a flood area. Flood insurance can be very expensive and you should check if the area that you are moving into lies in a flood zone.
See also: Top 10 Largest Cities in Florida
No state income tax
Florida has never had a state income tax – dating to the state's origin in 1855. Because Florida has a large number of tourists and students, the state pushes taxes on sales (6%), tourists ("bed taxes") and student services (cable, internet and utilities) because their tuitions are among the lowest in the country. Residents also pay higher than normal fees for cable, internet and utilities in comparison to other areas of the country.
Employment in Florida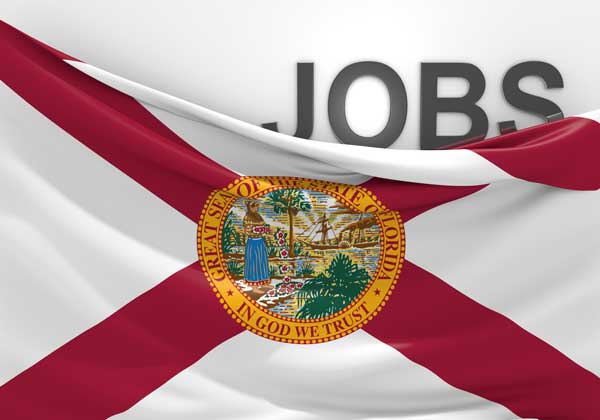 Hourly salary in Florida ranges between nine dollars and $30 an hour. The top 12 jobs you are likely to find in Florida are:
Commercial drivers
Hoist and winch operators
Construction workers
Building cleaning workers
Motorboat operators
Aerospace engineering technicians
Farm advisors
Forensic science technicians
Electrical technicians
Fiberglass fabricators
Amusement and recreation attendants
Pest control workers
The fastest-growing jobs in Florida are:
Statisticians
Reinforcing iron and rebar workers
Brick masons, stone masons and tile setters
Nurse practitioners
Insulation workers
Physician assistants
Roofers
Cement masons and concrete finishers
It should not come as a surprise that Walt Disney is one of the biggest employers in the state of Florida. After Disney, the next biggest employers are Publix, a grocery store chain, the healthcare industry and the public school system. Florida also has a lengthy growing season because of its warm weather. Therefore, employment in the agricultural industry is also plentiful. You can also expect to find employment in the aviation field, biomedical research field and exports.
If you are considering moving to Florida, you need to determine what region you want to inhabit before even considering a move. The southern part of the state has a heavy Spanish/Caribbean influence and is known for warmer weather, nightlife, hurricanes and a faster pace. You can expect tourists, traffic and a more transient lifestyle. The northern part of the state features the capital, cooler weather and is home to more retirees. There are fewer – if any – hurricanes and the way of life is a slower, more moderate pace. Establishing your geographical preference is the first of many important decisions you need to make when moving to Florida. Aside from geography, Florida offers a diversified history, a plethora of scenic, outdoor activities and fabulous weather that brings life to its world-famous beaches. Whatever your preference, your move to Florida should be carefully planned to ensure a prosperous and enjoyable way of life.
FAQs about Moving to Florida
Where should I move in Florida?
Naples, Tampa, Miami Beach, and Tallahassee are some of the best areas to move to in Florida state. Not only are they safe to live in, but they're rich in culture and also offer a wide variety of urban and outdoor facilities.
Is it expensive to live in Florida?
For the quality of living and the facilities available, we'd say that living in Florida is affordable. Especially considering how the Sunshine State has no income tax levied on its residents. Real Estate particularly is fairly affordable in Florida, with the median home value being approximately $245,169. But, remember that housing in Florida can fall on the pricier side, depending on where you choose to live, the cost of utilities, food, and entertainment can rise. The southern region of Florida has particularly high housing prices owing to scarcity of land.
Is Florida a good state to live in?
Yes, Florida is one of the best states to live in owing to its lovely climate, no state income tax, a thriving job market, and a large number of theme parks, beaches, and resorts to frolic in! For those who love the outdoors and sunny skies for the better part of the year, Florida is a great choice. The weather here is also favourable for most.
Where should I not live in Florida?
Don't live in Florida City, Lake City, Opa-Locka, and Lake Park since these areas in the state have the highest crime rates, and these also include instances of violent crime and property theft. You'll be shocked to know that Florida City's crime rating is -3.66 and it's third in line to be the most dangerous city in the U.S.
Why should I not live in Florida?
Florida witnesses some of the worst thunderstorms, hurricanes, and sinkholes in the United States. These end up causing great damage to homes and businesses, coming out of which can become difficult. Florida is also the lightning capital of the country, which kills around 10 people every single year. So these can be some factors which lead to people not living here.
Should I move to Texas or Florida?
It depends on what you're exactly looking for. If you're looking for a lower cost of living and the ability to buy a house, Texas is your best bet. But, if you're looking for a better quality of education for your kids and better job opportunities, then Florida is the place to be! Overall, Texas also has a higher crime rate than Florida. However, the density of population in Texas is lower than Florida, despite having a higher population.
What is a good salary in Florida?
An annual salary of $41,000 will allow you to live comfortably in Florida. However, don't forget to factor in locations, since some locations are cheaper while some are much more expensive to live in.
Is it cheaper to live in Florida or Georgia?
While many of you will find no difference in most criteria like taxes and utilities between the two states, living in Georgia will be 0.9% more expensive than living in Florida.
Is it cheaper to live in Tennessee or Florida?
Tennessee is definitely cheaper than Florida to live in with no state income tax and low food and utility costs. To put it into perspective, the cost of living in Florida is 7.1% more expensive than the cost of living in Tennessee.