Midland Van Lines
Full White Glove Carrier
Most Advanced Technology
Most consistent supply-chain
Call (203) 312-1594
Company Overview
Midland Van Lines is a family-owned and operated business in Denver, Colorado. Moving long distances is Midland Van Lines's specialty. Every year they help thousands of families move across the U.S.
Experience and going the extra mile set them apart from other national moving services; Midland Van Lines boasts a highly skilled and knowledgeable team with 15+ years of experience in interstate moving.
Midland Van Lines is ideal if you want to spend a little more to enjoy a seamless moving experience. They offer comprehensive moving services to fit your unique needs. Don't worry if you don't have an unlimited budget. If you book early with Midlands, you can receive up to 40% off the price of your move.
They are also well known for their white-glove professional moving services, great customer service, and innovative use of technology; the company has garnered an excellent reputation as one of the best in the business.
Services
➡️Long-distance moving
➡️Packing service
➡️Specialized moving
➡️Moving insurance
➡️Commercial moves
➡️Nationwide availability
Pros
No-strings-attached quotes
Advanced moving technology
Great customer service
Discounts of up to 40% for early bookings
Only hires movers with a minimum of five years' experience
Experts in long-distance moves
Experts in moving high-value items
Why we recommend Midland Van Lines
Customizable moving options
A one-size-fits-all approach may not work for everyone, as each individual or family has different requirements when it comes to moving. To go the extra mile for their customers, Midlands Van Lines provides personalized moving solutions.
A representative from Midlands Van Lines will create a customized plan to tailor their services to match your specific needs, including packing, storage, or additional services.
This level of personalization can make the transition to your new home smoother, as you can trust that everything is being taken care of in a way that fits your lifestyle and budget.
White-glove moving services
With Midlands Van Lines; you can expect nothing but the best from start to finish. Their team of highly trained and experienced professionals will handle every aspect of your move with white-glove care, ensuring that your belongings are transported safely and securely.
Midland Van Lines can also take on more unique or complex large homes or commercial space relocations. They are well equipped to transport heavy and valuable items like large furniture, antiques, and even priceless art.
It doesn't stop there. They offer secure packaging and complete crating solutions for your high-value items. Also, Midland Van Lines is insured for up to $200,000 in the unlikely event of property loss or damage.
Full-service moving option
If you're looking for a genuinely luxurious moving experience, Midlands Van Lines provides a full-service moving package.
With this comprehensive package, you can expect a team of highly trained professionals to take care of everything, from packing your belongings to unloading them at your new home.
Midlands's experienced movers will care extra for your high-value items if needed.
In addition, they offer concierge services such as unpacking and setting up your new home, and arranging for storage solutions for any items you may not want to bring with you.
With a full-service package, you can relax and let Midlands Van Lines take care of every detail, ensuring a seamless and stress-free relocation.
What Moving Services Does Midlands Van Lines Offer?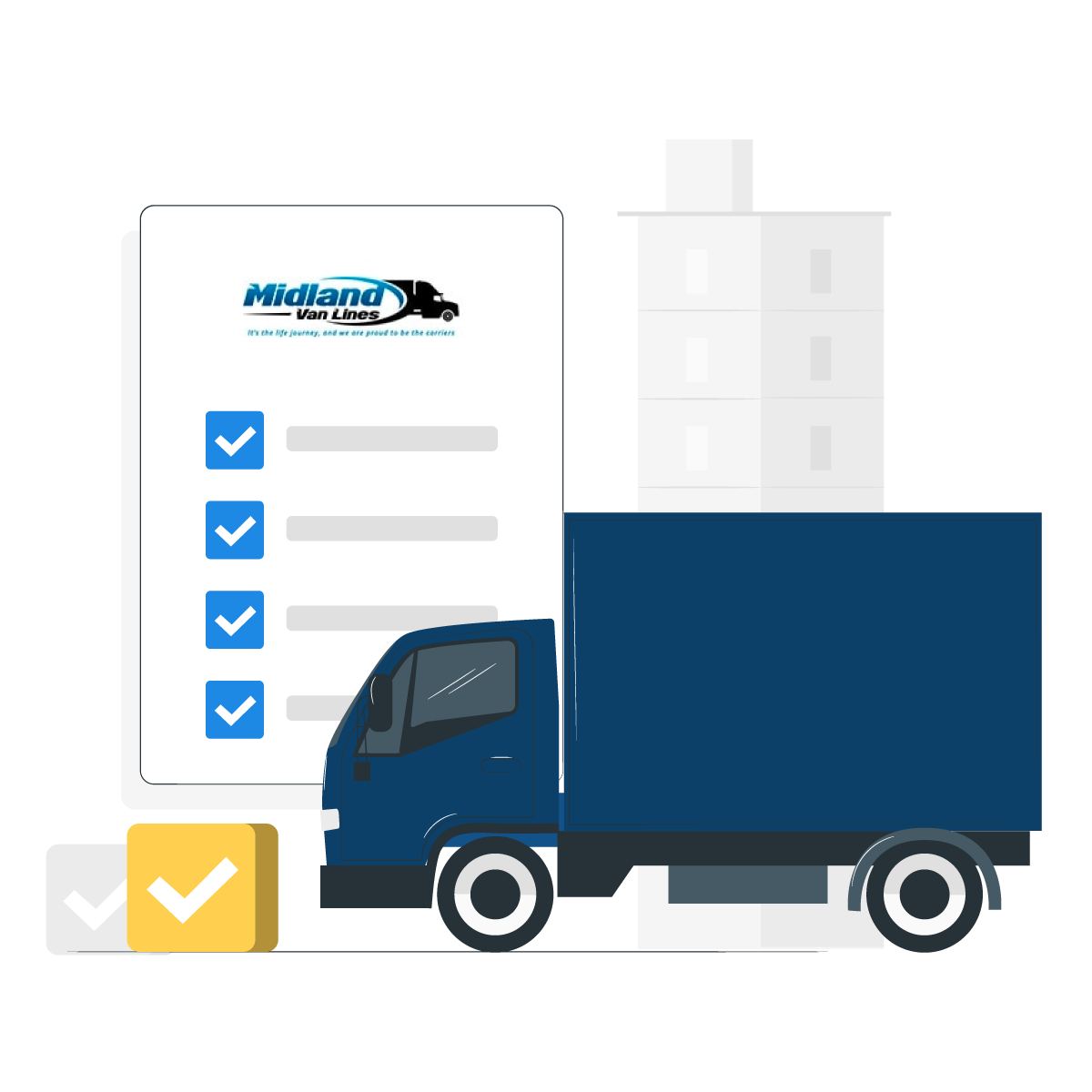 ➡️Long-distance moving
Midlands Van Lines has decades of experience in the moving industry and specializes in long-distance moving.
Because the business is family-owned and operated, they are committed to bringing that personal touch to all their services.
In addition to considering each client's specific needs and preferences, the Midlands team assigns an experienced moving coordinator to work with you to create a customized moving plan that meets your budget and needs.
Whether you're moving across state lines or the country, Midlands Van Lines has the expertise and resources to ensure your belongings are transported safely and securely, and that every aspect of your move is handled with care and precision.
➡️Specialized moving
Midland Van Lines offers more than just standard moving services. With their expertise and resources, they can handle complex relocations and transport heavy as well as valuable possessions.
The team is expertly trained to securely package and transport large furniture, antiques, and priceless artwork, and even offer complete crating solutions to ensure the safe delivery of your belongings.
➡️ Full-service packing
Midland Van Lines doesn't only offer specialized packing services for expensive antiques or works of art. If you want to take the entire packing workload off your plate, their packing services can help.
Their team can visit your home, organize your belongings, pack everything up, and complete the entire move on your behalf, allowing you to relax and enjoy a stress-free move.
Midlands's highly-trained professionals will carefully pack and secure your belongings, using high-quality materials and professional techniques to ensure everything arrives at your new home safely and in one piece.
They understand that your possessions are valuable, so they take great care to handle them respectfully. By opting for full-service packing, you can focus on other aspects of your move and leave the hard work to Midlands.
➡️Moving insurance
Midlands Van Lines provides white-glove moving services for large, complex moves that contain many high-value items. They understand the value and importance of your belongings and strive to provide a safe and secure moving experience. However, accidents can happen, and it's essential to be prepared.
To protect your belongings from loss or damage, Midlands Van Lines are licensed, bonded, and insured for up to $200,000, giving you the peace of mind that your items are in good hands.
➡️Commercial moves
In addition to residential moves, Midlands Van Lines offers reliable and efficient commercial moving services to help businesses relocate easily.
Their team of professionals is equipped to handle all commercial moving needs, whether moving to a new office, warehouse, or retail space. The company understands the importance of minimizing downtime during a move and will work with clients to create a customized moving plan that minimizes disruptions to their operations.
Midlands Van Lines's team is trained to handle all types of commercial moves, from heavy machinery to fragile electronics. They utilize specialized equipment to ensure a safe and efficient move.
The company also offers flexible scheduling options to accommodate the unique needs of businesses and can provide storage solutions if needed. Midlands Van Lines aims to make commercial moves stress free, allowing business owners to focus on what's important–running their businesses.
➡️Nationwide availability
Midland Van Lines offers nationwide availability for their relocation services. With multiple locations across the United States, their team of experts is equipped to handle moves of any distance easily.
Thanks to their vast resources and infrastructure, they can provide seamless and efficient moving services to customers, no matter where they're going.
The company's nationwide availability also means it can offer competitive pricing, leveraging its extensive network of resources and partners.
How Much Does Midland Van Lines Cost?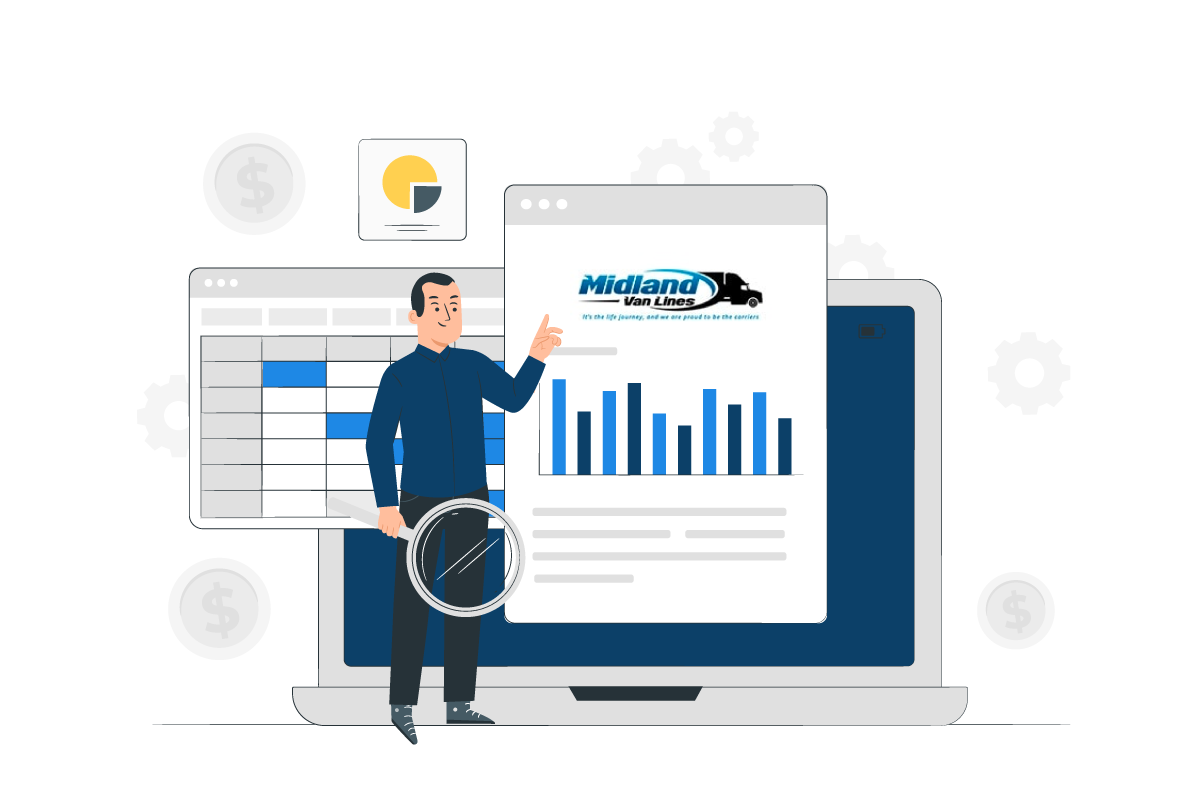 Midland Van Lines provides customers with high-quality, luxury, and long-distance relocation services.
That said, every move is different, and depending on how far you're traveling and how many belongings you own, the cost of a move will vary from person to person.
Because of how personalized determining each price is, Midland Van Lines does offer a free quote to anyone considering their services, and this is the easiest and most accurate way of finding out what the cost would be for you.
Considering your needs, a relocation expert can prepare a custom quote that includes general moving expenses, packing services, potential storage options, and even expedited timelines when necessary.
This quote is then given to you without any commitment required, allowing you to simply find out the price and then make an informed decision going forward.
Discounts
Midland Van Lines are considered a luxury long-distance mover; they also offer affordable pricing options, including up to 40% off if you book early.
Don't worry if you don't have an unlimited budget. Midlands Van Lines strives to generate significant savings for their customers and frequently runs promotions that reward them for booking early or requesting a free quote.
Interested customers can fill out the free quote form on their website to connect with a relocation expert who can provide information on discounts and savings. Midland Van Lines is committed to providing affordable and dependable moving solutions to meet the unique needs of their customers.
Booking Process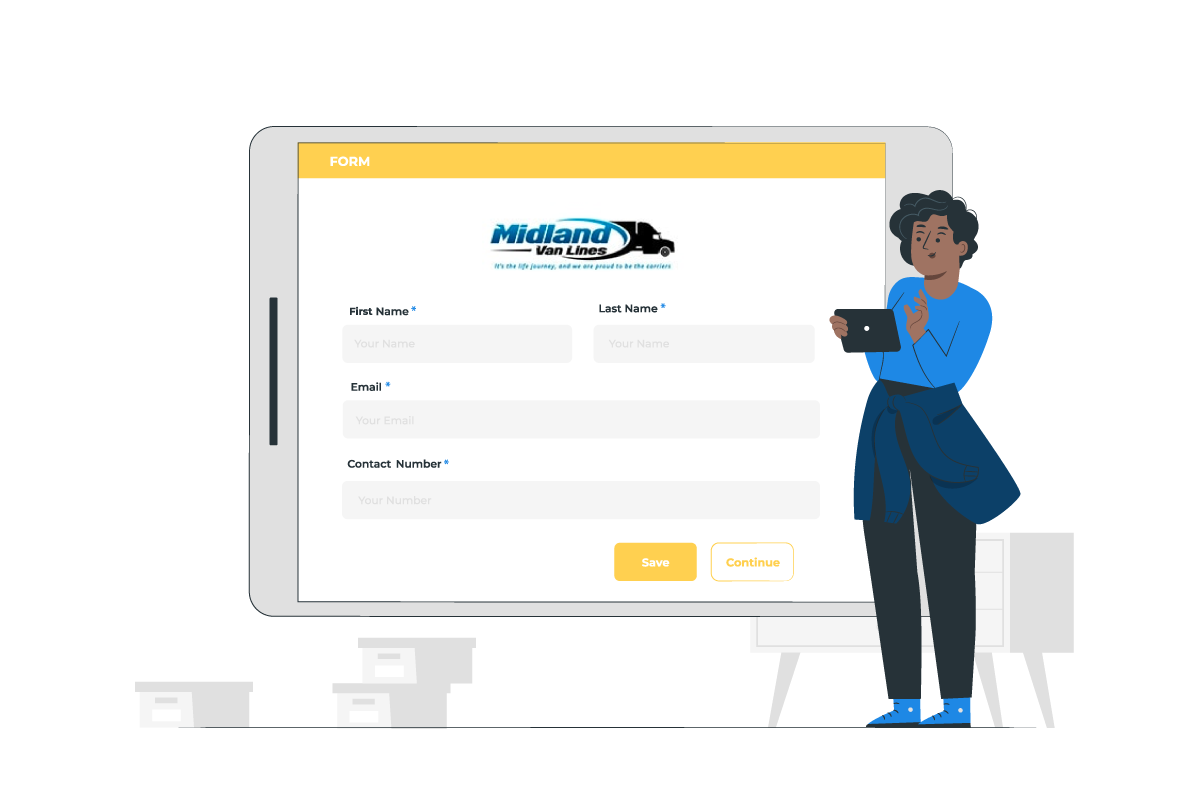 Midlands Van Lines offers a complimentary quote to help potential customers explore costs before committing to their services.
The free quote form can be easily accessed on their website and takes only a few minutes to complete. The form asks for location, destination, and preferred contact method information.
After submitting the form, one of Midlands Van Lines's relocation experts will reach out to personalize the quote and answer any questions.
Or you can simply click on the button below, and a Midlands Van Lines relocation expert will contact you.
Midland Van Lines at a Glance
| | |
| --- | --- |
| Description | Midlands Van Lines Information |
| MC # | 1119255 |
| US DOT # | 3443886 |
| Moving broker or carrier | Carrier  |
| Average customer service rating (out of 5) | 4.6 |
| Years in business | 15 |
| GPS tracking | ✅ |
| Local and long-distance moving services | ✅ |
Why We Recommend Midland Van Lines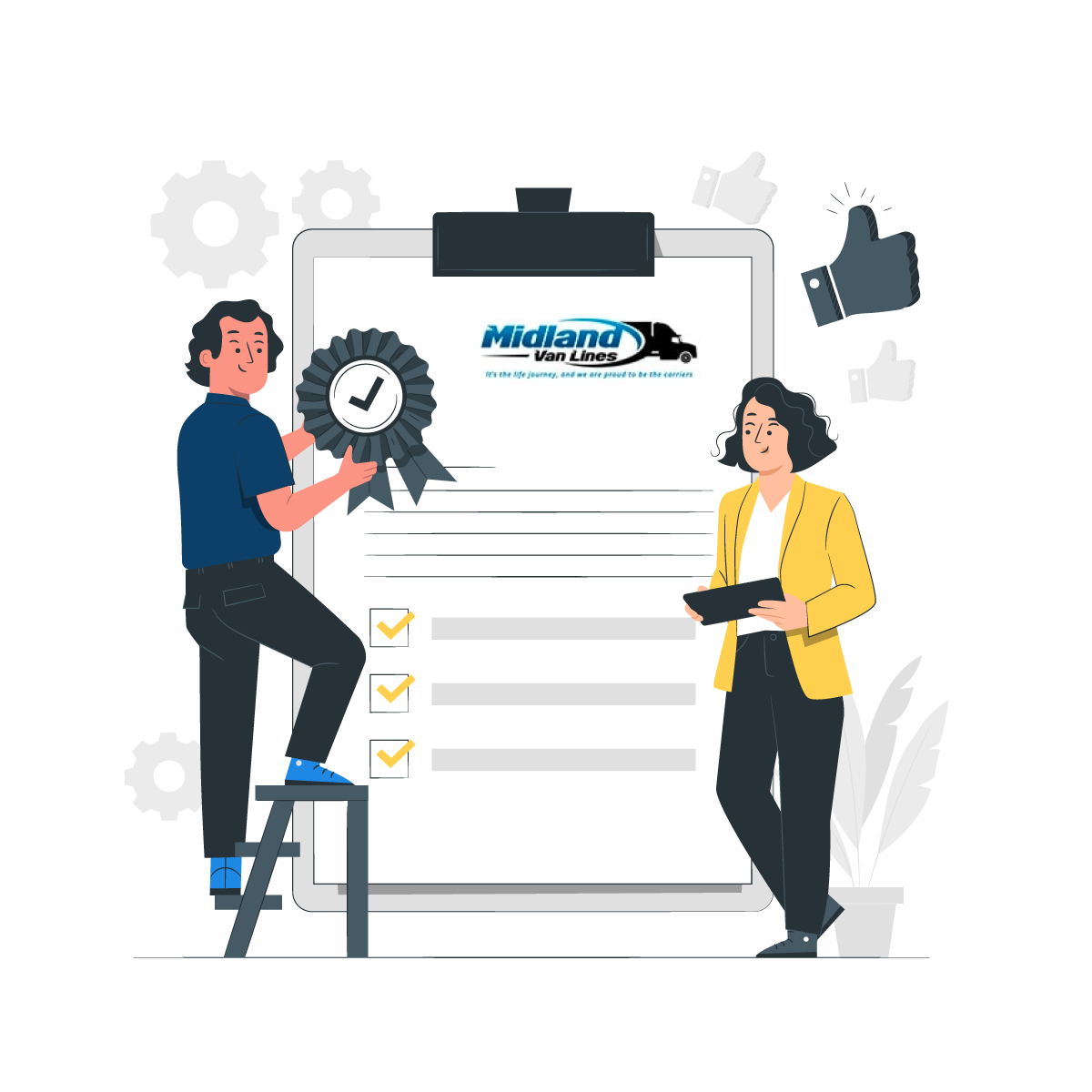 Are you looking for a moving company that goes above and beyond to ensure the safety and protection of your most valuable and cherished items? Call Midland Van Lines!
Their white-glove moving service sets them apart from other moving companies. Their team of expert movers is specially trained to handle fragile and unique items, using specialized equipment and packaging to ensure that your belongings arrive at your new destination in the same condition as when they were packed.
Midland's focus on customer service also means that you can rest assured that every aspect of your move will be managed with the highest level of care and attention to detail.
While they may not be the cheapest option, the extra cost is worth it. And that's why we recommend Midlands Van Lines.
FAQs
What types of moves do Midlands Van Lines specialize in?
Midland Van Lines is a premier long-distance moving company that provides high-end luxury services for customers looking for a stress-free and seamless moving experience.
Whether moving out of state or across the country, you can trust Midlands Van Lines to get the job done right.
Are Midlands Van Lines's moving services insured?
Yes. In the unlikely event of loss or damage, Midland Van Lines is licensed, bonded, and insured for up to $200,000.
Does Midlands Van Lines provide packing and unpacking services?
Yes. Midlands Van Lines provides a full-service moving package. Customers can expect a team of professionals to take care of everything, from packing their belongings to unloading them at their new home.
In addition, they can arrange for storage solutions for any items you may not want to bring with you.
How does Midlands Van Lines charge for their moving services?
Midland Van Lines charges for their moving services based on the space items occupy in the truck. This is known as volume-based pricing and is commonly used in the moving industry.
They will provide you with an estimate based on the size of your home, the number of rooms, and the items you need to move. The team will then determine the amount of space required in the truck to transport your belongings safely and efficiently.
This pricing model ensures that you only pay for the space you need rather than a fixed price that may not accurately reflect the size of your move. It also allows for more flexibility in pricing, as the cost will vary depending on the specific needs of your move.
What factors affect the cost of my move with Midland Van Lines?
The cost of your move depends on several factors, including the following:
➡️Distance
Distance is an important factor when calculating the cost of a move. The farther the distance between your current and new location, the more fuel, time, and labor will be required to complete the move.
This increased cost can also affect other aspects of your move, such as the number of movers needed, the size and type of truck required, and the overall logistics of the move.
➡️How much stuff you have
The more items you have, the larger the truck and the more movers will be required to manage your belongings. This increase in resources and labor will, in turn, increase the cost of your move.
Additionally, larger or more valuable items may require special handling or packing, which can also add to the cost of the move.
Therefore, the amount of stuff you have is a crucial consideration when calculating the cost of a move and should be factored into any moving quote or estimate.
➡️Additional moving services
When planning your move, remember that the cost may be affected by any additional services you choose to include. Moving companies may offer services such as packing, disassembling, and reassembling furniture, or transporting specialty items like pianos.
If you decide to use packing services, it's important to note that there may be additional charges for moving supplies such as cardboard boxes, plastic bins, bubble wrap, packing paper, stretch wrap, felt pads, and mattress bags.
➡️Access fees
The physical labor required for a move is a crucial factor that affects the cost. This depends on various elements, such as the floor level of your residence, the distance between your door and the moving truck, and the availability of elevators.
When these factors require more physical effort, such as roping methods to move large or bulky items, the cost typically increases accordingly.
➡️How early you have booked
Booking early for a move can potentially affect the cost in two ways. First, some moving companies may offer early booking discounts or special rates for customers who book their move several months in advance. These discounts can help reduce the overall cost of the move.
Second, booking sooner can also help secure your preferred moving date. If you wait until closer to your desired moving date, the moving company may already be fully booked or have limited availability, either of which may result in higher rates.
Additionally, last-minute bookings may require more resources and manpower from the moving company, leading to increased customer costs. Therefore, early booking can help you secure a more affordable rate and ensure a smoother, stress-free move.
💡Tip: How far in advance should I book my move?
Midlands recommends booking your move 30-45 days in advance.
What is Midland Van Lines's cancellation policy?
Midland Van Lines understands that sometimes plans change unexpectedly. That's why they offer a flexible 7-day cancellation policy for your peace of mind.
If, for any reason, you need to cancel your move, you can do so up to 7 days before your scheduled moving date, and they won't charge you a cancellation fee.
How will Midland Van Lines protect my items during the move?
When protecting your items during a move, the approach can vary depending on what type of item it is and what specific requirements it may have.
In any case, you can rest assured that Midland Van Lines always prioritizes the safety of your belongings and uses the latest techniques and highest quality materials to ensure they arrive at your destination in the same condition they were before the move.
How should I prepare for the move?
Preparing for a move can be overwhelming, but you can make it a smooth process with a little organization and planning.
That's why we've put together this comprehensive moving checklist to help you stay organized and on track every step of the way:
Weeks before your move
🚚Research and book your moving company
🚚Create an inventory of all items to be moved
🚚Declutter and donate or sell items you no longer need
🚚Notify utility companies, banks, and other important contacts of your change of address
🚚Arrange for time off work, if necessary
Two weeks before your move
🚚Confirm moving arrangements with your moving company
🚚Purchase packing supplies (boxes, tape, bubble wrap, etc.)
🚚Begin packing non-essential items
One week before your move
🚚Finish packing and label boxes clearly
🚚Defrost your freezer and refrigerator
🚚Confirm your new home is ready for move-in
On moving day
🚚Conduct a final walk-through of your home to ensure nothing is left behind
🚚Provide your moving company with any last-minute instructions or special requests
🚚Check that all doors and windows are locked before leaving