Piece Of Cake Moving & Storage Review
Our Take
Price
Rating
Minimum Shipment Size
Storage
Booking Deposit
Cancellation Policy
Quoting Options
Discounts

Best Moving Reviews


GET QUOTE

No Minimum




30 days




10%




Free up to 24 hrs

1 Min Quote




Most Experienced Movers


GET QUOTE







24-hour video surveillance







Free up to 24 hrs

On site Estimate

Best For: Transparent Pricing


GET QUOTE




30 days




Free up to 24 hrs




On site Estimate

Best Industry Reputation


GET QUOTE

1+ bedrooms




30 Days




20%

Free up to 72 hrs

Phone / Facetime

Seniors Discount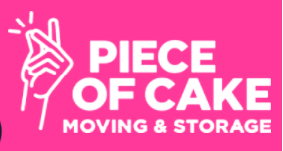 You might be excited about moving to your new home, and that is completely understandable. But that overall excitement could soon be curtailed when you think about the overall process of moving. Things such as making inventories, separating important items from unimportant ones, and gathering necessary documents can become strenuous. Adding to that, finding a moving company that suits your needs can become mind-boggling as well.
If you live in NYC and google 'Moving companies around me,' Piece of Cake Moving & Storage will surely pop up as one of the results. Although they're a fairly young company, they've been making immense strides in the manner in which they approach the moving processes. There is a lot to explore with this NYC-based moving company, so continue reading our Piece Of Cake Moving & Storage review to know more.
Overview Of Piece Of Cake Moving & Storage
Piece Of Cake Moving & Storage will ensure that your moving experience with them is more a piece of cake than a burden. Headquartered in NYC, this moving company has been moving people's homes and businesses since 2017, and they haven't looked back since. It has been one of NYC'S fastest-growing moving companies with 5-star ratings on Yelp and Google. So, where credibility is concerned, Piece Of Cake Moving & Storage will see to it that your moving needs are fulfilled.
Piece Of Cake's services extends beyond the usual heavy lifting. They aspire to create a community! Moving for them hasn't just been restricted to the 5 boroughs of New York City, but has extended to national and international moves too. What are the other services that Piece Of Cake Moving caters to? Let's look at them in detail in the next section.
What Services Are Offered By Piece Of Cake Moving & Storage?
Local Residential Moves
If you choose Piece Of Cake Moving Services for a local move, you can be certain that you're going to be offered some of the best moving services in the country. Apart from the 5 boroughs of NYC, this moving company's local moves extend to Staten Island, Rhode Island, New Jersey, Connecticut, Boston, Pennsylvania, Philadelphia, and Long Island City.
If you ask anyone who's moved locally, they'll say that local moving requires thorough planning because certain variables may pop up without your knowledge. Thankfully, Piece Of Cake Moving & Storage takes care of them all. Be it tolls, parking restrictions, or traffic changes, Piece Of Cake Moving accounts for all of those beforehand, so that they can deliver your stuff on time.
Office And Commercial Moves
Piece Of Cake Moving is not restricted to solely residential moves, they cater to moving offices as well. Whether it's a small business spanning over 15 desks, or a large corporate office that has ranked in the Fortune 500, this moving company takes them all.
Once a representative of the company gets in touch with you, they will send someone to scan your office so that they can draw up an estimate. On the day of the move, they will move the hard copies of important documents, stationery, desks, logos – basically anything that's office-related. Rest assured, they'll do the job without making a fuss. They also have a live GPS tracking system that allows you to track your items in real-time.
Also See: Step-By-Step Office Moving Checklist
Long Distance Moves
Moving to a new state can be hectic, but with Piece Of Cake Moving, they'll ensure that they'll take care of all the complexities of long distance moving. They offer two long distance moving packages. The first is consolidated shipping. The truck is shared among other people who are moving as well, but your items are neatly labeled so that there's no confusion. This option is best if you have time on your side, and is also easy on the wallet. The other package is exclusive express long-distance moving, where the truck exclusively contains your items. This option is ideal if you're racing against the clock and have some moving money to spend.
Event And Special Moves
Suppose there's an important business event and you have the opportunity to set up a small booth over there, but you don't know how to transport your equipment to that place. Give Piece Of Cake Moving a ring, and they'll take care of your transportation and logistical needs. They even handle heavy and/or fragile items such as movie sets, trade show exhibits, art sculptures, and more.
Last-Minute Moves
There are many reasons why you might need to shift immediately. It might be a family emergency or you might have to join your new job soon. If any of those situations arise, you can always bank on Piece Of Cake Moving for those last-minute calls. They promise same-day, or at the most, next-day delivery, meaning they prioritize such emergency moves at the top of their schedule.
Small Moves
Whether you're a college student looking to change homestays, or a family looking to move items into a storage facility to save space, no move is too small for Piece Of Cake Moving! The best part is that they're inexpensive, their movers are efficient, and you won't have to worry about supervising them. Leave everything to them and relax!
Piece Of Cake Moving & Storage Cost And Pricing
Piece Of Cake's prices are transparent and are among the most affordable rates compared to other moving companies in NYC. They charge a flat fee rate on all their moves, which means there are no hidden fees or extra charges later on. This is much better than those companies who charge based on the number of hours taken for completion of the move.
Piece Of Cake chalks its rough estimates based on the distance of the move, date and time, net weight of the inventory, and if there are any special requirements made by the customer.
Unfortunately, their website doesn't show any estimates on their types of moves, so you'll only get to know how much they charge once you call them. However, based on other resources, a typical local move in NYC would cost you roughly anywhere between $800 to $1,752. On the other hand, a typical long-distance move would cost around $1,800 to even $8,500.
Does Piece Of Cake Moving & Storage Offer Insurance?
They offer basic coverage, which is a mandate issued by the Department of Transportation in which your items will be insured $0.60 per pound on each article. If you'd like your items to have additional insurance, then you'll have to approach it via a third-party insurance company. In this way, you can customize your insurance plans accordingly.
Piece Of Cake Moving provides a Certificate of Insurance (COI). Don't know what that it is? It's a type of document to show that a moving company is licensed and insured and it has to be produced to the property owner before the day of moving so that they're not held responsible for any damage done during the move. The COI contains all details of the move, including the time and date of the move, the items that are in the shipment, etc. Nearly all buildings in NYC require this document, so it's better to check with the property owner if they require a COI.
How To Book Piece Of Cake Moving & Storage?
Booking an appointment with this company is pretty self-explanatory once you visit their website. Thanks to the website's user-friendly interface, contacting Piece of Cake is a piece of cake!
On the front page of the website, you'll get a 'Get Quote' section. There are two blanks where you have to fill in the address you're moving from and the address you're moving to. After that, you'll be directed to a form asking you to fill in more details about your move, and if there are any special requirements – such as plastic bins for packing, moving fragile items, etc.
On the top right-hand side of the web page, the company's contact number is highlighted in dark blue. You can just pick up your phone and give them a ring if you prefer speaking directly to a representative.
Or you can hover over the 'Company' tab and click the 'Contact' section below. You'll be directed to a list of consumer numbers and email ids of the company.
How To Contact Piece Of Cake Moving & Storage?
You can get in touch with Piece Of Cake Moving in several ways. Here is a list of their contact numbers and email addresses:
Website: https://mypieceofcakemove.com/
Address: 287 Park Ave S, Suite 320, New York, 10010
39 Knickerbocker Ave, Brooklyn, New York, 11237
Phone: (212) 651 7273
Email: sales@mypieceofcakemove.com
Claims Department: csm@mypieceofcakemove.com
Business Enquiries: pr@mypieceofcakemove.com
Reasons To Choose Piece Of Cake Moving & Storage
Plethora Of Moving Services
Piece Of Cake Moving is your one-stop destination for all things moving. Apart from the usual local and long distance moves that every moving company provides, they offer a wider range of moves such as last-minute and small moves. In addition to these, they also offer piano moving and furniture assembly as well.
Low Claim Rates
Piece Of Cake Moving claims that they have one of the lowest claims in the moving industry and pride themselves on this. They have the numbers to support their statement, as compared to the U.S. average of 20%, Piece Of Cake's claim rates stand at just 2%. And this is because they take their 60-day-claim resolve policy very seriously.
They also have a strong online presence and respond to reviews swiftly, regardless of whether they're positive or negative. If a customer is not happy with their move, they do make amends and apologize for the inconvenience. This shows that they care about their customers and have customer satisfaction as one of their top priorities.
High Customer Ratings
Ratings are always the deciding factor when it comes to choosing a moving company. And the best part about Piece Of Cake Moving is that they have a significantly large number of positive reviews across all major reviewing platforms such as Yelp, Google, Trustpilot, and Thumbtack. In other words, Piece Of Cake Moving & Storage has consistently kept its promise of providing quality moving services.
Things To Consider Before Choosing Piece Of Cake Moving & Storage
No Auto Transportation
If you have a vehicle and prefer shipping it rather than driving, then you'll have to book another auto shipping company if you go with Piece Of Cake Moving. Moving is expensive, and on top of that availing of shipping automobiles separately increases the expenditure a bit. It would be a real added bonus if Piece Of Cake Moving & Storage introduces some kind of automobile shipping service in the future.
No Junk Removal
Piece Of Cake Moving is known to have a wide range of services but one domain that they lack is junk removal service. Having no junk removal service after all the unpacking can get frustrating, especially for those who have got lots of items. What are you supposed to do with all that cardboard waste and rolls of unraveled tape? Again, this means that costs would increase since you'd have to hire another service to remove all that excess junk.
You may connect to 1-800-GOT-JUNK for help.
Practically No Information On International Moves
Piece Of Cake Moving does claim that they do international moves as well, but no information about how they do so is given. Their website mentions that they have international partners, but who are these partners and how do they go about the process? None of that vital information is provided. It's only after speaking to them that this information is given. This lack of transparent information can prove to be a deal-breaker for many who might be looking for movers experienced in international moves.
Our Take On Piece Of Cake Moving & Storage
In simple words: Go for it! Piece Of Cake Moving is definitely worth your time and energy. They are licensed, insured and are said to put forth commitment, honesty, and reliability. Although they still don't have junk removal and auto transportation services, the services that they do offer, they offer well. They have a mobile app that would help you track your items with ease and have staff that are polite as they are resourceful. From a wide range of moving services to impeccable customer care, Piece Of Cake Moving will see to it that you have a good move in the end.
FAQs On Piece Of Cake Moving & Storage Review
Is Piece Of Cake Fully Licensed?
Many fraudulent moving companies are waiting to make a quick buck out of you. Therefore, it's important to check beforehand if they're licensed and insured first. Piece Of Cake Moving & Storage is a fully licensed company that meets all the US DOT, and NYDOT regulations and requirements.
How Far Ahead Should I Plan And Book My Move?
Preparation is key for a successful move, and that's why you need to inform your movers 2-4 weeks in advance. Doing this will give them enough time to assess your move, and determine its complexity. You should begin sifting through your belongings and giving away/selling the items that you don't require at least 2-3 months before moving. This will ensure that you're not moving in a hurry and that everything takes place in a calm, ordered manner. Always begin preparing at least 2-3 weeks before you think you need to start.
Is Moving Taxed?
In the state of New York, moving is not taxed. However, packing supplies are and they're taxed as per normal rates devised by the state of New York.
See Also: Green Leaf Moving & Storage Review