Moving to Boston | 2022 Cost of Living & Relocation Tips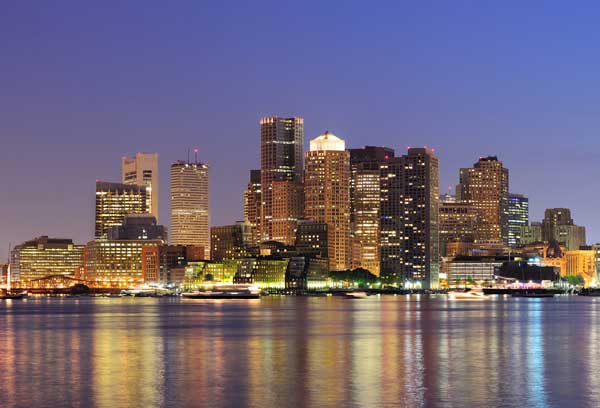 Boston can be a very lovely city to live in, but those that are planning to move there should have a game plan. It is important to know that you need to plan for the move in Boston before you get there. This means that you need to become familiar with what is actually happening in the city. You need to know when it is ideal to move to Boston, and you need to be familiar with job opportunities, commuter traffic, the commute throughout the city and places that you can live.
Connecting With Movers
One of the first things that you must factor in when you are moving to Boston is the moving companies that are available to help you with this process. There are a plethora of moving national companies available to those that plan to make the move to Boston.
The best time to make a move in Boston is during the spring or fall. This is a city that is heavily populated with tourists during the summer months. During the winter months it is cold and the snow can be consistent. This makes it a much better idea to consider moving to Boston when there is a lower chance of an accident or a delay with the snow.
Sports Galore
If you are planning to move to Boston should definitely consider the fact that it is a city that is widely known for sports. This means that those that are planning to make that move should be aware of the crowds that are going to come into the city for baseball and basketball games. It is a huge activity that definitely makes it exciting for people that love sports, but it also makes the traffic very heavy. This means you should know about shortcuts and back roads that can help you avoid some of this traffic that is inevitable during various game days.
Tech Jobs
It may be your desire to move to Boston and start your job hunt after you get there. You may have the desire to get into this city without knowing what opportunities are going to be available. For those that are interested in technology it is going to be rather easy to fit into the Boston job market. There is a big technology scene that makes it much easier for you to get involved in jobs that rely on a background in technology.
Taxes in Boston
When you are planning to make a move to Boston you should be aware of the tax rates as well. There is a 6.25% tax rate when it comes to sales tax. The residential tax rate is $10.56. These are important things that you need to know when you are planning to make a move to the city of Boston.
What you will find is that the tax rate is below average for someone that lives in the South because many southern states have a higher tax rate. For people that are living in neighboring states this is comparable tax rate unless you are living in a state like Delaware where there are no taxes.
Moving To Boston With Same Day Delivery
You could plan to move to Boston from another state. In order for this to happen you will have to consider paying the rates for this type of guarantee. There are companies that will move residence from places like New York to Boston for $950 to $1,000. The average cost of most moves – regardless of where you live – is going to be close to $100 by the hour for a truck and two movers. The rate can go up to $150 to $200 for a moving truck with 3 people.
Education
Boston is known for having great college, and this can be a plus if you are seeking higher education. This may be something that you might consider if you are pursuing a job that requires a college degree. Single people are often intrigued by the higher education opportunities in Boston. If you have a family that you want to move to Boston your primary concern could be about the elementary and high schools that are available for their children. Boston has a great education system for the K-12 students. This connection to the STEM program is what fuels a lot of the technology jobs that are available when you finish school.
Boston has become a very good place to consider raising a family. Boston natives are proud people, and you will see many family oriented environments with kid friendly activities. There are also a lot of chances to expose your children to art when Boston becomes your home.
Boston Art
Another thing that stands out for Boston is the art that is part of this city. There are several museums, and there is a history in Boston that brings about a desire to learn more about it. This is also another huge part of the education system, but people that have a general interest in art will find a lot to explore when they move to Boston.
Boston Social Scene
A lot of people will quickly find that there is a huge social scene in Boston. There are a number of bars, and this makes it easier for you and your friends to get together for game day. If you are not actually going to the game there are still going to be opportunities to hang out in these various sports bars around the city during this time. It definitely makes it easier to meet people, and it increases the amount of social activities that you can participate in. When you come to Boston from a smaller town or rural area that did not have a lot of social outings you will love the change of scenery in Boston. You will be amazed by the number of bars that are available for meeting people and getting some after work happy hour drinks.
Fantastic Greenery
With so much social activity in bars and professional sports teams it would seem like Boston is a complete metropolitan city that does not have much greenery to enjoy. If you assumed this you would be wrong. Boston also has parks and a vast amount of green landscapes for those that are fans of the great outdoors. It is true that this is a high-traffic city with a lot of busy roads that are sometimes hard to maneuver, but there is also an appealing outdoor landscape if you would rather spend time outside. With this mix of metropolitan swagger and park environments you could find yourself saying that Boston has something for everyone.
Shipping Vehicles
If you are not a fan of making a cross country drive to Boston you can make plans to ship your car there. There are a multitude of companies that do this, but the price tends to average around $250 to $300 to have a car shipped from most states to Massachusetts. This means that you can expect to pay close to $300 if you are not going to drive the car to Boston yourself. You can also choose one of the best cross country movers in USA to handle your relocation to Boston, MA.
Boston Commuting
What you will find enjoyable about living in Boston is the number of opportunities for jobs and the shorter commute time that you will have. When you are living in Boston you can get to work in less than 10 minutes on average. This clearly is not the case for everyone, but there is a good chance that you will find it easier to get to your job because you are in close vicinity to where you work.
There is an intermingled residential and commercial property landscape in Boston. This is what makes the commute time shorter for a number of people. If you are working in the downtown area you may find comfort and convenience in apartments in this area as well. There are a multitude of different transportation options even if you do not have your own vehicle. There is a ride-sharing option as well as trains and buses to help you get to work in Boston.
What you will like about living in Boston is that you can get to work without spending an excessive amount of money. You will like the fact that the commute time is not exceedingly long. This is also another aspect of Boston living that attracts those to the area.
See also: Boston is the 3rd best city in US to live without a car
Cost of Living in Boston, MA
What you need to be prepared for when you are planning to call Boston home is the cost of living. There are definitely different sides of town and different salaries to be made in Boston, and you will quickly see what you can afford based on what you are making in Boston.
The average cost of an apartment in Boston is going to be close to $2,000 if you are looking at something in the median price range. If you are looking for a home environment for a family you can expect to pay more $700,000 for a home if you are looking for something in the median price range. There are also homes at the lower end of the spectrum that are closer to $400,000 homes.
The cost of living in Boston, without the cost of a dwelling space, is about $1,035. This means that the average cost of staying Boston can range anywhere from 3 to 5 thousand dollars a month when you factor in a place to live. These figures are types of things that are going to place a big part in where you are able to live when you relocate to Boston. This is something that needs to be considered when you are planning this move.
FAQs about Moving to Boston, MA
Is it expensive to live in Boston?
The cost of living in Boston can be anywhere around $3,000-$5,000 per month.
Is Boston good place to live?
Yes, Boston is the best place to live in. If you consider raising a family with a high quality life, Boston is a good place.
Where should I move in Boston?
The best places to move in Boston are Beacon Hill, Fenway-Kenmore, Allston-Brighton, East Boston, Charlestown, Jamaica Plain, Back Bay and Dorchester.
Is Boston A Safe City?
The violent crime comparison per 1,000 residents in Boston is 6.6, a little higher than the national average of 4. Your chances of being a victim of a violent crime here is 1 in 151. The property crime per 1,000 residents is actually lower than the national average, at 19.58. These may seem high but keep in mind that Boston is a big city. In fact, when compared to other cities its size, Boston is actually comparatively safe.
Are Bostonians Rude?
The residents of Boston are known for their offhandish attitude, and the city is constantly considered to be one of the rudest in America. This is indeed true, but only to an extent. They are also helpful people, and by no means does this rudeness make it a bad city to live in.
Is Boston Or LA More Expensive?
Though both cities can sometimes be heavy on the pocket, data shows that LA is actually more expensive than Boston. This is by around 6.7% overall. Housing costs are 14.4% more expensive in LA than in Boston, and healthcare is around 7.2% more expensive.
See also: Massachusetts DMV Change Of Address
Also read: Best Moving Companies in Boston MA | Moving from NYC to Boston