Moving in Winter: Smart Tips and Strategies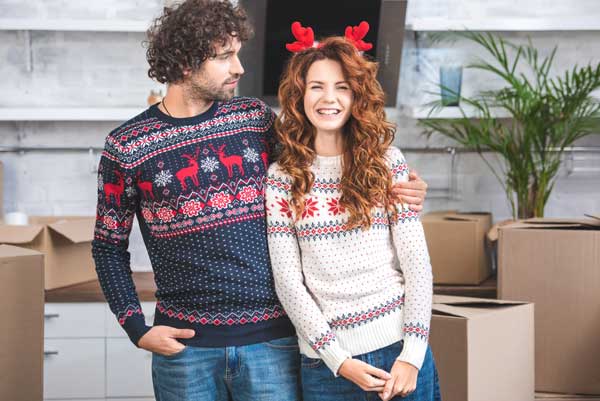 Moving is not fun for most people. Moving during the winter months is downright dreadful. However, it has some advantages. Apartments often offer discounts to winter movers. Moving companies and those renting moving trucks have sales during the winter months because fewer people are using their services.
Winter moving has a unique set of challenges. These include dangerous weather, icy roads, and trying to move while wearing winter protective gear. Here is a list of things to consider if you relocate during the winter.
The Importance of Advanced Planning and Organization When Making a Winter Move
Winter has fewer daylight hours than summer. Depending on where you live, it can get dark as early as 4:30 PM. You will need to calculate the time needed for your move and then determine a starting time that will allow you to take advantage of sunlight.
It's beneficial to schedule your move to start early in the morning with the goal of finishing before the sun sets. If you start your move early in the morning, you will be alert and less likely to hurt yourself or damage your possessions. If you start later in the day and finish your move after the sun has gone down, you will be physically and mentally tired when there is less light out. This increases the chances that you will hurt yourself and damage your property.
When scheduling the timing of a winter move, you need to be realistic. Things take longer in the cold, snow, and ice. Be flexible in case your move needs to get rescheduled because of bad weather.
Organization makes any move easier. Organization during a winter move can save you money and time. It is helpful to create a moving checklist.
Before beginning the move, eliminate unnecessary items and sort your belongings. The sooner you do this, the easier your move day will be. Once you put items into boxes, make sure you clearly label each box. Labels should list the items in the box and what part of the house they belong to. Visualize where you want everything to go in your new home and pack your boxes accordingly.
Identify the items you want to bring with you in your personal vehicle. These might include:
Medications
A change of clothing
Valuable or irreplaceable items
Expensive/sensitive electronics
Paperwork needed for your move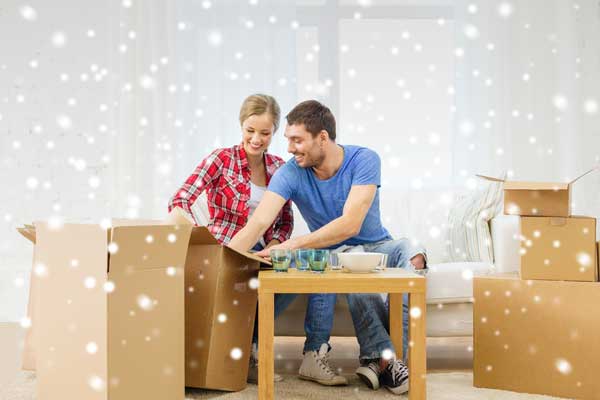 If you are using a moving company, talk to them about items that they will move and those they will not move. Most moving companies do not move hazardous chemicals, including paint and cleaning supplies. Have a plan for transporting these materials from one house to another.
See also: Tips for Moving During the Holidays
Prepare Your New Home for a Winter Move In
You want your new home to be ready for you when you arrive. Make sure key utilities, such as electricity and heat, are functioning. If possible, turn on the heating system in your home a couple of days before you move in. This ensure that everything is working and that your new house will be warm the day you move in.
Remove ice and snow from the walkways. If you are moving locally, visit your new home the day prior to your move in and clear out any snow or ice that could be a slip hazard or a hindrance to moving into the home. If necessary, put ice and salt in the area. If you are moving to a different city or state, talk to your real estate agent or property manager and have them take care of this for you.
Make sure that there is sufficient parking for the moving truck. This may mean negotiating with your new neighbors to use their parking spot. You may have to remove snow from the street or pay someone to do it for you. It will waste valuable time if moving trucks have to circle the block looking for parking or if they have to park so far away that they are carrying your possessions over a great distance.
Also See: Weatherize your Home
Confirm All Details with Your Movers
Nothing beats getting a good deal on moving during the winter. However, check with your movers a week before the move date to make sure that they will still be available. During the winter, weather can be unpredictable. The last thing you want is your mover backing out on the day of the move.
Keep a sharp eye on the weather. Check it in the weeks and days leading up to the move. If there is a storm brewing or if you are concerned that some other winter condition will shut down the roads and prevent your move, call the moving company and explain your concerns. It's better to delay moving a day or two as opposed to getting caught in a blizzard.
There are a few other questions you should ask your movers before moving day so as not to get caught unaware.
Do they have references for their service?
Do they charge additional fees?
What is their rate?
Do they have movers insurance? What does the policy cover?
Do they offer packing services?
Do they provide a storage service in case inclement weather prevents the move?
What is their registration number?
Do the movers have experience moving during the winter?
Are there any additional transfer fees if they need to transfer belongings from one truck to another because of wintry road conditions?
What is their winter weather cancellation policy?
How long will the move take?
How will they handle your items?
Do they have questions for you about the move?
The last thing you want to do is negotiate details of your move with movers on move-in day, especially in the freezing cold. It is better to get your ducks in a row early to improve the chance of a smooth move.
Preparing for Driving on Winter Roads
If you are doing the move yourself, plan the route in advance. You may know back road shortcuts to get from your old home to your new one. Avoid shortcuts, and create a plan where you stick to the main roads. If there is snow or ice, main roads are the ones that will be cleared first.
If you are driving a long distance, get your vehicle serviced before the trip. Have your mechanics look at your tires. If necessary, replace them with winter tires. If the state where you live allows you to put chains on the tires, throw a few in the trunk and learn how to put them on quickly.
Bring an extra can of gas and extra windshield fluid. You want windshield fluid that is designed to cut through ice and snow. A large bag of salt or kitty litter can help you get out of a jam if you get stuck in snow or ice. Make sure that your roadside assistance is up-to-date. Have a good shovel, emergency blanket, an extra battery for your cellular phone, and a winter road emergency kit ready.
If your travel is long-distance, have an emergency list with all the phone numbers you will need. It's good to save these in your phone, but if something happens to your phone, having this list written out will allow you to make calls when technology fails.
Leave a copy of your travel plans with someone who is not traveling with you. If you are traveling by yourself, set up a call in schedule so that your friends or family members know where you are and when you should arrive to your end location.
Prepare your Pets for the Winter Move
If you are moving with your pets, you want to minimize their emotional trauma during the move. Putting your pets in crates during the move is a good idea. The reasons for this include:
Pets can create a trip hazard for people carrying boxes or heavy furniture
Pets might get startled by a move and escape through open doors from people moving in and out
Moving is stressful enough without worrying about a missing pet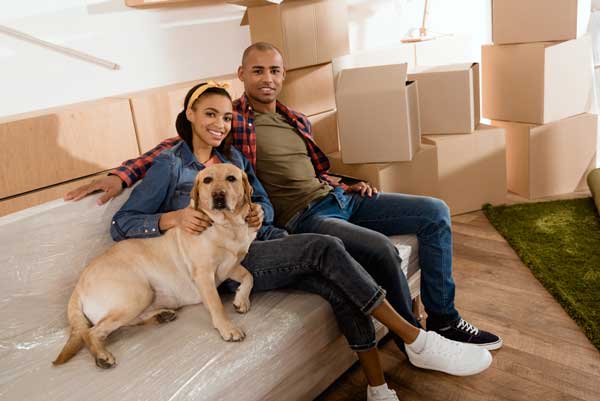 Getting adjusted to a new home can be harder on your pet than it is on you. If possible, move your dog or cat last. When they arrive to your new dwelling, they will be greeted by familiar smells.
Prepare Your New Home for Winter Weather
Winter weather can change in the blink of an eye. Nothing is as frustrating as getting halfway through your move and then having snow pour down.
Protect your belongings by having sheets and blankets near the front door. If you don't, movers will have to carry your valuable items through the snow without protection.
Movers are concerned about not making a mess in your new home. However, what they consider is a mess and what you consider is a mess may be quite different. To make sure your house stays clean and your hardwood floors and carpet are protected, purchase some cheap plastic tarps to cover flooring and put out floor mats in front of every door.
Have extra towels available to wipe down boxes or other items that get wet or dirty with snow. This will keep your items safe and prevent unwanted moisture from getting into your new home.
Visually inspect your new home and look for any winter related safety hazards.
Look for dangerous tree limbs that could fall on your home during a storm
Make sure the carbon monoxide detectors in your home are working
Clean your gutters
Clean your chimney and get snow off of your roof
Make sure that the furnace filters are clean
Make sure water pipes are insulated
Check batteries in smoke detectors
Very few things can ruin a move like having a winter weather emergency damage your home.
Take Care of Yourself Before, During, and After the Move
During a winter move, you want to dress properly for the weather. Have an extra pair of gloves on hand. Your gloves will probably get soaking wet during the move.
Monitor your temperature and adjust clothing layers appropriately. When you are in winter weather, you get cold quickly. However, moving heavy boxes and furniture up and down stairs can get your temperature up. It's easy to overheat.
Know when to take a rest. You are fighting against the daylight to get your move done. You may have friends and family helping you, so you want to get the move done quickly. However, if you burnout during the move, you might hurt yourself or other people.
Right when you get to your new place, put a pot of hot apple cider or hot chocolate in a slow cooker. From time to time, take breaks and hydrate yourself. It will make the move go smoother, and you will be happier.
Moving during the winter is hard work. It takes scheduling, planning, and organization. However, if you plan ahead, stay flexible, and pace yourself, your move will be a success.
See also: Tips for Moving in the Snow | Winter House Selling Tips | Wearing these clothes on Moving Day makes you feel comfortable?