How To Prepare For A Cross Country Move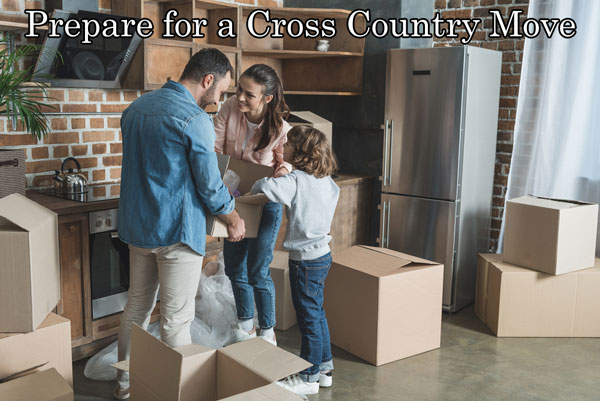 Packing up a home and moving across the country is not an easy feat for anyone. It's overwhelming when you think of all the necessary things on your to-do list. However, it's best to break the move down into small manageable tasks so that you don't become frustrated and stressed out.
One of the things that most people stress about the most is whether they will have enough hands to help them accomplish a cross country move. Most friends and relatives are limited and can help on one side or the other, but they can't be at both locations. Having adequate help is a real concern when taking on such a big task, which is why many people look to a moving company to help.
Should You Hire A Cross Country Moving Company?
One of the biggest questions running through your mind is if you should involve a moving company on this journey. It's always good to have the extra help. Remember, a reputable long distance company can safely transfer your items to the new home and save your back from the pain. It's not like you don't have 100 other things to do without worrying about the physical aspects.
Professional cross country movers are licensed, bonded, and insured for your protection. Plus, they are accustomed to moving boxes and heavy things all day long. They can really take the stress out of moving day. Most companies will pay for such services if they have requested the move due to a job transfer.
Even if you don't get any reimbursements, it's still worth the price when you consider all they do to help.
Organizing Your Cross Country Move
Whether you use a moving company or decide to do the move solo, you have a lot of things to do. The worst thing is to become overwhelmed by the whole picture and creating unnecessary anxiety. When you organize the move from the beginning, things can go seamlessly. Where do you start? Well, here are some cross country moving tips to help you keep your sanity while you prepare for the adventure of a lifetime.
16 Steps to Prepare for you Cross Country Relocation
1. Create a Master List or Game Plan
It's normal for you to have feelings of angst as you prepare for your trek across the country. Try to break up your preparations for the journey into small pieces. For starters, the best thing you can do is organize your thoughts.
There are many moving checklist templates online that will allow you to write down everything that needs to be done. Using this master list, you can feel a sense of relief and accomplishment as you cross off items. Also, having a plan ensures that you don't miss vital parts of the process.
It would be horrible to get to the new abode, and you have no electricity. When there is so much going on, you need something to help keep you on track and focused.
2. Purge as Much as Possible
Did you know that the average home in America has more than 300,000 items? Wow, that's a lot of stuff! Another fascinating statistic is that 25 percent of households with a two-car garage can't even park in it because of all the clutter. Do you really want to move all those things?
The best thing you can do for your journey is to lighten your load. Start by having a yard sale either physically or online. Not only will the extra money come in handy for the trip, but it decreases your moving expenses. If you have items of great value, then you should try online auctions.
The average cross-country move can cost anywhere from $2,500 – $5,000, so it's no secret that this task is going to be expensive. With so much money on the line, you need to cut costs wherever you can.
To know more about the average cost of a cross country move, read this article: https://9kilo.com/national-moving/how-much-does-it-cost-to-move-across-the-country
If you don't have time for a yard sale, then you should consider donating items to your local charitable organizations. Places like Goodwill and the Salvation Army give back to the community, and your donations help to keep these establishments running.
As a rule of thumb, if you haven't touched or used the items in the past six months, then you don't need it. What can you live without? Take inventory of your home and purge wherever possible. The new 'less is more' movement has shown that you can live with much less stuff and still be happy.
3. Start with The Most Important Things First
Now that you have a master list, it's time to use your list to divide and conquer. You should always start with the most important things. Things like filing a change of address at the post office, transferring or setting up new utilities, and insurance alterations should be handled first.
It takes about two weeks for your mail to transfer, so you need to make sure you don't have mail sitting at the old house when you're thousands of miles away. If you time things just right, you can ensure there is no lapse in cable coverage or your mail delivery.
Since having utilities is of the utmost importance, it should be first on the list. Thankfully, most of these tasks can be accomplished online without calling a representative and spending precious time on hold.
4. Make Travel Plans
Travel plans are the next important thing on your to-do list. How are you getting your stuff from point A to point B? Do you need to rent a moving truck? You should know that most truck rental companies are often booked months in advance at the first of the month. It seems that most people like to move around the first.
Do you need help to pull off this transfer? It may be beneficial to enlist the help of a moving company on such a monumental undertaking. You can choose services that range from packing up your entire house or transferring the items for you. When you take on such a big task, it doesn't hurt to have more help.
If you decide to use a moving company, make sure that you get quotes from a few before deciding. Check the online reviews of the business and see what other customers are saying about their business practices. You want to make sure that they are bonded and insured to protect your belongings.
Do you need airline tickets or drivers for multiple vehicles? Booking your airline tickets at least 21 days in advance will save you a ton of money. Will there be hotel stops along the way? Again, booking in advance allows you to take advantage of significant savings. Make sure that you have your travel itinerary all planned out so that you aren't scrambling with transportation issues on the big day.
5. Purchase Moving Insurance
While it may sound a bit strange to insure your move, you can purchase insurance to cover your journey and belongings. The amount of coverage depends on the policy you select. Whether you're using a moving company or having relatives and friends help you in the journey, insurance is imperative.
Some people make the mistake of thinking that their home or renters insurance policy will cover them. The sad fact is that most plans don't extend to cover moving losses. The proper policy is very inexpensive, but many have found that it's worth every penny. It's a small price to pay for peace of mind.
Read more about moving insurance here.
6. Gather Packing Materials
Gone are the days when you could go to a dumpster and get all the boxes you wanted. Today's businesses recycle and crush corrugated materials. You can contact your local grocery store or other favorite retailer and ask them to hold some boxes for you. It's best to use these as they are recycled.
Many people will list their moving boxes for free on Craigslist or Facebook Marketplace. You can pick up these boxes and save yourself the hassle of dealing with the grocery store. Another option is to purchase your boxes from a moving store. Though it will be more expensive, you don't have to worry about the cleanliness of them.
Packing materials are just as necessary as the boxes. You will need bubble wrap, newspaper, trash bags, packing tape, markers, and dedicated time for the task.
Your packing materials are one of the essential parts of protecting your items. You need to make sure you have quality boxes and tape so that you don't have any mishaps along the way.
7. Let the Packing Madness Begin
Now that you've done all the preparations, it's time to start packing. Do you have friends or relatives that can help you out? Make sure to enlist the help of your spouse/significant other as well as children in the process. If you're moving to a large house, it's too much for one person to handle alone. You need to get 'all hands on deck' for this part of the process. Call in any favors that you might be owed.
The number one reason why things are damaged in transit is that they are packaged poorly. Remember that heavier items should go in smaller boxes, and always pack lighter items in bigger boxes. Never overfill your boxes as you risk an incident during the move. Some items would fare better in plastic totes for the ultimate protection.
The most important thing you can do to help you on the other side is to mark your containers. If there are fragile or breakable items, make sure the box is appropriately labeled so that anyone loading the truck is aware.
Never pack things you will need until the very end. It's also advisable to have a bag that you keep close to you that includes medications, personal hygiene, and other essential things.
Absolutely never pack driver's licenses, birth certificates, mortgage papers, insurance policies, and other documents that you may need on your journey. Keep these papers close to you until your settled at the new place.
Here's a recent article having detailed information about how to pack for a move.
8. Take Inventory of Your Item's Condition
As you begin to pack, take inventory of the condition of your items. You will especially need to know the condition when it comes to moving insurance policies and if you use a moving company.
The condition is essential on furniture and appliances, more so than smaller items. A condition checklist, along with some pictures, can help make filing a claim easier should the need arise. When it comes to proving your stuff was mishandled, you will need proof to get compensation.
9. Organizing Your Chaos
By this part of the journey, you're living in mass chaos. There are boxes everywhere, and you're not sure where half of your stuff is located. Try to have a dedicated space that you put all your stuff that's ready to be moved. You need to have a sense of accomplishment and relief, and nothing does that like an empty space.
If you have a garage, pack your boxes and move them out to this area. Not only will it make it easier when you move, but it will get some of the clutter out of your way. You need room to move and be able to access what still needs to be done. It's hard to do that when you are knee-deep in boxes.
10. Packing Larger Items
Many larger items don't require any packaging at all. However, you should tape doors closed, wrap things that are prone to scratches and breaking in bubble wrap, and take proper precautions to ensure its safe arrival.
If you have large items like a piano, safe, or anything outside the norm, then you should get some professional movers to help. These items are difficult to maneuver and require the assistance of several people.
Plus, you run the risk of hurting your back or neck, which can further complicate the moving process. You have too much to do to have downtime due to back injuries.
11. Don't Procrastinate
It's completely normal to procrastinate on such a massive task. Don't try to pack up an entire home in one day. It's best to give yourself a least 30 days to complete this process.
It's best to pack a little bit each day. Give yourself a schedule so that you have ample time to do it right. When you're in a hurry to pack things, it increases the chance of damages. Take a breath, take your time, and label everything correctly. You will be so glad you did when you're unpacking on the other side, and nothing is broken.
12. Make Sure to Rest Before The Big Day
If you plan everything correctly, you should be well-rested and ready for the move. You may even be a little excited about the change. Make sure you get a good night's sleep before you start your journey. Proper preparations are so necessary so that you can think clearly and focus on what you are doing. Now, it's time to make the trip and start your new life.
13. It's Customary to Tip Movers
Many people don't know that it's customary to tip movers who do a great job. It's no easy feat moving all those large items and boxes in and out of homes. They often must tackle basement stairs and narrow hallways that can be frustrating. If you feel the moving company did a great job helping you out, then give them a tip. They will appreciate it.
If you are not sure about how much to tip movers, here's a helpful article for you: https://9kilo.com/national-moving/how-much-to-tip-movers
14. Unpacking and Accessing Damages
You've finally made it to your destination. You're probably exhausted but excited to get busy unpacking. Grab a pad of paper and your smartphone to document any problems with your move. Did you have a moving company to help you? You need to report any issues to them right away. Also, if you opted for the moving insurance, you can file a claim through your agent.
If you see any damages, and most moves have a few, write it down and snap a few pictures. This information becomes a vital part of your claim. Don't submit your claim until everything is unpacked, and you are sure that you have a complete list of all broken or damaged items.
15. Staying Organized During the Unpacking Process
If you have a garage, it's best to put all the boxes in this location until you can get to them. If you don't have a garage, then dedicate one space for your stored boxes. It's unrealistic to think you will get to everything within a couple of days. Pace yourself and bring out the boxes one at a time and put things away. If you labeled things correctly, you should be able to identify the boxes that need to be unpacked first.
Why tuck things away rather than putting them in the room they go in? You need to have room to move. If you fill each space with unpacked boxes, you are going to create a sense of urgency and cause yourself unnecessary stress. Having the home clutter-free and getting just what you need at the time will give you a sense of normalcy as you begin the unpacking process.
16. Take Time to Enjoy the View
One of the best reasons to move is a change of scenery. You should have a bucket list of all the things you want to do in your new city. You don't need to rush around trying to get everything unpacked as there will be plenty of time for that task. Take a breather and get out and enjoy the new area. After pulling off such an incredible feat like a cross country move, you deserve a little downtime.
If you're transferring for work, try to schedule a few days where you can rest and enjoy the new city. Before you jump back into the daily grind, your body and mind need some time to relax.
See also: 16 Ways to Pay Less When Moving Across the Country