How Much Does it Cost to Move Across the Country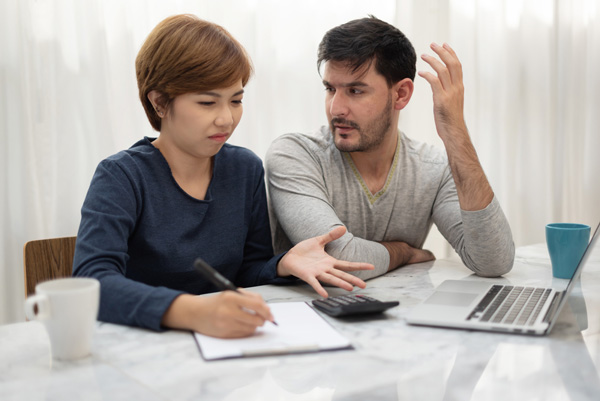 If you thought about moving to another neighborhood in the same city will set you back financially, wait until you have to move across the country. Several factors come into play for determining how much does it cost to move across the country. Every long distance move generates unique issues, from having to deal with unexpected traffic congestion to wondering where the moving company has gone with all of your stuff.
When we discuss how much does it cost to move across the country, we are not exclusively talking about a coast to coast move. A cross country move can involve relocating from an inland city like Nashville, to live in another inland city such as Las Vegas. An across the country move can also be a north and south relocation, including packing up your household goods and stuff in Dallas and dropping it off in Milwaukee.
Let's review the different cost scenarios for moving across the country before we give you a few tips on how to save money on a cross country move.
Cross Country Moving Cost Scenarios
There is not a cut and dry cost number for relocating across the United States. You have to consider three options for moving cross country, which are do it yourself, renting a container service like PODS and contracting with a licensed and bonded moving company that specializes in cross country moves.
Do It Yourself – DIY Cross Country Move
Because of budget constraints, many homeowners and apartment renters prefer to perform DIY moves by following a quick moving checklist. This requires the renting of a moving vehicle from U Haul, Budget Truck or similar companies, which in most cases involves using a van or a large truck for a long distance move. As the low-cost alternative to pods and moving companies, a do it yourself cross country move for the average person runs around $3000. You have to factor in the cost of fuel for a move that will span more than 1,000 miles. Add the cost of lodging for a night or two, as well as paying for a large amount of supplies, and you can quickly approach the three grand it takes to more the average person across the country.
Using a Portable Moving Container for Relocation
Before portable moving containers arrive on the relocation scene, we were forced to choose between an affordable do it yourself move and a much more costly move involving the use of professional movers. Portable moving container companies such as PODS have dramatically changed the moving game. For around $4,500 for the average portable moving container move, you enjoy some of the benefits of hiring a moving company, without having to fork over cash for expensive overhead cost to move across the country. Portable moving container companies offer a wide variety of features to meet the customized needs of customers. However, this relocation option across the country might not be viable for people that want to move fragile artwork and electronics.
Hiring a Professional Moving Company
Depending on the size of your home, hiring a professional moving company can cost you more than $10,000 for a cross country move. Movers typically charge about $1,000 per room, which is based mostly on the weight of the cargo you plan to take with you. By hiring one of the best cross country movers, you receive a full-service package that includes, packing, unpacking, shipping, loading, and unloading your storage and personal possessions. Reputable full-service cross country moving companies also uses state-of-the-art technology to monitor every mile of a relocation trip. You never have to worry about where your stuff is during a cross country move.
How to Save Money on a Cross Country Move
According to the American Moving and Storage Association, the average cost for working with a professional moving company for conducting an interstate move is nearly $4,500. This figure was calculated by using an average cargo weight of 7,400 pounds and a moving distance spanning 1,200 miles. However, many cross country moves span more than 1,200 miles, which means anyone performing a move across the country should find effective ways to save money on a cross country relocation. You can get accurate moving estimate and quotes using our moving cost calculator tool. There's also a moving price table which is useful to get an approximate pricing for relocation.
Conduct a Search for Free Moving Supplies
A cross country move requires a considerable amount of money for moving supplies. You can reduce or even eliminate the cost of moving supplies by finding the free tape, boxes, and bubble wrap for packing your household goods. Start by finding out when the big box retailers located near your current home receive shipments of product. Sturdy cardboard boxes used to pack and transport large electronics are the perfect vessels for packing a number of personal possessions. You can also search for free moving supplies on Craigslist, which as a section of the website entirely devoted to "Free" stuff. Do not forget to hit up friends, family members, and professional peers, especially when it comes to finding costly bubble wrap to protect your most fragile items.
Relocate During the Offseason
If you have ever hit the road in America during the summer months, you should notice a high volume of traffic moving past you. This is because school is out and many families are taking vacations. The nice weather is also an attraction for group tours that add more vehicles to the nation's roads and highways. Summer is also the time that moving companies and the businesses that offer moving accessories experience the most sales. Because of the high demand for moving products and services, most companies operating in the moving industry jack up prices to reap more revenue.
If you want an effective way to save money on an across the country move, perform the move between Labor Day and Memorial Day. Even better, relocate during the winter holiday season to enjoy the greatest savings on moving cross country.
Reach Out to Your Network
You have heard about the value of networking when it comes to advancing a career. Well, the same networking principle applies to an across the country move, except that it is more about money and less about advancing anything. Reach out to friends, family members, and professional peers to help you with a cross country relocation. No, the people that volunteer to help do not have to travel more than one thousand miles to ship goods to your new home. They can contribute by loading your stuff into the affordable rented moving vehicle.
Lighten the Load for a Cross Country Move
Since a majority of what it costs to move across the country is about how much your stuff weighs, it makes sense for you to leave some of it behind. In fact, an across the country move is an excellent opportunity to leave large appliances behind that have seen better days. You can donate household items to Goodwill and the Salvation Army. Both organizations take in clothing and smaller home accessories. You can also put large appliances up for sale on Craigslist. Just make sure to give yourself plenty of time to find buyers. Another effective way to lighten the cross country moving load involves holding a multiple-day yard or a garage sale. You can generate money to defray the other costs associated with a move across the country.
Take Advantage of Tax Breaks
The United States tax code is full of tax breaks for a large number of life events. From having children to investing in business infrastructure, you can find a tax break that matches your needs. Relocation is another life event that allows us to take one or more tax breaks. However, the United States tax code is like a chameleon; it changes every year to accommodate changing economic conditions. Before you send in your tax forms the year following relocation, make sure to ensure you receive every state and federal tax break you deserve to save money on moving across the country.
Discounts are the Money King
Moving is a highly competitive business niche, which means many companies attract new customers by offering money-saving ideas such as product and service discounts for a long distance move. For example, you might find a professional mover for an across the country relocation that bundles the cost of packing supplies into the final moving tab. Many movers offer product and service discounts during the moving offseason when customers are harder to come by. You should research cross country movers that offer mileage discounts, such as lowering the price per mile for a move than exceeds 1,500 miles.
Employer Paid for Relocation
Many across the country moves are made because of job-related reasons. From relocating to a different branch to starting a new job, you can ask your employer to pay for most, if not all, of a cross country move. Most employers offer relocation expense compensation as a perk to retain the highest achieving members of the company team. Save all of your expense receipts and submit the receipts in a timely manner to your employer.
See also: How Much Does It Cost To Move A House
Conclusion
Calculating how much it costs to move across the country changes every year. Inflation, especially the upward tick in the cost of living, can make a once affordable cross country move turn into a cost-prohibitive affair. The best way to start calculating the average cost of an across the country relocation is to research moving companies, and then having the few companies on your shortlist conduct an in-home moving cost estimate.
One's moving checklist must include these tips for moving across the country.
Update: Here's a recent article about how to prepare for a cross country move!