How Much Does it Cost to Move Out of State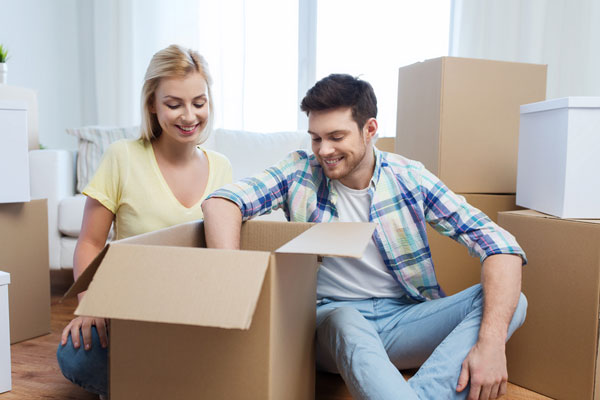 If you have never moved out of state or long distance before now, the learning curve can feel more than a little steep. After all, it is not like you can just drive around the block to scout the cost of living in your new home area!
It is more complicated to move to another state and it also typically costs more. And since you probably don't have an unlimited moving budget, you may be feeling understandably anxious about being able to hire the right mover and pay your long distance moving bills.
In this article, we take a close look at current costs for moving out of state, and factors considered by full service movers, step by step. Learn what can influence how much each service you need costs you and how to control those costs as much as possible.
Average Cost of a Full Service Out of State Move
What is the average price people pay for moving out of state, you may be wondering? According to U.S. News Money, it costs approximately $4,000 more to move out of state than to move within the state.
The average cost for an intrastate move sits around $1,170. The cost for an full service out-of-state move averages $5,630.
What makes moving out of state so much more expensive? Is it just a matter of mileage? Let's find out the cost of moving to another state!
Out of State Moving Cost Factors (Budgeting)
Mileage (Distance of The Move)
There is no doubt that adding more miles between here and there can potentially add more cost to your bottom line or budget.
The simple truth is, miles equal fuel and fuel equals expense. Regardless of the method of transit to move to another state, the moving company will need to charge for not just fuel, but employee time, vehicle wear and tear, liability insurance and more. We recently published an article about how much does movers cost, this will further help you understand the pricing structure for your out of state move.
However, there can still be some wiggle room here, especially if you have some time to plan for it.
Many full service moving companies will offer lower rates to fill up a moving truck that will otherwise depart only half-full. If you can find a mover with a move already scheduled to your destination and a truck that isn't filled to capacity, you may be able to lower the rate or reduce the cost for your move. Here's a list of best moving companies for out of state relocation.
Weight (Number of Bedrooms)
Another inevitable expense of moving your household is, well, moving your household! The more stuff you have, the more your long distance move will weigh and the more that weight can cost you.
On average, most full service movers or truck rental companies like U-haul estimate that the contents of a one-bedroom apartment will weigh less than 2,000 pounds. Contrast that with the 20,000 pound weight estimate for contents of a five-bedroom house. Chances are good the weight of your belongings will fall somewhere in between and every pound will cost you.
In fact, many movers estimate moving charges by weight as well as by mileage. A heavier shipment can mean a bigger, sturdier truck that costs more to run. It can also mean more moving personnel and more packing supplies, each of which adds even more dollars and cents to your bottom line.
Here, once again having more lead time will potentially shave at least some of those dollars off of your final bill.
Downsizing and donating what you don't use or don't need not only feels good, but it also streamlines your move and the cost of it. This should definitely be added to your moving checklist to reduce the moving cost.
However, take care not to throw out or donate anything you may actually need on the other side of your move! Otherwise, on top of everything you have to do to settle in to your new place, you will be forced to go out shopping for those necessities as well.
Packing Supplies
Donating or otherwise shedding unwanted belongings will not only help decrease the weight of your out of state move, but it can have another happy side effect – decreasing the cost of your packing supplies.
It is true you can just purchase packing supplies from your full service moving company, but if moving budget is a concern, this may not be the best option for you. Most moving companies will charge to use their own packing supplies, which will always be brand-new and thus more expensive.
Once again, having some advance planning time can really help you manage and reduce cost of your moving expenses. Consider visiting local grocery stores or home goods stores and asking if they have any gently used boxes you can take. Many stores will happily give these to you just to get them out of the store.
If you belong to any neighborhood associations, reach out and ask if anyone who has recently moved in has extra packing supplies they no longer need. Here again, many families are happy to have someone swing by and take bulky boxes and rolls of bubble wrap off their hands so they can get back to settling in to their new space.
You may still need to purchase certain packing supplies, especially if you are moving any high-end, delicate or fragile belongings such as musical instruments, fine china and similar items. But a used box will do nicely for your linens, pillows, gardening equipment and camping gear.
Utilities
One of the less well-known costs of moving anywhere, but especially out of state, is utilities fees (electricity, water etc).
Many utility providers that operate on a contract basis will charge an early cancellation fee to leave a contract early. However, if you can re-establish service with the same provider at your destination, this may not apply.
One reason why moving can be so stressful is because you will often get your final bill for the old utility provider at the same time you are receiving the deposit and first bill for the new provider.
So when you contact your utility providers to cancel service, be sure to ask about how the last bill will be handled.
Choosing your new utility providers can be harder than anticipated as well. It may require some shopping around to find new providers who are flexible with contract periods and don't charge connection fees or require deposits to start your new service.
The Waiting Period
If there is one single factor that can exponentially drive up the cost of your out of state move, it is this: having to wait.
When moving to another state, delays are costly for a variety of reasons that range from having to extend your utility service to needing to rent storage units and hotel rooms if you have to move out before you can move in.
Sometimes there is no way around a delay in your move date. Erratic weather, airline strikes, an extended closing process on your new home at the other end – all of these and more can delay getting your out of state move over and done with.
Extra Expenses
Even after controlling for all the major big ticket expenses, you may find that some out of state moving costs are simply unavoidable.
One area that tends to be particularly challenging to circumvent is when it comes to pets. Many states require that you bring proof of pet health in the form of a certified letter from your pet's veterinarian. This is called a "Certificate of Veterinary Inspection" and will require paying for a vet visit before your move.
You may also incur extra expenses to move your pet, especially if you need to hire a pet shipping service as part of coordinating your move.
Another area where extra expenses frequently crop up is when things you were counting on using at your new destination get damaged or broken during transit. Here, you can save yourself at least some of the headache by choosing your moving company with the utmost care.
Be sure to read even the finest of fine print in your moving contract. Find out exactly what you need to do on each end to successfully file claims for missing or damaged/destroyed belongings. Usually you will need to be present at the conclusion of your move to examine your belongings and sign off on the delivery, which can be more difficult with an out of state move.
Talk with your moving company about what the process is to file a claim and how it works if you discover after you have unpacked that there are items missing, damaged or destroyed. This can go a long way towards easing the costs of replacing those items, if necessary.
Moving Budget & Plan
Moving out of state for a new job, a relationship or even just a change of scenery can be exciting and very desirable. But there is no doubt it is also a lot of work! It takes a tremendous amount of research, planning, budgeting and coordination to pull off a move of any size, especially when you are moving out of state.
These tips or relocation steps can help you start your research and planning process early to negotiate the best deals, strategize about what to bring and what to leave, coordinate moving pets and fragile items and arrive on budget at your destination. With the help of an approximate moving cost calculator, you can get moving estimates and quotes from relevant moving companies and have a clear budget.