15 Beautiful Resort Towns To Call Home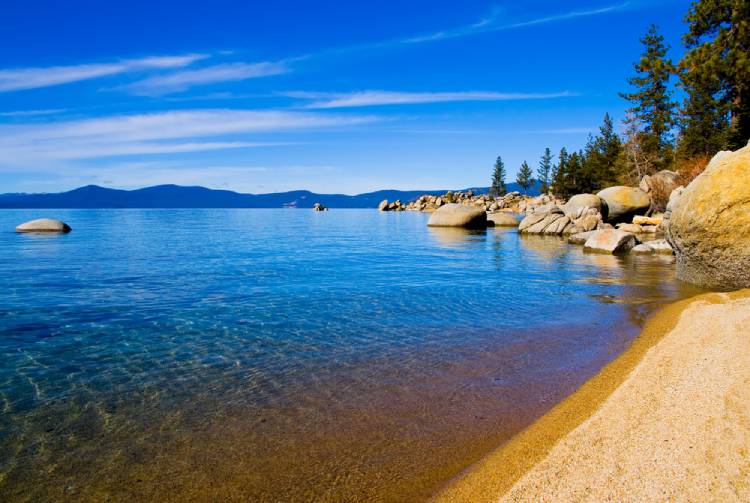 Picture this: You've just woken up to the sweet chitter-chatter of the birds. It's a cold morning; all that you want to do is be a blanket burrito and sit with a hot cup of coffee. The best place to enjoy your morning is obviously the balcony which faces the snow-capped mountains. Living in such a beautiful place has its own benefits, doesn't it?
How many times have you gone for a vacation and had a strong urge to never leave that place? All of us have experienced this at least once in our lives. After all, who doesn't envy the life of those who stay in beautiful towns! Moving to a resort town is not as complicated as it sounds. These places are generally bustling with employment opportunities. Additionally, you get to enjoy the great restaurants, high-quality schooling as well as close-knit community life. What is stopping you? Here are the 15 beautiful resort towns that you can call your home!
Which Resort Towns Can You Move To?
1. Lake Tahoe, California
If you're someone who always needs to be up and going, Lake Tahoe is the place for you. Ski adventures to water sports, this place has it all. If you are a water baby, you will certainly thrive here. Capable of giving your children the best childhood experiences with its above-average schools, Lake Tahoe is one of the best places to stay with your families.
Moving here will ensure that you'll stay at the top of your health because there are numerous hiking trails to explore. This combined with the rich and high-end dining (live rock music is a big thing here) along with shopping experiences makes Lake Tahoe the finest example of suburban living.
Upsides: Waking up to stunningly pretty scenery and you get to interact with new people (the place is visited by thousands of tourists)
Downsides: Due to the high elevation and low humidity, the climate is dry throughout the year. Such a climate is always difficult on the skin, sinuses, eyes, etc.
Median Home Value: $536,311
Median Rent: $1,657
Median Household Income: $49,390
2. Telluride, Colorado
If escaping the crowded cities is your main goal, move to Telluride! Traveling to Telluride is a little bit tedious because it is located in the breathtaking Rocky Mountains. As a result, the population is quite low here. However, this does not mean that life here is very boring. The historical buildings house several coffee shops, art galleries, boutiques, and restaurants.
The people of Telluride are super enthusiastic and have made it a cultural hub. You'll see jazz festivals, theatre and comedy festivals, ballet recitals being organized throughout the year. The town has maintained a high-ranked schooling system. However, nothing can surpass the main attraction of this town i.e., the large ski slopes. Many people live on ski ranches and you can ski all you want in Telluride.
Upsides: Telluride has a close-knit community and everyone is extremely loving, caring, and super friendly.
Downsides: The cost of living is extremely high in Telluride
Median Home Value: $1,091,389
Median Rent: $1,657
Median Household Income: $66,613
3. St. Helena, California
If you want to enjoy the perks of city life and embrace country life as well, St. Helena is the ideal place for you. Situated in the heart of the Napa Valley, it can be best described as a vibrant and charming town. You can eat gourmet food, relax in luxurious spas and enjoy the vivacious art galleries.
You can stay mentally as well as physically fit by participating in outdoor activities like biking, swimming, tennis, golf, and the likes. Friendly neighborhoods, lovely schools, and low crime rates make St. Helena a desirable location to move to.
Upsides: If you're a gourmand, the rich array of wineries and a variety of cuisines will win your heart.
Downsides: Real estate prices in St. Helena are very high.
Median Home Value: $1,112,100
Median Rent: $1,664
Median Household Income: $90,031
4. Nantucket, Massachusetts
Nantucket is a gorgeous island located off the coast of Cape Cod in Massachusetts. Its cobblestone streets, cottages surrounded by roses, and typical white picket fences together create a quaint New England vibe.
Some of the best parts about living here are visiting lighthouses in foggy weather, eating the authentic Nantucket bay scallops, and witnessing the spectacular Rainbow Fleet and Daffodil Festival. The intimate community life and above-average schooling system offered by it make it one of the greatest places to stay with families.
Upsides: An adventure is just waiting to happen in Nantucket. Nantucket offers you great fishing and surfing opportunities.
Downside: The scarcity of established industries in this town leads to unstable wages.
Median Home Value: $1,390,000
Median Rent: $2,367
Median Household Income: $103,841
5. St. Augustine, Florida
If only walls could talk! St. Augustine is one of the oldest towns in America and has witnessed important historical events unfolding within itself. The streets are filled with cute cottages that have been constructed using the colonial architectural style. The shopping boutiques, mouth-watering local cuisine, historical walks through museums and forts, art galleries, and live music venues ensure that you aren't bored at any point in time.
The town folks have a fascination for the supernatural elements. They believe that the top attractions of the town are inhabited by the ghosts of ancient Spanish settlers along with the original residents. As a result of being located in the 'Sunshine State', St. Augustine receives a lot of sunshine throughout the year. However, this works out for the best because St. Augustine houses several lovely beaches where you'll certainly achieve tranquility.
Upsides: If you want to be involved in your children's lives and ensure that they are receiving the best kind of education, St. Augustine is the place to move to!
Downside: This place is visited by tourists for the major part of the year because of which navigating the roads is tedious due to constant traffic.
Median Home Value: $309,789
Median Rent: $1,244
Median Household Income: $43,204
6. Gatlinburg, Tennessee
If you ever dreamt of staying in the mountains with a limited connection to city life, you should certainly move to Gatlinburg. The landscape will simply take your breath away. Situated just next to the Great Smoky Mountains National Park, Gatlinburg offers you captivating views like snow-capped mountains along with the lush green forest, a river snaking through the fertile valleys, and the wildflowers blooming throughout the year.
Moreover, a large network of trails for biking, horse riding, hiking keeps you busy as well as fit throughout the year. The highly reputable schools and the after-school programs like 'Boys & Girls Club of the Smoky Mountains' ensure the overall development of your child. The community center is particularly active as it offers to teach activities like bowling, swimming, and other sports at inexpensive rates.
Upsides: Gatlinburg is situated in the state of Tennessee where every citizen is exempted from paying the State Income Tax. Moreover, you'll be able to find affordable housing options in Gatlinburg.
Downsides: Gatlinburg has witnessed elevated crime rates in the last few years. These crimes are mostly related to property.
Median Home Value: $322,805
Median Rent: $1,025
Median Household Income: $36,894
7. Naples, Florida
Naples is a breathtaking, coastal town with a collection of some gorgeous white sand beaches and an impressive array of up-scale boutiques and classy restaurants. There's no dearth of outdoor activities in Naples. You could simply go for a calming boat ride or fishing. Moreover, with more than 80 golf courses, Naples is known as the golf capital of the world. The best part about this town is that the happiness levels in Naples are incredibly high. An intimate and active community life ensures that fewer people fall prey to stress and depression.
Upsides: Naples has consistently witnessed low crime rates for several years. Additionally, the town experiences pleasant weather throughout the year.
Downsides: Due to the limited availability of schools and recreational activities for kids, this is not the best place to start a family.
Median Home Value: $410,000
Median Rent: $2,000
Median Household Income: $107,126
8. Stowe, Vermont
Nestled between the Green Mountains and the CC Putnam State Forest, the quaint town of Stowe attracts families who are looking to do away with the problems of urban chaos. Stowe truly is a paradise for all ski enthusiasts. The range of outdoor activities like zip-lining, rock climbing, dog sledding, hiking, and biking keeps things interesting throughout the year.
In addition to this, Stowe is the perfect place to raise a family because it houses one of the most outstanding education systems in the world. Maybe that's why the melodious Von Trapp family chose to stay in Stowe!
Upsides: Stowe has an abundant amount of space for participating in adventure-based activities.
Downsides: This town receives a crazy amount of snow each year. Moreover, living costs are higher in comparison to other parts of the country.
Median Home Value: $622,000
Median Rent: $900
Median Household Income: $22,690
9. Martha's Vineyard (Edgartown), Massachusetts
Martha's Vineyard is an island that is a collection of 6 towns and 4 villages. It houses pristine beaches, lush green farms, storied lighthouses, and summer cottages that are straight out of a fairy tale. The down-island which consists of Oak Bluffs, Vineyard Haven, and Edgartown has a marine-based economy. The markets and the restaurants brimming with delicious seafood paired with the gorgeous sunsets, carousels, surfing, and biking adventures keep you busy throughout the year.
The up-island which consists of Aquinnah, Chilmark, and West Tisbury offers you the laidback lifestyle you need. Huge spreads of farmlands, historical lighthouses, and the treacherous waves crashing onto the cliffs together form a scene straight out of a painting. The best part about staying in Martha's Vineyard is that you can spot your favorite celebrities, be it the Obamas or legends like Bill Murray and David Letterman.
Upsides: Every day here is a casual Friday! No one really dresses up in designer and formal clothes. Moreover, driving is fun in Martha's Vineyard because there are no stoplights in this town.
Downsides: Staying in Martha's Vineyard is quite expensive because of the high real estate rates.
Median Home Value: $1,700,000
Median Rent: $1,600
Median Household Income: $87,126
10. Jackson Hole, Wyoming
Jackson Hole is snuggled between a spread of thick forests, snow-capped majestic mountains, and the Grand Teton National Park because of which it remains one the most offbeat locations in America. It's not wildly popular in comparison to the other locations in this list. Due to this, the cost of living remains low here.
The rugged terrain is suitable for establishing ranches and ski resorts and thus offers great business opportunities to the locals. The lively performance venues and beautiful art galleries provide entertainment for the locals throughout the year. Jackson Hole looks heavenly during the fall. The orange landscape and the star-studded night sky ensure that you have a great living experience here.
Upsides: Jackson Hole houses some of the best nationally-recognized schools. Moreover, the average commute in this town is up to 15 minutes because of the well-maintained roads and less traffic.
Downsides: The climate in Jackson Hole is dry and windy. This place experiences temperature extremities during the winters as well as the summers.
Median Home Value: $861,415
Median Rent: $1,350
Median Household Income: $75,150
Also See: Moving To Wyoming
11. Laguna Beach, California
With an impressive collection of private and public schools, picturesque coastal parks, pretty blue waters, and sandy beaches, Laguna Beach is indeed the best place to move to and start a family. The beautiful weather allows you to enjoy the perks of this location throughout the year.
The town strikes the right balance between urban and suburban living. It has a penchant for artistic talents and this can be seen in its art galleries and the public art pieces that are scattered across the town. The town folks really love their wildflowers and fauna like whales and seals. There is a huge diversity in the community that stays here and trust us, you truly do want to be a part of this fun-loving beach community!
Upsides: Traveling in and out of Laguna Beach is quite easy because the town has its own airport! Additionally, the seaside recreational activities keep you active throughout the year.
Downsides: Life here is not as laid-back as you think! The place is always crowded because more than 3 million tourists visit Laguna Beach every year.
Median Home Value: $2,419,913
Median Rent: $2,257
Median Household Income: $121,174
12. Sedona, Arizona
Sedona is rightly called one of the most beautiful towns in the USA. Finding a landscape as spectacular as the one found here is quite difficult. The magnificent view of the Red Rock Formations and the Sonoran Deserts ensure that all the town folks are mentally and physically healthy as they get the opportunity to go hiking, sightseeing, or climbing almost every other day. The pleasant temperatures in all seasons ensure that you have a chance to go on an outdoor adventure any time you want.
The booming tourism sector has led to consistent growth in the economy because of which there are abundant job opportunities in this town. The residents are deeply involved in maintaining good community life. All of these residents are actively engaged in organizing grand events and festivals throughout the year to keep themselves entertained.
Upsides: The weather is great throughout the year. People from cold parts of the country move to Sedona in winters and people from hotter parts of the country move to Sedona to escape the summer heat.
Downsides: Wild animals are regularly spotted here because of which you must always be careful and protect your pets.
Median Home Value: $611,004
Median Rent: $1,175
Median Household Income: $50,133
13. Aspen, Colorado
The best part about Aspen is that the adventures you seek to go on at least once in your life become a part of your daily routine. There are no ends to what you can do when it comes to outdoor activities, be it cross country skiing, hiking, ranching, horse riding, camping, white water rafting, or kayaking. The Aspen lifestyle blends the charms of small-town life with the excitement offered by a busy urban life.
The majestic mountains offer a breath of fresh air while the beer festivals, theater, delicious food and wine, rodeos, etc., offer year-long entertainment to the residents of Aspen. Amenities like paved trails, efficient bus systems, and cross country ski trails, make your life fun as well as comfortable.
Upsides: The crime rates in this town are pretty low. Many residents even leave their doors open the whole day.
Downsides: The real estate rates are very high in Aspen. Moreover, the temperatures are exceedingly low during winters.
Median Home Value: $2,132,955
Median Rent: $8,750
Median Household Income: $72,973
14. Sanibel Islands, Florida
Being surrounded by the never-ending skies and the blue ocean, year-long sunshine, gorgeous sunsets, white sand beaches, and large golf courses are some of the reasons to move to Sanibel Island. This town offers the opportunity to stay true to your roots, you exist in perfect harmony with the wildlife and nature.
Life on this island is peaceful and quiet. No one is rushing anywhere, there are no loud noises, there is only one stoplight here, and the members of the local community catch up with each other at the local supermarket every day in the morning. The calm and the slow-paced lifestyle majorly attract those who are looking for a place to retire.
Upsides: Even though the island is cut off from the urban chaos, you get all the amenities like restaurants, doctors, gas, schools, shopping boutiques.
Downsides: Sanibel island has an odd east-west orientation because of which it is highly susceptible to rise in sea levels and hurricanes.
Median Home Value: $724,638
Median Rent: $1,375
Median Household Income: $102,135
15. Juneau, Alaska
Juneau is the perfect town to move to if you are tired of your disorderly life in the cities. This town offers solitude because of its low population and gives you a chance to truly explore yourself. The abundant number of outdoor activities like hiking and fishing, skiing along with the picturesque landscape that includes bushes of pretty wildflowers, off-beat islands that need to be explored, and the expansive ocean makes your life happy and eventful.
The government and the tourism sectors offer high levels of employment opportunities to the locals. The best part about this is that the locals get a high compensation for almost all kinds of jobs. Ferries are commonly used for commuting here as this location isn't connected to the other parts of the state via roads.
Upsides: Juneau is a one-stop-shop for adventure seekers. This is so because you get to participate in all kinds of activities (hiking, skiing, biking, etc.) here.
Downsides: Juneau is pretty disconnected from the world and there is no nightlife here.
Median Home Value: $413,287
Median Rent: $1,175
Median Household Income: $84,750
---
Conclusion
The one thing you may have noted in our list of resort towns is that they're quite expensive. But compared with what's in store for you, that sure is a reasonable price to pay for a slice of paradise.
See also: Most Outdoorsy Cities in the U.S.