Moving To Wyoming – 2022 Cost of Living & Relocation Guide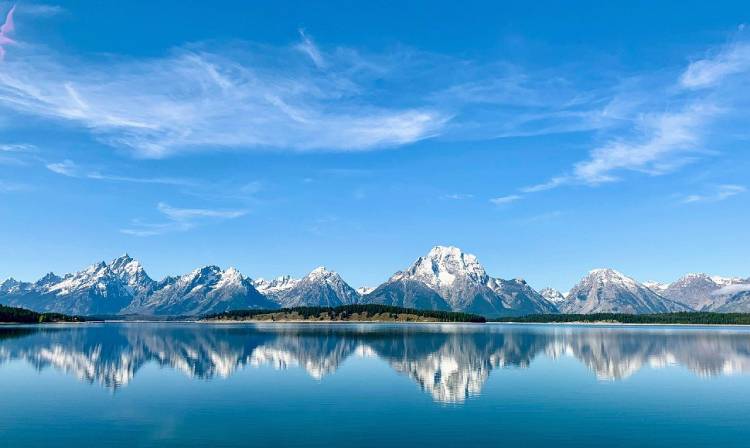 The American dream has many forms and the country of America is built in such a way that it manages to offer something to everyone. Whether it's a city life full of hustle-bustle that fascinates you or the old cowboy charm, you will find a place for yourself here. Wyoming is for the latter kind of crowd who appreciates the old-world beauty and enjoys the wild while living a simple and affordable life. The state of Wyoming is located in the Mountain West subregion of the Western part of the United States.
Wyoming is the 10th-largest state by area and is also the least populous state in the United States. Known for its wilderness and raw natural beauty, moving to the state of Wyoming can give you a cultural shock if you are moving from a relatively fast-paced city. Preparing for and knowing your future home-state is always a better idea because it can save you from a lot of unpleasant surprises while helping you better prepare for your move. Here are some of the things about Wyoming that you should keep in mind before moving to the Cowboy State:
Weather In Wyoming
As we stated earlier, as Wyoming is surrounded by nature and mountains, the weather tends to be on the colder side for the most part. Hence, you are advised to pack and buy loads of heavy winter clothes to keep you warm. Also, make sure that your new home has a heater. The good part about moving to the state is that you will have a slice of all four seasons in the state although winters tend to stay the longest.
Winters
Winters mostly dominate the state and you will experience snow more than sunny days. Winters in the region can be cold and extreme, especially in the highlands. The temperatures fall as low as 0°F and can go up to 18°F in the month of January. The extremity of the season varies across the state.
Summers
Summers are comparatively short and not as unbearable as you might think, rather, they come as a pleasant relief. The heat varies based on the zones in the state. In the peak summer of July, the average high temperature ranges from 75°F to 90°F in the plains whereas the highlands above 2500 meters experience 70°F to 75°F. Nights, typical of semi-arid zones, cool down faster and the average temperatures range between 50°F to 60°F.
Spring
Springs are hands-down the public's favorite season and why wouldn't it be? It is all things magical and you will experience this spring magic in the state of Wyoming too. In Wyoming, springs are transitional periods that begin around late April and last until the end of June. During spring, the temperatures tend to vary widely and there is also a possibility of snowfall and rains. The average temperature can range from the 30s to the upper 60s on a warm day. Late spring and early summer is the usual precipitation period in the state of Wyoming.
Autumn
If you want to immerse in the fall vibes of the Mountain West, the month of Autumn is most likely to spoil you in Wyoming because of its sheer natural beauty. The peak autumn season in Wyoming runs from the beginning of September to mid-October and this is when you'll feel like all the snow was truly worth it. Daily high temperatures vary between 66°F to 54°F, rarely falling below 37°F or exceeding 78°F. Daily low temperatures vary between 41°F to 32°F, rarely falling below 19°F or exceeding 51°F.
Also Read: Beautiful Resort Towns To Call Home
Transportation
Transit programs in Wyoming are administered by WYDOT through the Office of Local Government Coordination and currently, all 23 counties have at least one provider of public transportation. Here are some of the ways you can commute in and out of the state of Wyoming:
Roadways
The Greyhound bus network has good routes to most major cities in the state. These buses tend to stick to destinations around the interstates, so it is difficult to reach remote towns without a car. Greyhound buses are cheap but not the most comfortable option for long trips. Most large towns in Wyoming have public bus services, such as Jackson's Southern Teton Area Rapid Transit (START), which maintains regular routes around the more useful parts of town. City bus services typically increase dramatically during the summer months. We would recommend you get your own car if you plan to live and start a life in the Cowboy State.
Airways
Where Wyoming lacks in railways, it more or less makes up for by airways because of the presence of a solid airport in the state that ensures easy air travel. There are a total of 8 passenger service airports in Wyoming, out of which, one is an international airport located in Jackson city. This airport is called the Jackson Hole Airport which, although small and has a limited number of flights, can still be considered as the most viable option for air travel in the state.
Railways
Rail transportation in Wyoming can be a bit difficult for you because the state does not really have a railway network to get around. To put it simply, there is no train service in the state of Wyoming.
Job Market In Wyoming
Wyoming or the Equality State has a flourishing job market hence the high household incomes. Because the state has farming and education at its heart, academics and farming are the top job providers. Farming used to be the biggest source of income for the majority. However, in the past few years, jobs in tourism, education, and delivery services have been increasing. According to Wyoming Labor Market Information, the state of Wyoming added 8,967 jobs (3.4%) and witnessed a total payroll rise of nearly $312.4 million (9.8%) from the third quarter of 2020 to the third quarter of 2021. Here are some of the companies that provide job opportunities in Wyoming:
Yellowstone National Park
CloudPeak Energy
Taco John's
Real Estate In Wyoming
Buying A House
Buying a house should be your way to go if you plan to stay in the state of Wyoming. The majority of the Cowboy State's population own their homes because they earn more and the cost of living is low – with housing being the cheapest. According to Zillow, the average median home value in the state of Wyoming is $303,325. Marbleton, Greybull, and Newcastle are some of the more affordable cities in the state to buy a house in.
Renting In Wyoming
Renting is ideal for a short period of time and is a flexible arrangement where you can live without worrying about the mortgage payments or committing to a place. According to RentCafe, the average rent of an apartment in Wyoming is around $1,185 which can vary depending on the size of the apartment, the market rate, and the location.
Crime Rate In Wyoming
Safety is an indispensable aspect of living in a city and the state of Wyoming can be considered a safe state because of its crime rate stats. According to NeighbourhoodScout, the crime rate per 1000 residents is 2.36% for violent crimes like murder and/or assault while property crimes are 16.26%. Thus, the overall crime rate is 18.62%, which, while not low, isn't as alarming as the statistics in various other American states.
Also Read: 10 Safest States in the U.S.
Cost Of Living In Wyoming
The biggest benefit of moving to Wyoming is that it is an extremely affordable state to live in where the overall median household income is high and the cost of living is low. According to Payscale, the cost of living in Wyoming is 5% lower than the national average! To be precise, you would have to pay $172.02 every month for electricity, $2.43 per gallon for gas, and $183.37 for your monthly phone bill.
Overall, your housing expenses will be 10% lower than the national average. Healthcare is also 3% lower than the national average but you might spend a bit more on groceries because grocery prices are 3% higher than the U.S. average with a gallon of milk costing you approximately $2.00 in the state. As a resident of the state, you would have to pay around $3.27 for a loaf of bread and $1.78 for a carton of eggs. The median household income in Wyoming is $64,049.
See Also: 7 States with Lowest Taxes
Education In Wyoming
Good education is of high concern to many while shifting, often being a deal-breaker in some cases. In today's world, attaining a quality education is absolutely non-negotiable in order to get a good job and establish a high standard of living. With regard to this particular aspect, Wyoming's education system is regarded as moderately successful in supplying its students with high-caliber education. They are regarded as the 25th overall, in the entire country, with the Wyoming Department of Education spending nearly $740 million on public education every year.
Top Rated Wyoming Schools
Sheridan High School
Jackson Hole High School
Lander Valley High School
Slander High School
Laramie High School
Top Rated Wyoming Universities
University of Wyoming, Laramie
Sheridan College
Central Wyoming College
Laramie County Community College
Casper College
Top Places To Move To In Wyoming
Laramie
Laramie is a comparatively big city in Wyoming, which is a state primarily of small towns. It is a pretty historical place too as it was in the city of Laramie that a woman first cast her vote in a general election. Laramie also has the University of Wyoming, which is a nationally ranked university, making it one of the best places in the state to raise a family. According to the World Population Review, the average population of the city is around 33,008. Laramie is a city located in Albany County, Wyoming.
The city also has a comparatively high average household income. The average household income in Laramie is $61,989 while the poverty rate is 23.88%. Just keep in mind that Laramie has a majority of White population but they are welcoming and it has one of the lowest crime rates in the state. A city with more sources of money and less crime is always ideal, isn't it?
Median Home Value: $216,300
Monthly Median Rent: $797
Green River
Globally known for being the starting point of John Wesley Powell's expeditions, Green River is also one of the top places to move to in the state. Located in the southern part of Wyoming, it is a gorgeous riverside town with a small population of 12,071. It will be an ideal place for you to live in if you'd enjoy the humble small-town life surrounded by big mountains and ample fresh air.
Green River has one of the highest household incomes in the state of around $75,087 with a relatively low cost of living. The town has beautiful parks and familiar neighborhoods. It can also be an ideal place to retire if you plan to have a peaceful and natural life. The crime rates are pretty low too and the majority of the population own their homes.
Median Home Value:$213,800
Monthly Median Rent:$895
Median Home Value: $234,100
Buffalo
Known for the oldest operating hotel in Wyoming, the city of Buffalo is located in Johnson County, Wyoming. The city is located equidistant between Yellowstone Park and the great Mount Rushmore. Rich in local values and cuisines, Buffalo can be an ideal city for you to start a home and raise a family if you enjoy the lurking timeless charm of the old world. With barely 4,500 people, the city of Buffalo is almost like one large family with many local shops and vendors that are familiar to the residents. The city of Buffalo also offers you interesting nightlife and a variety of restaurants so you will have plenty of bars to hit and restaurants to check out.
Monthly Median Rent:$888
Powell
A small city with a tiny population but wonderful facilities and great culture, the city of Powell is located in the state of Wyoming in Park County, United States. It has a really small population of 6,099 with an average household income of $70,393. The poverty rate is 15.54% because of the high-paying jobs in hospitals, colleges, and public schools. It is especially ideal for retirees and families because of great private and public schools and the majority of the folks own their own homes. Just keep in mind that the majority leans towards the conservative political ideology and there is very little diversity here.
Median Home Value:$191,000
Monthly Median Rent:$820
Jackson
We've saved the best for the last and that is the city of Jackson. Once you live here, you will not want to move out because it is one of the best towns to live in, in the state of Wyoming. With top-rated public schools and the greatest bar scene, Jacksonville is a small but lovely town with a small population of almost 10,555.
If you were thinking that Wyoming is all about the wild and the rocks while your jam is more whiskey-on-the-rocks, do not worry because the town of Jackson is tailor-made for you! It has an incredible range of restaurants and clubs and an average median household income that is also pretty great at $73,411. The town of Jackson is especially ideal for youngsters and families.
Median Home Value:$652,100
Monthly Median Rent: $1,427
Read Also: The 10 Best Small Cities to Live in the U.S.
FAQs About Moving To Wyoming
Is Moving To Wyoming Worth It?
Moving to Wyoming will be worth it only if your ideal life looks slow-paced and revolves mostly around nature. If you are an individual who enjoys opportunities and a fast-paced life, the state of Wyoming might not be for you. The state does have an excellent academic record so it can be considered a good starting point to have a strong foundation for your family's education.
What Is The Most Common Job In Wyoming?
As stated, the state of Wyoming is surrounded by nature hence, it makes sense that the most common job in the state was farming until it was replaced by jobs in mineral extraction, agriculture, and tourism. In the recent past, these industries have emerged as strong sources of income and of sustaining the overall job market in Wyoming.
What Are The Downsides Of Living In Wyoming?
If you are a city person who loves the comfort and anonymity of the city, Wyoming cannot be much more than a vacation spot for you. The lackadaisical lifestyle, the frequent storms, and a job market that relies heavily on nature might not be everyone's cup of tea.
Also See: 10 Best Out Of State Movers in the US