The 10 Best Small Cities to Live in the U.S.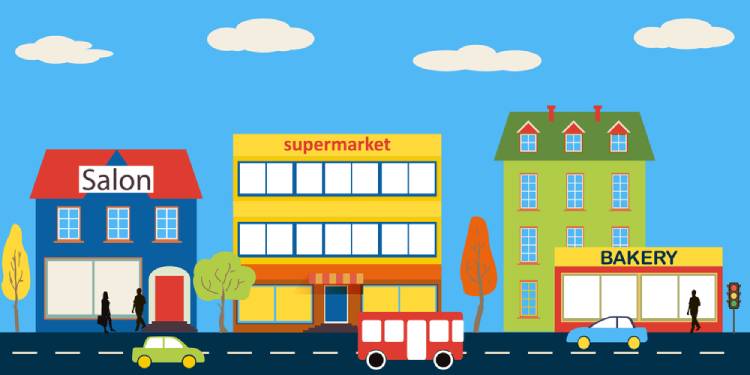 You've often heard grand stories about how people from a small town flee to a big city to make it big in life. But in today's world, we'd say this is a pretty outdated version, since more people are drawn to quitting the fast paced lifestyle associated with big cities.
Living in big cities has its perks, but the excessive sea of people, traffic and noise can push you to want some space. Now the Cast Away life like Tom Hanks is also not that appealing, and that's why you settle for small cities. It's true that small cities have the best of both worlds and we get why you'd like to consider it. So, let's look at some of the best small cities to live in the US.
Top 10 Small Cities To Live In The US
1. Savannah, Georgia
The city of Savannah was the former state capital of the state of Georgia. A simple walk or ride through the city will reveal to you that it is full of historic buildings. It lies in close proximity to the coast of Georgia, so you have some beautiful views to capture.
The beautiful Candler Oak Tree is a common visual that you'd see in Savannah. The 30-acre Forsyth Park and cobblestone streets adds to the aesthetic appeal of the city. Innumerable historic homes that can take you back in time is another peculiar feature of this small town.
Why Savannah? – Pedestrian friendly and tons of green spaces.
Fun Fact – Savannah was named the second best city in the South by lifestyle magazine Southern Living. Condé Nast also ranked this city in the top small cities to live in the US.
Population – 144,464 (estimated, last updated in 2019)
Median Home Value – $156,500
Median Rent – $1,019
2. Greenville, South Carolina
The city of Greenville has the perfect blend of small city charm and big city amenities. It is presently the third largest urban area of South Carolina. In total the city has roughly 39 parks which is pretty impressive for the size of Greenville. It's easy to find hospitable people because the communities here are mostly friendly.
Residents here also have easy access to the mountains, so recreation isn't too far away. It lies at the foothills of the Blue Ridge Mountains because of which people love exploring the outdoors. A short car drive could easily help you escape to stunning hiking points and waterfalls.
Why Greenville? – You can easily plug into larger metropolitan areas like Atlanta, Chattanooga and Charlotte.
Fun Fact – Greenville is the sixth best small city in the US according to the 2020 Condé Nast Traveler Readers' Choice Awards.
Population – 70,635 (estimated, last updated in 2019)
Median Home Value – $292,400
Median Rent – $984
3. Santa Fe, New Mexico
Few of the best things about living in Santa Fe is the year round sunny weather that just makes it easier to enjoy the outdoors. The city is also doing great in terms of diversity. Food and arts are a big part of the culture and lifestyle here. Festivals oriented towards celebrating food or art is common in Santa Fe. Thanks to film and wine festivals, Spanish markets, and fiestas, the atmosphere and community spirit comes alive. Santa Fe is also the state capital so it doesn't lack modern amenities.
Why Santa Fe? – Incredible food options and high in diversity.The city lies on a high altitude which makes it a great place for outdoor activities like skiing, mountain biking and fly fishing.
Fun Fact – Named the best small city to work and play by MovieMaker Magazine in 2019.
Population – 84,683 (estimated, last updated in 2019)
Median Home Value – $280,800
Median Rent – $1,080
4. Asheville, North Carolina
The city of Asheville is popularly referred to as a mountain town. You could capture views of the Blue Ridge Mountains and reach them within an hour. Unlike other towns that lie in close proximity to mountains, Asheville sets it apart with its vibrant art scene. Art galleries and art deco architecture is part of the city landscape.
It's also largely a college town since it is home to the University of North Carolina. Because of the number of younger people, finding places to dine out or a pub with live music is pretty easy. By this we mean that you won't have to look too far.
Why Asheville? – The town is thriving and far from stagnation. You also get to live in close proximity to the marvelous Blue Ridge Mountains.
Fun Fact – Asheville has constantly been recognized on lists of best small cities in the US by several magazines. The city almost never fails to make it on these rankings.
Population – 92,870 (estimated, last updated in 2019)
Median Home Value – $270,400
Median Rent – $1,043
5. Reno, Nevada
Community events and live music festivals are few of the staples for residents in the city of Reno. If you love outdoor activities, then this city won't disappoint. Hiking, fishing and camping is part of the lifestyle here since Reno sits near splendid Lake Tahoe. If you're looking for a change of pace from a busy metropolis then Reno could fit like a glove.
It's big enough to not always run into people you know, but small enough to still feel the sense of community. Reno is also doing pretty well in terms of its economy for a city its size.
Why Reno?– The selling point for Reno is that it has a great balance of things to do outdoors.
Fun Fact – Reno took the number one place for the best small city in the US in the year 2020 on the BestCities.org.
Population – 257,182 (estimated, last updated in 2019)
Median Home Value – $335,000
Median Rent – $1,029
6. Boulder, Colorado
Boulder is a high-elevation city and surely deserves to be looked up to for the high standard of living it offers. It is situated at the foothills of Rocky Mountains which forms the backdrop of the city. If you choose to live here, you'd always be a drive away from the mountains.
The city is composed of a mix of retirees, youngsters because of the University of Colorado, and people who are drawn to an active lifestyle. The atmosphere here is laid back and full of adventure. Just a heads up that the cost of living here is relatively higher than any of the other cities on this list.
Why Boulder? – The physical environment of Boulder is just plain stunning. If you find it interesting to live.
Fun Fact – The National Geographic Traveler Survey included Boulder on its list of Best Small Cities In The US.
Population – 105,673 (estimated, last updated in 2019)
Median Home Value – $700,000
Median Rent – $1,554
7. Charlottesville, Virginia
The city of Charlottesville is a feel-good place. The neat, well-groomed parks and not-so-busy lanes make the city a cozy place to call home. At the center of the city lies the University of Virginia because of which there is a good student population. However, things are not just catered towards the young, but there's something for everyone in Charlottesville.
On the outskirts you can find quaint mountain towns. The further you move from the center the more peaceful it gets, so you can pick the pace that suits you. There are very few cities that allow you to have a balance, and Charlottesville is one of them.
Why Charlottesville? – Charlottesville is a great place for people of all ages. It has something for everyone. Bustling entertainment areas, quieter pastures and a homely atmosphere, you have it all here!
Fun Fact – There's a never ending list of magazines and travel channels that have ranked Charlottesville as the best small town to live in the US. The lengthy list is showcased on the city's official travel site.
Population – 47,266 (estimated, last updated in 2019)
Median Home Value – $299,600
Median Rent – $1,142
8. Naples, Florida
The city of Naples is just the place to reside for those of you who aren't a fan of living in stagnant cities where nothing ever happens. The city has a huge reputation for its golf courses and the social lifestyle it calls for. Naples enjoys great sunny skies most of the year which is another reason to love the city.
The only downside is that Naples can get pretty touristy in the winter months. It is a true cosmopolitan small city where in terms of amenities you do have it above the mediocre.
Why Naples? – The city has a great number of pockets to relax and unwind. There's no shortage of parks, beaches and restaurants to choose from.
Fun Fact – Naples has straight up earned a spot on reputable website BestCities.org. Another analytics website by the name Gallup has also called out Naples four times in a row for its high score on well-being.
Population – 21,812 (estimated, last updated in 2019)
Median Home Value – $988,500
Median Rent – $1,357
Also Read: 6 Best Places To Retire In Florida
9. Santa Cruz, California
The little town of Santa Cruz is situated at the north end of the beautiful Monterey Bay. It cuts itself off from the noisy side of San Jose and San Francisco. Santa Cruz presents to residents an easy going abode where you still get to connect with a creative community.
People are pretty much enthusiastic about staying outdoors and enjoy year round temperate weather. There's more than a handful of interesting venues you would get pulled towards. It definitely ticks off all the things in terms of social life but it can get relatively expensive to live here.
Why Santa Cruz? – You get to live in a coastal town on the West Coast. Also, if you've always enjoyed what California has to offer, you could see yourself loving the city of Santa Cruz.
Fun Fact – The city has previously made it on the '30 Best Small Cities In The US' by National Geographic Traveler. Even in 2021, it still manages to win a spot on the BestCities.org list.
Population – 64,522 (estimated, last updated in 2019)
Median Home Value – $854,200
Median Rent – $1,889
10. Ann-Arbor, Michigan
The city of Ann-Arbor has consistently got a high score by analytics websites like Livability and BestCities.org. Various notable magazines also never fail to notice Ann-Arbor for doing so well despite being a small town. The place is super family-friendly and probably just the right size city. It's never too crowded or not too dull, but a good mix of the two.
The city is also clean, neat and pedestrian-friendly. Ann-Arbor also earns points for diversity and the variety of restaurants. It's home to the University of Michigan, so you do have a large percentage of the young crowd. Ann-Arbor also gets recognized for being a smart small city because it houses a great number of businesses.
Why Ann-Arbor? – You get easy access to big towns like Chicago and Detroit which are a couple of hours away.
Fun Fact – Ann Arbor is the second-best place to live in the United States according to by Livability.com
Population – 119,980 (estimated, last updated in 2019)
Median Home Value – $323,400
Median Rent – $1,237
How Did We Derive This List Of Best Small Cities To Live In The US?
For the list of cities we referred to the results of the analytic tests conducted by the website BestCities.org. These cities ranked on the top after achieving great scores against six different metrics. Even the smallest aspects like weather conditions, close proximity to the airport or university were taken into account. In addition to that, the study also ensured that there should be a modest number of Fortune 500 or established companies in the city. Overall, these small cities are the ones that are thriving with positives and hence make it to the list.
FAQs
What is the best small city to live in America?
The city of Reno in the state of Nevada is considered to be the best small city to live in America. Savannah, Greenville and Sante Fe are equally great small cities to live in.
Which town is the most friendly in the United States?
The city of Greenville in South Carolina wins the hearts of thousands of people for being friendly.
Which US cities have the smallest population?
Alaska is the least populated state in the US, but cities like McMullen (Alabama), Winkelman (Arizona), Gilbert (Arkansas) and Whiteville (North Carolina) also have a very small population.
What are the top 10 smallest cities in the US?
When you consider cities having the lowest population as the key metric, these are the smallest cities in the US.
Freeport City, Kansas – 5 People
Vernon California – 112
Whites City, New Mexico – 147
Ashiok, Alaska – 70
Wallace, Idaho – 946
Medora, North Dakota – 134
Thomas, West Virginia – 548
Caliente, Nevada – 888
Blue Ridge, Georgia – 1157
Wooster, Arkansas – 1188
Where is the number 1 place to live in the US?
There's no way the question can be answered in a straightforward way. The best place to live in the US can be different for each individual. You have to understand that a lot of factors go into determining such things. However, considering the cost of living, lifestyle & culture, employment opportunities and crime rate, these are the 3 cities often considered as the best places to live in.
Raleigh, North Carolina
Boulder, Colorado
Austin, Texas
What state is the cheapest to live in?
With the cost of living being 15% less than the US national average, Mississippi claims the bragging rights for being the cheapest state to live in. In fact, real estate is supremely affordable here, with the average price of a home in the state being a meagre $138,216, way below the national average of $281,370. When you compare the cost of living index, with 100 being the national average, Mississippi stands at 84.8, which is again lower than the country's average.
What US state is the least populated?
The mountainous state of Wyoming in the western part of the country is not only the least populated state, it's also the least densely populated state in the US. As per the 2020 census, Wyoming's population is just 576,851. The low population density of Wyoming is supported by the fact that the state also boasts of the 10th largest area in the country.
What US city has the best year round weather?
It's hard to pick just one city for the category considering how there are a bunch of them that arguably go toe to toe with each other. So here are some of the cities in the US with the best year round weather:
Hilo, Hawaii
Oahu, Hawaii
Charleston, South Carolina
Orlando, Florida
Scottsdale, Arizona
Henderson, Nevada
Where is the most peaceful place in America?
The little town of Lewisboro in New York is definitely a contender for the title, thanks to its immensely low crime rate. In fact, there have been multiple years in the recent past where the town didn't experience any violent crime at all. To add to that, even property crime rates are way below the national average.
Lewisboro even has a program dedicated to educating residents and pedestrians on matters of road safety, while also enabling kids to discover the safest walking routes. If that wasn't enough, the quaint town has several parks and nature trails tucked away. The presence of 7 lakes simply add to the peacefulness of the town with a population of just a little over 12,000.
---
Final Thoughts
It's alright to change the narrative and dream of living in small cities instead of big populated ones. Most of the cities on the above list are doing pretty well in terms of amenities and present residents lively hubs. The world can be quick to assume that small cities don't have much going on, however in reality things are far from dull in them.
The traffic, pollution and crowds are also relatively lower in small cities. If you see the same pros in small cities, we suggest using this list as a starting point for prospective cities you can consider moving to.
See also: Best States to Live in | Best Cities for Music Lovers