Moving to Charlotte NC | 2022 Cost of Living and Relocation Tips


VanLines Inc
Secure Storage
Easy Booking Process
Fully Trained Employees
GET A QUOTE

Colonial Van Lines
Storage Services
Long-Distance Moves
Corporate Relocations
GET A QUOTE

Moving APT
Available Nationwide
Award-Winning Movers
Extensive Vetting Process
GET A QUOTE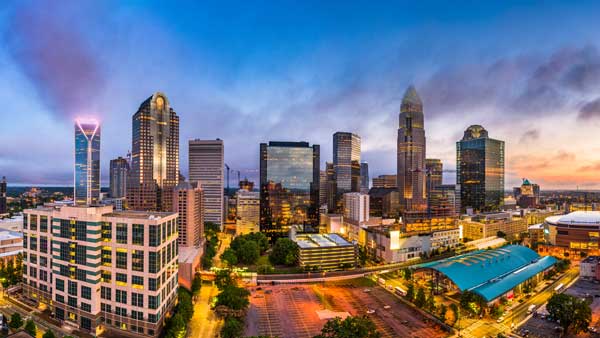 So you're moving to Charlotte and you don't know anything about the city or much about the South. Not to worry. You will find you are moving into an area that is a rich melting pot of cultures with plenty of great nightlife, restaurants, and schools. Charlotte's the biggest city in North Carolina, one of the major metropolitan areas in the South, and number 3 on Forbes list of places Americans are moving to.
The people are friendly (a hallmark of the South) and usually happy to help newcomers find their way around. Mountains and beaches are an easy drive for most. North Carolina's coastal region, with its barrier islands, wild ponies, and wildlife preserves is one of the most beautiful in the nation.
Before you move, it's a good idea to find out as much as possible about the city, what to expect, and where the best places are to live. We've provided you with some statistics and interesting facts to help you along the way.
Facts About the City
The population is almost 900,000
The median income is $60,764
The average age is 34.7 years
The median property value is $230,900 (that's a 7.5% growth rate)
The majority of residents pay property taxes in the range of $3,000+
The number of employees is 472,775 (a 1.79% growth rate)
The poverty rate is 14.9%
The largest universities are the University of North Carolina at Charlotte (in 2017, 7,158 degrees were awarded), Central Piedmont Community College (2,997 degrees), and Queens University of Charlotte (705 degrees)
Median tuition costs are $23,312 for 4 year private colleges, $3,812 for 4 year public colleges (in-state students), and $17,246 for 4 year public colleges (out-of-state students)
52.5% of its citizens own their homes
The average commute is 23.8 minutes and the average cars per household are 2
22.8% of Charlotte residents have a first language other than English (higher than the national average)
Largest Industries in Charlotte
Finance and insurance (54,760 employees)
Health care and social assistance (50,657 employees)
Retail (47,524 employees)
Highest Paying Industries in Charlotte
Management ($85,364)
Finance and insurance ($73,201)
Finance and insurance, real estate, rental, leasing ($70,969)
The income inequality in Charlotte is 0.47% (per the Gini index) and lower than the average nationally.
(Statistics are courtesy of Data USA. You will find more stats about Charlotte on their website.)
Cost of Living in Charlotte, NC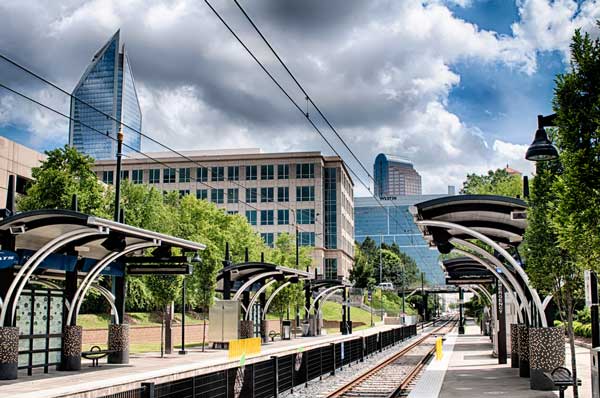 While it's not cheap to live in Charlotte, it is less expensive to live here than in comparable cities in other areas of the country, the tech hubs of Denver and Seattle for instance. You can find affordable homes here, but Realtors don't have much trouble selling houses in the $500,000 range or a million and up.
You can find a nice apartment for a reasonable price, but how reasonable that is depends on where you are looking. For $850 to $1250 you should be able to find a good apartment in a safe neighborhood. Unlike New York, moving outside the city won't save you that much money.
If you like the idea of the suburbs and don't mind commuting, light rail is available, and at a cost of $90 a month for unlimited service, you'll save a lot of money you would otherwise have spent on gas. On the other hand, if you love the idea of living in the city, and can walk or bike to work, it can be just as cheap to live in the heart of Charlotte.
Charlotte's Job Market
According to Forbes, Charlotte ranks number 4 as the happiest city for the young professional crowd. Several Fortune 500 companies have their headquarters in Charlotte. They include Bank of America, Wells Fargo, and Duke Energy. The presence of jobs pulls in young college graduates who come for opportunities as well as the atmosphere.
Education in Charlotte, NC
You will find some of the best school districts in the state in Charlotte. You will have your choice of public and private schools at all academic levels.
Top-Rated Charlotte Colleges
University of North Carolina, Charlotte NC
Queens University of Charlotte, Charlotte NC
Johnson and Wales University, Charlotte NC
Johnson C.Smith University, Charlotte NC
Carolinas College of Health Science, Charlotte NC
DeVry University, Charlotte NC
Charlotte Christian College and Theological Seminary, Charlotte NC
Top-Rated Charlotte Schools
Union County Public Schools, Monroe NC
Fort Mill School District, Fort Mill SC
Cabarrus County Schools, Concord NC
Mecklenburg Schools, Charlotte NC
Gaston County Schools, Gastonia NC
Sports in Charlotte
Charlotte is home to the National Football League's Carolina Panthers who currently have an impressive playoff record of 8. If you're a basketball fan, you'll have a chance to see some great hoop action courtesy of the Hornets and you can't beat a day at the baseball field to cheer on the talented minor league Charlotte Knights.
Safety in the City
Crime is on the decline in Charlotte. Similar metro cities like San Antonio and Orlando have higher crime rates, while other cities, like Portland, are lower. Like every other city in America, there are places in Charlotte that are best to avoid at night and when you are alone.
For the Foodies
Because of Charlotte's great weather, fresh, locally grown produce is abundant and cheap. If you are a fan of organic, farmer's markets, and festivals, this is the place for you. You'll find vendors offering apples and sweet potatoes almost all year round. Markets like Harris Teeter, Super G Market, and Lowe's Foods happily showcase local produce.
There is a restaurant for every palette in Charlotte. If you are young, living alone, and interested in the bar scene, you want to be right in the heart of the city. Young families may prefer to locate to the suburbs where there will be neighborhood block parties and evenings spent in family activities.
Favorite Charlotte Neighborhoods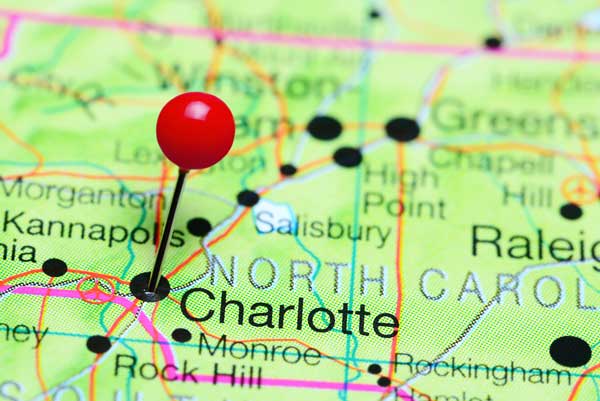 The decision of where in Charlotte to settle is important. It can make the difference between a successful relocation and a failed one. Below are some of the best choices for single, couple, and family lifestyles.
Eastover: Southeast of the city, historic homes, quiet neighborhoods, great scenery. If you want to live outside the hustle and bustle of the city, but need the convenience, Eastover can be a good choice. It is one of Charlotte's most historic districts having been established in 1927. Good restaurants, shopping, parks, and schools are all available. Neighbors pride themselves on their friendliness.
Uptown: Heart of the city, thriving businesses, and entertainment. Also known as the City Center uptown is the epicenter of Charlotte and has the highest elevation in the city. It also has the distinction of being one of the fastest-growing cities in America. This is a place where you can choose from high-rise luxury condos to unique Victorians. Uptown boasts great museums and some of the finest restaurants in Charlotte.
Ballantyne: Upscale suburb, thriving businesses, and family recreation. Adjacent to South Carolina, Ballantyne is one of Charlotte's newest communities. It has a professionally ranked golf course and its own country club. There are biking and hiking trails and a fantastic YMCA.
Myers Park: Old money, oak-lined streets, and elegant mansions. Myers Park is one of Charlotte's most established and prestigious neighborhoods. This is where you will find the renowned, 98 acre Freedom Park with its 7-acre lake, a favorite for residents to stroll, jog, or just enjoy the scenery.
SouthPark: Urban and suburban mixture, great dining, luxurious retail. If you live to shop, SouthPark may be the place for you. It is home to SouthPark Mall, the biggest mall in North Carolina. Golfers will love the proximity to the famous Quail Hollow Golf Course where the annual Wachovia Golf Tournament is held.
Matthews: Artsy, sense of community, and charming small-town vibe. Affordable homes, great schools, low taxes, and a short commute to the city is what you will find in Matthews. There is a year-round farmer's market and an art center where you can take classes and visit gallery exhibits.
Plaza-Midwood: Family-friendly, historic. Plaza-Midwood is an interesting combination of old and new. It's been around for nearly a century and is home to the famous Van Langingham estate and the prestigious Charlotte Country Club. The graduation rate in Plaza-Midwood is 93% and students attend Charlotte-Mecklenburg schools that include historic Garinger High School. Residents tend to be young families and single professionals.
Huntersville: Outdoor and water activities, family-oriented, great schools. Huntersville is situated just north of the city on Lake Norman, the largest lake in Charlotte. It's a great place for people who enjoy an active, outdoor lifestyle. There are 18 parks, nature preserves, biking, hiking, and horseback riding trails.
Dilworth: Friendly neighborhood, low crime, historic bungalows. This is the oldest streetcar neighborhood in Charlotte. It dates back to the 1800s and has taken care to preserve the character and history that makes it so charming. You can walk to parks, restaurants, and local shops.
This is not the cheapest place to live, however. The average cost of a home in Dilworth is $479,000. That's 33% more than the median home price in Charlotte. On the positive side, you can choose from historic renovations, Queen-Anne style homes, and renovated bungalows.
Becoming a Resident of Charlotte
When you move there are a thousand details to take care of. Here are some resources that will be helpful for your move to Charlotte.
Utility information: http://duke-energy.com/North-Carolina.asp
Natural gas: http://piedmontng.com
Solid waste services: http://charmeck.org/city/charlotte/SWS/Pages/Home.aspx
Things to do and see: http://charlottesgotalot.com
Driver's license and vehicle registration information: https://9kilo.com/national-moving/north-carolina-dmv-change-of-address You must apply in person. Bring proof of residency, age, liability insurance, and Social Security Number.
School Information: The Charlotte-Mecklenburg School District website is www.cms.k12.nc.us.
See also: 12 Steps to Establish Residency in Another State
FAQs about Moving to Charlotte NC
How much money do you need to live comfortably in Charlotte NC?
The cost of living in any place essentially depends on the cost of housing, food, utilities, and transportation in that place. You will be happy to know that the cost of living comfortably in Charlotte, NC is 5% lesser than the national average cost of living. A homeowner must earn at least $80,071 annually, and a renter must earn at least $82,999 to live comfortably in Charlotte, NC. The following would be the approximate distribution of your income while you live in Charlotte:
Housing: $929.39 per month
Energy Bill: $153.91 per month
Grocery and Food: $762 per month
Healthcare: 1,575 per month
Transportation: $1,171 per month
Taxes: $1,107 per month
Miscellaneous Expenditure: $698 per month
Is it expensive to live in Charlotte NC?
Living in Charlotte, NC isn't that expensive especially because the cost of living there is about 5% lesser than the national average. Housing costs generally amount to a lot of money in any area however, the housing cost in Charlotte is approximately 14% lower than the national average. Similarly, the utility costs are 8% lower, food and grocery prices are 6% lower, and Transportation costs (includes gas prices and bus fares) are 3% lower than the national average. If you ask us, Charlotte is certainly an affordable city to move to.
Is Charlotte better than Atlanta?
While Charlotte NC is a bigger city with a larger population, the population density is 1.31 times lesser than that of Atlanta.
Cost of living in Atlanta is 8.7% higher than the cost of living in Charlotte. On one hand, housing costs are higher in Atlanta, while on the other hand, the health-related expenditure is lower in Atlanta. The median household income in Charlotte is 11% higher than that of Atlanta. Charlotte's public transport system runs more smoothly and efficiently. Meanwhile, Atlanta's public transport system is larger and covers more ground.
When it comes to nightlife, shopping, restaurants, etc, Charlotte and Atlanta both fare excellently. If you ask our opinion, both cities have their pros and cons, so which city is better actually depends on your needs.
Is it cheaper to live in Raleigh or Charlotte?
Though moving to Charlotte as well as Raleigh might seem like a great idea, you must know that the cost of living in Charlotte is 3.3% lesser than that of Raleigh. Though the difference isn't that vast, Charlotte will be cheaper to live in if you are running on a tight budget.
The median home value in Charlotte, NC is $228,800. Meanwhile, the median home value in Raleigh, NC is $273,900. The housing cost of Raleigh is 16% more than that of Charlotte. Moreover, the cost of utilities in Charlotte is almost 1% lesser than the cost of utilities in Raleigh. Charlotte does rank higher when it comes to transportation costs and other miscellaneous costs, but Charlotte is still the cheaper option of the two cities.
Where does Charlotte NC rank in best places to live?
Charlotte strikes the accurate balance between the bustling metropolitan life and the charming old southern life. Because of this, Charlotte, NC has managed to grab the 6th rank on the 'Best Places to Live 2020 – 2021' list.
What jobs are in demand in Charlotte NC?
While some jobs have witnessed a growth in their demand due to changing times, some jobs have always been in demand in Charlotte for several decades. Jobs like statisticians, nurse practitioners, credit counselors, operations analysts, physical therapy assistants, physician assistants, home health aid, web developers, taxi drivers and business analysts are currently in high demand in Charlotte, NC.
What is the highest paying job in Charlotte, NC?
The highest paying job in Charlotte, NC is that of a pediatrician, general. People in this occupation make about $$232,790 per year on average. Chief executives and family medicine physicians are the next in the line. Their average salaries are about $230,000 and $229,810 respectively.
What is the highest paying job in NC?
Anesthesiologists are the highest paid professionals in North Carolina. If you are an anesthesiologist, you will certainly make $274,610 on average per year. Surgeons and Orthodontists are the next highest-paying jobs in NC. The average salary paid by these jobs amounts to $274,240 and $263,040 respectively.
Is Charlotte safer than Atlanta?
Crime is declining in Charlotte and it has been declared as the 53rd safest city in the USA to live in. If you are living in Charlotte, your chance of being a victim of property-based or violent crime is 1 in 24. The crime rate in Charlotte, NC is 42 per 1000 inhabitants.
On the other hand, Atlanta is considered to be one of the most dangerous cities to live in America. It has a crime rate of 54 per 1000 inhabitants and your chance of being a victim of either property-based or violent crime is 1 in 18. In conclusion, Charlotte is definitely safer than Atlanta.
How bad is Charlotte traffic?
The traffic in Charlotte is tolerable as compared to the traffic situation in cities like NY. Out of the 240 American cities that were studied for traffic congestion, Charlotte got the 40th spot for its traffic situation. Like any other city, the traffic increases during peak hours (7:30 – 9:30 am and 4:30pm – 6:30pm). During these timings, shorter commutes might take you a long time. However, the residents of Charlotte spend 23.8 minutes commuting daily on average.
Where should I not live in Charlotte NC?
Although Charlotte, NC is known to be one of the best cities to live in the country, some areas in the city aren't that great. You ideally shouldn't move into the following 10 neighborhoods in Charlotte, NC.
Tryon Hills
Westover Hills
Clanton Park-Roseland
Pinecrest
Reid Park
Smallwood
Westerly Hills
Firestone-Garden Park
Arbor Glen
Thomasboro-Hoskins
Where is the ghetto in North Carolina?
Several factors help you to decide whether a particular neighborhood or area is a ghetto. These factors could include household income, crime rates, high school graduates, etc. There are many ghetto areas in North Carolina that you should avoid moving to.
Henderson is believed to be the most ghetto city in NC because of its low household income level, extremely high crime rates, and high dropout rates. Following Henderson, places like Lumberton, Kinston, Smithfield, Laurinburg, New Bern, Statesville, Shelby, Lexington, etc., are the ghetto towns in North Carolina.
Where is the hood in Charlotte?
There are several hoods across the city of Charlotte, NC. Many of these places have an elevated crime rate because these areas are where the criminal gangs are mostly found. The following are the top ten hoods of Charlotte, NC:
Pinecrest
Lincoln Heights
Tryon Hills
Grier Heights
SeversVille
Smallwood
Plaza-Shamrock
Washington Heights
Enderly Park
Hidden Heights
Is it cheaper to live in Atlanta or Charlotte?
Living in Atlanta is 8.7% more expensive than living in the city of Charlotte, NC. This is so because the main expenditure includes your housing costs. The cost of housing in Charlotte is almost 13% lesser than that of Atlanta. The median home value in Charlotte is $228,800 and the median home value in Atlanta is $259,000. In addition to this, there is a drastic difference in the costs of transportation and utilities between both the cities. As a result of this, living in Charlotte is cheaper than living in Atlanta.
Why is Charlotte called the hornet's nest?
The name has a very interesting historical titbit behind it. The brave NC Patriots stood against the British troops of Lord Cornwallis in Charlotte during the Revolutionary War of 1780. Though they were greatly outnumbered by the British troops, the patriots still fought valiantly and eventually humiliated Lord Cornwallis's troops. While they retreated, Lord Cornwallis said that they must leave the city immediately as it was like a hornet's nest. The residents of Charlotte were very proud of this event and eventually adopted this name. This name is now used for public spaces like parks, clubs, and other local organizations.
Update: Here's an useful resource about best moving companies in Charlotte NC: https://9kilo.com/national-moving/best-moving-companies-in-charlotte-nc