International Van Lines Review


VanLines Inc
Secure Storage
Easy Booking Process
Fully Trained Employees
GET QUOTE

Colonial Van Lines
Storage Services
Long-Distance Moves
Corporate Relocations
GET QUOTE

Moving APT
Available Nationwide
Award-Winning Movers
Extensive Vetting Process
GET QUOTE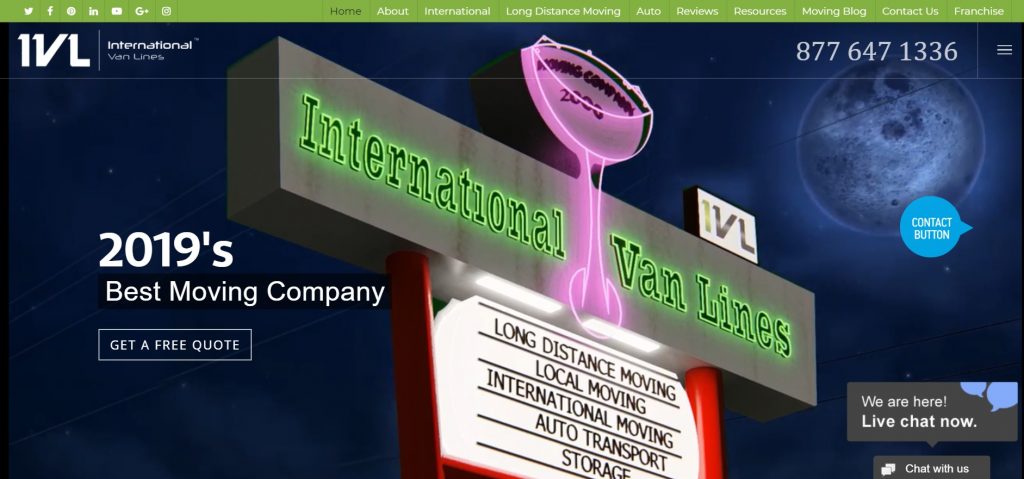 Founded in the year 2000, International Van Lines is a moving company that not only operates domestically across the US, but also internationally in over 180 countries. Just close to two months ago on the 7th of July, the company completed their 20 years anniversary. The company has a wide network of vendors and partners across the globe.
International Van Lines also partner with third party companies to ensure they can maintain a stronghold even in countries where they aren't operating. Due to this, the company often acts as a broker and aggregator of moving services too. The company has their own fleet of trucks and multiple warehouses to successfully carry out numerous transportation services.
With two decades of experience both domestically and across the oceans, International Van Lines knows just what it takes to move objects and belongings, both big and small. Over the years, they've expanded their services to provide storage facilities and local moving, while also providing packing supplies for those who are going to handle the moving themselves.
Read on to know more about this giant in the moving industry with our detailed International Van Lines review.
Types Of Services Offered By International Van Lines
International Van Lines provide services in various categories which can be too specific as well. It can be something as small as ordering packing supplies through them. Here's a list of their major services.
Moving
Their moving services are offered on a local level, interstate level and long distance too. Long distance moving involves cross-border transportation of goods. It also includes moving huge and heavy items. For example: International Van Lines also help with moving delicate and valuable belongings such as Furniture and Piano. In fact, you could use their services to assemble or reassemble furniture too. They also provide Senior Moving services.
Do note that the moving services aren't restricted to individuals or residences. It is inclusive to cater to businesses as well. So commercial properties can also count on International Van Lines for moving their business to a new property. They have a variety of vehicles beyond a reliable fleet of trucks. So the vehicle they use for transportation depends on the size and quantity of things that are to be moved to a new location, and whatever is best suited for it.
Packing, Unpacking & Crating
You might have your own vehicle that you would rather use to transport all your belongings. In that case, you can choose to only take help from International Van Lines for Packing your stuff. Especially if there's a lot to pack. With fragile objects, it often helps to leave it in the hands of the expert. With their years of experience in the moving industry, they would surely know how to handle such objects with care and pack them in the right way.
There's also the option of having them help unpack. After all, they would be well equipped to carefully and gently do the unboxing, removal of tape, packing peanuts and other things involved in the packing process. The packing, unpacking and crating help is also extended as part of International Van Lines' Commercial Services. Basically, you can call them to help pack all the stationary, electronics and other assets present in your place of business.
See also: Best-Rated Full Service Movers in the U.S.
International Relocations
This is a service that caters to small businesses, large enterprises and individuals alike. International Van Lines do this via Air Freight Services or Marine Freight Services. Goes without saying, these can turn out to be costly affairs. But at the same time, you can at least find respite in the fact that it is being handled by a company that has been doing so for the past 2 decades. Air freights normally cost more than ocean freights, so keep that in mind.
Storage Services
If you're moving away for a bit and need a place to keep your belongings, trust International Van Lines. Their storage services are what you need. The price of the storage would depend on multiple factors. Usually, it's calculated on the basis of per cubic foot. Normally, that price would be approximately $0.50 per cubic foot, but could also have other costs involved.
So your rent would depend on the duration for which you will need a storage space, the size of the storage space and any other additional facilities you might need. Your day of pickup will be when the payment cycle starts. The storage spaces provided by International Van Lines are known to be secure. They are usually well guarded and have surveillance present.
Although, what's worth nothing is that you get two different options here:
Warehouse Storage: This is the traditional kind that people normally rent. One where safety isn't compromised on. The warehouse would have security guards on shifts and round the clock CCTV cameras too. A warehouse storage is best suited for anyone who is going away for a fairly longer duration. Especially if they have belongings they can't take with them or have no use for in their daily life.
Portable Storage: Definitely not uncommon in the US. International Van Lines offer a single container that you can safely keep in your own garage. As a part of their service, the container also comes with weather-proof cubes to ensure your belongings don't get damaged. A portable storage especially makes sense for those who haven't had the chance to settle into their new place and don't have a place for their stuff.
Other Services:
International Van Lines also has a reputation for handling Crane Services for humongous things that aren't humanly possible to lift. Don't worry, they have people certified to operate large cranes. If that wasn't enough, as part of their specialty service, International Van Lines also help with transportation of vehicles, and are especially known for Motorcycle handling.
So this should give a clear idea of how adept they are with handling huge and heavy items. You can certainly trust them with things like an exercise bike, treadmill or even your massive flatscreen TV to name a few.
International Van Lines Pricing
This part might be a bit confusing to understand because there are many layers involved. And International Van Lines often share an estimated quote. Plus, there are so many different services and specific details involved which makes it hard for people to get a clear understanding of their pricing. In any case, we will share an approximation that covers the packing price, the distance of the move, the quantity of things to be moved and other factors.
Packing Price Of A Move Between 1,010 and 1,175 mile
For a 1 bedroom apartment: $615.75 Approx
For a 2 bedroom apartment: $735.50 Approx
For a 3 bedroom apartment: $1,605 Approx
For a 4 bedroom apartment: $2730 Approx
However, it's important to note that these cover the cost of packing. The transportation costs would start from approximately $2,220 for a 1 bedroom apartment, while the maximum cost can stretch as much as $10,400 approximately. One thing which is very important for you to know is that the prices are different during both summer and winter seasons. There's a cap on the number of boxes that you can have, which differs on the basis of the apartment size.
With four bedroom houses, the service offers a maximum of 100 boxes. The minimum would be 20 boxes for apartments with just one bedroom. However, these are all approximate figures. There might be a possibility for some wiggle room. It would totally depend on the overall weight and quantity of everything that needs to be packed and moved. If the total number of boxes and stuff exceed their limitation, additional charges may be incurred.
Similarly, for moves that cover shorter distances, the prices differ. The Packing Price for a move between 150-560 mile would be the same. However, the seasonal cost changes. Since the distance would be lesser, the cost of transportation would also drop to a certain extent. For instance, the cost for moving a 1-bedroom apartment is about $1730 (winter) and $2100 (summer), compared to $2220 (winter) and $2595 (summer) for 1010-1175 miles.
Note For Long Distance Moves: As a part of their policy, International Van Lines charges a refundable security deposit. What's the kicker you ask? Well, if you fail to notify at least 48 hours in advance, cancelling the move won't really get you your money back. There's no fixed amount of security deposit. It's calculated on the basis of your overall fee, generally 25% of the total.
See also: Moving Cost Calculator
Fee For Other Services:
Handling motorcycles is usually about $350.
Large gym equipment, Kayaks and other such heavy objects would cost $150 for each large item.
Depending on how big the piano is, the weight and its make, the prices can be anywhere from $150 to $350.
Getting A Personalized Quote From International Van Lines
You can visit the website and use the "Moving Cost Calculator" tool. The details they ask for are the kind of apartment (1-bedroom, 2-bedroom, etc), place you're moving from and moving to (neighborhood, city, state or zip code) and date of move. You'll also be asked to share personal information like email address, phone number and your name.
Upon our check, we found that the cost for a move between Portland, Oregon and Bellevue, Washington was $825 – $1650. This cost was for a 1-bedroom apartment, and the distance between the two cities is close to 177 miles. Although, it's important to know that this cost only includes loading and transportation. Packing would be charged separately. Plus there could be numerous additions on the basis of the services you choose to avail.
If you want a personalized quote from International Van Lines, you will have to provide very specific details. It would have to include a detailed inventory of things to be moved. Things like the number of chairs, tables, shelves and mattresses, among other stuff would have to be shared with them. They would need to have an estimated figure of the number of items and total weight. This is important for them to be able to get the right vehicle for the move.
Advantages Of Using International Van Lines
Two decades of experience in domestic and international moving service.
A large network of reputed vendors and partners operating in various countries.
Accessibility is never a problem, regardless of the country you're from or moving to.
Shipment tracking is included for all moves.
They make sure that fragile only packaging is used on request or wherever necessary.
Prices are fairly affordable.
Service is reliable too.
Disadvantages
Pricing structure is complicated.
The process to get a fairly accurate quote can be long and tedious.
You aren't always directly dealing with International Van Lines, so service can be a little inconsistent.
Most bigger services need you to pay a security deposit which can be an advance of sorts too.
Conclusion
The wide reach and accessibility of International Van Lines certainly makes them a desirable option for any packing and moving services. While the lengthy process to get a clear quote might be a bit off-putting, it will be worth knowing that you are dealing with experienced professionals who have been in the game for 20 years. Another thing that's reassuring is that you can call their customer service round the clock. When all is said and done, the disadvantages are more of minor inconveniences and the good far outweigh them.
See also: American Van Lines Review