Moving to Chattanooga, TN | 2022 Cost of Living and Relocation Tips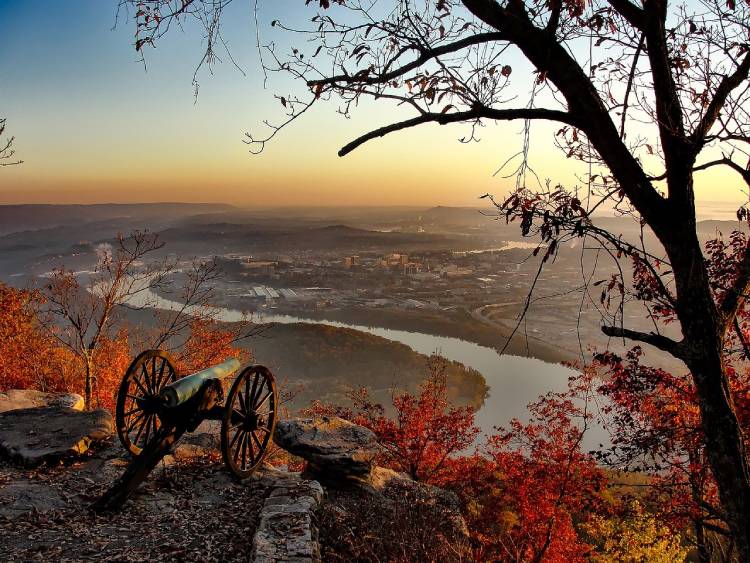 Before getting into the details of moving to Chattanooga, let's clarify the pronunciation. To break it down, the name goes something as Chuh-tuh-noo-gaa. Say it out loud a couple of times and you'll get it. Now that you've got that, let's take you through a quick overview of the actual place! Chattanooga is located in Southeast Tennessee and is the fourth largest city in the state. It is also one of the fastest-growing cities and the lightning-fast internet here also earned it the moniker "Gig City." If you are one for the mountains, then you will agree with the official nickname "Scenic City", earned because of its exquisite mountains and ridges here.
Unlike many other American cities, Chattanooga is a very affordable place to live. The fact that it has recently gained traction among aspiring entrepreneurs is indicative that the city is on track to improve its quality in the foreseeable future. Now that you have a rough insight into the city, let us walk you through more.
Weather In Chattanooga
The city of Chattanooga experiences a four-season humid subtropical climate. Although it does get unbearably hot around July at times, the weather in the city is generally pleasant. Throughout the year you can expect temperatures to fall in the range of 33°F to 89°F. Let's take a closer look at weather conditions –
Summers
Summers temperatures in Chattanooga last from the month of May till end of September. The city records its highest temperature readings in the month of July, with an average high of 89°F (31.6°C).
Winters
The city experiences a very short not so harsh winter period from November to February. Temperatures don't go really drop to below freezing and there's a presence of mild snowfall in the city. In the coldest month (i.e. January), the temperature drops as low as 33°F (0.5°C).
Spring
The spring season comes along in the month of March and April. Temperatures turn to cool and pleasant conditions but you've got to keep an eye on the rain. During spring, temperatures go as high as 51.1°F (10.6°C) to 59.4°F (15.2°C).
Autumn
Mid-September to the end of October is when the city observes autumn weather which is the most pleasant time of the year for many. 70.2°F (21.2°C) is the average temperature to expect during this time. The best places to go capture fall foliage include – Stringer's Ridge, Tennessee River, and Enterprise South Nature Park.
Few things you should know about the weather in Chattanooga:
Chattanooga experiences cloudy weather for more than half of the year. Come November, clouds start to position themselves for a long haul of 7-8 months.
Speaking of the wet season, Chattanooga has rainfall throughout the year with July being the month that experiences the most days of rainfall with an average of 13 days.
Real Estate In Chattanooga
Buying A House
The median value of homes in Chattanooga is $244,234 which is slightly higher than the national average which is roughly around $217,500. In the past year, the city has also seen a rise of about 21% in home values in Chattanooga. This is a testament to how quickly this city is gaining popularity and attracting a crowd. You may also read our guide on tips for buying a house in a new city
Renting A House
The average rent for a 940 square feet apartment in Chattanooga is $1,200. Like any other place in the world, the cost may vary depending on several factors. If you are looking for a relatively budget-friendly neighborhood to reside in, you can consider Hilltop and Ridgeside where the average rent rounds about to $845 per month. Neighborhoods like the MLK, Fort Wood are one of the most expensive parts of the city, the rent for which could go as high as $1,400.
Also See: Questions to Ask Before Renting an Apartment
Crime Rate
NeighbourhoodScout's data suggests that property crime in Chattanooga is pretty high at 65.35 which is comparatively higher than the state of Tennessee itself which is at 24.84. Keep in mind that the national median for property crimes is just at 19. The odds of you being part of a property crime in the city is 1 in 15. In terms of violent crimes, the national median is at 4 but the data points that the crime rate of Chattanooga is at 13.84 which is again quite high.
Cost Of Living In Chattanooga
As per PayScale data, the cost of living in Chattanooga is 3% lower than the national average. So, if you are planning to move from a city with a relatively higher cost of living, adjusting to Chattanooga should feel like a breeze. To give you an overall gist of what your monthly expenses would look like, here's a quick breakdown of the same.
Utilities
Utility prices in Chattanooga fall 6% short of the national average. An average monthly electricity bill would cost you around $160. Add phone and water bills to the mix and you'll be looking at a figure somewhere close to $340-$350. Keep in mind that these figures may vary depending on the number of members in your family and their average usage of these utilities.
Coming to regular expenses, a carton of eggs could cost you $1.68 and a gallon (4.8 quarts) of milk will set you back $1.80. Unless you have consumed an apple a day, a doctor's visit will see you splashing $117. Healthcare is a sector where the average cost in Chattanooga is slightly higher than the national average at about 4%.
Median Household Income
The median household income in Chattanooga is about $42,000. While it is certainly less than the national average income, the city is still a very affordable one to live in, given the amenities it has to offer. In addition to this, the city is on the rise in terms of job opportunities, and if future job growth projections are to be believed, the median household income in Chattanooga is bound to increase.
Notable Mentions:
The city has under its belt, 9 Gunther Blue Ribbon Awards for excellence in housing and consolidated planning.
In September 2021, Chattanooga Airport won the National Award for Ongoing Commitment To Sustainability.
Featured in TripAdvisor's "7 Rising U.S. Cities That Should be on your 2019 Travel Bucket List."
Also See: 15 Cheap Cities to Move to
Transportation In Chattanooga
Roadways
When it comes to your public transportation options by road, there are the two major ways in which locals make their way around the city:
Chattanooga Area Regional Transportation Authority (CARTA)
After moving to Chattanooga, you won't have to rely on much of your four-wheeler, all thanks to the public transit options run by the Chattanooga Area Regional Transportation Authority. The organisation is also, referred to as CARTA by locals. The organisation handles the logistics of 19 bus routes that have a good enough coverage of the entire city. They are also responsible for providing residents with a free electric shuttle service. These electric buses run all the way from the Chattanooga Choo Choo to the Tennessee Aquarium with interesting stops en route.
Bike Chattanooga
Just like a dedicated bus system, the city also provides its own bicycle transit system that goes by the name Bike Chattanooga. This system has 400 bikes and set over 42 bike stations spread across the city. You can rent a bicycle based on your hourly requirements. You can even opt for either the 24-hour pass or 3 days pass, the prices for which may vary accordingly. An annual pass is ideal if you see yourself biking often after moving here. The Walnut Street Bridge, which spans the full course of the Tennessee River through Chattanooga, is one of the spots where you may enjoy a long bike ride. So, put on your protective gear and pedal across the city's scenic splendor.
Airports
The primary airport within the city is the Chattanooga Metropolitan Airport (CHA).Huntsville International Airport and Nashville International Airport are the closest international airports for the city.
Railways
In Chattanooga, the CARTA operates the 'Lookout Mountain Incline Railway' line. However, this is a train taken by locals for the purpose of intercity travel. This railway line is mostly traversed by tourists who wish to get a picturesque view of the mountains and valleys in Chattanooga. For intercity travel, locals largely rely on the bus services provided by CARTA.
Job Market in Chattanooga
Chattanooga brags about its growing job prospects and has the numbers to back it up.The city's unemployment rate is at 5.6% which is pretty good in comparison to the national being at 6.0%. Because it is a transit hub, the city also sees a large influx of people commuting to work on a daily basis.
With the main focus on promoting entrepreneurship with events, the city constantly looks for ways to attract tech-related incubators for potential collaboration. It goes without saying the incredibly fast internet facility throughout the city is an added advantage for attracting tech startups that rely heavily on stable internet connectivity.
Although Chattanooga has been heavily investing in the tech and startup industry, other sectors such as education, health, and manufacturing are also among the major driving forces of this city's economy.
Some of the Best Companies to Work For In Chattanooga are:
Tennessee Valley Authority
Unum
Volkswagen Group Of America
BlueCross BlueShield Of Tennessee
Erlanger Health System
Education In Chattanooga
Top Rated Universities
1. Lee University
2. Covenant College
3. Southern Adventist University
4. University Of Tennessee
5. Bryan College
Top Rated Schools
1. Baylor School
2. McCallie School
3. Girls Preparatory School
4. Chattanooga High School Center for Creative Arts
5.   Christian Heritage School
Best Neighborhoods In And Around Chattanooga
Lookout Mountain
If you couldn't figure out from its name, this neighborhood has some of the best views the city has to offer. No wonder its median home value is on the expensive side but it more than compensates with its breathtaking views.
With its aesthetically pleasing views, you get to witness the famous Incline Railway as you continue your hike along the Guild-Hardy Greenway. The tallest and deepest underground waterfall open to the public in the United States, the Ruby Falls is also a major tourist attraction in the Lookout Mountain area.
Most residents in Lookout Mountain prefer owning houses rather than renting. This doesn't come as a surprise as you wouldn't want to move away from a place which is rich in greenery and so close to nature.
Median Value Of Homes: $849,331
Monthly Median Rent: $1,150
Signal Mountain
Signal Mountain is close to 20 minutes away from the downtown area in Chattanooga and its one of the more sparsely populated suburbs to live in the city. The houses here are great and you'll also love the number of parks in the area. There's also a golf club on the mountain and other interesting recreational spots. Signal Mountain is also known for its great schools so if you're moving with kids, this is a great suburb to consider.
Median Value Of Homes: $482,427
Monthly Median Rent: $1,349
Martin Luther King (Also known as MLK)
Rich in African American heritage and culture, the MLK neighborhood has always provided a unique experience to travelers and residents. Lately, the neighborhood is seeing some changes for the better in the form of a more college-friendly area as the area is adjacent to the University of Tennessee at Chattanooga campus.
If you are a fan of the classic Jazz and barbecue stakeouts, this is a great place to experience it in full glory. Apart from that, MLK is rapidly becoming a brewery district which has been a delight for all the craft beer fans. Despite its vintage and historic essence, this neighborhood is more suited for the younger generation looking to rejoice in their teen and young adulthood years.
Median Value Of Homes: $600,000
Monthly Median Rent: $1,359
Downtown
Currently, Downtown positions itself as one of the most vibrant and energetic neighborhoods in Chattanooga. Downtown has won a lot of accolades for its amazing restaurants and nightlife. This is one of the key reasons that this neighborhood experiences a diverse population which includes millennials and young professionals too. If you are aware of the dark past of this part of the city, you'll be astounded by the progress it has made over the years.
Median Value Of Homes: $467,000
Monthly Median Rent: $1,100
Ooltewah
Ooltewah is situated on the far east side of Chattanooga and roughly a 20-minute drive from downtown. So you're still connected to the main interest points of the city. This area is home to Wolftever Creek Greenway. This a trail open to locals for jogging, biking, running, and other activities. The trail goes through a river and also includes a playground. It's just the perfect place to spend time outdoors. The biggest perks of living here is having access to this trail and tight-knit communities.
Median Value Of Homes: $369,806
Monthly Median Rent: $1,602
Also See: Moving From Texas To Tennessee | The 10 Best Small Cities to Live in the U.S.
FAQs About Moving To Chattanooga, TN
Is Moving To Chattanooga A Good Idea?
Chattanooga, in addition to being one of the most affordable cities to live in, has a lot to offer in terms of art traditions, recreational activities, and so on. Not to mention the stunning mountain ranges, which have proven to be one of the most compelling reasons to relocate here. Chattanooga offers a complete package of ideal living conditions and is definitely a good idea to move here.
What Are The Pros And Cons Of Living In Chattanooga TN?
Though the city is known for its great affordability, the crime rate here being higher than the national average often makes people skeptical about relocating here. Residents enjoy the benefits of paying no income tax in Chattanooga which is why the median household income in the city is sufficient to live a decent life. The summers can be a deal-breaker for those who cannot stand the intense heat.
What Is The Best Area To Live In Chattanooga TN?
Some of the best places to live in Chattanooga include Signal Mountain, Fairmount, Downtown, and Hixson.
See Also: Top National Moving Companies