Moving To Atlanta GA | 2022 Cost of Living and Relocation Tips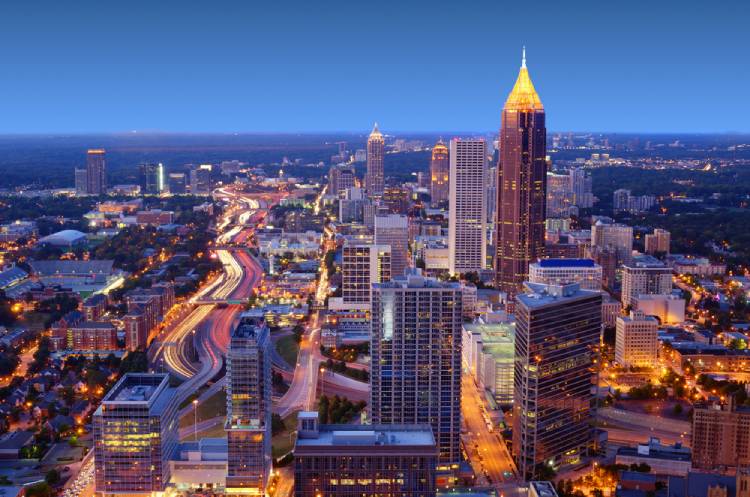 Atlanta is the star child of the state of Georgia. 57% of the state's population is concentrated here. That's nearly 6 million people occupying the city proving that the craze is not something to ignore but perhaps something to look into. But even when a city has tons of attention, uncertainty looms over a new resident's headspace until the completion of homework on the city's profile. This is where we'd be able to help you. We've covered all the details that showcase the realities of moving to Atlanta.
Weather In Atlanta
Atlanta weather gets classified into the balmy weather category and that's how the city got its nickname 'Hotlanta'. If you're coming from a city that gets horrifically cold, you'll get a permanent break from dealing with freezing temperatures. On the other hand, you'd now have to start preparing to deal with extreme heat and the length of it.
About Atlanta Summers: Summers are the dominant climate condition in the city. Atlanta summers are also long and last from May until September. The city only starts to cool down in the month of October. The downside of the summers is that there are no larger water bodies to relax at extremely close to the city. You'd have to drive for roughly 5 hours to get outside Atlanta so you can enjoy water activities at the coastline and visit islands.
On an average the temperature to expect for summers falls in the range of 72°F to 89°F.
About Atlanta Winters: Winters are a great time to cool off and get a short break from the humidity of summer. The cold temperatures last for a short time from November to February. Snow accumulation is occasional in the city. If you're familiar with harsh winters, you'd consider Atlanta winters mild. You might need to invest in waterproof footwear because of the sudden rains in winter.
On an average expect temperatures to fall in the 35°F to 53°F zone.
About Atlanta Fall: Fall is the most pleasant time of the year because the temperatures are comfortable. Cloudland Canyon State Park, Piedmont Park, and Lake Allatoona are nice recreational places to explore during the fall.
Expect temperatures to be in the bracket of 53.8°F to 73.2°F.
Few things to bear in mind:
Year-round weather conditions in Atlanta are in the range of 35°F to 89°F.
The city of Atlanta is not always prepared for a harsh winter, so when a very rare heavy ice or snow storm takes over the city, everything to an extent comes to a halt.
In spring and summer, there could be days when it rains significantly.
Transportation
Commuting in Atlanta is quite comfortable for a large number of residents. This is because of the number of public transportation options available at disposal.
All credit and thanks go to MARTA, which stands for Metropolitan Atlanta Rapid Transit Authority. The MARTA is responsible for the operations of the following:
Bus By MARTA
This is an extensive network of local buses that cover most of the major counties in the city. There are over 550 buses and 101 routes that connect residents to cultural and educational points of interest. The bus is a great way to get to shopping centers, city parks, and even the airport. A one-way pass would cost you $2.50.
Atlanta Streetcar By MARTA
This is a streetcar that runs in the shape of a loop and consists of just 12 stops. A one-way trip is $1. The route starts from Martin Luther King Jr. National Historic Site that lies on the east to Centennial Olympic Park area on the west of the city. The streetcar has good coverage of Downtown Atlanta.
Rail By MARTA
Another more popular option for commuting is the heavy rail system consisting of 38 stations and covering 48 miles of the city. Just like the bus service, a single-way ticket costs $2.50.
The rail system is made up of 4 rail lines that are color-coded into the Red (runs north), Gold (runs south), Blue (runs east), and Green (runs west). All of the four lines meet at Five Station (the busiest station) which is situated in the heart of Downtown Atlanta.
Red Line route: North Springs – Sandy Springs – Dunwoody – Medical Center – Buckhead – Lindbergh Center – Arts Center – Midtown – North Avenue – Civic Center – Peachtree Center – Five Points
Gold Line route: Doraville – Chamblee – Brookhaven – Lenox – Lindbergh Center – Arts Center – Midtown – North Avenue – Civic Center – Peachtree Center – Five Points – Garnett – West End – Oakland City – Lakewood/Ft. McPherson – East Point – College Park – Airport
Blue Line route: Hamilton E. Holmes – West Lake – Ashby – Vine City – GWCC/CNN Center – Five Points – Georgia State – King Memorial – Inman Park – Edgewood – East Lake – Decatur – Avondale – Kensington – Indian Creek
Green Line route: Bankhead – Ashby – Vine City – GWCC/CNN Center – Five Points – Georgia State – King Memorial – Inman Park – Edgewood
We've shared this overview so that you're aware of the neighborhoods that have a rail station nearby. Five Points, College Park, Airport, Peachtree Center, and Lindbergh Center are the five busiest MARTA stations.
Also do note that the counties that benefit the most from the MARTA system are:
Fulton
Clayton
DeKalb
If you'd really like to depend solely on public transportation to get around, then you should check out the best neighborhoods in these 3 counties. The pros of taking a bus or train line that is run by MARTA is that you can get your bicycle on board.
All in all, many Atlantans just depend on a bus, streetcar, rail, or bicycle for commuting. You also have the choice to walk if your neighborhood is centrally located. For instance, if you live near the Eastern Beltline you'd be able to walk or cycle to get anywhere.
Job Market In Atlanta
The momentum and strength of Atlanta's economy have picked up pace to an extent that it gets compared to the progress that cities like Dallas, Washington, Boston have been making. This is also why Atlanta is presently considered a global/alpha city proving that it doesn't just host national but international and globally recognized companies. Not impressed yet? Then the fact that it is home to the country's third-largest concentration of Fortune 500 companies probably will.
Some of the key industries that contribute in larger chunks to the health of the city's economy are:
Aerospace
Transportation
Information technology
Medical services
Media companies
Some more interesting facts: Atlanta is becoming an attractive job market for actors and those tied to the film and media industry. It's now called 'The Hollywood of the South'. The tech scene has also grown considerably because of which the city has earned the title of 'Silicon Peach'.
Some of the largest companies that have a strong foothold in the city are:
The Coca-Cola Company
The Home Depot
Delta Air Lines
Chick-fil-A
UPS
Overall, the job market is a mixed bag and almost acts like a magnet for professionals looking for career growth opportunities. But the competition can be fierce so we do advise you to have a job lined up in the city to play it safe.
See also: Best Cities for Business Graduates to Move to
Cost Of Living In Atlanta
Now before moving, you're probably wondering if you can really afford to live comfortably in the city. There are various new costs you'll have to get familiar with after you move but it's good to have a rough idea so you know what you're about to get into. To help you gauge whether you'll be able to financially settle well in Atlanta, we'll tackle one aspect at a time that directly relates to the cost of living. Let's start with housing:
Housing Costs In Atlanta
The median value at which homes are sold in Atlanta is roughly at $320,025 (According to the apartment website Zillow). This proves that real estate is on par with the national average which falls in the range of $284,600 to $340,000.
If you're moving from a state or city where the real estate market is way lower than the national average then you'd find the housing market to be on the expensive side of the spectrum. But for others, Atlanta could be pretty affordable in terms of housing.
Renting
The median rent value in Atlanta falls in the range of $1,153 to $1,527. This is slightly higher than the national rent average of $1,062. The rental prices could be hiked if you pick a ZIP code that's situated in the central downtown area.
According to the RENTCafé, the rent prices are hitting the roof in neighborhoods like Piedmont Park, Colonial, and Sherwood Forest. So we suggest avoiding looking for rentals here if you're looking for a budget-friendly rental option. Midtown, Old Fourth Ward, and Inman Park are other places where the rent market is sizzling hot but still a popular choice for renters.
Median Household Income In Atlanta
The median household in Atlanta stands at $59,948. So it is slightly lower than the national average which is $62,843. Most families in Atlanta earn an income in the range of 59k to 65k. If you aspire to live more than comfortably, it's ideal to earn over and above this figure. For instance, 85k to 100k is a good annual household income. For a single adult, 50k to 60k is a decent salary.
Cost Of Utilities In Atlanta
Gas in Atlanta costs between $1.90 to $2.29 depending on the county you live in, this could be considerably cheaper than gas rates on the West Coast. From autumn, you won't really need to use the air conditioning unit so you may end up saving a lot of money with electricity bills in the $60 to $80 range. But in the summers the electricity bill could go to $150 a month. All in all, a single adult would spend about $1,023 a month on utilities and groceries.
Do note that parking is pretty expensive in Atlanta and if you commute via public transportation, you may end up saving a ton (this varies from case to case). Overall median household income, housing value, and utilities are pretty much in line with the US average.
Top Schools And Universities In Atlanta
Top 5 Best Rated Universities
Georgia Institute of Technology
Georgia State University
Emory University
Clark Atlanta University
Spelman College
Top 5 Best Rated Schools
Kittredge Magnet School
Kipp South Fulton Academy School
Charles R. Drew Charter School
Brandon Elementary School
Jackson Elementary School
Best Neighborhoods In And Around Atlanta
Alpharetta
This neighborhood sits in Fulton County which is a popular residential neighborhood in Atlanta city. It's the top pick for most people and you can't help but check it out to see what the hype is about. There are shopping centers, eateries, and entertainment options all within the city. The fact that this neighborhood by itself is a great place to live without residents feeling the need to drive to Downtown Atlanta is the reason it tops the list.
Median Value Of Homes Sold: $422,800
Median Rent: $1,451
Midtown
If you want to have a home that enjoys a prime location of the city, then it's hands down Midtown. It's the busiest neighborhood where the buzz mimics the atmosphere of a city like NYC. It's filled with various business buildings but at the same time there's a beautiful Piedmont Park bringing greenery to the place. You also have easy access to public transportation here.
Median Value Of Homes Sold: $398,646
Median Rent: $1,555
Suwanee
Looking for a place that's peacefully away from the hustle of Downtown Atlanta? Then Suwanee is the right candidate for you. It's safe, family-friendly, and in its essence has homely vibes. It has clean, manicured parks and places where you can sit down and host a picnic. You'll be just a short drive away from Chattahoochee River and Lake Lanier. You're also just an hour away from Downtown Atlanta, so you can plug into the city when you feel like it.
Median Value Of Homes Sold- $308,900
Median Rent – $1,488
Decatur
Decatur falls in DeKalb County. This is the county that is recognized for its school district and good access to the MARTA public transit system. Real estate here is slightly expensive since it is an upscale neighborhood. You'll certainly be spoiled with choices for eateries and breweries here.
Median Value Of Homes Sold: $521,900
Median Rent: $1,015
Peachtree City
Peachtree City is an intimate little community that is a hit for recreational activities. The golf courses bring a charm to the place. It's easy to form strong bonds and relationships with the people of the community because of how tight-knit it is. There's a stronger presence of upper middle class families and the place is oriented towards people looking to settle with kids.
Median Value Of Homes Sold: $389,900
Median Rent: $1,408
Also See: Popular Neighborhoods in Atlanta for Families
FAQs
What salary do you need to live in Atlanta?
A single adult can live well in Atlanta on a 50k to 60k salary. An 80k annual salary would mean that you would be considered upper middle class. 85k to 100k is a good household income for families.
Is Atlanta a good place to live?
Atlanta is a great city to reside in because of the ample green spaces. It also has the third-highest concentration of Fortune 500 companies, so you have a good chance at building your career. The housing costs are reasonable and depending on where you're moving from, you could have a fuller lifestyle in Atlanta.
Is it worth moving to Atlanta?
If you like the sunshine and want to live in a city that's warm and nice, then you should definitely consider moving to Atlanta. The city is also great to move to especially if you're looking for employment opportunities. Some of the renowned companies operating here are Coca-Cola, The Home Depot, Delta Airlines, etc. The city's housing costs are just a little above average with a median cost of $320,025. So if you want to enjoy the different amenities in a city bustling with people and lots of activities, then it's definitely worth moving to Atlanta.
What salary do you need to live in Atlanta?
You'll need an annual salary of at least $35k in order to live in Atlanta. But a salary of between $65-80k will help you live comfortably.
Is Atlanta Georgia a good place to live?
Whether it's taking a walk through the Piedmont Park, engaging in different sports activities and delicious eateries and bars especially in West Midtown, Atlanta has a lot of amenities to offer you. You also get to enjoy all four seasons in Atlanta where sunshine accompanies you almost throughout the year. The city is also home to the topmost universities like Georgia Institute of Technology, Emory University, etc. On top of that, several Fortune 500 companies are located here and so the city is great for employment opportunities. So if you want to live in a city that's busy and full of entertainment and employment, Atlanta surely is a good place to live in.
How much money should I save before moving to Atlanta?
It's good if you save enough for at least 3 to 6 months for your stay in Atlanta before you move there. To give you an insight into a salary for comfortable living, you'll need at least $65-$80k annually.
Is Atlanta expensive to live in?
The median house cost in the city will be around $320,025 and if you want to rent one, you'll have to pay between $1,153 to $1,527 per month. For utilities and groceries, your monthly cost as a single person will be almost $1,023. As you can see, your basic living costs like housing, utility, and grocery expenses are slightly above the national average. To put it shortly, Atlanta is not an expensive place to live in.
Is 120k a good salary in Atlanta?
A salary of $120k is certainly good for you to enjoy a comfortable lifestyle in Atlanta. You'll be able to afford a medium-sized house worth $320,025 in the metropolitan areas of Atlanta.
What is the poorest city in Georgia?
Royston is one of the poorest cities in Georgia. It has a median household income of only $21,594. About 30.8% of the population of Royston lives below the poverty line, which is much more than the US average of 13.1%.
What's a good salary in Atlanta?
In Atlanta, an average salary of around $82,363 can be considered a good salary as per the analysis done by ZipRecruiter. To give you a weekly estimate, it comes up to $1,584 per week and around $6,864 on a monthly basis.
What part of Atlanta is bad?
Adamsville can be considered as one of the bad areas in Atlanta. First of all, it has a total crime rate (both violent and property crimes) of 3,202 crimes per 100k people which is higher than the national average of 2,489 crimes per 100k people according to the research conducted by Areavibes. Apart from that, Adamsville has a very low median income of around $29,150. Some of the other areas in Atlanta with high crime rates and low incomes are Lakewood Heights, Mechanicsville, Center Hill, and West End.
What celebrities live in Atlanta Georgia?
You'll be surprised to know that there are several celebrities that reside in Atlanta. Let's take a look at some of the most famous celebrities residing here:
Cardi B (rapper)
Ludacris (rapper)
Elton John (singer)
Jamie Chung (actress)
NeNe Leakes (actor, author, fashion designer)
Gucci Mane (rapper)
Dwayne Johnson (actor, producer, wrestler)
Porsha Williams (actress)
What you should know before moving to Atlanta?
It's always good to know about the different amenities of the city before moving there. Atlanta, surprisingly, can be busier and at the same time very entertaining than you can ever imagine. First of all the city has a very humid climate most of the time and so you shouldn't act surprised if someone calls it 'Hotlanta'. An interesting thing to note is that Coca-Cola is very famous in the city as its headquarters is located in the city. If you're planning to move here, you'll have to deal with heavy traffic as the city is bustling with people of which most are car and motor drivers. So you'll have to deal with a lot of honking and heavy traffic. Having said that, one of the most beautiful things about Atlanta is the 189-acre Piedmont Park where you can enjoy sightseeing and a lot of outdoor activities like hiking, biking, soccer, etc.
Can you move to Atlanta without a job?
If you're planning to move to Atlanta, it's advisable not to move there without a job. First of all, the city's housing costs and overall cost of living are slightly higher than the national average. To be able to meet these expenses, you'll need a lot of savings. Fortunately, the city has a diverse economy with several Fortune 500 companies operating here. You can explore jobs in the healthcare, technology, aerospace, and other industries that are operating here on a large scale.
Where should you not move in Atlanta?
In terms of livability, you should avoid the areas with high crime and unemployment rates with low median income in Atlanta. One such place you need to avoid is Adamsville which has almost 3,202 crimes per 100k people which is more than the national average of 2,489 per 100k people based on the research conducted by Areavibes. Other than that, the other areas you should avoid moving to are Lakewood Heights, Mechanicsville, Center Hill, West End, and Grove Park.
Where should I move in Atlanta?
If you're looking for a city vibe with plenty of shopping centers, restaurants, outdoor activities along with employment opportunities, then you can consider moving to Alpharetta, Midtown, and Suwanne. But if you're a person who wants to have a relaxed lifestyle amidst nature where you can enjoy fun recreational activities, you should consider moving to Decatur or Peachtree City.
---
Our Take On Atlanta
Atlanta is a beautiful city to live in because it reinvents the image of what a city is for an urban dweller. The huge number of green spaces, parks, and botanical gardens bring a sense of peacefulness within a cityscape. You also get to feast on food that feeds the soul because the cuisine here is mindblowing. The BeltLine is one of a kind and can make you forget the notion of urban sprawl.
Overall, there are so many perks to moving here and we can still go on. But with so much information, you'd already be able to gauge if the city is meant for you. If you'd like to move to Atlanta, we can do one more thing to ease things, which is to help you pick a moving company. You can refer to our article Best Moving Companies In Atlanta for more information on that aspect. (Please add the link to this article at the time of uploading it)
See also: Best Moving Companies in Atlanta GA | Moving From Chicago To Atlanta