Moving From Chicago To Atlanta – Expert Tips & Advice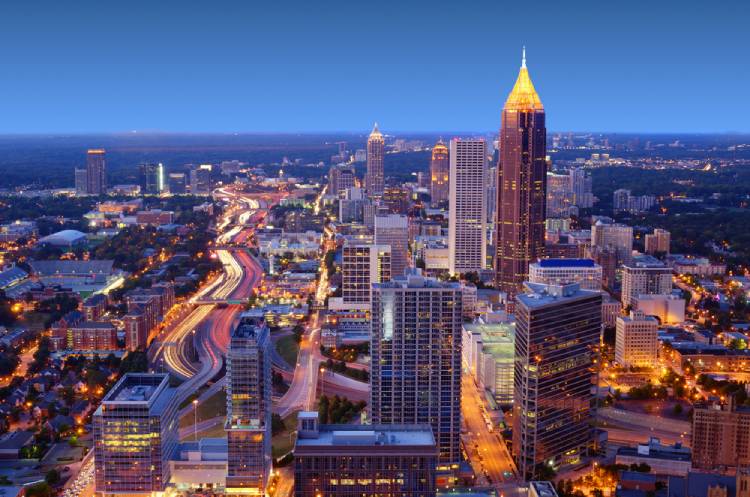 Eyeing for a switch from a concrete jungle to a place that has earned the reputation of a "city in a forest"? Then Atlanta could be it. Situated among the foothills of the Appalachian Mountains, Atlanta greenery has the power to calm even the most anxious of minds. For many, it is a welcome change from the scenery in Chicago. If you're making the leap to move to Atlanta, there's a ton you might be curious about besides the landscape. So let's run you over everything you need to know before moving from Chicago to Atlanta.
Factors To Consider Before Moving From Chicago To Atlanta
Weather Conditions
Both Chicago and Atlanta enjoy four distinct seasons and thus have a suitable climate pretty much the entire year. You won't experience a vast difference in temperatures. Throughout the year can expect temperatures to fall in the range of 35°F to 89°F in Atlanta.
You'll also be relieved to know that Atlanta doesn't experience cold long winters like they do in Atlanta. Rain gods also prefer Chicago a little more than Atlanta as the average precipitation in the rainiest months is 4.9" and 2.3" respectively.
In terms of summers, there's no drastic temperature variance between the two cities. Summers in Chicago are bearable despite frequent heatwaves. However, Atlanta does have fairly hot and humid climatic conditions around this time of the year. But the good news is that the city's elevation helps turn down the heat to a certain extent. To give you an idea of temperatures to expect, see the difference below –
Here's the difference in temperature that you can expect during peak summers:
Chicago in July – Average daily temperatures range from 71°F to 82°F.
Atlanta in July – Average daily temperatures range from 71°F to 89°F.
Speaking of winters, due to the frequent polar air breakouts, Chicago experiences above cold winter weather enough to increase the sales of fashion brands' winter collections. Atlanta on the other hand, being a Southern state, has mild winters which is a pro if you're looking to move to regions with comfortable winter temperatures. If you enjoy ice-skating, then you absolutely need to visit Atlanta's largest outdoor skate rink in Midtown during this time.
Here's the difference in temperature that you can expect during peak winters:
Chicago in January – Average daily temperatures range from 21°F to 30°F.
Atlanta in January – Average daily temperatures range from 35°F to 51°F.
Few Things To Bear In Mind About Atlanta Weather:
This city experiences moderately high rainfall spread evenly throughout the year with July being the wettest month of the year.
With short, mild, and cool winters, it does snow in Atlanta on rare occasions but don't expect a dreamy White Christmas around here.
Get a tan, spend the day in the water, and construct a sandcastle on the beach in Atlanta during the summer, which is the best time of the year for warm-weather activities. Fortunately, the average high during summers remains at 81°F.
Also read: Moving To Georgia
Cost Of Living
These prominent cities have a lot to offer and the cost of living in both sits a little above the national average. You'll find that the cost of living increase merely by 1.8% in Atlanta. It's not an insane difference in living costs but factors like healthcare, utilities, and housing can be slightly more expensive in Atlanta. To give you a quick comparison between the two cities in terms of overall living expenses, below are some aspects you can gauge from.
Buying A House
You won't have to splash an exorbitant amount of money when it comes to owning a house in either of the two cities. However, when it comes to the finer points of variation in house prices, Atlanta has got a slightly higher price range to get that house key. The same for median property values are shown below to provide you with a crisper comparison between the two cities.
Median Home Value in Chicago: $320,010
Median Home Value in Atlanta: $354,120
Renting A House
If we consider the national average rent of $1,650 as a reference point, the average rent for a 750 sq. ft. apartment in Chicago would cost you around $2,110. Whereas, a 975 sq. ft. apartment in Atlanta will spill $1,800 from your wallet per month. The relatively low rent rates in Atlanta are due to the fact that renter-occupied households outnumber the owner-occupied households in the city.
Utilities
Speaking of the essentials and daily expenses in these cities, your monthly utility bills(Heating, Cooling, Water, Electricity, and Garbage) in Atlanta are slightly more expensive at $180 as compared to Chicago's $163. While a gallon of milk is priced practically the same at $2.99, a dozen eggs in Atlanta will see you spend $2.09 as compared to $2.22 for the same in Chicago.
Childcare is one aspect where you can see a sizable difference between the two cities. On average, it is going to cost you $1,270 on childcare in Atlanta which is quite less if you compare it with Chicago's $1,530.
Job Market
If you're moving to Atlanta primarily for work, we have some good news for you. Atlanta's unemployment rate is 2.80%, which is approximately half of Chicago's rate of 5.40%. Compared to the national average of 4%, you can make out for yourself which city will be better suited for you. The reason behind such pleasing numbers in Atlanta is that the city continues to host ambitious companies that bring value and revenue. Owing to this, the city has very rightly earned the tag "The Silicon Valley of the South". To substantiate our claims on this fact, below are some of the big players contributing to the city's economy.
Some Of The Largest Employers In Atlanta Are:
NCR Corporation
United Parcel Service
Delta Air Lines
Arby's
The Home Depot
Emory University & Emory Healthcare
Georgia-Pacific
Equifax
The Coca-Cola Company
Cox Media Group
Shedding light on the economic scene in Atlanta, you will find a massive concentration of Fortune 500 companies here. This also means that the corporate sector plays an impactful role in lifting the city's economy. To name a few diverse economic streams, aerospace, media operations, information technology, logistics, and film & television production are among the top contributors. The Coca-Cola brand in your hand right now as you read through this article, also has its headquarters in the city of Atlanta!
Before we move on, here is a quick comparison between the average Household Income In The Two States:
Median annual income in Chicago (According to Payscale)- $74,000
Median annual income in Atlanta (According to Payscale) – $71,000
Transportation
Getting around Atlanta is no monumental task as this city has a plethora of transit options to choose from even for specific counties and neighborhoods. The Metropolitan Atlanta Rapid Transit Authority (MARTA) serves as the primary commute choice for the residents here owing to its affordability and wide network. Driving one's own car or a rented one is also a common choice around here.
If you are among the types who love the traditional walk/bike method, this city will not disappoint you at all as it boasts of a walk score of 82 on 100. To give you more in-depth information about the commute options you can choose from in Atlanta, below is a list for the same.
The Metropolitan Atlanta Rapid Transit Authority (MARTA) – This is the most commonly used transit means in the city of Atlanta. With a single trip cost of just about $2.50, getting around Atlanta in MARTA is fairly affordable. This robust system of trains, buses, and para-transit vehicles operates daily in the Fulton and DeKalb counties.
CobbLinc – Local bus service system operating between Midtown and Downtown Atlanta.
Georgia Regional Transportation Authority (GRTA) Xpress – Bus services that cater to 12 major counties in the city.
The Buc – A free shuttle service exclusively in the Buckhead neighborhood of Atlanta.
Atlanta Streetcar – The newest addition to the city's transport system, this 2.7-mile loop connects 12 stations in the Downtown area.
(The city is also home to one of the world's busiest airport, the Hartsfield – Jackson Atlanta Airport.)
Atlanta's Strong Points:
The city has somehow figured out the right balance of having numerous neck-aching skylines and lavish green vegetation and vibrant biodiversity.
The swanky nightlife you see in aesthetically pleasing movies? You can experience all of it right here in Atlanta. Be it your craving for booze or disco with all your buddies, the city has got it all.
Atlanta is known for its forward approach to diverse activities and hobbies. If you have keen interests in any art form or are a sports enthusiast, chances are the city of Atlanta already has a community for that in place.
With all kinds of music festivals popping up in the city every now and then, there is always something to look forward to in the city for music enthusiasts.
Also read: 7 Best Moving Companies In Atlanta
Top Neighborhoods To Move To In Atlanta
Midtown
Known for its high-rise condos, Midtown is one of the most sought-after urban neighborhoods in Atlanta. With the ease of accessibility in the entire neighborhood, you will have no trouble getting around the best places it has to offer. Your smart-watch will only sing high praises of this area knowing that the most preferred commute option is walking and biking! This neighborhood also takes pride in the career opportunities it provides. This has been a major selling point that continues to attract students and young professionals.
Median value of homes: $360,150
Median rent: $1,880
Buckhead
It is not necessary that you have to live in Hollywood to meet your favorite celebrities. Buckhead is one of the prime examples of the same. This lavish and pristine neighborhood is home to the homes of a myriad of these famous personalities. The reason behind it is that the neighborhood is filled with exquisite mansions, fashionable boutiques, luxury shopping centers, and whatnot. So, if you don't mind the expensive cost and lifestyle, Buckhead will surpass all your expectations of a dreamy lifestyle.
Median value of homes: $625,000
Median rent: $2,110
Inman Park
With the blend of modern apartments and Victorian-style vintage homes, Inman Park is another neighborhood you will have a hard time crossing off your list. Foodies, this place is going to be a paradise for you. This part of the city has top-notch restaurants to make you drool just by looking at the menu. You will also have easy access to the Downtown area should you choose to move to Inman Park and take advantage of its amenities.
Median value of homes: $590,140
Median rent: $2,010
Old Fourth Ward
You can tell a place holds mammoth historical significance if it is the birthplace of a certain Martin Luther King! Even though the neighborhood is undergoing changes to keep up with modern times, its historic essence still remains untouched. With the BeltLine (Atlanta's newest outdoor space) coming into the picture, your commuting needs will be comfortably met. Being an ideal moving option for couples and young professionals, Old Fourth Ward is quickly becoming one of the most popular choices.
Median value of homes: $510,101
Median rent: $1,990
Cabbagetown
There is no better place you would rather be than in Cabbagetown if art runs in your veins. On a simple walk around this neighborhood, you'll find quirky street art in the form of graffiti. Locals here have a chance of trying mural paintings at art events being hosted here every now and then. To get a gist of the area, visit Carroll Street Café. Overall, this part of Atlanta city is fast becoming a hub for singles and young professionals seeking job opportunities.
Median value of homes: $350,122
Median rent: $1,780
Things To Take Care Of When You're Moving From Chicago To Atlanta
There's a 720-mile distance between the city of Atlanta and Chicago. This is why hiring a moving company is going to be your safest bet when the other option is a DIY move. It may cost a wee bit more but at least your items will be much safer. You may also read our article on Hiring Movers Vs. DIY Move: Which is Best For You?
Before shaking hands with the first moving company you hold conversations with, explore a little more. Put on your deerstalker Sherlock hat and do a background check of not just one but at least three to four moving companies.
Get moving estimates from multiple companies before zeroing in on the one that suits your requirements and price range best. This helps you get a better idea of what the market rate is and saves you from getting ripped off your money.
You can always save a load of money on moving costs by implementing simple yet cost-effective methods. Moving during off-peak season will help you avoid surge prices and provide you with more flexible moving dates. Deciding a solid moving budget right off the bat is also one of the best ways to keep your pockets heavy.
Should you plan a DIY move, make sure you have the entire route planned with things like weather conditions, and traffic scene factored in.
Also read: Best Moving Companies in Chicago
Chicago To Atlanta Moving Costs
Let's be real, you are not going to pull off a safe and hassle-free move of 720 miles in a 3- digit budget. So, your move from Chicago to the vibrant city of Atlanta is going to cost you around $2,850 on average. However, this cost may vary depending on various factors like the location, the services you have availed of, and the cargo space your items occupy.
Whether you are on a tight budget or not, it doesn't hurt to use some cost-effective ways to save a few more bucks that could be used on other utilities. Consider selling items you might not require in your new home, deciding the date of the move well in advance to ensure there is no last-minute hire and the high price that comes with it. If it isn't much of a hassle for you, consider packing and unpacking your belongings by yourself. This will save you quite a few bucks too.
Conclusion
Both Chicago and Atlanta are among the top metro areas to live in America. Atlanta is popular for its thriving cultural scene and vast green spaces. If you've really been looking to escape living in a concrete jungle, Atlanta could be the place for you. Now that you're well-equipped with all there is to know about moving here, we hope that making the decision is a whole lot easier!
FAQs About Moving From Chicago To Atlanta
Why Do People From Chicago Move To Atlanta?
Out of the many reasons people consider a move from Chicago to Atlanta is the weather conditions. Chicago has cold chilling winters which might not be everyone's cup of tea (that tea might very well turn cold too). Atlanta, having short and mildly cold weather conditions, is ideal for people who enjoy outdoor activities in pleasant weather.
How Much Does It Cost To Move From Chicago To Atlanta?
Your average move from Chicago to Atlanta will cost around $2,850. This cost may vary depending on a number of factors like the distance being covered and the number of items getting moved.
Is It Better To Live In Atlanta Or Chicago?
You would enjoy living in Atlanta if you're looking to escape the harsh brutal winters of Chicago. You will see the sun way more often and enjoy Atlanta for the warmer climate. Besides that, the healthy job market and green spaces in Atlanta make it appealing to live in.
Also See: Moving From NYC To Atlanta