Moving to Georgia | 2022 Cost of Living and Relocation Tips


VanLines Inc
Secure Storage
Easy Booking Process
Fully Trained Employees
GET A QUOTE

Colonial Van Lines
Storage Services
Long-Distance Moves
Corporate Relocations
GET A QUOTE

Moving APT
Available Nationwide
Award-Winning Movers
Extensive Vetting Process
GET A QUOTE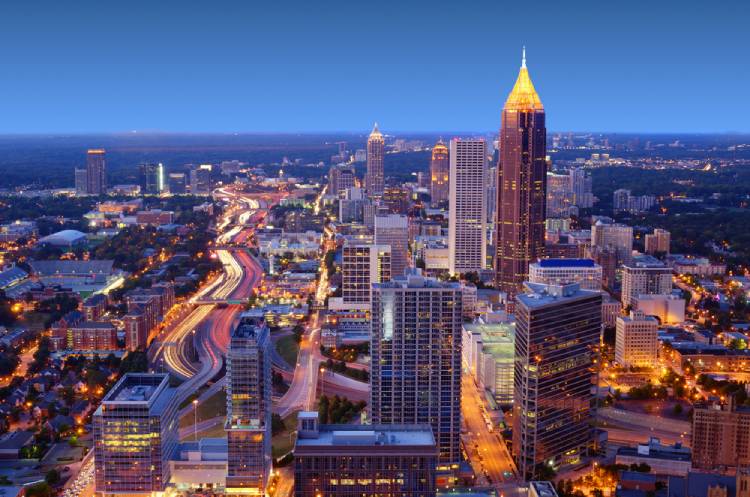 The state of Georgia is located in the southeastern part of the US and is known for its balmy weather, 100 mile shoreline, the gorgeous Chattahoochee National Forest, manicured parks, historic districts, stunning vistas of the Blue Ridge Mountains, pine forests and much more. However, these are not the first thoughts most people have of the state.
When you tell someone that you're thinking about moving to Georgia, they would almost impulsively think you mean Atlanta city. It can be hard to shake off this belief, especially when more than half (57%) of the state's population is concentrated in the city of Atlanta.
Presently, Georgia is at an estimated population of 10 million people, with more than 6 million people occupying the state's capital, Atlanta. No wonder there's always going to be comments about Atlanta growing to become a state within the state of Georgia.
It also makes us wonder why Atlanta has the lead role in attracting people here? And is it the only thing that attracts people here? Well without question, there's got to be more things you need to know about before moving here. Moving to a new place is a huge decision, so it's best to cover all your bases before packing your bags and calling Georgia your new home.
Weather in Georgia
Now, the state of Georgia forms the Sun Belt of the US continental, so be sure to expect a good deal of warm sunny days. On an average, the state receives around 217 days of sunshine, which means you'll have less reasons to retreat to your couch. Summer dominates the climate year round. But in reality, the state has 4 distinct seasons in the form of Winter, Spring, Autumn and Summer.
Summer – Summers in Georgia like most coastal southern regions is characterized by humid subtropical weather conditions. June is when the temperatures start to rise, with July and August being the peak summer months. Day time temperatures can range anywhere from 25-33 degree celsius, while nighttime conditions can be much bearable. Hiking, Cycling, Nature trails are few of the activities residents turn towards to make the most of the long summer days. Do note that thunderstorms are a common occurrence in summer because of the state's long coastline.
See also: Sunniest Cities in America
Autumn – Temperatures begin to change course by the end of August, to make way for Autumn to work its magic on the Georgian landscape. The countryside in the North side of the state in particular is where you can capture some of the most beautiful views of the shades of Autumn. Pumpkin picking and corn mazing are few of the fall traditions that residents look forward to. September and October are the peak months to see the fall foliage in its full glory.
Winter – November is when you should expect to see the pleasant fall conditions step down and prepare to welcome the mild winters. Freezing temperatures are a very rare sight in December. However, the temperatures begin to really drop in the month of January which is the coldest month for the state. The temperatures in the peak winter months range from 1.1 to 3 degree celsius. There is a higher chance of snow in the northern parts of the state. In contrast though, heavy snow is almost always absent for the rest of the state. February is when you can expect the winters to come to an end.
Spring – The weather begins to warm up by mid-February and spring in the state lasts till the whole of May. Although on most days, the skies can be clear, you must also be prepared for days with rainfall and thunderstorms. Spring in Georgia is often associated with storm season too because of tropical storms and floods that the state experiences during the early days of spring. However, on the bright side, there's uncountable events to look forward to in the springtime on Georgia's Golden Isles of St. Simons, Little St. Simons Island, Sea Island, Jekyll Island, and the city of Brunswick. These are few of the most visited barrier islands in spring.
Key Takeaway – The south side and north side of the state face two completely different weather conditions. So depending on the region you pick to reside in, you could face slightly more extreme weather conditions. Remember that the neighborhoods closer to the coast are more prone to experience the thunderstorms than those homes that are centrally located. July and August are the two months when Georgia experiences extreme heat and January is when it gets extremely cold. The weather in general ranges from mild winters to subtropical humidity. It's perfect for those looking to get a little bit of all seasons.
Transportation
Roads in Georgia
The state of Georgia is surrounded by Tennessee, Florida, South Carolina, North Carolina and Alabama. And the interstate highways in Georgia make it easy to connect to any of these places that meets the borders of the state. The four major Interstate Highways are I-20, I-75, I-85, and I-95. Below is a short description of each highway to understand where these roads could lead you:
Interstate 20: This highway travels from the state line of Alabama to South Carolina. From Georgia you can connect to this road either from Tallapoosa, Atlanta metropolitan area, Augusta, Bremen, Douglasville, Conyers, Covington and Madison.
Interstate 75: This is Georgia's longest interstate highway that runs right in the center of the state in the north-south direction. You can basically use this road to travel from Tennessee in the hilly northern Georgian area to the extreme south point of the state nearing Florida.
Interstate 85: Another major highway that runs vertically in the northeast-southwest direction, entering state lines of Alabama and South Carolina.
Interstate 95: This is the main interstate highway that residents use to travel along the Atlantic coastline. It is considered to have the most scenic views of Georgia and makes for the perfect coast road trip!
In addition to the interstate highway system, Georgia also has state highways to get around within the state. Having your own vehicle surely makes it way more feasible to get around non-metropolitan areas of the state. Although, in the state's capital, you can always use the yellow Atlanta Checker Cab, Lyft or Uber for road travel.
Do note that public transportation in Atlanta is mainly overseen by the Metropolitan Atlanta Rapid Transit Authority (MARTA) and this is considered to be the most efficient public transit system for residents.
Modes of intra city transportation in Atlanta –
Bus by MARTA – The MARTA buses run throughout the downtown and suburban areas of the city. Buses have over 91 stops and connect residents to universities, cultural centers, recreational city parks, shopping centers, hotels, airports and much more. The regular fare for a one-way bus trip is $2.50. A reloadable breeze card or exact change are two payment methods accepted.
Rail by MARTA – The color code system of identification followed by the rail system makes it easy to understand which rail line you should be taking. The MARTA's trains have just 4 rail lines: the red (runs north), gold (runs south), blue (runs east) and green (runs west). The four lines interconnect at the Five Points Station located in downtown Atlanta. The regular fare for a one-way trip is $2.50 which is the standard price for the bus service as well. The below extract explains each rail line.
Red line route: North Springs – Sandy Springs – Dunwoody – Medical Center – Buckhead – Lindbergh Center – Arts Center – Midtown – North Avenue – Civic Center – Peachtree Center – Five Points
Gold line route: Doraville – Chamblee – Brookhaven – Lenox – Lindbergh Center – Arts Center – Midtown – North Avenue – Civic Center – Peachtree Center – Five Points – Garnett – West End – Oakland City – Lakewood/Ft. McPherson – East Point – College Park – Airport
Blue line route: Hamilton E. Holmes – West Lake – Ashby – Vine City – GWCC/CNN Center – Five Points – Georgia State – King Memorial – Inman Park – Edgewood – East Lake – Decatur – Avondale – Kensington – Indian Creek
Green line route: Bankhead – Ashby – Vine City – GWCC/CNN Center – Five Points – Georgia State – King Memorial – Inman Park – Edgewood
Airports in Georgia
The state's largest and most extensive airports are:
Hartsfield–Jackson Atlanta International Airport (also known as the busiest airport in the whole world)
Savannah/Hilton Head International Airport
Commercial airports of Augusta, Columbus, Albany, Macon, Brunswick, Valdosta, and Athens
See Also: Most Affordable Places to Live in Georgia
Georgia Job Market
If you're looking for job opportunities in the state of Georgia, you would slowly begin to realise that most of the vacancies and big corporations are all clustered in the city of Atlanta. The capital city also called an alpha/global city has a huge impact on Georgia's economy and all the neighboring Southeastern states that surround the state. Finance, insurance, technology, manufacturing, real estate, service, logistics, transportation, film, tourism, communications, convention and trade show are the top performing industries in Atlanta that's responsible for the maturation of the state's economy.
In addition to that, roughly 20 of the Fortune 500 companies have gained a presence and have their headquarters set up in Atlanta, creating thousands of job opportunities for young professionals. Interestingly, the state's economy is also largely dependent on the film and tourism industry. Georgia is popularly known as the 'Hollywood of the South' and the film industry is solely responsible for giving the state's economy a boost through job creation and tourism. There are multiple production agencies because of which Atlanta is becoming the fastest growing market for actors.
Top companies that found success and have headquarters in Georgia are – The Home Depot, SunTrust Banks, Coca Cola Company, UPS, Genuine Parts Company and Delta Air lines are just some of them.
The state is also home to the Port of Savannah – the fourth largest seaport in the country. Well-known companies like Target, IKEA, and Heineken have their distribution centers set up and in operation near the Port of Savannah.
Overall, these are the top performers for the economy of Georgia that provide lucrative job opportunities in a variety of work fields.
Renting In Georgia
The average median rent of houses in Georgia is $1,445. According to reports by HomeSnacks, there's a 12% difference in the rent of Georgia when compared with the national average. Since few of the neighboring states have lower rent costs, you may find the rent in Georgia slightly higher. However, this completely depends on the rent you're paying in your former state.
To put things into perspective, let's do a comparative analysis with the tentative rent costs in the other states so you can see things at a price point:
1 bedroom home in Georgia – $1,365
1 bedroom home in California – $2,100
1 bedroom home in Florida – $1,399
1 bedroom home in Alabama – $950
1 bedroom home in South Carolina – $1,249
1 bedroom home in Tennessee – $1,100
We've taken the average median rent to highlight that annually things could begin to look expensive in Georgia. Also, if you prefer to reside in the city of Atlanta, there are certain areas like Johns Creek, Dunwoody, Suwanee and Braselton where the cost of rent is way higher than the state's average median rent.
Cost Of Living In Georgia
When it comes to cost of living, the prices in Georgia are definitely on the rise. Presently, the median value of homes in Georgia is $213,918 (according to Zillow). This shouldn't come as a surprise because the state is home to the 9th most populous metropolitan area (Atlanta) and the state itself is the 8th-most populous state in the US. Without doubt, the state is growing, as more and more companies are setting up headquarters here, as well as expanding the film industry. The utility prices in particular are attracting thousands of people. However, with the increase in population, costs are bound to keep on increasing.
On the plus side, the prices here are unlike other big major cities in the US (Such as LA, San Francisco, Seattle or New York). Depending on the city you would be moving from, you could find that you're getting way more value for your money.
See also: States with Lowest Cost of Living
Education
Top-Rated Georgia Colleges
1. Georgia Institute of Technology, Atlanta
2. Emory University, Atlanta
3. University of Georgia, Athens
4. Mercer University, Macon
5. Spelman College, Atlanta
6. Berry College, Mount Berry
7. Agnes Scott College, Decatur
8. Georgia Southern University, Statesboro
9. Georgia State University, Atlanta
10. Georgia College & State University, Milledgeville
Top-Rated Georgia Schools
1. Buford City Schools, Buford
2. Forsyth County Schools, Cumming
3. Oconee County Schools, Watkinsville
4. City Schools of Decatur, Decatur
5. Bremen City Schools, Bremen
6. Fayette County Public Schools, Fayetteville
7. Calhoun City Schools, Calhoun
8. Rabun County Schools, Clayton
9. Jefferson City Schools, Jefferson
10. Union County Schools, Blairsville
Top Cities To Move To In Georgia
1. Alpharetta
Alpharetta is a neat little northern suburb of Atlanta filled with excellent schools, state parks and has a family-centric environment. Close-knit communities and friendly people are the advantages of living 30 minutes away from the rush of Atlanta city. This suburb is also considered to be THE Georgia for families. It's one of the best parts of the state to reside in.
Median price of homes sold: $442,278
Median rent: $1,501
2. Roswell
The city of Roswell shares most of the qualities that feature in the city Alpharetta and is also 30 minutes away from the metropolitan areas of Atlanta. Most of the best places to live in Georgia are the suburbs, since the metropolitan area is way more crowded. A clear reason why people resort to finding spaces like Roswell where you can enjoy open green spaces and community activities that take place during the spring and fall.
Median price of homes sold: $429,580
Median rent: $1,307
3. Savannah
The city of Savannah is the oldest city and former state capital of Georgia. The city served as a strategic port during the American revolution and was also the British colonial capital. So the presence of several historic buildings in the area should come as no surprise. Although, a 3 hour drive away from Atlanta, this city has its own charm and enjoys a slower pace of life. The main advantage of living here is that you have easy access to the coast of Georgia.
Median price of homes sold: $190,654
Median rent: $1,098
4. Athens
The city of Athens lies around 70 miles northeast of downtown Atlanta and is recognised to be a college town since it's also home to the University of Georgia. The city is flooded with students and a thriving college culture. Restored victorian era buildings, vibrant music scene, lively nightclubs and cheap rent are the top features of this town.
Median price of homes sold: $211,813
Median rent: $1,083
5. Peachtree City
Peachtree is a town located south of the metropolitan area of Atlanta and is considered as the safest city in Georgia. You can get to Atlanta in approximately 45 minutes from here and the housing here is way more affordable than some of the other upscale suburbs of Atlanta. The city also has three beautiful lakes (Peachtree, Kedron and McIntosh) providing residents with a multitude of recreational opportunities.
Median price of homes sold: $360,36
Median rent: $1,309
Also See: Largest Cities In Georgia
FAQs about Moving to Georgia
Is Georgia a good state to move to?
The state of Georgia has a lot going on for it. It lies in the deep south so you have a mix of close communities and metropolitan areas. Year round balmy weather and a rich variety of jobs are the other perks of moving to Georgia. But the essence of Georgia lies with the capital city – Atlanta! Thousands of people are drawn to this alpha city for the attractive cost of living and number of career nurturing opportunities across a variety of fields. Aside from taking advantage of modern amenities in big cities, Georgia also has a slice of the countryside and lots of natural landscape to explore.
Is Georgia expensive to live in?
Georgia is among the most affordable states to live in the nation. Both real estate and utilities are lower than the national average. Living in Georgia isn't expensive if you put it up against prices in other cities like Seattle, New York or LA. A single person would need an income of roughly 60k to live comfortably in Georgia. But prices in the alpha city and state capital (i.e Atlanta) are on the rise. Be prepared to pay higher figures for housing, gas and entertainment in Atlanta. The farther you move from the city of Atlanta, the lower costs will get.
What should I know before moving to Georgia?
If you're planning to move to Georgia, you must be aware that nearly 57% of the state's population rush to live in Atlanta. Being the capital city, it is the hub for jobs, cosmopolitan atmosphere and a fast pace lifestyle. The cost of living in Atlanta is slightly more expensive than other regions in Georgia. In terms of weather, the state has a rare presence of snow, the northern part being an exception to this. Balmy weather is the dominant weather condition and this works out in favour of those who love staying outdoors. For exploring, you'd have pristine beaches, mountains, state parks and much more.
What are the benefits of living in Georgia?
Low cost of living, temperate weather and close communities are the benefits of living in Georgia. Living in Georgia would also mean that you have an endless number of choices for outdoor activities and recreation. This is mainly because the state has no shortage of beaches, parks and mountain ranges. The state is also home to Atlanta, which is a global city filled with modern amenities and booming with opportunities. A good number of excellent school systems and healthcare facilities are the other benefits of living in Georgia.
How much money do you need to live comfortably in Georgia?
A single person should ideally earn somewhere between 70k to 80k to live comfortably in the city of Atlanta which is the state capital. The liveable wage could very well dip to figures below 60k if you live away from the hub of Atlanta. If you have a partner and kids, you'd need to pull a 6 digit income annually to live large in Atlanta. These are just ideal figures to live 'well' in the state of Georgia. Overall, the state passes the affordability test as the cost of living here is lower than the national average.
Is it cheaper to live in Florida or Georgia?
In Florida, you'd be dealing with median home prices around 264,149, while in Georgia it stands at $213,919. In terms of gas per gallon, you can expect costs to be roughly $2.397 in Florida and $2.243 in Georgia. There's not a massive difference in costs between the two, but things are slightly cheaper in Georgia. If you take into account the element of taxes, then Florida would be the cheaper option from the two.
Why are houses so cheap in Georgia?
With median home prices falling roughly next to $213,919 in Georgia, owning a big home in Georgia can be a dream turned into reality for many. Do note that house prices in Atlanta are on the rise far faster than other areas in the state.
What is a good salary in Atlanta GA?
A good salary to earn in Atlanta is a figure of 70k to 80k annually for a single person. This would allow you to have enough money for savings, travelling and living comfortably with ideally less financial burden. If you're frugal with your income, a 50k annual income would also suffice for a single person. Single residents who rake in a six figure income can consider themselves extremely 'well-off' in Atlanta.
How is life in Georgia?
The state of Georgia lies in the Deep South and it is a pretty diverse state. In the north portion you have a mix of mountains, lakes, and forests to escape to. On the Southeast side, you have the ocean so you also have a beautiful shoreline to explore. Living here would mean that you have plenty to do outdoors and you'd also be part of a slower paced lifestyle. If you seek the buzz of metropolitan life, you also have that opportunity in the global city of Atlanta. The cost of living here is lower than the national average and the climate here gets classified into humid subtropical.
What is the richest part of Georgia?
Few of the cities that get a good score on the rich scale are Johns Creek, Peachtree city, Milton, Braselton and Tyrone. Most of these cities are situated on the outskirts of the city of Atlanta. If you choose to live here, you'd have close proximity to the hub where 57% of the state's population resides. Houses in the richest parts of Georgia fall in the range of $318,500 to $382,400.
What is the cheapest place to live in Georgia?
Southern Georgia is dotted with affordable housing to live in the state of Georgia. The further you move away from the state capital (Atlanta), the lower real estate prices get. Few of the top cheapest places to live are Arcade, Toccoa, Camilla, Eastman and Statham.
Where should I move to in Georgia?
Alpharetta, Roswell, Savannah, Athens, Peachtree City are few of the best places to live in Georgia. A good rule of thumb is to move to areas surrounding the Atlanta area, this is where 57% of the state's population lives. We suggest steering clear of areas in the South if you're particularly moving for a job, since chances would be slim there.
Can a foreigner buy a property in Georgia?
A foreigner (non-us citizen) can buy a property in the state of Georgia and have similar rights just like the residents of Georgia. There is no restriction on buying a property you like but you'd most likely face challenges in the tax structure.
---
Our Take On Georgia
It is said that Georgia is the 'South reinvented' and we believe that this is the best way to describe the state's personality. Although it is located in the deep south, the state can change your perception of the culture, lifestyle and size of the economies in the South. Georgia has big cities like Atlanta with small countryside communities, huge green spaces like the Piedmont Park and the advantage of a coastline. Like the popular song, 'Georgia on my mind', it surely does have its way of working into people's hearts and minds.
See also: Best Moving Companies in Georgia