Largest Cities In Georgia


VanLines Inc
Secure Storage
Easy Booking Process
Fully Trained Employees
GET QUOTE

Colonial Van Lines
Storage Services
Long-Distance Moves
Corporate Relocations
GET QUOTE

Moving APT
Vetting Process
Award-Winning
Available Nationwide
GET QUOTE
Our Take
Price
Rating
Minimum Shipment Size
Storage
Booking Deposit
Cancellation Policy
Quoting Options
Discounts

Best Overall Value


GET QUOTE

2+ bedrooms




Free 30 Days




10%

Free up to 72 Hrs

Phone / FaceTime / Text

Senior / Same day Booking

Best Industry Reputation


GET QUOTE

1+ bedrooms




30 Days




20%

Free up to 72 hrs

Phone / Facetime

Seniors Discount

Best Customer Service


GET QUOTE

1+ bedrooms







Free up to 72 hrs

Phone / Virtual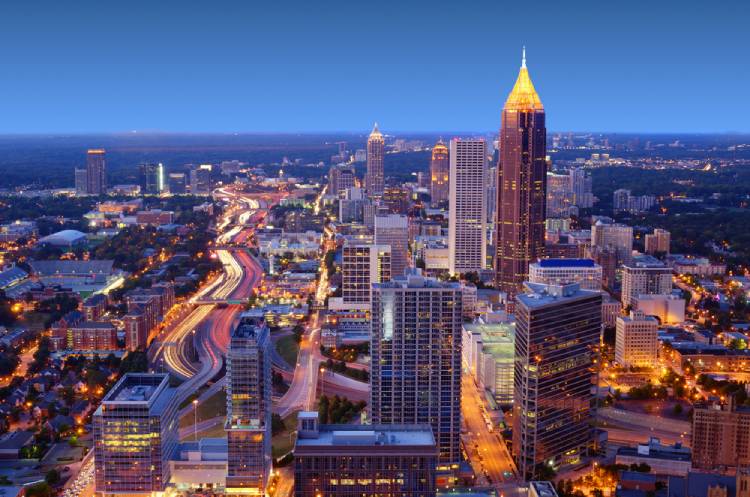 There are a lot of great things that spring to mind when one speaks about the historically rich state of Georgia. Be its peaches, the birthplace of your favorite drink Coca Cola, the rich flora and fauna, and the list can go on! But none of this would have been possible without the enormous contributions of its several cities, each bringing their own distinct qualities to the table. So, if moving to Georgia is on the cards for you, you will find the list of the state's major cities (by population) below to be quite useful.
1. Atlanta
Apart from being the capital city of Georgia, Atlanta is also home to the largest population in the entire state. What makes this city a popular and crowd-attraction is its love for greenery, vibrant communities, and yes, the booming economic conditions! You will find not one, not two but 16 Fortune 500 Companies having their headquarters in this city alone. This speaks volumes about the job opportunities that Atlanta has to offer.
Apart from that, the comfortable winter weather here makes it an ideal city for winter sports lovers, especially ice-skaters! The music scene in this city has been one of the major talking points for a while now. You will find many music festivals showing up on your timeline ready to be explored. A few of the best neighborhoods to move to in this city are Buckhead, Inman Park, and Old Fourth Ward.
Fun fact – A major chunk of the popular Netflix show Stranger Things was filmed in Atlanta. You can go check out the location and decide whether the Upside Down really exists or not!
Population – 532,695
Median Home Value – $366,797
Median Rent – $1,790
See Also: Moving To Atlanta, GA
2. Columbus
Despite being the second-largest city in the state when it comes to population, Columbus' cost of living comfortably sits 11% lower than the national average. Don't mistake it for the city lacking in amenities and below-par lifestyle. For starters (or appetizers, if we may), the city of Columbus excels in providing multiple one-of-a-kind restaurants and food fairs that will make you drool endlessly. The city is also known for its excellent education system. So, if you have little ones who are eager to explore their career aspirations, Columbus might give them the perfect head start.
Another great thing about this city is that there is always something you can do around here. Among other things, this city is particularly famous for its RushSouth Whitewater Park on the Chattahoochee River. It is the longest urban whitewater rafting on the planet! You can have a go at the simulated space shuttle at the Coca-Cola Space Science Museum. So, if you are eyeing a move in this happening city, some of the best neighborhoods to move to are Midland, Green Island Hills, and Upatoi.
Population – 200,569
Median Home Value – $139,455
Median Rent – $1,018
3. Augusta
You can guess the historical significance of a city when it has been a part of the Revolutionary and Civil Wars. However, the city hasn't limited itself to just the historical aspect. The fact that the city garners college students, families, and retirees proves that it is keeping up with the times and constantly evolving as a diverse and modern city. One of the many reasons to choose this city to spend your life in is the affordable cost of living which is less than the national average.
If you are a major golf fan, your plans for the first week of April are pretty much sorted in Augusta. This is because the Masters Golf Tournament is held during this time at the same location, Augusta National Golf Club every year! West Side Augusta, Country Club Hills, North Augusta, and National Hills are some of the best neighborhoods in this city.
Population – 200,477
Median Home Value – $158,146
Median Rent – $1,051
4. Macon
One of the most ethnically diverse parts of the state is this not-so-little city called Macon. It has a diversity score of 81 out of 100, making it much more diverse than the other countries in the city. Speaking of the local economy, the city largely depends on the workforce duo of white-collar and blue-collar jobs. This city also boasts of its education level being a few notches higher than the national average. Basically, residents of Macon are pretty smart is all we are saying.
No matter what part of the city you move to, the housing costs are well below the national average, giving you enough freedom to choose a house of your liking before looking at the budget. However, you should keep one thing in mind that this city's crime rate is pretty high as compared to the national average. So, if you are planning a move to Macon, consider relocating to its relatively safer neighborhoods like Dry Branch, Lizella, Upper River Road, and Lorane.
Population – 153,927
Median Home Value – $125,018
Median Rent – $1,045
5. Savannah
Being the first planned city of Georgia, Savannah sure has come a long way while preserving its historic essence at the same time. The positives of the history lessons in the city's textbooks come in the form of exquisite architecture and vintage-styled homes. The city's affordable cost of living also makes it an ideal place to live for people of all age groups. Add clement weather conditions all year round and you have a jack-of-all-trades of a city.
Remember that iconic park bench scene from the movie Forrest Gump where Tom Hanks narrates his stories to literally anyone who is willing to listen? Yeah, that was shot in Chippewa Square in Savannah! Whether you have watched the movie or not, the place still offers beautiful landscapes which are a treat to the eyes. So, if you are planning to move to this city, then Thomas Square, Fairway Oaks, and Habersham Woods are some of the best neighborhoods here which you must check out.
Population – 140,405
Median Home Value – $287,458
Median Rent – $1,377
Also read: Top 5 Moving Companies In Georgia
6. Athens
The city of Athens firmly holds the pole position when it comes to living in a hip metropolis, with the right blend of modern attractions, Southern heritage, and one-of-a-kind art culture. The art enthusiast in you will be well cared for at the Georgia Museum of Art. Do you have aspirations of becoming a professional football player in the near future? Enroll in the prestigious University of Georgia and work your way up the Georgia Bulldogs' starting lineup.
Speaking of bulldogs, there are several massive statues of this lively four-legged companion scattered throughout the city as part of a public art installation! The housing costs in the city of Athens are not going to disappoint you either as it is one of the most affordable places to live in the entire nation. Some of the best neighborhoods to reside in this city are Watkinsville, Bogart, and Winterville.
Population – 130,081
Median Home Value – $271,225
Median Rent – $1,050
7. Sandy Springs
Sandy Springs, despite its high cost, offers enough amenities and job possibilities to earn its place on the list of "best cities to migrate to." As a business center, this city sees a large influx of young people looking for work. The city also ranks high on Georgia's wealthiest cities list. The temperature here is ideal for those who aren't fond of cold, snowy winters. The city is an excellent choice for warm-weather activities, with an average temperature of roughly 81°F.
Thanks to the numerous extensive riding trails built around Sandy Springs, you can easily pedal across the city. Sandy Springs, in a nutshell, has everything you could want in a near-perfect city. Autumn's Chace, Grogan's Bluff, and Spalding Lake, among others, are some of the areas in Sandy Springs to help you narrow down your search for the best neighborhoods to move to in this city.
Population – 111,270
Median Home Value – $622,393
Median Rent – $1,533
Also See: Moving to Georgia | 2022 Cost of Living and Relocation Tips
8. South Fulton
From the frenetic commercial districts to wide, pastoral scenery at the city's gorgeous southeast boundary, the city of South Fulton makes a strong argument for you to settle here. The Abernathy Arts Center and the Emma Darnell Museum and Conference Center are nothing short of a utopia for keen followers of arts and culture. The city also boasts of its excellent schooling system thanks to the Fulton County School System which serves almost the entirety of the state of Georgia.
The Wolf Creek Golf Course, which is about 10 minutes away from South Fulton, has been the source of joyous moments for golfers here since 2001! Phew! your retirement plans seem to be well taken care of here. Given the fact that you will be moving to a city which has just about everything for anyone, the housing costs will be a bit on the expensive spectrum. Some of the best neighborhoods to which you can choose to relocate to in this city are Sandtown, Heritage Valley, and Cliftondale.
Population – 104,786
Median Home Value – $300,00
Median Rent – $1,950
9. Roswell
The prosperous city of Roswell is the ninth-largest city in Georgia. With a dedicated Historic District under its belt, Roswell sure knows how to preserve its historic roots. The three house museums in the city will have you enthralled for hours.
Not only that, but Roswell's food scene has also helped to place the city on the map. The foodie in you will be delighted with whatever you select, be it local eateries or fine dining establishments. Canton Street, with multiple chain and independent restaurants, is the city's magnum opus when it comes to catering to all the foodies around here.
If we talk about the living conditions in Roswell, this city has maintained the reputation of being one of the best cities to live in the entire state. The livability score of about 87 is proof enough for the said claims about the city. Your canine companions are also welcome in this city, thanks to its dog-friendly environment. Though housing costs are on the expensive side in Roswell, the vibrant and suburban neighborhoods make every dollar you put down worth it! To name a few, there is Sweet Apple Crossing, Willow Springs, and Martin's Landing.
Population – 95,057
Median Home Value – $557,374
Median Rent – $1,650
See Also: Most Affordable Places to Live in Georgia
10. Johns Creek
Johns Creek is no stranger to wealth, having been named the Richest City in Georgia by 24/7 Wall St. in 2020. The reason behind this is a reverse domino effect of sorts. The city provides excellent education systems, resulting in the majority of the residents having various degrees in their respective fields. This in turn helps them secure a high-paying job, placing the city in the wealthier bracket of the state. All in all, if you are looking for a city with quality educational institutions and employment opportunities, Johns Creek is the place for you.
Your four-legged best-friends will have the time of their lives in the city's Newton Dream Dog Park which also happens to be one of the best dog parks in the entire country. This also implies that an evening "walk with the dog" will be more than just a walk, but we're confident that it will be worthwhile for at least one of the two parties involved. So, if you are loving the idea of moving to this part of the city, here are some of the best neighborhoods you can choose from: Oxford Mill, Dunmoor, Seven Oaks, and Prestwick. Mind you, the housing costs are going to be higher than what you would usually pay in the other parts of the state.
Population – 85,356
Median Home Value – $588,27
Median Rent – $1,991
FAQs On Largest Cities In Georgia
What Are The 5 Largest Georgia Cities?
Population-wise, Atlanta leads the pack while Columbus edges over Augusta by a fine margin, followed by Macon and Savannah at 4th and 5th spots respectively.
Is Georgia A Good State To Live In?
Although the city of Georgia is a great state to live a decent lifestyle for all age groups and backgrounds, history lovers will particularly love this part of the country.
Is Georgia A Good Place To Retire?
Ranked as one of the best states to retire in on multiple occasions, Georgia is an excellent place to unwind and spend the remainder of your life peacefully.
Also See: Best Interstate Movers in the America