Moving From NYC To Atlanta: Expert Tips and Advice


VanLines Inc
Secure Storage
Easy Booking Process
Fully Trained Employees
GET A QUOTE

Colonial Van Lines
Storage Services
Long-Distance Moves
Corporate Relocations
GET A QUOTE

Moving APT
Available Nationwide
Award-Winning Movers
Extensive Vetting Process
GET A QUOTE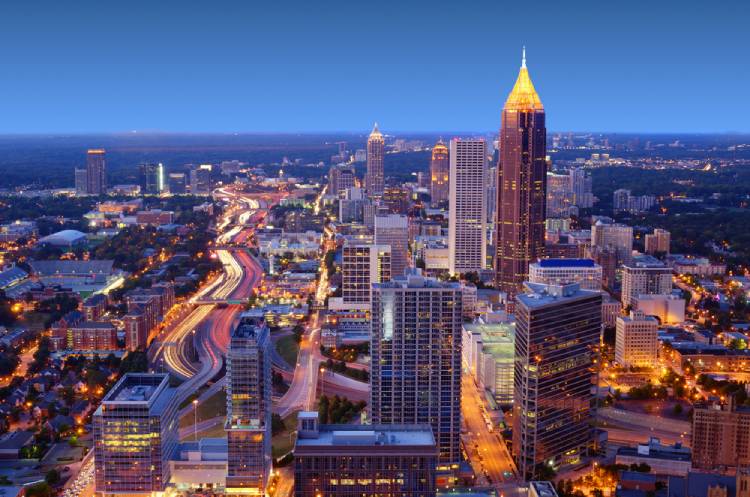 Life in New York City is magical, one simply cannot experience the vibrancy emitted by NYC anywhere else in the world. The breakneck pace of life, the growth in career, the delicious food, and the diversity of people living here just make your life super exhilarating. But there comes a point where you suddenly realize that you'd like to slow down and enjoy the life you have built. That's where Atlanta comes in!
This state is great for those who want not only a great career and urban life but also some space for themselves to relax and enjoy the southern vibe. Atlanta has massively grown in popularity and that too for the right reasons. If you are trying to find out how your life would change after moving from NYC to Atlanta, you have come to the right place. Go ahead and find out whether moving to Atlanta is the right choice for you!
Factors To Consider Before Moving From NYC To Atlanta
Weather
Be prepared to experience a change in weather when you move from NYC to Atlanta. Although this change will not be a drastic one, it will definitely be welcomed by most of you. It is very well known that New York winters and snow flurries can turn the city into a snowy mess. If you are tired of that, moving to Atlanta will be quite refreshing for you.
It rains throughout the year in Atlanta and this keeps the city green. The stunning landscape with lush green trees and beautiful hills is very eye-pleasing. Atlanta looks particularly impressive in springs and autumns when one can actually attend several cultural events.
Atlanta is popularly known as Hotlanta because of its hot, muggy summers. But are these summers brutal? Let us find out.
Here's the difference in temperatures that you can expect during the summer months:
Summers In NYC (June to September) – Average temperatures fall in the range of 71°F to 85°F.
Summers In Atlanta (June to September) – Average temperatures fall in the range of 72°F to 89°F.
This data suggests that there isn't much difference between NYC and Atlanta when it comes to their summers. The residents of Atlanta do enjoy basking in the sun but you will start feeling stuffy after a while. On the other hand, summers are warm and pleasant in NYC and they arrive after a harsh winter which is why everyone looks forward to their arrival.
Here's the difference in temperatures that you can expect during the winter months:
Winters In NYC (December to March) – Average temperatures fall in the range of 28°F to 39°F.
Winters In Atlanta (December to February) – Average temperatures fall in the range of 35°F to 53°F.
If you are already used to the winters in New York City, you won't mind the winters in Atlanta. In fact, we are pretty sure that you will love it there. The winters in Atlanta are mild and short. The city cools down after a warm summer. Cool weather with occasional snowfalls are what Atlanta experiences during the winter every year.
Few Things To Bear In Mind About Atlanta Weather:
The year-round weather conditions in Atlanta are in the 35°F to 89°F zone but for NYC it's in the 28°F to 85°F zone.
It is always better to visit Atlanta in the fall as the city is at its best during that season. You can explore several recreational places like Canyon State Park, Lake Allatoona, Cloudland, etc, during the fall.
Don't forget to keep some rainwear with you, especially during winters. This is because Atlanta receives rainfall throughout the year.
Now that you are equipped with the information about the weather in Atlanta, let us discuss something that will majorly influence your decision of moving from NYC to Atlanta.
Cost Of Living
The cost of living in Atlanta is a major selling point of the city, especially if you are dealing with New Yorkers. Living comfortably in New York City requires you to spend an exorbitant amount of money on your daily necessities as it is one of the most expensive cities in the nation. But that's not the case with Atlanta. You get to enjoy the same quality of life (or even better, some might say) in Atlanta at drastically cheaper rates.
Although the Atlanta lifestyle might seem a little bit expensive to the residents of other places in Georgia, for someone moving into the city from the Big Apple, everything is extremely affordable (we can't stress enough on this).
When you move to Atlanta, you will realize that real estate is almost 162.8% cheaper here than in NYC. You can bid goodbye to all the financial struggles you faced when you bought or even rented a house in New York City.
You will understand what exactly we are saying when you have a look at the home prices in both the cities:
Median value of homes in Atlanta (According to Best Places) – $259,000
Median value of homes in New York City (According to Best Places) – $680,500.
When it comes to utilities, one can expect to pay more than 45% less in Atlanta. Transportation is 47.6% cheaper, healthcare is 22.7% cheaper, and food and groceries are more than 18% cheaper in this city. Moving to Atlanta from NYC is an absolute steal deal, that's something that you would have already realized after looking at these living costs.
Job Market
The stunning skyline of NYC is filled with majestic skyscrapers that house some of the finest marketing, media, and technology companies in the world. People love NYC because of the diversity in the employment opportunities here. NYC offers you the chance to explore your strengths and push your limits. Because of all this, NYC has one of the highest GDPs in the country.
However, this does not mean that the economy of Atlanta is weak. In fact, the economy of Atlanta (which is already strong) has picked up momentum and experienced positive growth over the last many years. The economy of this city is as strong as other well-developed cities like Boston and Washington, DC. People move to Atlanta seeking jobs as it hosts not only national but also numerous globally recognized companies.
Many companies from the Fortune 500 list are present in the city.
Want to know which companies have a stronghold over the economy of Atlanta? Go ahead and have a look:
Delta Air Lines
The Coca-Cola Company
Chick-fil-A
The Home Depot
UPS
It is also very interesting to note that Atlanta excels at providing any sector and industry with the boost that is needed for its success. Forbes named Atlanta as one of the most vibrant up-and-emerging technological hubs. The growth of this industry earned the city the title of 'Silicon Peach'. Not only this but Atlanta also offers a lot of exciting opportunities to cinema makers (actors, directors, etc.) because of its reputable film and media industry. This has led Atlanta to be also known as the 'Hollywood of the South'.
Have a look at the major industries that are thriving in the city:
Aerospace
Transportation
Information technology
Medical services
Media companies
Needless to say, people in both the cities earn quite well. When you move to Atlanta, you might experience a dip in your salaries but you don't need to worry much about it. That's because living in Atlanta is much cheaper than in NYC and you will be earning enough to live comfortably here. What will be the difference in your salary after your move? Have a look at the household incomes of the residents of both the cities to get a clearer idea!
Median household income in Atlanta (according to Niche) – $59,948
Median household income in NYC (according to Niche) – $63,998
Most families in Atlanta have an annual income in the range of 59k to 65k. Families earning in this range can expect to live comfortably in Atlanta. If you earn less than that, you might have to cut some corners and try to spend as little as possible. However, if your family wants to live luxuriously and not be considered as a part of the middle class, your household income must be in the range of 85k to 100k annually.
Transportation
If you have watched movies and shows set in NYC, you probably must have noticed how the subway is the lifeline of the city. Commuting in NYC is all about using public transit. You ideally don't need a car when you live in NYC because public transit alternatives are really cheap and available almost everywhere. Many people prefer walking and using the subway instead of traveling by car and taxi here.
Similarly, residents of Atlanta can also live a rather comfortable life even if they don't own any cars. This is because the city houses one of the best public transportation systems in the nation. This system was developed by the MARTA (Metropolitan Atlanta Rapid Transit Authority) and thanks to them, residents of Atlanta can choose to travel anywhere in the city at affordable prices. The MARTA operates the following transit options and routes in Atlanta:
Rail By MARTA
Using the rail is one of the most popular ways of getting around in the city of Atlanta. The rail lines consist of 4 color-coded lines that together cover 48 miles of the city. The four lines are as follows:
Green Line: Bankhead – Ashby – Vine City – GWCC/CNN Center – Five Points – Georgia State – King Memorial – Inman Park – Edgewood
Blue Line: Hamilton E. Holmes – West Lake – Ashby – Vine City – GWCC/CNN Center – Five Points – Georgia State – King Memorial – Inman Park – Edgewood – East Lake – Decatur – Avondale – Kensington – Indian Creek
Gold Line: Doraville – Chamblee – Brookhaven – Lenox – Lindbergh Center – Arts Center – Midtown – North Avenue – Civic Center – Peachtree Center – Five Points – Garnett – West End – Oakland City – Lakewood/Ft. McPherson – East Point – College Park – Airport
Red Line: North Springs – Sandy Springs – Dunwoody – Medical Center – Buckhead – Lindbergh Center – Arts Center – Midtown – North Avenue – Civic Center – Peachtree Center – Five Points
All these four lines meet at the Five Station which is the busiest railway station in the city. It is located in the very heart of Downtown Atlanta. You can travel one way by using any of these lines at the cost of $2.50.
Bus By MARTA
The MARTA also operates a widespread network of buses that run along the routes that cover the majority of the counties in the city. You can find more than 550 buses operating on 101 routes in the city. You can visit absolutely any park, airport, educational institutions, and shopping centers in the city using the MARTA buses.
Streetcar By MARTA
The Streetcar operates on one route that runs from the east of the city to the east of the city. It covers most of the downtown area. The streetcar runs in a loop and makes about 12 stops in the city. It is super affordable to travel by Streetcar as you will be able to make a one-way trip at the measly cost of $1.
One of the most exciting facts about the MARTA buses and railways is that you can get your bicycle on board any of them. Cycling across the city is one of the healthiest things you can do and the MARTA encourages it. To sum it all up, residents of Atlanta can commute on foot, by bus, rail, streetcar, or even bicycles. One need not feel out of place or face any difficulties if he/she does not own a car.
See also: Moving to Atlanta – Relocation Guide
Best Schools in Atlanta
Northview High School
Walton High School
Alpharetta High School
Lambert High School
Chattahoochee High School
Best Colleges in Atlanta
Georgia Institute of Technology
Emory University
Spelman College
Agnes Scott College
Georgia State University
Atlanta's Strong Points
Wonderful weather
Plenty of entertainment options and recreational activities available
Booming economy
Diversity in job opportunities
Comparatively lower cost of living
Foodie capital of the country
Top-notch colleges
Surrounded by nature
Close access to weekend getaways
Top Neighborhoods To Move To In Atlanta
1. Midtown
If you want to stay in the very heart of the city where everything major happens, then Midtown is the place for you! It is hands down the liveliest neighborhood in Atlanta. Midtown is so busy that perhaps you might not even miss NYC after moving to Midtown. Many of the town businesses operate out of here.
Living here also lets you get a breath of fresh air every now and then. You can always refresh yourself by visiting Piedmont Park which is located in this neighborhood. If this wasn't enough, this part of the city is also very well-connected by public transit.
Median Value Of Homes: $324,498
Median Rent: $1,527
2. Peachtree City
A strong community bond ties all the locals of this neighborhood together. The community is small and the locals share a very beautiful relationship. You will never feel lonely here even if you live alone in this neighborhood. There is no dearth of recreational activities in Peachtree City.
The neighborhood is majorly famous because of its charming golf courses. You should know that people who settle here mostly belong to the upper-middle-class section of society. Peachtree City is one of the best places to start a family in Atlanta as well.
Median Value Of Homes: $379,981
Median Rent: $1,494
3. Buckhead
Buckhead is a prestigious locality that's nestled between Brookhaven and Midtown. You will find several fancy dining options, renowned cultural centers, and other entertainment options in this upscale neighborhood. Chastain Park Amphitheatre, which is the biggest park in all of Atlanta, is in this neighborhood.
You will find the biggest chain of shopping centers in Buckhead. Although it is one of the pricey neighborhoods, you will find a great variety of houses here. If you are planning to move here with your children, this is the best decision you can make. The family-friendly amenities and the top-notch schools make it one of the best places to raise a family.
Median Value Of Homes: $537,362
Median Rent: $1,720
4. Druid Hills
Druid Hills is that neighborhood of the city that commands a lot of respect from the locals. It was designed by one of the most reputable landscape architects who has also designed the Central Park in NYC and the USA Capitol. This neighborhood is inhabited by the elites of Atlanta. It is a peaceful neighborhood that is lined with charming Georgian homes and elegant cottages that are surrounded by a picturesque life. Do consider moving here if you love a peaceful life.
Median Value Of Homes: $651,436
Median Rent: $1,747
Things To Take Care Of When You're Moving From NYC To Atlanta
Although a move from NYC to Atlanta is not exactly a cross-country move, the two cities are still pretty far away from each other. Because it is an interstate move, it would be wise to start planning the move well in advance and allocating enough time to choose a house, school, job, etc., in Atlanta before you move.
May to September is considered to be the peak moving season. Consider moving in the off-season to bring down the price of your move.
Make sure that you ensure that your mover is licensed and accredited by organizations like the American Moving & Storage Association (AMSA), Better Business Bureau, etc, to avoid getting scammed.
You can either choose to travel to Atlanta by air or even by road. Don't forget that you might have to get your car shipped to Atlanta if you choose to fly there.
Ensure that you carry valuable and irreplaceable belongings like jewelry and important documents on your person instead of handing them over to the mover just to be on the safer side.
NYC to Atlanta Moving Costs
It's good to plan out your budget and be conscious about how much you are spending, especially if you are going for a long-distance move. This will help you to save some money and also prevent you from overspending on the move. A move from NYC to Atlanta comes to around $3,761 on average. However, your cost will fluctuate according to the needs of your personal move.
The price of your move will vary depending on how big your house is and what kind of services you plan to go for. A full-service mover will cost you the most and a DIY move will be the cheapest way to move. You can expect to spend anywhere in the range of $3,500-$6,000 on this move of yours. Let us help you to plan out your budget by giving you an idea about how much you would have to spend on different kinds of moves:
Moving company: $1,630 – $7,150
Moving container: $1,726 – $4,369
Freight company: $1,330 – $2,835
Truck rental: $898 – $1,705
Always remember that the more work you do by yourself, the less will you have to spend on the move. If the moving budget is a concern for you, consider cutting some costs by downsizing your move. Selling the stuff that you don't need will help you to make a quick buck. Regardless of what all you do, starting to save up as early as you can is the best way to generate finances for your move.
FAQs
Why are so many New Yorkers moving to Atlanta?
There are several attractive things about Atlanta that have captured the attention of New Yorkers. Here are some reasons why New Yorkers are moving to Atlanta:
Lower cost of living
Relaxed pace of life
High-paying Jobs
Comparatively warmer winters
Tight-knit communities.
How much money should I save before moving to Atlanta?
Ideally, you should save up at least 3-6 months' worth of income before you move out to Atlanta. This will ensure that you have enough money to sustain yourself even if you don't find a job instantly. You cannot predict the future and that's why it is always better to have some money for you in case of any mishaps.
Should I move to Atlanta?
Atlanta is a city where you can live comfortably on less. The cost of living in the area is surprisingly low compared with other major U.S cities, so if you have your eye on this place and are looking for an affordable option, then it's worth checking out!
What is a good salary in Atlanta, GA?
The average annual salary in Atlanta varies depending on your position. A good amount for most people would typically fall within $250K-$500K annually though it's possible that some well-established individuals could make as much as one million dollars per year. The cost of housing, transport, and other benefits is included, but the actual maximum can be much higher than this range if you have an excellent work history or are lucky enough to receive performance incentives.
Is it cheaper to rent or buy in Atlanta?
The average monthly mortgage payment is $890, while the average rent costs are around $1,381. In fact, after just two-and-a-half years, it's not even close – if you buy your home and keep up with all of those payments, then buying will ultimately save more money than being a tenant!
What are the cons of living in Atlanta?
Atlanta's drawbacks are primarily based on overpopulation, and with a metropolitan area population of more than 5 million people, the urban sprawl is nearly unstoppable. Atlanta also suffers from some of the highest average commute times in America (35 minutes). Atlanta is often referred to as 'Hotlanta' due to higher temperatures and extended summers. In addition, Atlanta has faced many natural disasters recently – hurricanes Irma and Harvey both hit Atlanta.
What is a livable salary in Atlanta?
Ideally, you would need to make anywhere near $65,000 and above per year to live a comfortable life in and around Atlanta.
What is the average price of a house in Atlanta?
Walkable neighborhoods in Atlanta are typically priced around $350,000. Areas further out from the urban core of the city are much more affordable.
Conclusion
If you are fed up with having to spend every dollar you make almost instantly, it might be a sign that you are ready to move to a more affordable and peaceful place like Atlanta. It is true that life in NYC is one of its kind, you will experience nothing like it anywhere else. But it is also true that after experiencing it for a while, you might grow tired and desire a more relaxed lifestyle.
You can certainly score the perks offered by NYC in Atlanta (high income, great jobs, vibrant culture, etc.) but also benefit from the uniqueness of the city. Now that you know everything about Atlanta, you can make a well-informed decision about whether moving to this city would be the right choice for you!
See also: Best Moving Companies in NYC | Moving From Chicago To Atlanta | Moving from NYC to Chicago | Moving from Boston to NYC