Moving from NYC to Chicago – Expert Tips and Advice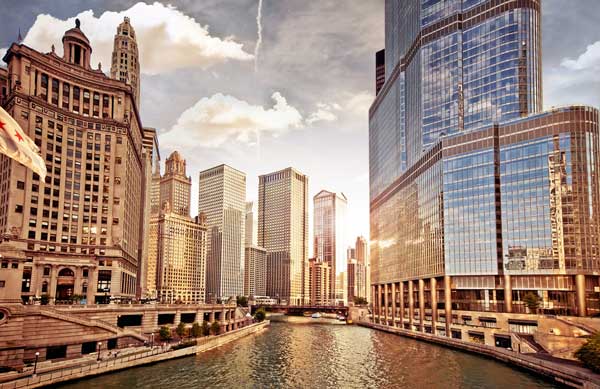 NYC and Chicago are two of the US' biggest and most popular cities. Both are brimming with life and dynamic in nature, with tons to offer. In terms of similarities, an efficient and affordable public transit system, festivals, food, and loads of public spaces are just the beginning. Yet, both cities have their distinct features; Chicago's comparatively smaller size makes for an easier commute around the city, and while the vibe is similar to that of NYC, you benefit from the much-cheaper cost of living. Read on to know more about moving from NYC to Chicago, and just what to expect when heading to The Windy City.
Factors To Consider Before Moving From NYC To Chicago
Weather Conditions
When it comes to the weather, NYC and Chicago are fairly similar, making the transition a little easier for you to adjust to. Chicago's climate is classified as hot-summer humid continental. While parts of NYC share a similar classification, it largely falls under the humid subtropical classification. But, the beauty of being in Chicago is that the city has activities and things to enjoy no matter the season. Music festivals, walk and cycle trails, visiting a zoo, and going ice skating–no matter the season, you're never bored in Chicago.
Summer lasts from July to September and it gets hot and humid in both cities. However, New York does see slightly hotter summers, while Chicago's top temperatures fall a few degrees lower. Temperatures can get slightly higher the more inland you go in Chicago.
Here's the difference in temperature that you can expect during peak summers:
NYC in July – Average temperatures range from 71°F to 85°F.
Chicago in July – Average temperatures range from 71°F to 81°F.
Both cities enjoy the many hues of fall, with temperatures dropping to the 30s by end-October. If you're worried about missing the oranges and yellows of Central Park, you'll be glad to know that Chicago's Lincoln Park is as good a place to enjoy fall.
Sure, NYC's summers are warmer, but the trade-off is that you're spared from the blistering cold of Chicago's winters. Low temperatures in NYC can drop to as low as 10°F in the month of January, which is also its coldest month. Chicago's lows rarely drop to below 5°F, and you can expect an average of 37 inches of snow annually.
Here's the difference in temperature that you can experience during peak winters:
NYC in January – Average temperatures range from 26°F to 43°F.
Chicago in January – Average temperatures range from 20°F to 37°F.
Few Things To Bear In Mind About Chicago Weather:
While both cities see snow, Chicago gets about a foot more snow than NYC on average.
In terms of precipitation, the Windy City sees quite a few showers of rain throughout the year across all four seasons.
The Atlantic Ocean is what helps keep NYC warmer than Chicago; Lake Michigan isn't as effective at keeping Chicago's weather warm, leading to the colder winters.
Cost Of Living
If you're moving from NYC to Chicago, there's one area where you're definitely in for a win, and that's the cost of living. Chicago has that big-city feel, complete with the extensive transportation system and large population, but unlike NYC, it's not as expensive. Before you get too excited, remember that Chicago still remains an expensive city to live in. Its overall cost of living is 23% higher than the national average according to Payscale. But NYC soars far ahead, with a cost of living that's 129% higher than the national average.
Buying A House
The housing expenses of NYC are a whopping 369% higher than the national average. You're certain to feel some relief on your pocket; Chicago is 56% higher than the national average. Buying a house in Chicago will definitely be easier than buying one in NYC, but that doesn't mean it'll be easy. Chicago continues to remain an expensive city to buy a house in.
To help you understand the real estate market, we've listed the median housing prices in both cities:
Median House Price in NYC – $850,000
Median House Price in Chicago – $325,000
Renting A House
Though NYC's renting rates differ depending on what borough you're in, they all lean towards being on the more expensive side of the scale. Renting a house in Chicago follows a similar trend as buying a house; it's expensive when compared to the rest of the US, but affordable when compared to NYC. Some of the more affordable neighborhoods in Chicago are Logan Square, Uptown, South Shore, and Albany Park. Shortlist these if the real estate rates are proving to be a challenge for you.
We've listed below the median rent in both cities:
Monthly Median Rent in NYC – $3,250
Monthly Median Rent in Chicago – $1,850
Utilities
When it comes to your utilities, healthcare, and food costs, Chicago is yet again the more affordable of the two!
Chicago's average bill for basic utilities (electricity, water, heating, cooling, garbage) is $168 a month. NYC is two dollars higher at an average of $170 per month. Similarly, the cities charge around the same amount for gas; you'll pay $3.30 in Chicago and $3.47 in NYC. Want that fast internet connection for Netflix and the rest? Shell out $59 in the Windy City, slightly less than NYC's $65. The real difference is with the average monthly phone bill, which in Chicago is $161, and in NYC is $223.
Another important aspect of your monthly expenses is the money you spend on grub. In Chicago, you'll spend around 8% more than the average American on your groceries, lower than NYC's 28%. Your basic brekky ingredients are all cheaper in the Windy City; a loaf of bread costs $3.60, a gallon of milk costs $2.10, and a carton of eggs is nearly $2.
Finally, don't forget to include those healthcare costs when calculating your overall expenses! While big-city life can get stressful, NYC's healthcare costs (15% higher than the national average) aren't exactly comforting. On the other hand, at 1% over the national average, paying for healthcare in Chicago won't scare you off. A visit to a doctor will cost an average of $112, while a visit to the vet for your fur babies will be around $60.
Also read: Best Moving Companies In New York City
Job Market
Overall, Chicago's economy is more diversified than New York City's. While NYC is known for its finance and media industries, Chicago is a major center for manufacturing, tech, telecommunications, transportation, and e-commerce. Chicago is home to 400+ corporations, many of which find themselves on the Fortune 500 list.
Here are some of the top-notch companies that operate in Chicago:
Accenture
Grubhub
Wintrust Financial Corporation
Northern Trust
Veolia Environmental Services North America
Echo Global Logistics
To help you get some understanding of the income range, we've listed below the median household income in both cities:
Median Household Income in NYC – $67,000
Median Household Income in Chicago – $62,100
The unemployment rate in Chicago as of February 2022 is 5.1%, higher than the national average of 3.8%. Comparatively, NYC struggles with a higher rate up at 7%. But don't let the high figure scare you; remember, Chicago has a lot of people! If you're looking for a job in Chicago, there are many opportunities to choose from across a range of industries.
Transportation
Transportation is probably a must for someone moving anywhere from NYC; after all, the city's transit systems are some of the best in the country. Thankfully, both New York City and Chicago are known for their extensive and efficient transportation systems. You won't have to worry about having to buy your own car in Chicago since it's home to the nation's second-largest public transportation system!
NYC has its subway and buses, further complemented by the trams and yellow taxis. But Chicago's excellent system soon catches up, run by the Chicago Transit Authority (CTA). The CTA has eight subway lines and over 140 bus routes. Plus, the city is well connected via a network of roadways.
Here are some of the transit systems you can avail of in Chicago:
CTA's L trains
CTA Buses
Metra Rail
ARRO and CURB (ride-hailing services)
Water taxis
Divvy (bike-sharing program)
When it comes to the skies, Chicago is well connected to both domestic and international destinations. There are not one but two international airports in the city, the Chicago O'Hare International Airport, and the Chicago Midway International Airport.
Chicago's Strong Points
A diversified economy with many employment opportunities.
Excellent education opportunities with some of the country's best colleges and universities.
A grid system and complete sidewalks to ensure high walkability.
An efficient, affordable, and well-connected public transportation system.
A wide variety of neighborhoods to choose from, with loads of cultural diversity.
Fun activities to enjoy no matter the season.
Access to both, beaches and mountains.
Best Neighborhoods To Live In Chicago
Wicker Park
Creative minds who are constantly seeking out their next muse will fall in love with Wicker Park. One of Chicago's creative hubs, Wicker Park is constantly bustling with activity. There are loads of cafés, boutiques, and restaurants, adding to the trendy vibe this neighborhood gives off. It's also home to a triangular park in the center of the neighborhood and has plenty of green spaces, making it ideal for anyone looking for a pleasant but lively neighborhood.
Median Value Of Homes: $519,000
Monthly Median Rent: $2,260
Lincoln Park
One of the city's most affluent neighborhoods, Lincoln Park is the place most young professionals and young families vie to live in. After all, it's home to the Lincoln Park Zoo and one of the campuses of DePaul University. In terms of jobs, it's buzzing with opportunities. It also has plenty of stores and restaurants, adding to its desirability.
Median Value Of Homes: $660,000
Monthly Median Rent: $2,000
Hyde Park
Sitting on the shores of Lake Michigan, Hyde Park is a great neighborhood for families and young professionals. The area is quiet and safe, with plenty of parks and green spaces. It's also close to the University of Chicago, which makes it a great option for students or anyone who wants to be close to campus. The neighborhood has a mix of historic homes and newer buildings, as well as a variety of restaurants and shops. It's also ideal for retirees who want a neighborhood with a little 'oomph' that doesn't get too overwhelming.
Median Value Of Homes: $200,000
Monthly Median Rent: $1,400
West Loop
Formerly an industrial zone, West Loop is now a trendy, up-and-coming neighborhood that's gaining increasing popularity. Young professionals gravitate to it like moths to a flame, considering it has turned into a hotspot for restaurants, bars, and nightlife. West Loop is perfect for young professionals and city dwellers. It's a lively neighborhood with plenty of things to do, and it's also convenient to travel to downtown Chicago.
Median Value Of Homes: $400,000
Monthly Median Rent: $2,420
Old Town
Old Town is a historic neighborhood in the heart of Chicago, and is home to some of the city's most iconic architecture. But in an interesting contrast, the neighborhood is also known for its lively nightlife and restaurants, and it's a great place to people-watch. With relatively affordable housing, good schools, and enough else to do, it's ideal for young families.
Median Value Of Homes: $443,000
Monthly Median Rent: $2,190
See Also: Top 5 Neighborhoods in Chicago for Singles and Young Professionals
Things To Take Care Of When You're Moving From NYC To Chicago
The distance between NYC and Chicago is around 790 miles. While the distance isn't awfully long, it's definitely far enough to warrant a moving company's expertise. They can help you with the tedious task that is moving, and also take care of any paperwork that may be required when crossing state borders.
Flying is your best bet to get from NYC to Chicago. Journeying there by road will take you over 2 days, leaving you exhausted by the time you reach your new house.
Keeping track of the weather is very important when moving from NYC to Chicago, particularly if you're moving in the off-season to save up on some cash. Keep in mind that Chicago's winters are unforgiving, and snow is the last hazard you want in the way.
NYC To Chicago Moving Costs
Booking your movers in advance is the best way to get a good deal on your move. A move this distance will usually cost around $2,500 to $4,000, averaging out at around $3,700. Of course, a lot of factors will influence your final quote, like when you're moving, how much you have to move, and how challenging the move is (e.g. involves stairs, no elevators, etc). In case you're worried about your budget, you can opt to do the packing and unpacking yourself, reducing your moving expenses. But if you want less stress on your hands, pay that much more for the convenience of full-service movers
Summing Up
So, is Chicago a better city for your career than New York City? It depends on what you're looking for. Chicago is a great city to live in, and it offers many opportunities for employment and education. It's on par with NYC when it comes to transportation and outdoor spaces, and its many neighborhoods ensure you find a place where you fit in. Yes, the crime rates are high, and this can be a turn-off for many. But there are tons of safe neighborhoods for you to choose from. If you're considering moving from NYC to Chicago, keep these things in mind.
FAQs On Moving From NYC To Chicago
How Much Does It Cost To Move From New York To Chicago?
Your final moving costs will depend on factors like the total size of your move, and when you decide to move. However, the average cost of a move from NYC to Chicago can be around $3,700.
See also: How Much Does it Cost to Move Out of State
Is It Better To Live In New York Or Chicago?
This depends on what you're looking for. Chicago has a more diverse economy and isn't as expensive as NYC can be. However, its winters are brutal and the crime rates are high. You need to factor in these conditions before deciding which city is the better of the two.
Is Living In Chicago Like Living In New York?
In a lot of ways, living in Chicago is like living in NYC. Both cities are urban hubs, with efficient transportations systems and traffic as well. However, you're bound to save more when living in Chicago since it's much cheaper than NYC on a lot of counts.
---
See also: Moving From NYC To Atlanta | Moving From NYC To Los Angeles | Popular Neighborhoods In Chicago For Families