Moving to Chicago | 2020 Cost of Living and Relocation Tips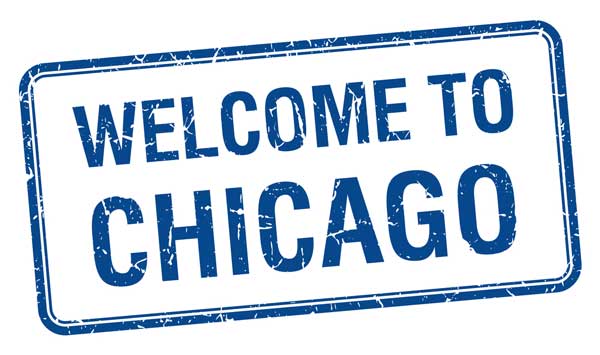 If you're interested in moving to Chicago, you're in the right place. This relocation guide will take you through all the factors you need to consider before moving to the Windy City. FYI, Chicago got this nickname not from the frigid weather that sweeps in from the Dakotas but from the hot air bellowing from its politicians!
Chicago at a Glance
Weather
First things first is the weather. We'll admit it: Chicago doesn't have the greatest reputation in this department. Still, there's a lot to love.
For one, all four seasons are distinctly represented in the city. The winters are cold, sometimes at or below 0 F, and it snows frequently. Summers are hot and humid, with temperatures usually peaking for several days in the upper 90s F. Thankfully Chicago is home to numerous festive winter activities, from the Allstate Hot Chocolate 15k/5k to the Christkindlmarket, and 29 beaches you can cool off at during the summer.
The City
Often referred to as a "city of neighborhoods," Chicago has 77 community areas and 100 unique neighborhoods that trace their roots to the city's history as one of the largest melting pots in the country.
Greenery
Chicago's motto, "Urbs in horto," which is Latin for "City in a Garden" is well-earned thanks to the city's vast green spaces. Chicago is home to nearly 600 parks and 8,300 acres of green space. It has 26 miles of lakefront, 29 beaches and the 18.5-mile-long Lakefront Trail which is shared by cyclists, joggers, and sightseers.
Sports
Chicago is a sports city through and through. There are eight major league sports teams, including two MLB teams, the Chicago Cubs of the North Side and the Chicago White Sox of the South Side.
Bikeable
Chicago is one of the most bikeable cities in the country. With its 303 miles of bike lanes and the second-highest percentage of commuters cycling to work in the country, it's no surprise that Chicago was named America's Best Bike City by Bicycling Magazine in 2016.
Architecture
Even before the construction of the famous Sears Tower, which is the second tallest building in the Western Hemisphere (it's the tallest if you don't count the antenna or "spire" on top of One World Trade Center!), Chicago was one of the most celebrated architectural cities in the world. It is home to two "Chicago Schools," or styles, of architecture as well as the world's first skyscraper.
Tips on Relocating to Chicago IL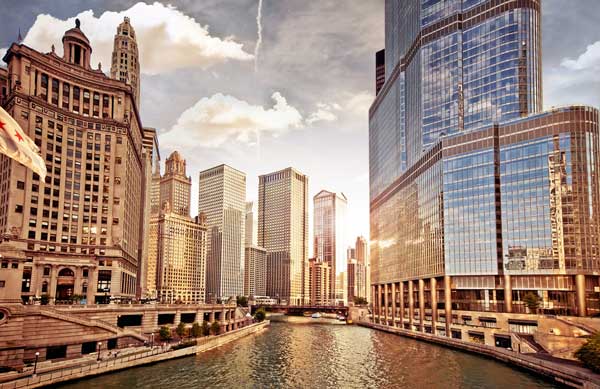 If you're not familiar with Chicago IL before moving there, you might overlook two key considerations: distance to public transportation and distance to the lake.
The first thing you want to consider is how long are you willing to commute to work. Lucky for you, Chicago has the second-largest public transportation system in the United States. It has eight train lines and 140 bus routes, and they run on schedule, unlike in NYC and LA.
If you want to live by the lake, you can expect to pay more. You can get around increased prices by the lake by living close to the L (the name of the elevated train line). Some people can't handle the noise. If you can, you can live in a prime lakeside neighborhood for a fraction of what your neighbors are paying. If this sounds like something you're interested in, look for places along the Red Line L.
Moving Costs
Based on the cost of a 2-3 bedroom move with approximately 7,500 pounds of belongings, the average cost of a local move is $1,250. The average cost of a long-distance move of around 1,000 miles is $4,890.
A 2-3 bedroom move from Los Angeles to Chicago will cost between $5,530 – $7,797 depending on weight. A 2-3 bedroom move from New York City to Chicago will cost between $3,992 to $5,580.
These prices take into account:
Travel Fees
To determine the price of a move to Chicago, you need to take into account fuel costs and labor costs. These travel fees can add up if you're moving to Chicago from across the country.
Size of the Move
The size of the move (how much stuff you have) is one of the biggest factors determining how much you'll pay. A good rule of thumb for a long-distance move is that you'll pay between $.50 and $.70 per pound of goods moved, though the price per pound may be elevated if you're moving over 1,000 miles.
Add-ons
Add-ons and extras in your move to Chicago can increase the cost considerably. Common extras include packing services, which could add $300 or more, disassembling and reassembling furniture, and moving supplies like felt pads, mattress pads, and stretch wrap.
Storage
One of the biggest challenges of moving is lining up moving out of your old place and into your new one. When there's a gap between your move-in and move-out dates, you'll need to pay to store your things. Average rates for a 5×5-foot unit range from $40 to $50 per month. Rates for a 10×15-foot unit range from $75 to $140 per month. A 10×15-foot climate-controlled unit $115 to $150 per month.
Moving date
The last thing to consider when figuring out how much it will cost to move to Chicago is when you move. Weekend moves during the early and late summer will tend to cost you the most, while a move during the week in the dead of winter will tend to cost you the least.
Here's the list of top-rated moving companies in Chicago IL.
Cost of Living in Chicago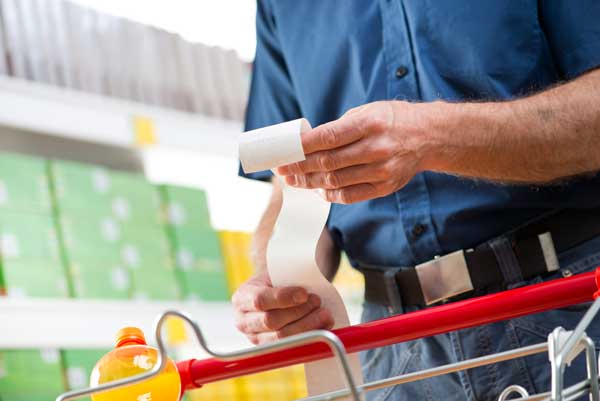 Chicago may be the third most populous city in the United States, but you wouldn't think so if you looked at its average cost of living. Chicago isn't even one of the top ten costliest cities to live in, according to a recent analysis that put Chicago at Number 15 on the list of most expensive cities.
The average monthly expenses in Chicago are $2,495, which is a bit less than Miami and a bit more than Santa Ana, California and Portland, Oregon.
Renting
If you are planning on renting when you move to Chicago, you may be in luck because rent prices are projected to drop as the homeownership levels increase. According to March 2020 data from Apartment List, the median rent for a Chicago apartment stands at $942 for a studio, $1,094 for a one-bedroom, $1,287 for a two-bedroom, and $1,646 for a three-bedroom.
Of course, prices vary considerably depending on what neighborhood you live in. A one-bedroom apartment averages around $550 in Austin on the West Side and $2,600 in River North downtown. Use this neighborhood rent guide from RentCafe to get a picture of what you'll pay where.
Keep in mind that wherever you decide to rent, the price you pay is likely to be well below what you would pay for comparable space in New York, Los Angeles, Boston, Washington, D.C., or San Francisco.
Owning
As of March 2020, the median sale price for a home in Chicago is $288,200, which is far less than other major cities.
Prices vary depending on what neighborhood you're in. There's a good amount of variance even between the neighborhoods directly surrounding downtown:
Near West Side – $325,700
Bridgeport – $294,300
Pilsen – $276,600
University Village – Little Italy $269,900
Chinatown – $240,700
Heart of Chicago – $222,200
McKinley Park – $197,500
Back of the Yards – $107,900
McKinley Park on the Southwest side deserves special attention here. It was named Redfin's hottest affordable neighborhood in the country in 2019 thanks to its proximity to the trendy (and increasingly expensive) Pilsen neighborhood and its excellent public transportation lines. A trip to the Loop is just a 15-minute ride on the CTA's Orange Line.
Taxes
Added to the cost of owning a home in Chicago are some of the highest property taxes in the country. Property taxes on a $400,000 home average around $10,000 a year.
Utilities
According to data from Numbeo, utilities for a 915 sq ft apartment average $136.90 a month. That includes electricity, heating, cooling, water, and garbage.
If You're Moving to Chicago Alone
If you're moving to Chicago by yourself, don't worry! There are lots of resources you can put to use to make the transition easier. Meetup groups, which provide a range of group activities, are one great option. If you're into sports, you can sign up as a "free agent" with Chicago Sport and Social Club to be assigned to a team in a sport of your choice.
To find events where you can meet like-minded people, don't miss Timeout and the Chicago Reader Events Calendar.
If You're Moving to Chicago with Family
Chicago is a family-friendly city—so friendly that it committed to making sure that every child was within a 10-minute walk of a park or playground. Some of the most family-oriented areas in the city include Andersonville, Beverly, Rogers Park, and Lincoln Square.
If you need some guidance on fun things to do with your kids in the city, check out Parents, Chicago Kids, and Chicago Traveler.
One of the most important considerations for parents is the quality of schools. One of the best resources we can recommend to parents with school-age children is the Neighborhood Parents Network, a non-profit that provides expectant, new and seasoned parents with the resources they need to navigate parenting in the city.