Moving From Los Angeles To Chicago – Expert Tips & Advice


VanLines Inc
Secure Storage
Easy Booking Process
Fully Trained Employees
GET QUOTE

Colonial Van Lines
Storage Services
Long-Distance Moves
Corporate Relocations
GET QUOTE

Moving APT
Vetting Process
Award-Winning
Available Nationwide
GET QUOTE
Our Take
Price
Rating
Minimum Shipment Size
Storage
Booking Deposit
Cancellation Policy
Quoting Options
Discounts

Best Overall Value


GET QUOTE

2+ bedrooms




Free 30 Days




10%

Free up to 72 Hrs

Phone / FaceTime / Text

Senior / Same day Booking

Best Industry Reputation


GET QUOTE

1+ bedrooms




30 Days




20%

Free up to 72 hrs

Phone / Facetime

Seniors Discount

Best Customer Service


GET QUOTE

1+ bedrooms







Free up to 72 hrs

Phone / Virtual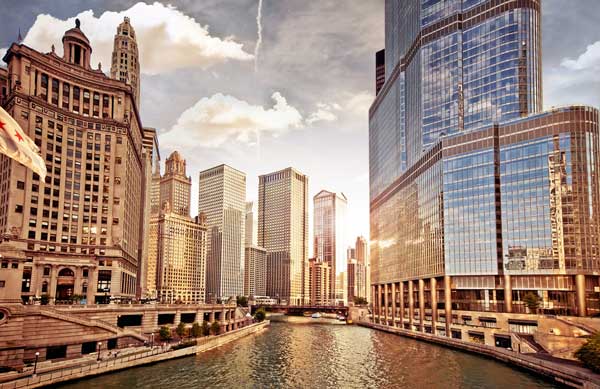 Los Angeles offers great entertainment options, chic restaurants and enjoys temperate weather conditions year-round. However, it all comes at an exorbitant price! Even though it is a spectacular city to live in, the high cost of living might make you dream of moving to a dynamic city like Chicago.
Popularly known as the Windy City, you'll love Chicago for its extensive public transportation systems, distinct weather, but mainly, for its affordability! We've done more homework on what you should know about moving from Los Angeles to Chicago, so continue reading to get a complete rundown.
Factors To Consider Before Moving From Los Angeles To Chicago
Weather Conditions
The city of Los Angeles enjoys near-perfect weather conditions. If you've lived there, you'll know that it's never too hot and never freezing cold with comfortable temperatures in the range of 48°F to 85°F throughout the year. Now in the case of Chicago, the upside is that residents enjoy four distinct seasons, all influenced by the city's close proximity to Lake Michigan. Over the course of the year, you can expect temperatures to fall in the range of 22°F to 83°F in Chicago.
If you ask us about summers, both Los Angeles and Chicago experience similar temperatures but Los Angeles definitely has got 'a pocketful of sunshine' (If you got that song reference, then consider yourself ready to move.) The fact is that year-round, on average, there are 284 sunny days in Los Angeles but Chicago, on the other hand, enjoys 189 days of sunshine.
Here's the difference in temperature that you can expect during peak summers:
Los Angeles In August (the hottest month) – average high of 84°F
Chicago In July (the hottest month) – average high of 82°F
In terms of winters, there's a vast difference between both cities. Chicago is known for its bone-chilling winters and presence of snowfall but Los Angeles isn't. The average annual snowfall is approximately 35.1 inches in Chicago but it's 0 inches in LA. So if you're planning to move to Chi-Town, definitely plan on building your winter wardrobe. You have to be ready to dress like it's freezing outside because it will be!
Here's the difference in temperature that you can expect during peak winters:
Los Angeles In December (the coldest month) – average low of 48°F
Chicago In January (the coldest month) – average low of 22°F
Few Things To Bear In Mind About Chicago Weather:
It can rain plenty in Chicago during the months of July and August. Annually, you should know that the city receives 38.2 inches of rain.
During the summer months, neighborhoods close to Lake Michigan stay cooler than those away. The cool winds from the lake make the heat more bearable.
In Los Angeles, you can wear the same category of clothing all year round but in Chicago, your wardrobe is going to have to change. You will need to build an extra closet for winter socks, gloves, beanies, hoodies, coats, winter boots, and more. Definitely prepare for this in advance.
Cost Of Living
You will be glad to know that Chicago is roughly 64% less expensive than Los Angeles, California. This is probably why it fits the bill for those trying to escape the exorbitant cost of living in LA. All in all, you can rejoice at the fact that Chicago is among the more affordable big cities to move to. For a better understanding of the significant differences you'll see in costs, let's look at the big 3 factors that influence the cost of living.
Buying A House
Real estate in Chicago is not even close to the level of expenditure that you'll find in Los Angeles. Due to this, it will open avenues for you to hunt for houses as big as in LA without paying as much for it. To help paint a picture of this king-size difference, let's look at home values in both the cities below:
Median Home Value in Los Angeles (According to Zillow): $934,305
Median Home Value in Chicago (According to Zillow): $306,098
As you can see, there's a whopping difference in prices so saying hello to your dream house can most certainly seem more achievable in Chicago than in LA.
Renting A House
Speaking of rent in Chicago, the average in the city remains at $2,091 which isn't all that low in comparison to the average rent of Los Angeles which is $2,563. It's safe to say that you might be shelling out the same kind of funds for rent in either city. If you want to steer clear of high rent prices, the best neighborhoods to check out include Austin, Avalon Park, Burnside, and Calumet Heights. You'll find that rent is most expensive and reaches above the city average in neighborhoods like Dearborn Park, Printer's Row, and Streeterville.
Utilities
When it comes to utility bills, both cities are on the same wavelength. For your gas, electricity, water, and garbage you must budget to dish out roughly $132 in Chicago and $129 in LA. So with regards to bills, there could be just a $3 to $4 difference in costs but this will most certainly differ from person to person based on usage.
One specific aspect in which you might be saving a ton of moolah is sales tax! The sales tax rate in Illinois is set at 6.25% while remaining at 9.5% in California. You might also see a relatively small difference in grocery bills. To provide a yardstick to determine the difference, a loaf of bread will cost $2.85 in Chicago and $3.49 in LA (according to Numbeo).
Job Market
The city of Los Angeles features a globally diverse economy. As you may know, the city boasts of attractive job opportunities for those tied to sectors related to entertainment, technology, and fashion among many others. Chicago's economy has a good footing in financial services, engineering, publishing, and food processing.
You should also know that the city generates an annual gross regional product (GRP) of over $698 billion! Even though this is an average figure, it makes it safe to believe that the city's economy is in the pink of health. To get an overview of the large presence of huge companies headquartered in Chicago, you can refer to the exhaustive list below. Some of the largest employers in Chicago are:
Accenture (Information Technology company)
Bain & Company (Management Consulting company)
Salesforce (Software company)
AbbVie (Biopharmaceutical company)
US Foods (Food company)
Mondelez International (American Multinational Confectionery)
Boeing (Aerospace company)
Exelon (Nuclear Electric Power Generation company)
Conagra Brands (Food company)
Ernst & Young (Multinational Professional Services Network)
All in all, the city is blessed with lucrative job opportunities, and due to this, your job hunting endeavor might not be too rough before you hit a great offer! To add to that, the city's unemployment rate is 4.3% which isn't too bad either. In terms of salary, you might make slightly less than in LA as there's a disparity in annual income in both cities. Here is a comparison between the two cities in terms of median household income:
Median annual household income in Los Angeles – $62,142
Median annual household income in Chicago – $58,247
Transportation
In LA you may have largely depended on your car to get around since public transportation options are limited to buses, 4 light rail lines, and 2 subway lines. In the case of Chicago, you can bid adieu to your four-wheeler completely! The public transit options in Chicago are at plenty and you will be spoilt with choices to live car-free.
Here are the commute options you must get familiar with in Chicago:
CTA: This stands for Chicago Transit Authority which is the agency that operates the fleet of buses and subway systems in the city. The elevated subway (also known as the 'L') consists of 8 lines, each color-coded. The L metro system keeps Chicagoans on the go!
Metra: The Metra is the commuter rail service to count on to commute to most suburbs within Chicago.
Pace: Pace is the bus service with extensive coverage of the suburbs of Chicago and has rightfully earned the title as the backbone of the city's public transportation.
Divvy: This is Chicago's bicycle-sharing system. If you love cycling to get to your place of work or for daily errands, you can see yourself using the Divvy often.
Considering all the options available to you, it is evident that Chicago offers great transit systems so that locals can commute to points of interest/work with next to no hassle!
Chicago's Strong Points
Chicago is a lively city with endless opportunities for fun! The city is filled with eateries, great places for music, and lots of events.
Public transport in Chicago makes getting around easy-peasy-lemon-squeezy! You can get to different corners of the city without the need for a car.
Chicago is bang right next to Lake Michigan so you always will have a scenic spot plus the beach to chill out with family and friends. When the daily grind of working gets too hard to handle, you have a getaway in close proximity.
The Windy City also has a super healthy, diverse job market for a city its size. Job prospects can most certainly look bright because there are a thousand different sectors thriving in Chicago.
Also read: Chicago, IL: Surrounding Suburbs Guide
Top Neighborhoods To Move To In Chicago
Clarendon Hills
Clarendon Hills is a southwestern suburb that sits at a prime location. The neighborhood is a 20-minute drive from the Chicago O'Hare International Airport and 30 minutes away from downtown Chicago. By living here, you would be cut off from the noise of the city but, at the same time, have easy access to the vibrant part of Chicago as and when you like it. Clarendon Hills is also a great place to consider if you're moving with kids because the neighborhood has great schools and a good number of parks.
Median value of homes: $506,400
Monthly Median rent: $1,416
Buffalo Grove
Buffalo Grove is another perfect neighborhood for those with kids since it has a huge presence of highly-rated schools. Earl Prichett Elementary School, Meridian Middle School, and Stevenson High School are some of the top-rated educational institutions in Buffalo Grove. Residents here also enjoy easy access to Metra and Pace buses for their commute. This idyllic village is just 30 miles away from Downtown Chicago, thus bringing forth the perfect mixture of serenity as well as an easy bridge to the party culture that Downtown Chicago is famous for.
Median value of homes: $332,300
Monthly Median rent: $1,643
Evanston
Evanston is another popular area that you must consider moving to if you're specifically looking for a lively neighborhood with lots to do. This part of Chicago will keep you on your feet as it's bustling with events and filled with restaurants and recreational spots. The neighborhood is also home to Northwestern University so it is filled with young adults keeping the place up and about. Being a college town, Evanston has loads and loads of things to do on the weekends including visiting the Block Museum of Art, Mitchell Museum of the American Indian as well as the Evanston History Center. It is a vibrant, young, and extremely cultured neighborhood.
Median value of homes: $391,400
Monthly Median rent: $1,376
Lincoln Park
Lincoln Park rocks just like the band because it enjoys the best of both worlds. This neighborhood is situated just 15 minutes away from Downtown Chicago so you're mere minutes away from the best nightclubs, restaurants, and markets in the city. On the other hand, the neighborhood is tucked away so you also have your peace and quiet when you require it. Definitely consider Lincoln Park for a balance of city chaos and residential stillness, if that's what you're looking for.
Median value of homes: $687,480
Monthly Median rent: $1,727
Bucktown
Real estate here can be slightly on the expensive side of the spectrum but let us tell you that living in Bucktown is worth every buck! Like Lincoln Park, Bucktown is also super close to Downtown Chicago so you're in close proximity to the prime areas of the city. You would have easy access to the lakefront, great bicycling trails, and much more since you're situated right next to the heart of Downtown Chicago.
Median value of homes: $617,523
Monthly Median rent: $1,796
Read Also: Top Neighborhoods In Chicago For Families
Things To Take Care Of When Moving From Los Angeles To Chicago
Los Angeles and Chicago are 2,015 miles away from each other so you've got to get your stuff organized for moving at least 2 months in advance and tackle one room at a time.
Get rid of unwanted items by selling, donating, or recycling them. Begin the process of sorting unwanted stuff so that you're only paying to haul items you truly need in your new home in Chicago.
Start contacting multiple moving companies for quotations and narrow it down to the best 3 moving companies. This is a good rule of thumb to follow before you close the deal with the movers you like best. Also, don't wait till the last minute to begin searching for your movers.
Decide if you'd like to fly from Los Angeles to Chicago or drive your vehicle to reach. Make sure that you plan the logistics of how you'll reach your destination and the time period within which you want your belongings to arrive at your new home.
Los Angeles To Chicago Moving Costs
When moving from Los Angeles to Chicago, you've got to consider the 2,015 miles of distance between both cities. This distance is going to be one of the biggest factors influencing the quote you receive. On average, expect moving companies to quote you anywhere from $3,800 to $5,800 to pack, haul, and transport your belongings from Los Angeles all the way to Chicago.
You can bring costs down by reducing the number of items getting hauled. If you choose to pack your items independently, you could see a dip in the quote. For an accurate estimate of how you will spend on your move, start contacting long-distance moving companies today.
As you discuss your quotation with a moving company, remember to get into the minute details with which you'll require their expertise. Consult your movers with every doubt you have so that you have a smooth transition from Los Angeles to Chicago.
Conclusion
For all that Chicago has to offer, the cost of living is far from bad and could be just the change you need from Los Angeles. You'll get great value for your dollar because the city is on the affordable side in comparison to LA. All in all, we hope you're no longer on the fence about it after learning all there is to know about moving from Los Angeles to Chicago!
FAQs About Moving From Los Angeles To Chicago
Is It Worth It To Move To Chicago?
Moving to Chicago is a wise decision if you're particularly looking for a bustling metropolis with great world-class entertainment, a good public transportation system, and a decently low cost of living.
How Much Does It Cost To Move From Los Angeles To Chicago?
When moving from Los Angeles to Chicago, you would be covering a distance of more than 2000 miles due to which you can expect costs to fall in the range of $3,800 to $5,800.
Is Chicago Cheaper Than Los Angeles?
There's a vast disparity between the cost of living in Chicago and Los Angeles (nearly 64%). You'll notice a stark difference, especially in terms of real estate. Median home values in Chicago are at $306,098 while standing at $934,305 in Los Angeles.
What's It Like Living In Chicago?
The best part about living in Chicago is its close proximity to Lake Michigan. You will always have a lakefront and sandy shores at your disposal for recreation. The city has a diverse job market and close-knit communities as well so you will meet people from different cultures. Lastly, it is fantastic to live here since you can easily get around the city without a car.
Also Read: Moving from Chicago to Los Angeles