How to Get Rid of Unwanted Items when Moving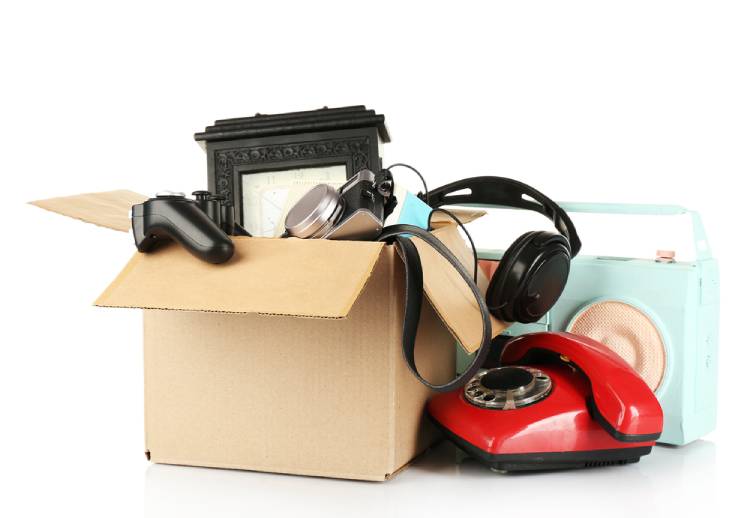 Do you remember George Carlin's take on "stuff?" Families' homes are no more than a box in which to store "stuff." Then they buy a bigger "box" in which to store more "stuff."
When you're considering moving to a bigger house, you'll take a look at your own belongings. Storage in any home is of paramount importance. There will be things passed on from beloved family members, things the kids made for you in school, special things you've accumulated such as collections, and useful things you couldn't possibly give away.
The thing about belongings is that they're personal. You always admired Great Aunt Emma's turn of the century hand-painted porcelain lamps, so she gave them to you before she died. Grandpa Stone's WWI gun means a lot to you just because it was his.
This personal feeling makes it difficult to get rid of items before moving. We get it. It's hard to know what to give away and how.
Take, for example, the collection of broken wooden ladders in the storage shed or the set of dishes with many broken. You've kept them in case you could upgrade them into something useful in the future a la Joanna Gaines. Now that you're moving, you must decide whether to take them or let them go.
Many moving families have yard sales, donate to charities or to Goodwill, and pass on their belongings to friends and family. There are, however, some good getting rid of unwanted items' ideas we'd like to share with you.
See also: 5 Charities for Donation Pick Ups
Sorting Out Your Belongings To Decide Their Fate Accordingly
Every list of moving tips on the Internet says to sort out your belongings in piles. One pile is to keep, one to donate to charity, one pile to keep for family or friends who expressed an interest in the items, and one to toss to the curb. We'd like to discuss with you a new method of sorting out your belongings before moving.
Empty anything that can hold something, and pile its contents on the floor. Don't forget the attic and basement, storage shed and garage. Now you'll make five piles:
Indispensable: Great Aunt Emma's hand-painted porcelain lamps, Grandpa Stone's WWI gun, the sterling silver tea service for which you saved up, your husband's train collection, and all the other things that mean so much to you are indispensable. If you use it every day and/or it's personal, then keep it.
Valuable: Jewelry, family heirlooms, antique furnishings and/or accessories, electronics, cameras, china and silver, works of art, collections such as wine or katanas, and the kids' most precious belongings are considered valuable. Even if they take up the space you have to dust, they mean something to someone. Take them with you.
Enjoyable: These are the things that make you happy, make you laugh, or inspire you. A bicycle built for two, your DVD collection, your favorite musical groups on CDs, cassettes, or eight tracks, the stuffed animal your husband won for you at the county fair, the candles you made by hand, or the soft, snugly comforter on your bed all make you feel content. They go with you.
No Longer Necessary: Only you can figure these out. If they are no longer worn or used in any way, donate them. Toss the baby clothes along with anything to do with infancy (after all, the kids are in middle school,) children's books, toys, outgrown clothing and shoes, musical instruments they no longer use, kitchen items no longer necessary, broken or slightly dented items of any kind, things people gave you that you never liked, your husband's tools he never uses or yard maintenance equipment he never used even once, and so forth.
Useless: About those ladders and dishes we discussed earlier. You don't really have the time to upgrade them since you work. Your husband isn't the crafty type, so that's out. If it's broken, no longer runs, or looks hideous, toss it.
Many moving tips online describe the piles you'll make from which to sort out your belongings. What they don't describe is the dilemma you'll face in deciding what's necessary and what isn't. They don't tell you that you'll need five piles instead of just three.
No list from any online entity can guide you as you snuggle Aunt Emma's lamps before packing them in a box so very carefully. They can't know what some of your things mean to you, because personal means different things to different people. What's hideous and unnecessary to you would be an amazing find to someone else.
What movers tips can't possibly know is that no matter what they load onto their trucks, it's just another box to them. This is the job they do every day, so nothing is personal to them. They take special care of your belongings so they don't get sued in the event of something being destroyed.
Since you're the one who's moving, it's up to you and only you to sort through your belongings. We've given you categories into which to fit your things. If you can't bring yourself to discard anything, it's all good.
Remember that it's your life going into those boxes. We can only give you guidance, but it's your place to categorize an item as valuable or useless. Remember that what's useless to you can be repurposed into something by someone else.
Moving tips advise you to make a list or a master inventory of items you'll be taking to the new house. We'd like to suggest you make a separate inventory of things you'll be donating or selling. Here's where those "useless" things can be repurposed when someone sees your ad on Craigslist for your unwanted items.
Sell Stuff Online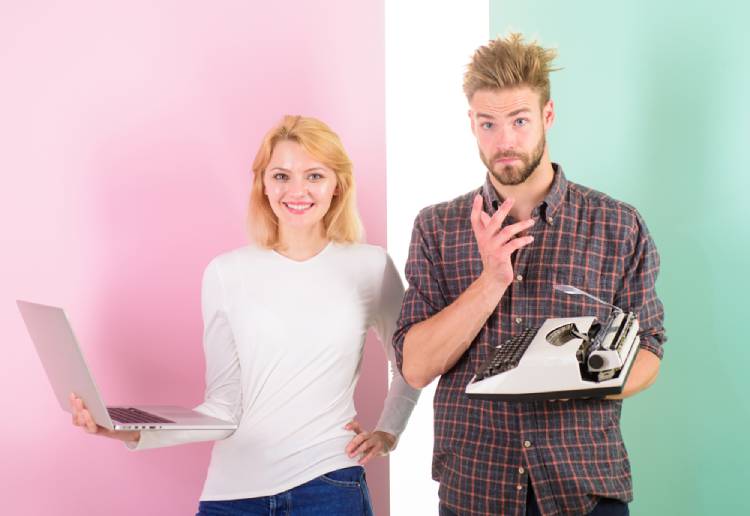 Several million people worldwide own computers or smart phones, so most of them are online. Social media is among the most popular of sites. It doesn't cost anything to put an ad on social media, and it will reach a wide audience.
Also available to you are sites like Etsy, eBay, Amazon, Bonanza, and dozens of other sites. All you have to do is type in "similar to eBay," and you'll instantly see thousands or millions of sales sites. Choose one or three and then word an attention-grabbing ad.
Pictures really are worth a thousand words, so take a picture of your items. Be honest in wording the ad: if it doesn't run, if it's broken, if it's of use only for parts, then say so. Price your items accordingly, because people are looking for bargains.
Include in your ad brand names if any, size, weight, and any special features of the item. Describe the item's good points. Tell them why you no longer need it (we're moving and it has to go) as well as an idea for what the item could be used (this broken ladder would make a great wall hanging in the kitchen holding herbs.)
Prepare yourself for your sales to take some time before someone sees your ad and wants your item. Also prepare yourself to take the item to the post office in proper packaging for mailing. Offering free shipping snags many people's attention so that they buy your item.
Beware of selling books, DVDs, or CDs online. They just don't sell well. These you might want to donate to Goodwill or a library. Library will take almost any medium you give them.
See also: Where to Sell Clothes for Cash Online
Organize A Moving Sale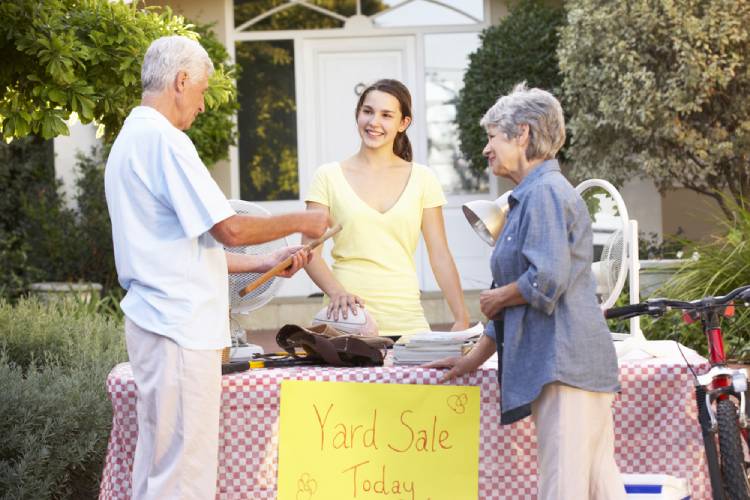 If it weren't for many yard sales beginning at seven on a Saturday morning, more people would go to yard sales. Everyone loves a bargain, or they're looking for something specific, so they go wherever someone is selling something. Lots of people drive around their own town in search of yard sales, and then they drive around nearby towns seeking more yard sales.
Bad weather doesn't stop a lot of people from shopping at yard sales. Home garages are used the most, but some churches and even some schools allow those moving to hold their moving sales in school gyms or church fellowship halls. If that doesn't happen, many stores and strip malls allow people to hold their moving sales at the far end of their sidewalks under cover.
Now that you've booked a place for your moving sale, you have to let people know you have something to sell. Take some pictures of your items with a small description. Upload them onto your social media sites, the local penny saver magazine, Craigslist, local church bulletins, on the local grocery store bulletin board by the doors, and with self-made signs in your yard.
Be prepared with plenty of change and small bills for making change. Have a master inventory list, and mark off things as they're bought. If someone asks for a senior discount or a bundle sale, be prepared to make a deal.
Shoppers have a right to expect a moving sale to be arranged for their safety. Don't put sale items on the ground for someone to trip over and possibly sustain an injury. Make sure your sales area is tidy in appearance and safe.
The money you make from your moving sale will be added to your overall moving budget. If your things don't move at the moving sale, you can always hold more moving sales right up to the week you move. Another consideration is taking what doesn't sell to consignment shops or thrift stores who will send you a check upon the sale of your items.
Passing Your Belongings To Friends And Family
We all have friends or family members who tell us that when we're tired of that (whatever item they love,) they want it. The funny T-shirt, the sweatshirt with the peaceful winter scene on it, your husband's trains, the kids' stuffed animals they've outgrown, the foot that fits on the car's gas pedal you've saved from the 70's, or your collection of Rolling Stones vinyl can all be given to family and friends.
Call them all, and set up your living or dining room with the items they said they wanted. Let them go through it all as if it were a yard sale. In a way, it is.
There comes a point when the things we cherish simply take up room. We don't know why, but the magic is no longer there. Better the items be cherished by someone else than take up space at the landfill.
Donate To Charity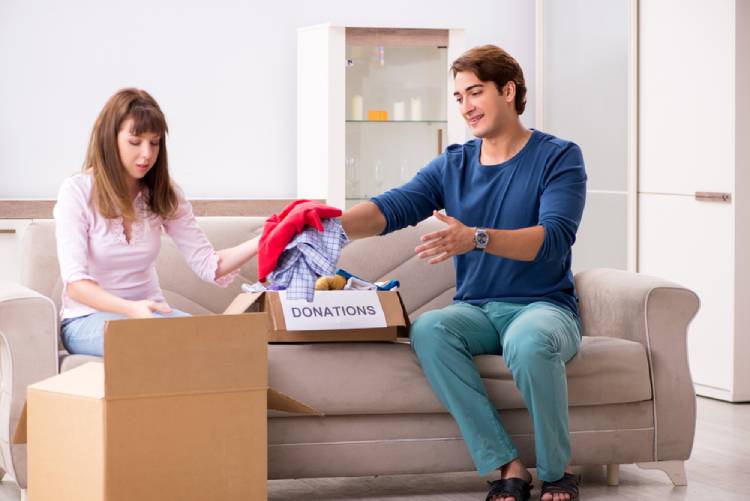 Many charities exist to help the very poor, the homeless, veterans and homeless veterans, the disabled, and any in need. Some such as the Salvation Army, Goodwill, Purple Heart, Habitat for Humanity, and The Arc will pick up your donations. Look them up online to schedule a pickup.
There are different colored drop boxes all over every town for gently used clothing and shoes. Most common are the bright yellow donation boxes of Planet Aid.
Many towns and cities have non-profit organizations using storefronts to attract donations. These usually give the items like clothing and furniture to homeless shelters, orphanages, and others in need. Local thrift stores sometimes do the same.
Did you know that some senior centers also accept gently used items for the seniors they help? Schools and libraries will accept most any media such as books and DVDs or VHS tapes. Day care centers will know how and to whom to give your gently used baby and toddler clothing, shoes, blankets, crib sheets, and accessories.
Almost every town and city has churches and sometimes even city halls that accept donations and then turn around and give them to the needy. You'll find these churches usually offer pantry for those who need food. Call around your town or city for these churches and ask what they'll accept.
Some charities collect for other charities. For example, Go Green Drop accepts donations for Purple Heart, American Red Cross, National Federation of the Blind, and St. Vincent de Paul. Some charities only accept donated cars and share their donations with other targeted charities.
This list of charities accepts clothing, various household items, cars, and even building materials:
Habitat ReStores

Vietnam Veterans of America

JunkLuggers (some junk removal companies partner with various charities; call to check which ones)

Books for Soldiers

Secure the Call (accepts working cell phones for seniors, and victims of domestic violence; remember to include the charger)
See also: 1-800-GOT-JUNK Review
Re-purpose Broken Or Unwanted Stuff
Got a chair with broken legs? Cut them off and mount the chair on the bathroom wall. Use the seat as a shelf and the ladder back of the chair as a towel rack.
Perhaps you replaced a door and have no idea what to do with the old one. Mount it on the kitchen ceiling, screw in hooks, and hang pots and pans from it. It will increase the storage in your kitchen cabinets.
Re-purposing old things has become a thing. Home renovation shows teach us to take the bottom off a wooden box and mount it on the wall to hold trinkets or to make a shadow box of it. Old wooden trim from windows make excellent showcases for paintings or family pictures.
Re-purposing old things isn't just the newest fad, it's recycling at its best. It's turning the old and forgotten into beauty and intriguing.
Recycle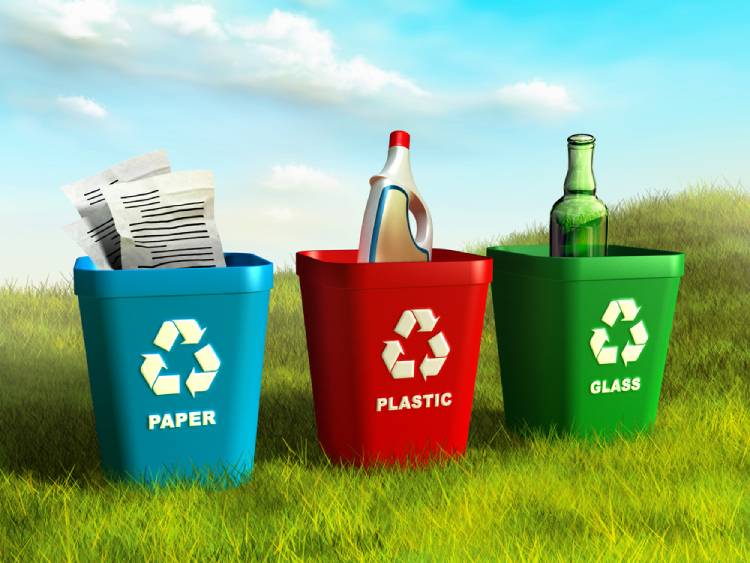 Recycling centers and most dumps have bins in which to place recyclables. Oil, paint and paint thinners, flammable items of all kinds, building materials, all batteries of any type, and the usual paper, glass, and plastics have their specific recycle bins. Call your town or city to find these places and fill them accordingly.
Most cities have pickups for broken or simply old electronics. Metal things like old bicycles, barbecue grills, patio furniture and the like is usually picked up by the city when you put it at the curb. Broken or otherwise unwanted wooden furnishings or accessories are picked up the same way and recycled.
If you're short on time or resources, simply place the proper items in your regular recycle bucket. The recycle center will send the items to their proper disposal places. You'll still have to call the city for the electronics and flammable items.
Conclusion
Moving ultimately means relocating no longer useful or unwanted items to another place. This should be done before packing for the move. The unwanted or not useful items won't cost you money to transport nor take up much needed storage space in the new house.
Deciding which items to unload isn't easy. Many items have sentimental value or are precious for a variety of reasons. You must be totally ruthless in tossing out items that add no value to your life and especially to the life in your new house.
As you go through each room, sort into piles those things that are indispensable, those that are valuable, those you enjoy, those that aren't needed any longer, and those that are totally useless. These piles will help you to be totally ruthless in weeding them out.
As another example, if it's been stored away in a closet, attic, basement, garage or shed, if it hasn't been used for years, if it has no meaning to your every day life, if it was used once and then put away, then unload it. Someone somewhere needs it. You have a choice of places to send the things including moving sales and giving them to friends and family.
Lots of people moving, think they can only have one moving sale and that everything has to go that day. Not true. You can have a moving sale every day until moving day if you wish. Give away or donate what's left.
Charities, family and friends, recycling, and moving sales are methods of relocating the items. Libraries, schools, senior centers, day care centers, some thrift stores, and non-profits accept donations of most anything you can give them. They have resources for hooking up with those who need your things, so you can be sure they won't be trashed.
The city or the county that picks up the trash and recycle can help those moving to take away unwanted items. Special entities pick up things like electronics so they don't poison the landfills. The same goes for motor oil, flammables, and anything that can leach into the soil to contaminate it. Call your city to find out what to do.
So there you have it. Moving isn't the nightmare most folks say it is. It just needs a little organization, some background information, and plenty of moving materials. Begin your giving away program far enough in advance of moving day to spare yourself the trouble and expense of moving the unwanted.
Make some phone calls after you've sorted out your piles of stuff. The city or county authorities will be happy to help. Good luck and bon voyage!