5 Charities For Donation Pick Ups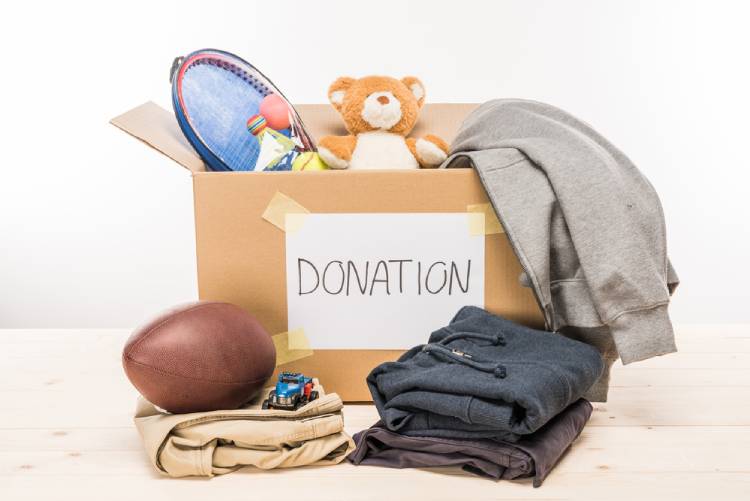 Moving? Charities That Pick Up Your Stuff for Donation
Whether it's because you are moving somewhere new, or just trying to free up some cluttered space in your current living arrangements, instead of throwing your unwanted goods out, consider donating them to charity.
Just because you don't have a use for it anymore, doesn't mean that someone else out there would not. And if it's something you are having trouble parting with, knowing that someone else will benefit from it, rather than it going into the garbage, is an extremely comforting feeling.
Best of all, depending on where you live and the proximity of the local chapter of the charity you are looking to donate to, many of them will actually come right to your home (or apartment complex) and pick it up for you.
No need to worry how you will transport some of your larger items to a donation center. All you really need to do with your unwanted items is gather them together.
Take a look at the list below of five of the best charities out there that will do donation pick ups.
1. The Salvation Army
Established in 1865 by William and Catherine Booth in London's East End neighborhood, the Salvation Army has over 8,000 locations across the United States and exists in over 100 countries worldwide. Any donations that are made are either sold at their stores or distributed to the needy.
What to Donate: As long as your items for donation are in good condition, the Salvation Army will take them; this includes clothing for all ages, entertainment products like CDs or tapes, fashion accessories, linens, books, and various household items.
Where it Goes: Some of the many groups that the Salvation Army works to provide aid to are domestic abuse victims, those battling addiction, those who have experienced a natural disaster, churches, the homeless, and elderly people.
How to Donate: You'll need to enter your zip code at satruck.org/donate/choose. Then you will have to itemize what you are going to be donating, and finally, choose a pickup date and time. And what's even more convenient is that you can put the items outside your house if you cannot be at home when they arrive.
Website: https://salvationarmyusa.org/
2. Goodwill
Established over a century ago in 1902 by Reverend Edgar J. Helms in Boston, Massachusetts, Goodwill is an big name among charitable organizations. There are close to 3000 stores across North America. Goods donated to the store are sold at the store at heavily discounted prices.
What to Donate: You can donate an assortment of items to Goodwill, such as apparel, jewelry, vehicles, home goods, toys, furniture, electronics, etc. Just make sure that everything is in usable condition.
Where it Goes: Just some of the many services that Goodwill provides are for children, the disabled, older folks, and even job opportunities and training for former inmates.
How to Donate: Find the location of your local provider at Goodwill.org/locator. Contact them to see if they take items from homes and if so, what the process is, as each store has varying policies.
Website: https://www.goodwill.org/
3. AMVETS National Service Foundation
Established in 1944, AMVETS works primarily to provide support for American veterans. They also provide programs and services to various communities and youths to encourage patriotism and peace. They have locations all over the United States.
What to Donate: AMVETS takes donations of clothing, housewares, home accessories, small appliances, books, and electronics (must be under five years old).
Where it Goes: Goods are sold at the various AMVETS locations with the proceeds and goods benefitting veterans of war, regardless of duty status.
How to Donate: You'll need to first check if there is an AMVETS chapter located in your state at amvets.org/thrift-stores. If there is one, contact them by phone to arrange for your goods to be taken from your home.
Website: https://amvetsnsf.org/
4. Habitat for Humanity
Relatively still very young (the organization was only established in 1976 by Linda and Millard Fuller of Alabama), Habitat for Humanity works to provide adequate housing for the underprivileged. There are over 900 Habitat ReStore locations across the United States.
What to Donate: The Habitat ReStore will sell a variety of items for homes, such as building materials, tools, appliances, furniture, and house accessories.
Where it Goes: Items and proceeds are used to help find and build housing for underprivileged families within the United States and beyond.
How to Donate: Check out habitat.org/stories/does-habitat-offer-furniture-donation-pickup to see if there is a local Habitat ReStore in your area. If so, give them a call to schedule a pick up at your home.
Website: https://www.habitat.org/
5. The Arc
Founded in 1950 by parents with children who had developmental disabilities, The Arc has 39 state chapters and 730 local chapters throughout the United States. For funding, they rely partly on their thrift stores to provide funding.
What to Donate: The arc stores will take toys, books, household items, decorative goods, furniture, apparel, electronics, and vehicles.
Where it Goes: Items and proceeds work to support both adults and children who have mental disabilities and their families. The Arc aids in job searching and training, educational assistance, and much more.
How to Donate: You can call their toll free number at 1-800-283-2721 to check on how to get your goods picked up, or head online to their website, register for use, and then get a pick up day and time.
Website: https://www.arcthrift.com/
Conclusion
If you have some things hanging around your home that you just can't bear to part with, but you know you have to, donation is a really great option.
Not only will someone else get to utilize your very-loved items, but you'll be also be able to reap the rewards of helping someone else in need out.
And if you are moving, there is no better time to get rid of some things you don't use; the less you need to take in your move, the easier it will be.