Donating Items To The Salvation Army


VanLines Inc
Secure Storage
Easy Booking Process
Fully Trained Employees
GET QUOTE

Colonial Van Lines
Storage Services
Long-Distance Moves
Corporate Relocations
GET QUOTE

Moving APT
Vetting Process
Award-Winning
Available Nationwide
GET QUOTE
Our Take
Price
Rating
Minimum Shipment Size
Storage
Booking Deposit
Cancellation Policy
Quoting Options
Discounts

Best Overall Value


GET QUOTE

2+ bedrooms




Free 30 Days




10%

Free up to 72 Hrs

Phone / FaceTime / Text

Senior / Same day Booking

Best Industry Reputation


GET QUOTE

1+ bedrooms




30 Days




20%

Free up to 72 hrs

Phone / Facetime

Seniors Discount

Best Customer Service


GET QUOTE

1+ bedrooms







Free up to 72 hrs

Phone / Virtual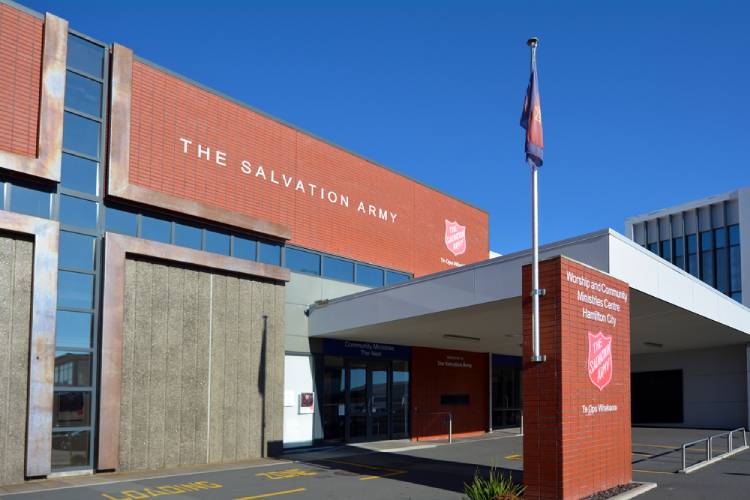 If you asked us to give you just one piece of advice to help reduce the stress of moving, the answer is 're-evaluate your belongings'. Yes, when it's time to move, you're constantly going to hear this statement getting passed around by your friends, relatives and even movers. No kidding, downsizing is key to taking the sting out of moving homes.
And let's face it, you're bound to find a ton of things you no longer use or even things you never used. The solution to this is donating so that you could give these items a second life. There's numerous charities and organizations that are willing to help the donation boxes you create to reach the right hands. One such agent is The Salvation Army.
But who are they and how do you donate items to them? Let's help you out with that.
Why Donate At The Salvation Army?
The Salvation Army is a charitable organization that has global reach. They use the money they get from donating your belongings to different groups of people who are underprivileged or in unfortunate circumstances. The elderly, people trying to beat addiction, prisoners and the homeless are just some of the many groups getting financial and moral support from members of this organization.
By donating to them, you get to declutter your house. At the same time, the money is a ray of hope to people who are looking for a second chance at life.
The goods you donate to The Salvation Army and the funds received from the sale of your products goes directly to specifically fund adult rehabilitation centers across the nation. The money works towards various operations undertaken by these centers to help people beat addiction and gain the strength to get back on their feet.
This organization is also extremely grounded in practising and not just preaching the virtues of Christianity. They definitely go by the scriptures and teachings of Jesus Christ that only encourages people to share what they have with the needy. Like it's said 'Giving is itself an act of grace'. Few of the top projects undertaken by The Salvation Army are –
Providing services for veterans
Running various drug and alcohol rehabilitation centers
Running food pantries
Having operations to deal with human trafficking
Providing shelter for the homeless
Helping domestic abuse victims
Supporting victims of natural disasters
How To Donate At The Salvation Army?
There are three possible ways to donate your things to the Salvation Army:
Drop it off at any of the branches available in your city or county.
Schedule a pick-up which is free of cost.
Find a Salvation Army run thrift store to drop your clothes.
The Steps To Follow:
Visit the 'Donate Goods' section at https://satruck.org/
You would then need to fill in your zip code.
Post that you would need to mention the number of bags or boxes you have to donate for each category. The main categories are clothes, books, chairs, couches, and miscellaneous items. You can also select more items from an alphabetical list of a massive variety of other items that the organization accepts.
You are then requested to fill in the date on which you'd like the pick-up to happen. You can also mention a message for the drive so that things work out smoothly. If the date you select isn't available for pick-up, you will get an indication.
In the last step, you would have to share some basic information such as your home address and so on for the pick-up.
Do note that if you click on the 'Drop-off' option, the website would pull out a long list of locations where you can drop the boxes or bags for donation. Make sure you run over the list of things accepted before visiting any of the branches.
We'd also like to mention that it is pretty easy to find a Salvation Army outlet close to your home address since they have over 8,000 locations in the United States. Yes, their influence has spread far and wide since its inception in 1865.
Things To Note:
Ensure the things you're donating are in a good condition and in a state which is reusable. The Salvation Army does not accept furniture or clothes with excess stains or damage to the extent that it cannot be used.
The Salvation Army is an organization qualified to deduct tax on clothing, household goods and other items donated in good condition. If you have donated quality products, we suggest that you look at the 'Donation Value Guide' to get an estimate of the cash value of the products. If you want to avail the benefits, it is extremely important to keep your donation receipts handy.
The Salvation Army also accepts vehicles. Both the ones that run on a road or water. If you plan on getting a tax deduction for your boat or car, make sure that you've read the fine print on the 'Internal Revenue Services' (IRS).
Not every type of item is accepted at every location. So make sure that if you have a mix of appliances, furniture and clothes, do contact The Salvation Army before you leave home.
Contact Details Of Salvation Army:
Call on 1-800-SA-TRUCK (1-800-728-7825)
Here Is A Quick List Of The Categories of Things You Can Donate:
Appliances – You can donate a working condition washing machine, air conditioner, freezer, dryer, microwave, electric stove, gas stove, heater, refrigerator, TV, and more.
Children's Clothing – For this category, they accept blouses, boots, coats, dresses, jackets, jeans, pants, shirts, snows, skirts, snowsuits, shoes, socks, sweaters and more.
Men's Clothing – Shirts, shorts, shoes, jackets, raincoats or even a tuxedo and various other pieces in your wardrobe that's in good condition will be accepted.
Women's Clothing – You can give away your well-kept bags, skirts, sweaters, slacks, dresses, blouses, coats, boots, even swimwear and more.
Furniture – Beds, cribs, cabinets, chests, folding beds, sofas, trunks, wardrobes, rugs, play pens, mattresses are a few of the examples of things you can give away.
Household Goods – Could be anything from a lamp, pillows, pots, pans, towels, curtains, blankets and more.
Miscellaneous – Your old books, printer, bicycle, sewing machine, vacuum cleaner, suitcases, soft toys and things that don't fall in the other categories fall here.
Alternative Solutions To Get Rid Of Old Stuff From Your House
For Kids' Clothing And Toys – Schools, Kids Shelters, Hospitals, Daycares
Public schools in the place you reside could be in need of books, toys and craft supplies. If you have an excess of these, it's best to ask schools if they are short on any of things from your kids rooms. Hospitals and daycare centers are also equally good options. When you donate to a place near your home, it feels like you're doing something that will help build your community, so we highly recommend looking for shelters within your vicinity.
Local Thrift Stores
Realistically speaking, some of the clothes in our cupboards don't see the light of the day at all. We can all agree that there tends to be items in our wardrobes that we don't even think about for 6 months straight. If this is the case, you must take it as a sign that you don't need it or care enough for it. At the decluttering stage it's best to categorize such pieces for a thrift store that runs for a cause. For instance, in the state of Colorado, The Arc is a thrift store that uses the funds gained from selling your clothes to support residents with disabilities.
Similarly, there could be a thrift store in your local community that is using the funds to help reduce the burdens of different groups of people. It would be fulfilling for you to see your clothes not only reach someone who would love to wear them but the money from it reaches out to those who are not as fortunate.
Also Read: Where To Sell Clothes For Cash Online When Moving Out
Goodwill
Now Goodwill is one of the larger charities in the United States, so you've probably heard the name before. It is a non-profit organization that has received recognition for its work globally. If you like, you can opt to donate at one of their centers.
All you have to do is find a Goodwill donation center in close proximity to your home which won't be challenging since there's roughly 3,300 stores in the nation. Like all charities, Goodwill won't be accepting donations that are damaged or cannot be sold. Make sure you're thinking twice about the condition of the item you'd like to donate. The organization can only receive a fund if the item you donate has a sale value.
AMVETS (American Veterans)
AMVETS is an organization that is dedicated to improving the standard of living of veterans. They do accept donations like clothing, furniture, kitchen appliances, sports equipment, bedding and so on.
Bigger items like trucks, cars and boats are also accepted. The funds gained from the donations go to the families of veterans and improve their living conditions. So make sure to donate things that are typically required to run a household. They do have a pick-up facility so you don't necessarily have to find a center.
Food Banks, Churches, Women's Crisis Centers
Lastly, few other places that are always happy to accept donations are food banks, churches and women crisis shelters. For instance, YWCA (Young Women's Christian Association) is a good place to donate things that you think could go towards the betterment of women globally. We suggest finding similar small scale centers where you can donate and improve the lives of people in unfortunate situations in your community. Food banks and churches could be a great option to donate items from your pantry that have to be cleared before moving day.
Recycle, Reuse And Don't Mindlessly Dispose
Donating is indeed a good deed (we know it rhymes), but not all items given to donation centers are likely to sell. If you have books they would most likely be more useful in a school library or the local library in your county. Similarly, if you have a pet and you want to donate unopened food packets or cleaning items like shampoo, then an animal shelter would ideally be the place for it.
Another scenario is you can't really give electronics or appliances that are not in a great condition to a donation center. So, if you need to get rid of it, you have to ensure you're doing this in a responsible manner. Collect items that you think won't sell and take them to non-profit organizations that recycle stuff that can't be put into bins. You would most probably find such things hidden and collecting dust in a garage, basement or storage room.
Create A Free Box For Colleagues, Friends And Family
In the process of decluttering, you would be able to find items that won't sell but are still quirky enough to be part of someone else's house. For instance, if you have a crockery set or an unopened wine glass set that you'd hate to see breaking, you can always ask family and friends if they'd like to have it. This works for home decor items like vases, mirrors, candle holders, unused wallets, unopened makeup sets or even a showpiece. These could be things that you're no longer a fan of but can fit well in someone else's home.
Ensure you're not dumping these things on people. You could simply keep it in a box, take some pictures of it and send it on family groups to confirm if they would like to make it a part of their house. If your friends and family visit often, you could keep this box somewhere visible with the word 'free' on it. This is yet another responsible way to ensure that things are not just getting dumped in a charity that has no use for such items.
Also Read: How To Organize A Garage Sale Before Moving | Donating Clothes when you Move
FAQs
What are the best charities to donate items to?
The Salvation Army, Goodwill, AMVETS National Service and Habitat For Humanity are some of the best charities in the US to donate items or funds to.
What are some things that cannot be donated to charities? Items that are torn, have stains, odor, or pet hair cannot be donated to charities. You also cannot donate electronics that no longer work. The item must have a resale value and must be in a reusable state.
---
Conclusion
Donating is a great act of kindness and well it does give you the fuzzy warm feeling that you've done something good. Something to keep in mind while donating is that the items are in good condition. You can do so by putting yourself in the other person's shoe and ask yourself if you would buy the item. Also, The Salvation Army is not the only place ready to help you with donating but you have several options like we discussed.
All in all, hands down there's no better time to declutter and donate other than when you move homes. The end result is that you reduce the load of the truck and give the items you no longer need a new home.