How to Organize a Garage Sale Before Moving


VanLines Inc
Secure Storage
Easy Booking Process
Fully Trained Employees
GET QUOTE

Colonial Van Lines
Storage Services
Long-Distance Moves
Corporate Relocations
GET QUOTE

Moving APT
Vetting Process
Award-Winning
Available Nationwide
GET QUOTE
Our Take
Price
Rating
Minimum Shipment Size
Storage
Booking Deposit
Cancellation Policy
Quoting Options
Discounts

Best Overall Value


GET QUOTE

2+ bedrooms




Free 30 Days




10%

Free up to 72 Hrs

Phone / FaceTime / Text

Senior / Same day Booking

Best Industry Reputation


GET QUOTE

1+ bedrooms




30 Days




20%

Free up to 72 hrs

Phone / Facetime

Seniors Discount

Best Customer Service


GET QUOTE

1+ bedrooms







Free up to 72 hrs

Phone / Virtual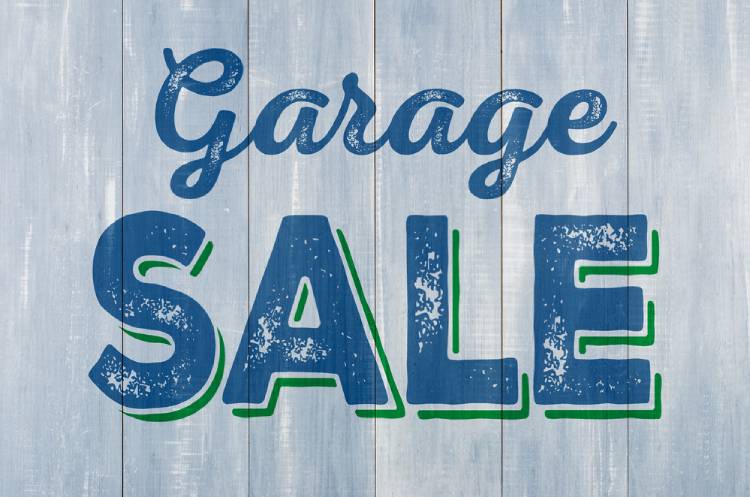 As much as we would like to plead the 5th amendment to avoid admitting it, when moving houses, we're all guilty of rummaging through everything we own, leaving no room, cabinet or wardrobe unturned. While in the process of doing this, you would probably end up creating 3 piles: things to donate, things to trash and things to pack. But if you carefully look through your things, you'll realize there's potential for a very interesting fourth pile you can assemble, which is 'items that will sell'. Now isn't that a classic example of, "one man's trash can be another man's treasure."?
Moreover, by selling items, there's something in it for you too. You can earn some extra cash and ensure you're not overloading your truck with things you no longer need. There are many different ways to sell items that still have a long shelf life left ahead of them, but are of no use to you. But in this blog, we'll look at the garage sale approach and share tips on making it a successful one.
Step-By-Step Guide On How To Organize A Garage Sale Before Moving
Step 1 – Declutter And Finecomb Through Your Items
This may sound like the most obvious step, but it must be the first thing for you to tackle. Just like you can't set up a shop without knowing what to sell, you cannot even begin to imagine what your garage sale will look like without having a list of all the items you wish to put up for sale. While you're in the process of decluttering, observe each room and scavenge for well-kept items that you wish to get rid of from your wardrobes, basement, cabinets and storage rooms.
Kitchenware, children's clothes, bicycles, cabinets, jewelry, toys, books and home decor are few of the items that do well at a garage sale. Since you would anyways be going through each room in your house for packing purposes, it would be much easier to find things that you would realistically never need or use again.
Remember, if you aren't sure you would purchase it, don't put it up for sale.
Step 2 – Create An Inventory, Categorize And Clean Items For Sale
Once you have your items ready, create an inventory of the things you wish to sell. It is also very important that you try your best to categorize similar items together. Mainly because you will need to have sections for your store. Clothes, crockery, jewelry, toys, kids clothes, adults clothes and shoes – each should fall in their own section. This makes it easier for the potential buyers to see and impulsively understand what falls in each category. You can also always ask your kids to help out with the toys and story books they wish to sell.
Post the process of listing items, ensure each item is cleaned thoroughly. This conveys that you take care of the things you're putting up for sale. Wiping down something old could actually give it an extra shine, putting in a little effort with how you present your item can help you get a sale.
Step 3 – Ask Yourself If You Have Enough Items For The Garage Sale?
Once your inventory is ready, you will know the exact amount of stuff you have to sell. But it's also possible that you don't really have enough stuff to host a huge garage sale. At this point, you should consider asking yourself if you can involve family, friends, neighbors from your street to club the items they wish to sell into your garage sale. You would also benefit from having more hands to help you with the sale and the store could get more attention.
When you club with others for a sale, chances are the message spreads further and across more networks of people. This ultimately increases the crowd of people you can expect at your garage sale. Depending on the people who are going to get involved, ensure that the tasks and funds are divided efficiently. We recommend that each group creates a sheet of their individual inventories, so there's less hassle when it's time to divide the profits. Keep all members of the sale in the loop of all the conversations and decisions to be made for the sale, this will help things go about smoothly.
Remember to pull a permit from your local authorities for a group garage sale after getting everyone's consensus on the date.
Step 4 – Advertising For The Garage Sale
Ideally, Facebook Marketplace, NextDoor, Craigslist and the likes are your go-to spots to place an advertisement that promotes your garage sale. It's free to place an ad on these websites and your products would travel to thousands of networks and groups who browse online to shop for offers.
You would need to imagine that you're working for an advertising agency while writing your garage sale ad. Word your sentences in a compelling way and ensure that the dates, time and location is extremely clear. Click good quality pictures of the pieces you think would sell like hot cakes. Don't forget to add them to the post after writing a small description of the items you'll be selling at your garage. If your community has a social media page or online group, go ahead and circulate a message about your sale there too.
Step 5 – Setting Up Shop
Now this is an extremely important aspect that to an extent determines the success of your garage sale. When it comes to setting up the place, you want to create an atmosphere that is not just appealing to the eye but also extremely organized. Think of it as mimicking the environment of big stores in malls, created to lure their customers but on a small scale. We'd also like to mention that if you feel your garage is not exactly in a good spot, you could consider hosting the event at a friend's garage that faces the street and has good foot traffic.
Here are a couple more tips you can use to organize the garage sale:
Decide A Theme
When you choose a theme, it helps people recognize your garage sale and it also allows you to stand out from the crowd. We suggest using one color theme for your entire sale and trying different ways to integrate that color to your messaging. For example, if you've decided to use fluorescent pink for your signs, stick to using this same color for the signs you'll put up for each section of items for sale. This makes your setup look neat and won't take you much trouble.
Pricing And Display
The key to pricing things is remembering that you got to price them to sell them. Ask yourself what you would pay for the item and don't forget that people would only pay garage sale prices so things must be decently priced. The bigger and more valuable pieces could be sold for upto $15, But then again, you must be mindful of whether the product is well-worn out or used. If that's the case, you should be selling it for way lower.
Once you nail the price, you would need to stick price labels on each and every item on sale. You can bundle up items that would sell better together. For instance, place well used baby clothes for $1 on an entire rack and put a huge sign saying, 'Pick anything for $1'. By clubbing items, your method of displaying is easy to grasp for anyone passing by and people tend to buy more in bulk.
When it comes to displaying, you have to ensure that each item is 100% visible to the customers passing by, so be sure to make arrangements for everything to be placed at an elevated height. Use tables so people can inspect the things they want to purchase. Most importantly, position them in safe spots to avoid any unexpected catastrophe.
Use Sign Boards
If you've got a permit from the local authority in your area, you can even direct people to your garage sale by putting up fluorescent color papers on streets poles and trees at intersections. It's a good way to point out where the sale is happening. Like we said earlier, decide on a single style of paper and pen that you would use on all signs. If you put signs in different colors, fonts and messaging styles, it can confuse people since there can be 2 or more garage sales happening at the same time in your vicinity. Below are a few lines you can use as a base for your messaging and signs to direct people. You can always make it more quirky and personalize the message to attract more people.
OMG look at that SALE!
Going going gone! HURRY last day of the sale!
Don't miss out.
We're having a "treat yourself" sale.
Treasure ahead, turn right.
Yes! This sale is really a big deal.
I like big deals and I cannot lie.
Junk paradise sale to your left.
You've reached 'Classy Garage Sale'.
Awesome Junk this way, keep driving straight.
Keep going you're almost there, turn left.
Play Some Music
Let's not underestimate how stressful garage sales can get. When the day comes to meet and entertain a huge number of people, it starts to get slightly overwhelming. However, you can always depend on some background music to help lighten the mood. We recommend selecting a playlist in advance so you won't have to worry about the songs that would play.
Set The Atmosphere
A great way to make your garage sale eye-catching is to add a gorgeous colorful string of decorative flags or balloons at fences or the entrance so you can draw in more people. To notch things up a bit more, you could also set up a small stall for lemonade or baked goodies. You could also keep chocolates around for people who visit your garage sale with kids. Having something that your customers can snack on while shopping around your garage is a small step that helps your sale stand apart from others.
Provide People With Bags And Change
Now, it's most likely that you would have a majority of walk-in customers who were in the area driving around and saw your garage sale. This means there's a high chance that they wouldn't have a bag on them or the exact amount of change to give you. This is why you must be prepared to have a couple of 1 and 5 dollar bills, as well as quarters to avoid the haggle over change. You also want to make sure that no customer in your garage leaves your home with the struggle of balancing 2-3 things in their hands, so be sure to keep bags handy to provide them with it. This way, they would probably end up buying more things. We also suggest keeping your eyes on the lookout for people who are in need of assistance and are trying to hold a lot of stuff.
Keep A Power Cord Available
If you have electronics like speakers or even something like a lamp for sale, people are most likely going to want to test the product out before buying it from you. Hence, it's always smart to have an extension cord and a power outlet to test these kinds of products. You don't want to let people into your house just to double check an electrical item, so ensure this is set up close to where you're going to be displaying electrical appliances. You can also set up a fan for breeze if you have an extra plug-in spot on the extension cord.
Dress The Part
When you have more than 30 people browsing over the items you've displayed, it can be difficult for them to spot you and understand that you're the person who they should be getting in touch with if they have a doubt. Which is why it's necessary that you either carry a colorful fanny pack or wear an apron or outfit that declares you're the organizer of the garage sale. If this is a multi-group garage sale, it's best if everyone onboard wears the same color shirt or apron so that people who are in need assistance to carry a large piece of furniture aren't awkwardly asking another customer for aid with transporting it.
Consign A Sweet Spot For Billing
Remember that billing items and packing them can be the tedious part because there's no room for making mistakes with calculations. We highly suggest making use of a calculator and having someone from the family who likes accounting to handle the counter. Don't place the counter at a crammed corner of the garage but try to position it at a spot where people can line up conveniently. You can also have photocopies of the inventory at the counter so you can keep ticking off the items that have been sold. If the price was lowered for any reason, ensure you have made note that you sold an item for lesser than the labelled amount. If you take these small steps, it will be easier to calculate the profits post sale.
Place A Free Box
If the main intention of this sale is to get rid of all the stuff you don't want to take to your new place, you can also place a 'free box' at your garage sale. In the free box, you can place things that you very well know can't hold a price tag, but you hope that someone else can make use of it. The free box could comprise of small things like a decorative pouch, crayons, pencil boxes, coloring books, tiffin containers, stuffed animals and anything else you can think of.
Step 6 – Have Plan B For Things That Didn't Sell Out
The last step of the sale process is to have a new plan for things that didn't get sold. Today, you can sell clothes for cash online on various websites like eBay, Poshmark, ThredUp and more. Don't worry about not getting everything sold because you can always list these items elsewhere and still make a profit.
---
Final thoughts
Hosting a garage sale is a great way to let go of all the unwanted clutter that you don't wish to take along to your new home, and make some cash in the process. We hope you can plan out your garage sale efficiently and make an unbelievable profit with the tips we've shared above. While getting everything together for the sale won't happen overnight, remember to have fun and also enjoy the decision of having a garage sale when the day comes.
Also See: Tips for Organizing your Garage
Frequently Asked Questions
What is the fastest way to organize a garage sale?
Have an intense decluttering session at home to collect all the items for your garage sale and then make sure to advertise it well enough through word of mouth, social media, posters, newspapers, as well as online marketplaces. The key to selling your items fast at a garage sale is to keep all your items in a well-organized and systematic manner. If a potential customer is interested in buying a few similar items, let them be able to find things as easily as possible.
What should you not sell at a garage sale?
Dirty clothing, used undergarments, broken appliances, outdated electronics, and used skincare or beauty products are all items that you should not be selling at a garage sale. Most of these items are unsanitary in nature and you won't be able to find a buyer that easily as well.
How do you have a successful garage sale?
The timing of your garage sale and how well you advertise it are key factors that determine the success of your sale. Spring is a popular time for arranging a garage sale. Make sure to use different advertising methods like posters, newspapers, and social media to let as many people know about the garage sale. Start your garage sale on time and display all your items in a neat and well-organized manner. You can also offer some special discounts or goodies to attract more customers to your garage sale.
How do you price items for a garage sale?
The present condition of an item, its utility, as well as its popularity among people are factors based on which you can price items for a garage sale. In general, all items that you display at a garage sale should not be priced at more than 10% of their retail value. Since many of these items are either partially used or have just been kept idle for quite some time, you cannot expect to earn huge profits with them. Even though this kind of pricing may fetch you just a small amount, it definitely increases your chances of selling more items at the garage sale.
How do I organize my garage?
A garage is likely to become like an additional storehouse for all the things that do not find a place inside the house. Naturally, organizing your garage every now and then is important to clear all the unnecessary mess. You can start by grouping your items into different categories such as sports and recreational equipment, camping gear, garden tools, seasonal décor, automotive, and recycling items.
Donate or remove the items that you won't use any further or are too old to be kept now. Once you've segregated the items into different categories, you can store them together in cardboard boxes or container bins. Simultaneously, you can also draft a suitable layout for your garage and install built-in cabinets or modular storage as per your needs. Lastly, you can organize your grouped items in the garage as per your layout and make sure to maintain the space for as long as possible.
What should I put on my garage sale table?
Items displayed on tables are more likely to grab the attention of buyers at a garage sale. Ideally, you should try and arrange as many of your items as possible on tables but if you don't have enough table space for everything, then make sure to at least keep all your high-value merchandise that you definitely want to attract buyers for on the tables. All fragile and delicate items that could easily get damaged if left scattered on the ground should also be placed on a table. For other accessories like shoes and bags, you can neatly line them up in a box or on a table for display and use hangers to display clothing items.
What sells well at a yard sale?
Similar to a garage sale, good quality clothing, board games and puzzles, gaming systems, books, tools and equipment, and dishes and glassware are some of the items that sell well at a yard sale. Home décor items and furniture pieces are also most likely to find potential buyers at a yard sale. You can try your luck with some unused or brand-new items and electronic appliances that are in good condition as well.
What sells the best at garage sales?
Vintage dishes, glassware, casseroles, power tools and garden tools, furniture, costume jewelry, books, games and toys, appliances, and exercise equipment are some of the common items that sell the best at garage sales. Gently used clothing in good condition and camping gear are also popular items that sell quickly at a garage sale.
Is a garage sale worth it?
When you have a good enough collection of items to sell after a decluttering session at home, only then would it make sense to organize a garage sale. You do have to invest a lot of your resources in terms of time and effort when planning and organizing the sale. So, if you have only a few items to display and aren't even sure if they would sell, having a garage sale would probably not be worth the effort.
However, if you have some rare and antique pieces or a collection of items that you know are in high demand, you can consider having a garage sale to earn some sweet profits. In the end, weigh the time and efforts that you'd be putting in against the returns that you'd get from the sale, and then you can decide if a garage sale would be worth it for you or not.
What is the best month for a garage sale?
Ideally, the spring months from March to May are considered to be the best months for a garage sale. Not only is the pleasant weather convenient for you to set up a garage sale but it is also a popular time for people to move out of their homes and go on a shopping spree.
How can I maximize my garage sale profit?
The way in which you price your items in a garage sale will largely determine the profits that you earn. But before that, you need to make sure that you have enough items to display at a successful garage sale. Once you start pricing your items, you have to be careful to neither price them too low below their value nor too high for people to lose interest in the item.
Ask yourself the price you would be willing to pay for the item and you can also check online marketplaces to get some idea about pricing your items. In addition to that, try to make your garage sale look as attractive as possible by advertising it well among friends, neighbors, and colleagues. Make sure to organize your merchandise in a systematic manner so people are more interested in having a look around your garage sale.
How do you hang clothes for a garage sale?
Using hangers is the best way to arrange clothes for sale. You can use a portable clothing rack to hang your clothing items for display at a garage sale or you can also arrange for a makeshift alternative like an old ladder or a clothesline strung between two sturdy tree branches. If you can't arrange to hang your clothes, you can also display them in a neatly folded pile on a table or in a box.
How can I declutter my garage quickly?
Planning out your space and grouping all the items into different categories will help you declutter your garage quickly. Just as you would do for items in your house, start with making three piles for all items – 'keep', 'donate', and 'throw away'. Segregate your items as per the plies and then regroup the items you've decided to keep. Device a storage plan for your garage and make the necessary arrangements. After that, all you need to do is organize the items as per your layout and try to maintain it clutter-free for as long as possible.
How can I show my garage sale without a table?
Make use of plastic bins, cardboard boxes, clothing racks, and plastic crates if you cannot arrange for a table to display your items at a garage sale. You can use hangers for your clothing items and boxes for books, records, costume jewelry, and other miscellaneous items. You can also try to repurpose a dresser to display your dishes, glassware, or any other kitchenware.
How much should I sell clothes for at a yard sale?
Adult clothes like pants, shirts, and sweaters can be sold for around $3 to $5 per piece while baby clothes can be sold for $1 to $3 per piece on average at a yard sale. Coats and jackets could be priced between $5 to $15 for every item of clothing. In the end, the price of each item would depend on its quality and condition. If you have brand new clothes with the original price tag, you can price them a little higher than the average.
Can you sell crafts at a garage sale?
Yes, artwork and craft pieces are also considered to be popular items sold at a garage sale. You may or may not need a permit to sell things at a garage sale based on the local guidelines of your neighborhood. It is best that you confirm the same with the local authorities as well before organizing a garage sale.
Do clothes sell well at garage sales?
Clothes are said to be one of the easiest items to sell at garage sales; however, they need to be gently worn and in a good condition. Thrifting is gaining popularity as a trend now and people are more likely to buy used clothing for cheap prices as long as they are in decent condition. Dirty clothing or used undergarments are a big no for reselling at a garage sale or even otherwise.
Is it better to donate or have a garage sale?
Ideally, donating your items is definitely a good choice as you can help out another person in need. But if you too wish to earn a few bucks, you can choose to organize a garage sale that is beneficial for you as well as your potential buyers. However, just make sure you have enough items to display at a garage sale otherwise it might just be better to donate those few items.
What is the difference between garage sale and yard sale?
Technically, there isn't any real difference between a garage sale and a yard sale, as in both cases a person has decided to sell things off that they no longer are in need of. The only major difference between the two terms is based on the location at which the sale might be organized. While both terms are used interchangeably by people in day-to-day life, a sale that is organized in a garage would be more popularly referred to as a garage sale and the one that takes place in a yard would be called a yard sale.
Also See: Things to Never Store in Your Garage