Tips for Organizing Your Garage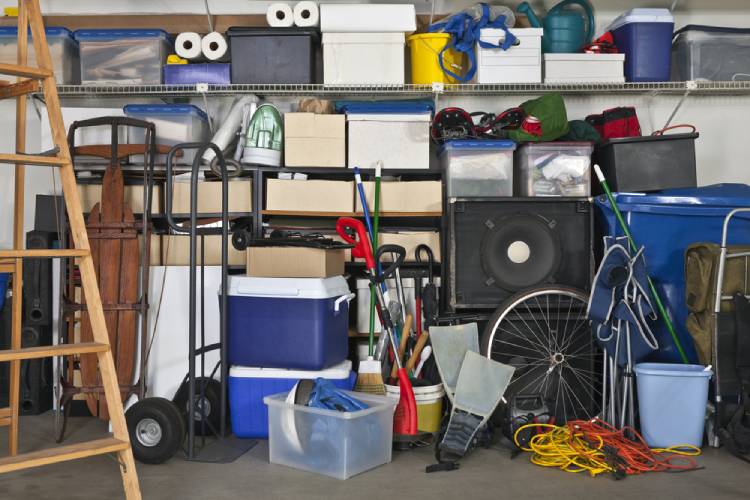 You have a good-looking car that you want to protect at all costs, and protect it from dust, bird poop, leaves, and the list goes on. Cleaning and maintaining a car is like a full-time job, but in the end, it's all worth it.
But when your garage serves both as home to your beloved automobile and storage for all of the clutter that collects around your house throughout the year, things can get pretty hectic (and stinky…). But, you would also hate to leave your car in a garage that isn't organized and kept clean.
Careful organization of your garage will help you do just that and also give you more room for other things, like storage for other stuff.
Here are some tips for organizing your garage that will keep everything neat.
Find the Right Spot
When it comes to organization, there's nothing more important than finding the right spot to store things. Forget about trying to fit that huge box you just brought in somewhere random and cramming it into a corner. You will have no idea where it goes when you need to put it back later, making your life much harder.
Instead, take the time to find the right spot for everything as soon as you bring them home. For example, you can do things like hanging up your garden tools in a dedicated place or using bins of the same size to organize all of your gardening supplies.
Declutter your Garage of Unnecessary Items
The first and foremost thing about organizing your garage is to declutter it. You'd be surprised at how much space you've got that you didn't even realize. The reason for decluttering is to maximize the number of items that can be put in your garage. If you are keeping all the unnecessary items, then there's no way to keep things organized, let alone even find anything.
Box up or bag up your unwanted items and store them properly so you can get rid of them later.
Keep like Items Together
Another important thing in organizing your garage is to keep items/things together so that they are easier to find. Grouping certain types of things will help you differentiate between one another, thus allowing for more storage space.
For instance, a simple way to go about this is to put all your gardening tools in one spot and put it next to the lawnmower. Also, if you already have a pegboard or wall space for hanging items, then that's another great place where you can keep certain items from being jumbled around.
Categorize Your Belongings
Make boxes and categorize your items in those boxes. Doing this will give you an idea of how many boxes you're going to need for your garage. Take into consideration what uses all the space and what can be grouped. For example, if you have lots of tools, keep them all in one box, or if you have toys, brushes, etc., they can be put in separate boxes.
Also See: Tips to Pack Garage and Store
Create more Storage Space
If there is still not enough room after decluttering your garage, then you can create more storage space in the following ways:
Add shelves to up specific areas in your garage. This is a great way to store heavy or large items, which cannot be stored anywhere else. You can go about by adding shelves on either side of your garage for larger items, so they don't take up too much space. Another great thing about adding shelves is that you can see all your stuff which makes it easier to find what you're looking for.
Add hanging racks to store items high on the wall so they don't occupy floor space. Hanging racks are also great for getting rid of clutter and keeping everything you need still organized and accessible.
Attach a pegboard to the wall and use that for hanging things on. A pegboard is perfect for tools because it gives you all the surface area you need and saves space above your head, making it easier to get things down, especially if they're hanging too high up. Plus, it's easy to organize items on a pegboard, and it's also cheap.
Use all the walls by adding hooks for things like coats, hats, tools, etc. Things hung up on walls only take up space when they fall off or are left behind. Hooks can help eliminate this problem by keeping everything in one place that's easily accessible. By adding hooks on the wall, you've just converted that space into something useful.
Clear Out the Hard to Reach Spaces
Some areas of a garage are more difficult to get at than others. You want to make sure that you get these places, which is why it's important to think about decluttering and categorizing your stuff.
If you have an area that's very hard to reach, you can put things in bins or use boxes so you can stack them up on top of each other. You want to get rid of the clutter because that will only lead to dis-organization and not finding anything.
Block Air Leaks
Cover all cracks and damages in the walls of your garage. You don't want any molds or mildews growing due to moisture from the air outside. If you don't, that can cause major problems with your belongings.
Cover up all cracks and openings to the inside of your home as well. This is to keep out rodents, bugs, etc. because they can get in through those holes and start nesting, which will also lead to damage and clutter.
Create a Work area in One Corner of the Garage for Projects and Repairs
Keep in mind that this space should always be left clean and functional at all times. Squeezing an area for projects can get messy quickly, so it's important to ensure everything is put away after you're done with a project.
Organize your garage by keeping things together, making use of your walls, and creating more storage space. This way, you'll have an organized garage, so everything has its place to be kept. You can also create work areas for projects or repairs, so everything is useful at all times. Read our article on Organizing Garage sale before you Move.
Keep the Floor Clean by Using a Mat or Covering it with Epoxy Paint
Keep the floor clean by using mats or epoxy paints. This will avoid dirty footprints and dust marks all over the garage floor. You can also clean it up with a broom, but this will move dust into other areas, which shouldn't give more of a dusty smudge kind of look. A coat of epoxy paint can allow you to wipe clean oil stains as easily as cleaning a kitchen countertop.
Also See: How to paint a Concrete Floor
Seal the Threshold
To avoid mice, squirrels, or any creepy crawlies from entering your garage, ensure the garage door is sealed shut. For this, you must make sure there are no gaps between the garage door and the floor. So, maybe you can add a rubber strip at the end of the garage door; by this, the door will create a vacuum pressure against the floor, making it impossible for anything to pass through, including air.
Add some Lighting
If you have a cluttered garage, it can be difficult to find things or even fit in there to look for them. Add some lighting to your garage, which will make it easier to see inside. You can have a light right above your work area, so you'll never have to struggle with the lighting again.
By adding low-wattage light bulbs, you'll save on energy costs while getting excellent illumination for finding what you're looking for.
Conclusion
You want your garage presentable and easy to access, not a horror show! Garages can become a nightmare to work with if you don't take the time to organize them. Don't let your garage go from being an asset to liability by forgetting about it and letting clutter pile up on its floor. The following list of tips for organizing your garage should help get you started, but please feel free to contact us as well! Our team is waiting eagerly for this opportunity because we know that when garages are organized, they create space inside where people love spending time working on their projects or having family dinners together.
FAQ's
What is the cheapest way to organize a garage?
The cheapest way to organize a garage is to keep it neat. This will take some work, but you won't spend any money on products. The next option is to buy boxes and bins, plastic containers, and other storage solutions for items that don't have a place. Cleaning up your garage should always be your priority.
What is the best way to organize a garage?
The best way to organize your garage is to create work areas for projects. So, make sure that at least two small work areas are in one corner of the garage, one for painting and another for construction. This will give you the space you need to complete tasks without cluttering up the rest of your garage.
What is the best way to organize tools?
The best way to organize your garden tools is by having a place to store them where they are easily accessible. You do not want to go searching all over the garage to find that shovel or rake when you need it quickly. So, dedicate an entire wall to tools and keep them hung from a nail or peg. However, you can also have a small corner where your rakes and shovels are stored inside big bins, so they don't get in the way of other things.
What should not be stored in a garage?
It would be best if you did not store anything in your garage that is flammable. This means no gasoline, kerosene, or propane tanks. You should also not store any paint, food, clothing, and propane tanks. Also, do not store any aerosol cans inside the garage because they are highly explosive under the right conditions. Finally, avoid storing any chemicals in your garage because they will contaminate anything around them and be difficult to clean up if ever spilled.
What can be stored in a garage?
You can store your lawn equipment such as leaf blowers, weed eaters, and string trimmers. Also, you can keep bicycles inside the garage. You can keep the old items that you do not want to get rid of but don't have the space for either inside or outside of your garage. You can also keep your car in the garage; make sure to leave a window or two open so it doesn't get too stuffy inside and that you remember to run the engine every couple of days while it is parked inside of there.