How to Downsize When Moving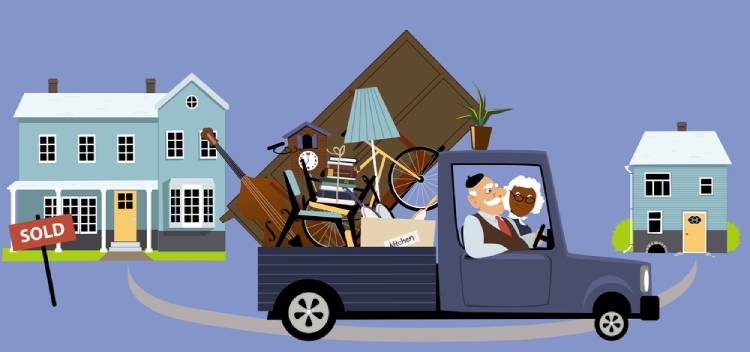 Downsizing your home is a challenging task – while it may leave you feeling fulfilled, it is still hard to part with so many items you'd rather put into storage. There's several reasons people downsize their homes – maybe you want to declutter Marie Kondo style, or maybe you're left with no choice. How to downsize when moving is a different realm altogether. Not only do you have the stress of moving, but also of downsizing correctly. After all, the last thing you want to do is get rid of something only to later realize you need it or miss too much!
Just like most other tasks, the more organized you are with downsizing, the better you can go about it. Read up on our comprehensive guide on how to downsize when moving.
A Floor Plan Of The New House
Nothing beats getting an understanding of your new house to see what can fit where when downsizing. Having a floor plan of the new house will not only help you understand what can go and what can stay when downsizing, but will also help avoid any mishaps like your furniture being too big to pass through the doorway!
You will have to physically be at the new house to get the layouts, and it'll take up some time. Make sure you clear your day and arm yourself with some good measuring tape, a notepad and a pen. Measure the doorways and rooms of the new house, and use this framework to create a rough layout of the house. You can always be as accurate as possible by maintaining the ratio of measurements.
Next, measure all your furniture and items, and use pieces of cardboard to create movable pieces for the same. Maintain the same scale you used for drawing the room layout. If all of this seems too much of a hassle, use technology! There are online softwares and mobile applications available to create an accurate 3D model of your house and your items.
Once you have these layouts and templates in place, play house! Figure out what fits and where it fits best, what is too oversized or too mismatched, and what can be squeezed in. You may have certain oddities crop up, like having the king-sized bed fit perfectly but the wardrobes being an impossible fit. In these situations, remember that you're better off trying not to stuff the new house with as many things as possible and let them go.
As tedious as this step seems, it sure is an important one. Many people get rough layouts of their new homes made even when there's no question of downsizing. You save up on loads of time, effort and money, as it helps you avoid packing and shipping furniture and appliances that you realize (only too late) won't fit in the house. It also helps you inventory your items better so you have a clear idea of just what you will ship, and which items will go into which room.
Maximizing Storage Space
Knowing the layout of your new house is important to understand how much space you have to utilize. While you have now got an idea of where your furniture can go, it is time to get more detailed in terms of maximizing the space you can use.
Try to find out as much as you can about potential storage space in the new house. This includes dimensions of closets and cupboards, and shelves and cabinets. In terms of furniture, think of whether there is space to be used below or behind them as well.
Try to create as much space as you can by using furniture created for it. Look into foldable beds that have storage spaces underneath, and tables that have shelves below them for utilization. If your bed doesn't allow for storage, invest in bed risers. Every inch counts, so keep that in mind and plan away. Use vertical clothes hangers and buy shelves to place in the wide part of your wardrobe to create more shelving space.
Look into using vertical wall space for storage by using floor-to-ceiling shelves and fixing temporary or permanent hooks into the walls to utilize them for hanging and fixing other things.
Be smart about space. Have boxes that are not urgent and will probably stay packed for a decent while? Place them one on top of the other and cover it with a sheet to make a makeshift table-structure. Keep rarely used things like suitcases underneath beds or on top of cupboards. For even more space, pack things like all your winter wear in the suitcases, and remove them only during wintertime, saving you closet space.
Individually Sorting Every Item
Sometimes, you end up packing a lot of old knick knacks and other junk when moving homes, simply because you have the space to accommodate it. But when downsizing, every last item matters, no matter how big, small, old or new it is. Downsizing is a painful process mainly because it involves having to get rid of items that may still have some use, worth or value left, and deciding to retain only those with high use, worth or value.
Sorting out each item individually may seem like a mammoth task, but you can always take it room by room. When sorting, divide items into three piles – those that make the cut, those that need to go, and those you can't make up your mind about. We recommend beginning with rooms that generally have the mist clutter and are often used as dump-the-junk rooms: the garage, basement and attic (if you have one) are good rooms. The good news is you are guaranteed to find loads of things accumulated over the years that you can immediately get rid of without hesitation.
Move on to more important rooms – don't even skip out on the kitchen as you can get rid of applications and old, unused dishes. Check every shelf and closet space as well, and clear out a big dining table to lay everything out on when emptying cabinets and drawers.
When considering what to keep and what to chuck, try to be as practical as possible. Old items will indisputably need to be left out. If the item or appliance has been well used and is running its course, don't hold onto it. You'll have to replace it in the near future anyway, so save yourself the time and money it'll take to pack and ship it.
Items with a lot of sentimental value can stay, but things like takeaways from every wedding you've attended need to go. Items that are old but still in their boxes and never used can go as well – these can easily be donated to someone who is in need of them. If you're looking for some money on the side, these items can be sold off as well.
When it comes to the 'in-betweens', follow the 'One Year' rule that has stood the test of time. Apply this rule to everything – clothes, appliances, household items, souvenirs… if it hasn't been used in the past one year, it needs to go. You won't feel it's absence, and it would've been used had the need arisen. Only spare items that are expensive, have very specific uses that don't come around often, or are difficult to come around.
Use Technology To Your Benefit
Like advertising, technology is omnipresent and it impacts almost every aspect of our lifestyles. Still having trouble downsizing during a move? Turn that handy smartphone into your moving assistant. From clearing the clutter, to selling what you no longer need to hiring packers and movers, you will have access to numerous apps. Your smartphone can undoubtedly be a great asset. The best part? You can use technology to your benefit when downsizing during a move:
Use an app: over the years, many apps have popped up to ease the stress and strain of moving home. Apart from hiring the right movers and helping with 3D layouts, there are apps that can help you scan documents and photographs. They are built to take accurate photographs and digitally fix the image such that you get a perfect scan on your phone. This is useful when dealing with old photographs and documents that are collecting dust. Make sure to properly read through any documents before deciding they belong in the trash, and ideally take a scan of every single one just to have them on hand.
Online storage: Online storage or cloud storage is the modern-day miracle at our fingertips. With plenty of space to store photographs and documents in an organized manner, Google Drive and Dropbox are your go-to for you.
E-book Devices: Devices like Kindle are a marvel when it comes to saving space without having to sacrifice your reading hobby. If you're a bibliophile, seriously consider making the switch to digital for the sake of saved space. You can always sell off or give away your old books, so you know they're going into responsible hands.
Make a list or many lists: Last but not the least, use your smartphone/tab/laptop to compile your lists. The only danger is accidentally deleting it, but using an app with online backup storage solves that problem in a jiffy. Physical lists can easily be lost or misplaced, and if this is something you're worried about, just let technology do it for you. Reminders and notes on your phone will make all your tasks easier for you and your family.
Apart from using your phone, think bigger and make copies of CDs and DVDs, to be stored on a hard drive. You can also take photographs of things like your kids' art projects and such, that have gathered dust but still hold a fond memory.
Retain One From The Lot
As humans, we tend to have a lot of emotional attachments to things that have been made for us or gifted to us from people we cherish. We collect them, like shells on a beach, to store them for keepsake and sentimental value. Sadly, a lot of these things can't make the cut when downsizing. But the good thing is the most important of all of these can certainly squeeze in! All you have to do is prioritize about which ones are the most important or hold the most value.
It makes no sense holding onto every single pair of baby boots that your now-teenage kids wore. Similarly, rugs or jackets knitted by your grandma or favourite aunt are precious, but they can't all be taking up bulky space in the closet. Saving the crystal goblets from your wedding makes sense, saving all the leftover giveaway gifts does not. Your emotions and fondness is towards that moment or occasion, and the items just serve as representatives of that. Hold on to a few of them so you save up on space, but make sure those few are the ones you cherish the most so the memories remain.
Decide The Fate Of Items That Didn't Make The Cut
Parting with items you cherished or valued is never an easy task. But a soothing balm to the pain is choosing where they will go next, so you know they will still be valued and appreciated. When it comes to deciding where your items will go, start with family members and close friends. If you know a friend loves to read, make sure they get some of your books. Your teenager's kiddie toys can be given to their younger cousins if they are still in good condition. Also think of who could use appliances. If you're not sure who could benefit from what, simply shoot off a message on the family Whatsapp group.
See also: How to Pack Books for Moving
Secondly, things like rugs, sheets and pillows are always useful for people who need them. Look into donating things around the house that are still in good condition and have been never or only slightly used. There are several donation facilities across America that always have people in need of a little help. Several of them even accept all kinds of items, from furniture and household items to clothes and appliances. Knowing that your things are going towards making someone happy and fulfilling a need will make the process so much easier for you.
Steps On How To Downsize When Moving
There's loads that go into downsizing when moving, and we've tried to get into and cover as many aspects as we can. However, there's a few objective steps to it as well, that encapsulate bits of this blog to help you get through this in as organized a manner as possible. Read on for the steps that answer how to downsize when moving.
Start early: Downsizing is not just something you try to attempt while contacting movers, gathering up boxes and packing all at the same time. It takes up a surprising amount of time, no matter how practical and objective you decide to be. You're bound to find things long forgotten about, and if not the floods of nostalgia, then simply the effort to unearth it all is sure to take up time.
Preparation is key: Make sure you have everything you need to downsize before you start. This includes a camera or a phone for all the inventory photos, a hard drive, and boxes for the different piles of things.
Space it out: Parting with all your sentimental things at once is sure to take an emotional toll, which in turn will impact your ability to finish the downsizing and get on to the packing. Try to alternate between things of sentimental value and other things that you aren't attached to, like kitchen and household appliances.
Take your time: Take the time you need to go through with it, which is another big reason you should start early. Rushing through won't leave much space for emotions but it is bound to catch up with you once the chaos has passed and you're in your new home. You don't want to start life in the new house pining for the things you've lost.
Try to stay positive: Your mindset is what will help carry you through this challenge. Set everything down into a to-do list so you have the mental satisfaction of ticking things off at the end of the day. Keep reminding yourself that the more things you get rid of, the easier and cheaper your move will be. Read up about minimalism as a lifestyle and try to look at it as a transformative process, rather than one of loss and sadness.
Set the mood: Play some of your favourite music and sing along, or call your friends over to help you out. Treat them all to some pizza and beer as a thankyou treat, or head out for dinner once the downsizing is done. This is a good reminder that though you are parting with several physical items, the emotional bonds around you will continue to strengthen you.
---
Overall, remember that downsizing is a process that will eventually leave you more focused, surrounded by things you really need and value. Letting go of tons of old things helps free you of the emotional ties to physical objects, while retaining the memories you had about them. Plus, as the old saying goes, getting rid of the old makes way for the new! Make sure you choose the right kind of movers for your trip, whether it is interstate or within the city itself. This should be your first step after downsizing, so you can get a head start on planning for your move by beginning with the right decisions.
Also See: Pros and Cons of Downsizing | Best Apps for Selling Stuff