Short Distance Movers – Tips, Cost & Services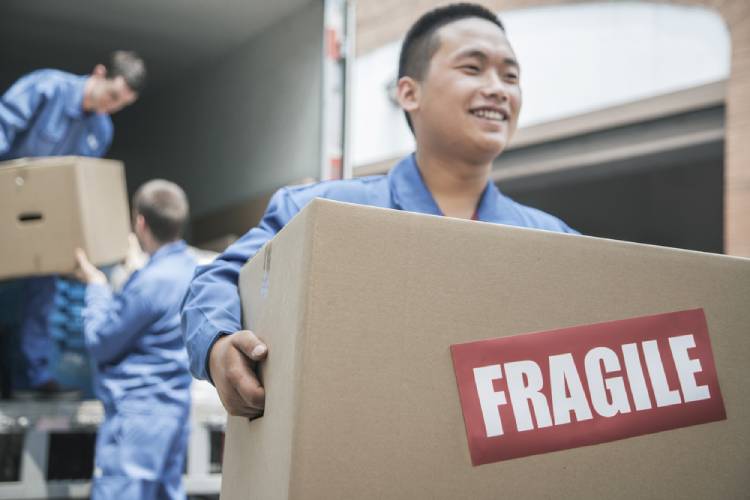 Not all heroes wear capes. Some just drive trucks, bubble wrap stuff and move your belongings. For the numerous ways in which movers can save your time, energy and give you mental peace, it's fairly justified to think of them as heroes. Then again, it's about choosing the right moving service provider who can efficiently take care of all your needs.
Picking short distance movers often comes with numerous concerns and questions.
There might be a general perception that short distance movers can be expensive. While that's not entirely wrong, there's a lot more to it. Quite frankly, it's not possible or fair to take the entire category of short distance movers and brand them all as cheap or affordable. It's not just about the price. It's also about the kind of service you are searching for. At the end of the day, it boils down to a plethora of variables when it comes to short distance movers.
So if you're trying to figure out how to pick moving companies near you for local moves, we got your back! While we're at it, we are also going to help you with things you should keep in mind when moving locally, the general costs involved with short distance movers, and also tips on handling a few aspects of the move by yourself. So keep reading our comprehensive guide, covering everything under the sun when it comes to Short Distance Movers in the US.
How To Pick Good Short Distance Movers?
Let's face it, nobody wants to compromise on the safety of their belongings. Even more so, it doesn't make sense to spend money on something which doesn't give you the value and level of service it deserves. Doesn't matter where you live, there's always a bunch of options to select for moving companies. But the hard truth is that a blockbuster of a moving company won't always be the best choice for you. This is where people often get deceived.
You shouldn't settle for big names that you hear. But neither should you zero down on just about any moving service provider that Google throws your way when you search for moving companies in your locale. The factors to consider in this case are both external and internal in nature. Meaning, the definition of a good short distance mover isn't reliant only on the quality and price they offer, but also by how good a match they are to your specific needs.
So always been mindful of these factors for picking good short distance movers.
Reviews
How well a moving company is rated by people who have used their services tells a lot about them. Reliability is a major aspect of decision making which cannot be compromised upon. There are many ways to gauge this reliability of moving service providers in your locale.
1. Google Reviews
Whatever the industry, product, or service, Google Reviews have become a go-to for people across the globe to hear the opinions and thoughts of other people. The reason Google Reviews is so helpful is because it's for the people, by the people. It's not just about how many stars a company gets on an average, you actually get to read the anecdotal accounts of people's experiences with a company's service too. Google being one of the largest companies in the world makes it all the more easy to have faith in the reviews you find there.
2. Better Business Bureau
An organization which came into existence with the very purpose we are talking about. Better Business Bureau gives you a clearer picture of how trustworthy an organization is in its entirety. They not only allow users and customers to share their testimonies and ratings, but they also do their own thorough background research on various companies, and rate them accordingly.
In a world where trust can sometimes be hard to come by, BBB counters that with reassurance, by always upholding their robust guidelines for business practices. Organizations that diligently follow these benchmarks set in place by Better Business Bureau are then rated in accordance. Consequently, they are provided with an official BBB Accredited Business stamp, without any bias.
3. HomeAdvisor
HomeAdvisor is a platform designed to make the lives of customers easier. A service driven organization, HomeAdvisor not only helps you get in touch with professionals from your locality, they also ensure that the listed professionals on their platforms meet a certain standard and are thoroughly inspected. As an organization which focuses on home services such as redecoration and maintenance, HomeAdvisor also enables consumers to share their experiences with the various professionals whose services they used.
These unbiased accounts of the customer experience shared by people serve as a good point of reference for anybody who comes across various service providers. Considering how HomeAdvisor majorly operates in the same space that moving companies fall under, their reviews can be pretty relevant. Undoubtedly a great way to gauge how reliable a particular moving service provider in your locale is.
4. Angie's List
Angie's List happens to be the parent company of HomeAdvisor. However, you will often find Reviews by both Angie's List and HomeAdvisor for a particular moving service provider. In this one area, they do function independently to some extent. But given the nature of their business, Angie's List is a great option to read customer reviews and understand how reliable a particular company or service is.
Since Angie's List serves as an online directory for local and national level businesses, they focus on providing a platform for customers to share their collective experiences. This in turn creates a comprehensive crowdsourced database of testimonials which can be really insightful for those seeking a specific service.
5. ThumbTack
Another platform that's focused on bridging the gap between organizations, professionals and consumer services. Thumbtack is not too different from HomeAdvisor. Their efforts are also focused towards helping people find the right professional or service provider in their locality.
Since they're a consumer facing service that serves as an aggregator, Thumbtack also has a feature which allows consumers to share their reviews for a particular company or professional. Consequently, Thumbtack becomes a good platform to read valuable customer reviews about various moving companies in and around you.
Your Needs
Now, this is a very crucial part of picking a befitting moving service which isn't paid enough heed to. You have to be extremely clear and decisive in the process of planning and decision making. One major part of this is knowing things like where exactly you need help, how much help you need and whether you have any budget constraints. Once you have clarity of thought regarding such things, picking the right short distance mover becomes much easier.
Few things to keep in mind when it comes to understanding your needs:
1. List down areas where you would need an expert's service.
Example: Transportation, Moving A Piano, Loading Boxes, etc. Be as specific as possible here.
2. Figure out things you want to do on your own.
In most cases, it's just packing, but you might have a vehicle of your own. You could use some other services like packing materials for fragile items.
3. Understand how many pairs of helping hands you will need.
Don't underestimate the importance of this. Also, the helping hands can be experts from short distance movers and even friends, family members or neighbors. That's for you to figure out and decide.
Of course, it goes without saying that in the back of your mind, you will always know how many people the move is for. Even things like how big an apartment, condo or house are you moving, will be lingering inside your head. Which is a good sign, because being mindful and aware of every factor will help ensure you don't underestimate or overestimate how challenging the move will be.
Figuring out these tiny details which would help you zero down on a very specific short distance mover which is just right for you. For example: there are two different moving companies in focus. A full-service moving company which has every service imaginable but their strength lies in corporate relocations. And then another one which specializes in packing heavy and fragile objects, but don't provide every service like the first company.
Now in the scenario mentioned above, let's assume that both the moving companies have fantastic reviews. But still, Option 2 would be more appropriate for you if you are only looking for professional help with packing and moving appliances or furniture. Option 1 would make sense if you are a small business owner who is looking for a short distance mover to help with your office relocation in the same locale/neighborhood.
Legitimacy
Another important way to gauge short distance mover is to understand their level of legitimacy and professionalism. This could be gauged by finding out whether their business is registered with the US Department of Transportation and if they have a valid Motor Carrier License.
In some cases, you should also be looking for appropriate registration with the Federal Motor Carrier Safety Administration and a license with the Public Service Commission. Do note that in some cases, these registrations will be specific to the city or state that the business is based out of.
Services Offered By Short Distance Movers
Now this can vary from one company to another. And just because a company offers all the services doesn't mean they're a good one. Similarly, just because some other company offers very niche services only doesn't make them reliable either. Don't fall for these traps and archaic marketing tactics. Choose a company only on the basis of their merits and quality of service offered.
In any case, short distance movers, regardless of them being massive national moving service providers or local companies, can have just about any and every service. Let us give you a list of the various kinds of services which short distance movers traditionally offer. We will also throw into the mix some services which moving companies don't commonly provide, but can be pretty helpful nonetheless.
1. Moving
This is just a matter of you getting a professional transportation (Van/Truck) to move your goods from your present location to your new one.
2. Loading & Unloading
Got heavy boxes and crates but need someone to put it in the van and then get it out after you reach the destination? You can get that as an individual service too, apart from getting it in various combinations that numerous companies offer. Commonly as a feature of Moving.
3. Packing
This is a very layered service because you can get both partial packing and full packing as a service, depending on the company. It could also include just fragile packing, which is specially done for stuff like glassware, chandeliers, mirrors, etc.
4. Crating & Uncrating
An extension of packing which is usually dedicated for specific kinds of objects. Usually the bigger, heavier and/or things which are fragile in nature. Basically, after the normal packing and padding procedure, these things are put in wooden crates for added protection.
5. Assembling And Disassembling Of Furniture
Some companies offer this as a part of their general moving/packing services, while some offer it as an individual service which has a different price of its own.
6. Removal And Reinstallation Of Appliances
You might not always be well-versed with these things and it's totally alright. You can always have professionals help you out here.
7. Storage
In situations where you might need a temporary storage space, that's always an option too. It could be because your new place isn't ready yet, or maybe it doesn't have enough room for all your belongings. You get storage services on a rental basis.
8. Move-in And Move-out Cleanup
Now this is one of those services which every moving company won't offer. Moving comes with a lot of junk that needs hauling. This is where you can pay for helping hands too.
An important thing you shouldn't forget is that a lot of these services, if not all of them, can be combined. But they also serve as individual service offerings in a majority of cases. You can also add to the list something like shipping a car/motorbike/boat from Point A to Point B.
Average Cost Of Short Distance Movers
Before we go on to get into the numbers game, do keep in mind that these are all merely approximate figures. Not set in stone. Final prices always depend on numerous variables such as distance of the move, weight and volume of items to be moved, number of movers needed, nature of service you need, the city or town you're from, and finally, the moving company itself. So your price could be more or even less than those we share here.
Also, keep in mind that there are many elements involved in the cost of short distance movers. Different services have different pricing structures, depending on the company and their way of functioning. So let us give you a generalized idea on the same.
See also: Calculate Cost of Moving
Approximate Fee For Moving A 2-Bedroom Apartment
For a distance of about 50-100 miles, you can expect to pay between $400 and $850, assuming the weight and volume of your belongings are the average amount. The reason it's such a wide range of price is because the dissonance in pricing between premium and local companies can be pretty vast at times.
Do keep in mind that this pricing structure doesn't account for additional services such as crating and uncrating. In some cases, loading and unloading are charged separately too. Everyone prices things differently. The cost we mentioned above generally involves a basic level of packing, 2 movers, 1 truck/van and the transportation fee.
With transportation, additional hours are chargeable. It's usually in the range of $30-$100 per hour, for extra hours. Then for an additional mover, there is usually a fee of $15 to $40 per hour. Some companies charge an additional of $75 to $250 for moving a Piano or helping with the assembly and disassembly of furniture.
In terms of storage space, the factors which determine the price are the size of the storage space required, the nature of it and the volume of things you want to store. However, on an average, the monthly rent for storage spaces comes to be in the range of $55 to $100.
Then there are also services available for damage cover. If you ask us, this is supremely essential. In many cases, companies provide a Basic Liability Protection as part of your general fee itself. But if you desire a Full Valuation Coverage, you will have to shell out some extra moolah. So in general, the price for this can range between 4$ to $12 per pound to get coverage for a value of $700 to $1000.
In terms of packing supplies, some companies tend to charge a lot, while some offer free packing materials, depending on your individual moving scenario. But for your understanding, keep in mind that a standard Corrugated Box of 4x4x3 inches can cost anywhere between $3 to $20 with a moving company. Yes, $20 is an absolute ripoff, which is why you're better off getting it from a local shop or a grocery store.
Things To Keep In Mind For Short Distance Moves
The shorter the move, lesser the chances of a big moving company being a good fit. Mainly because they have a fixed price cap to maintain their profit margins, which turns out to be expensive for short distance moves.
If you plan on doing everything by yourself, it's still good to take some advice from experts. A lot of short distance movers also provide valuable DIY Consultation as a service. Some would be happy to share their wealth of knowledge free of cost too.
In case you're not taking the services of a professional, make sure you have enough people helping you. At the same time, it's better to plan it in advance and make sure you buy all the packing materials like bubble wrap, stretchable plastic sheets, foam edge protectors, boxes, packing peanuts and other such stuff in advance.
Make sure that the personnel from the moving service provider visits your place to do a proper inventory. Or you do one yourself and share the accurate information with them. Save this information on your phone, tablet or a tiny notebook you will be carrying with you throughout the move. Don't forget to label everything.
Also, get as much clarity as possible about various kinds of additional fees (sometimes it's secretly hidden fees), different scenarios in which they can be applicable and how much can that be. Sign a proper service agreement with the short distance mover you decided to choose.
Take your time to speak to various short distance movers. Understand how they work, what all they do, and ask as many questions as possible. You will get an idea of where they are being coy or ambiguous and where they're being clear. This should certainly aid you to some extent in making the right choice for your move.
Most importantly, try to give the short distance movers as much specific details of your move as possible, when looking to get an estimated price. Do this process for multiple moving service providers. Understand the breakdown of the fee and everything else involved, compare it with others, weigh the pros and cons, and only after doing this process should you make a decision. An informed decision!
Conclusion
Anything that involves moving and packing comes with an added responsibility of being meticulous with your planning. So it's always good to start your research for short distance movers well in advance. Ideally, 2-3 months prior to your move. It's good to have a moving service finalized a month before you actually move. Staying ahead of the curve would mean you can also prepare for any uninvited challenges that can pop-up out of nowhere. As long as you plan well, stay prepared and keep our pointers in mind, all will be well.
See also: Best Apartment Movers | Local Moving Guide