Best Apartment Movers in the USA 2022
Moving without professional apartment movers is bound to create a myriad of problems that turn what should be a joyful experience into one filled with worry and stress. Everyone knows that moving is a big job, one that oftentimes includes stress and frustrations. Most of those concerns are minuscule when you hire movers and bring their expertise to the job.
Moving professionals come to the location prepared to move your belongings to the new location. You'll be greeted with a smile and a strong arm ready to get things done. They're equipped with the tools, manpower, equipment, and skills necessary to ease the job. Sure, anyone can pack a box or load it onto a truck, but an apartment moving company brings expertise that saves time, money, and headache. Most of us lack the tools and equipment to successfully relocate without the help professionals bring to the job.
Many moving companies offer to help customers relocate across the country, but some of them aren't worth the ink used to sign the contract. Choosing a company that's only 'in it for the money' aids in the problems relocating causes rather than eases them. Don't get stuck with this type of moving company. Research the moving companies ahead of time and find industry experts who exceed expectations. It's a small task that delivers big results that ensure you get the right movers for your moving needs.
Best Apartment Moving Companies in USA for 2022
Below is the list of top 5 apartment movers:
How to Find a Good Apartment Moving Company
Separate the best movers from the worst by researching the apartment moving companies in the area. Word of mouth, internet resources, newspapers, the Better Business Bureau and a myriad of additional sources provide information that helps separate the good from the bad, alleviating risks you'll find yourself with the wrong movers. Eliminate headaches by incorporating the following information into your research. Choose moving professionals that offer the qualities on our list below (at a minimum) and ensure that you aren't stuck with the wrong moving company.
– Licensed: Licensed moving companies put your mind at ease. They're credible and trustworthy, protecting your belongings and peace of mind when relocating. Never hire an unlicensed moving company.
– Insurance & Bonded: Is the apartment moving company of interest bonded? Bonding ensures that your belongings are safe and secure since these individuals are insured and inspected. Moving insurance is also vital since it protects your belongings in the event of damage or an accident. Although rare, incidents can and will happen. Insurance ensures that you do not pay out of pocket for those accidents or mishaps.
– Experience: Experienced moving companies have expertise and knowledge that industry newcomers lack. They handle moves faster and with more simplicity than the other guys. They ease your worries and quickly relocate all of the items out of your home, office, or business.
– Costs: No two apartment moving companies charge the same rates for service, even when using identical services. Request quotes before hiring any moving company to learn which provider offers rates suitable to your budget. Compare rates with three-four moving companies ahead of hiring. Any good moving company strives to maintain affordable pricing for every job. Keep in mind that the cheapest company may not be the worst while the most expensive may not be the best.
– Reputation: Online reviews provide valuable information for movers searching for the right moving company. Read all about the company and what you can expect from them on review sites and determine which companies are worthwhile and which are best left behind. A good reputation says a lot about a moving company and what you can expect with them on your team during the relocation process. You can also learn important information via word-of-mouth and sources such as the Better Business Bureau (BBB.)
Ask friends, neighbors, family, and coworkers for their moving company recommendations. The Internet also provides useful information from both previous customers and experts. Use both sources of information to help research the moving companies. Never settle for less than what you want and deserve when choosing a moving company. Far too many moving companies exist to settle for the first provider that comes around.
Best Long-Distance Apartment Moving Companies
We've made it easy to choose a long-distance apartment moving company that delivers the services and professionalism that you deserve. The following moving companies are among the best long-distance moving companies around. Each company brings its own qualities and benefits to the job, so learn more about them to all to better determine which is most suitable for your needs. The following apartment moving companies were chosen as the best based on many factors. No matter which company you hire for moving services, you'll appreciate the relocation process just a little bit more.
GPS Moving

GPS Moving knows the direction, no matter which state you'll soon call home. Bringing more than 20-years' moving experience to residents of San Diego, the A+ Better Business Bureau (BBB) accredited business offers long distance moving and storage at highly competitive rates. Free quotes are available upon request.
Storage, packing, residential moving, and commercial moving services from GPS Moving provide safe, damage-free, worry-free relocations for small and large jobs alike. The friendly moving technicians listen to your needs and strive to exceed those expectations. You can take a sigh of relief when you hire the professionals from GPS Moving.
GPS Moving wants to earn the trust of every customer. They offer reliable, prompt service unique to each moving job and stand behind their services. Customer satisfaction is the most important expectation GPS has. Their reputation speaks for itself. Check out the reviews online to learn what customers say. GPS Moving earns mention as one of the best long-distance apartment moving companies with good reason. If you want trusted moving experts, look no further.
– Free quotes
– Personalized moving services
– Competitive rates
Eagle Lines Moving and Storage

Bringing more than 25-years of moving expertise to your moving job, Eagle Lines Moving and Storage is an award-winning company that prides itself on quality moves and happy customers. Safe, hassle-free long-distance moves put your mind at ease as your belongings trek the miles. Eagle Lines can help you relocate to a new neighborhood, a couple of hundred miles or a couple thousand across the country. Packing and storage service is also available, as well as commercial moving services.
Eagle Lines Moving and Storage prides itself on quality service. They understand how important your belongings are to you and protect them from damage. They treat your belongings as if they were their very own. Fast, prompt service backed by low costs ensures that every person who is relocating does so with smiles on their faces.
Eagle Lines has an A+ BBB rating and hundreds of online reviews that serve as proof the company is one of the best long-distance moving companies in Massachusetts. Take a look at some of the reviews to learn firsthand what all the fuss over the company is all about. Request a quote to learn the exact cost of service using Eagle Lines to better determine if this is the moving company you need.
– A+ BBB=rated company
– Solid reputation
– Variety of moving services
Triple 7 Movers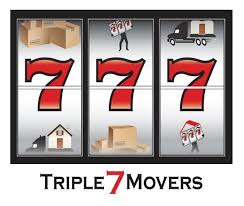 Las Vegas-based Triple 7 Movers also makes the cut of 'best apartment moving companies.' The family-owned and operated moving company strives to maintain smooth and carefree moves, whether you're headed to another great Nevada city or town or across the country. Storage unit rental is available, as well as packing service. Commercial moves are also available. Triple 7 Movers offers prompt, professional moving services, with senior and military discounts available.
Triple 7 Movers is the friendly professional moving company that ease the worries that oftentimes accommodate the relocation process. They understand all of your concerns and eliminate worry by delivering moving services that exceed expectations. They arrive at your location equipped to relocate your belongings in a timely manner. With eight moving trucks and all of the equipment needed to move all of the items in your home, Triple 7 Movers is a moving company that you can trust for quality moving that eases your worries.
– Simple, carefree moving service
– Senior and military discounts available
– Quality service for all size moves
Full House Movers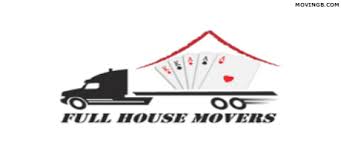 Full House Movers is a trusted moving company with plenty of experience underneath their belt. The company prides itself on giving customers high-quality, affordable moving services. Request a quote and learn why many people agree the company offers the best rates for long-distance moving services. Friendly, professional service is yours when Full House Movers is on the job. The family-owned and operated company strives to ease your moving quips, helping get your belongings to the new location fast and damage-free. They handle your items with care and pride.
Full House Movers has many years of moving experience, with a reputation that speaks volumes of the company. They specialize in specialty moves, so if your moving needs include large or unusual items or complex issues, this company handles them with ease. Storage unit rental is also available. If you expect movers who adhere to the highest standards, Full House Movers is a name that should top your list of moving company choices.
– Residential and commercial moving services
– Storage rental available
– Specializes in complex moves
Prudential Van Lines

On average, Prudential Van Lines charges 64% less than the average moving company for moving services. Customers moving cross country who want to save money shouldn't hesitate to request their free quote and learn how much money this company can save them. Moving is an expensive job. With the help of a company like Prudential, covering the costs isn't so difficult. Prudential offers moving services for small, medium, and large residential and commercial moves. They specialize in cross country moves, easing the worries that relocation oftentimes creates.
The company is A+ BBB-rated, has an excellent reputation, and focuses on exceeding customer expectations on every moving job. Short-term moving service is available for people who decide they want a moving company at the last minute. The moving experts can relocate a small, one-bedroom apartment just as easily as a large office or home. And, at the lower rates, you can afford the extras, such as packing service and storage.
– Many moves cost considerably less than other moving company charges
– A+ BBB-rated company
– Commercial and residential moves
Moving is a big job, but with a great house moving company there to help, things are less stressful. If you are relocating, do not attempt the task alone when moving professionals are nearby. Use the information above, including our moving company recommendations, in the process of choosing a moving company. With this information in mind, it's much easier to choose a moving company that you'll value.
Also See: Moving into a High-Rise Apartment Guide
FAQs about Best Apartment Movers
What Is The Most Affordable Moving Company?
There are several great affordable moving companies that you can trust with your move, like Interstate Moving & Relocation Group INC, American Van Lines, International Van Lines, Colonial Van Lines and more. Keep in mind that a cheap moving company also needs to be reliable. Make sure you do your research, read through our blogs to narrow down your search, and finally, simply make use of our services to find your ideal mover.
What Is The Average Price To Hire Movers?
Your cost for hiring movers depends on a range of factors like how far you need to move, how many services you're opting for and how much you need to move. However, there are estimates for different types of moves. For instance, the average cost of an interstate move with an average weight of 7,100 pounds and a distance of 1,200 miles is about $5,630. Local moves can cost from $300 to $1,500, while hiring movers for a cross country move can cost anywhere between $2,500 and $6,500.
How Much Does It Cost To Hire Movers For A Small Apartment?
If your move is local, your movers will most likely charge you by the hour. How long they take depends on factors like how many things you have in your apartment and what services you opt for. It'll cost anywhere between $400 and $1600; you'll also have to pay more if your apartment is hard to access and if you need specialized equipment like cranes. A long distance move, mostly classified as such if your move is over 100 miles, is usually charged by factors like weight and mileage, and not by the hour. These can cost $2,100 to $5,900.
What Is The Cheapest Way To Move State To State?
A Do-It-Yourself move is the cheapest way to move state to state, however, it isn't easy. You need plenty of time and organizational skills, not only to get moving materials the cost-friendly way but also to painstakingly pack everything. You could alternatively opt to hire packing, labor or moving services to make it easier. The easiest way to have a cost-friendly move that doesn't exhaust you is to opt for cheap moving companies.
What Is The Most Inexpensive Way To Move Long Distances?
Once again, doing a DIY move is inexpensive, but especially challenging since it's a long distance move. Look into alternatives like opting to do the packing yourself instead of paying more for a full service move. Purchase cheap moving supplies and look around for free boxes and supplies. Involve friends and family to help you out instead of hiring labor, and make sure you downsize so there's less to move. If you're moving for a job, negotiate a job relocation package that works in your favor. Finally, move in the off-season for discounts and lower rates.
How Much Are Movers Per Hour?
Movers can charge as low as $50 an hour to as high as $200 an hour. Local moves that are normally charged by the hour can be anywhere between $500 to $2,000 for a move without additional services like packing and unpacking. Your rates can go up by another $30 to $70 if you happen to choose those services as well. A one bedroom apartment with 2 workers and an approximate of 2.5 to 3 hours of work can be $150 – $450, while a two/three bedroom apartment with 3 – 5 workers will take longer (6 – 10) hours and cost more i.e. $600 – $2,000.
Is It Cheaper To Buy New Furniture Or Move It?
This depends on how much furniture you have, how old it is and how far it needs to be moved. As a general rule, the more things you have and the farther your move, the more expensive it'll be. Plus, moving old, worn out furniture over long distances usually means the furniture will sustain some damage or the other since it's no longer sturdy. In this case, downsizing and donating or recycling your old furniture to replace it with new ones at your new home makes sense. This also saves you the cost of packing up and moving them, making your move much cheaper.
How Much Does It Cost To Move 500 Miles?
Again, your final move cost will factor in a range of different variables and can greatly differ from one situation to the next. Approximate rates show that it costs around $2,000 to move a 2 bedroom apartment across 500 miles, and around $4,700 to move a 4 bedroom house. These are standard moves with no additional services. Movers can charge $2,400 – $5,000 for a long distance move of 500 miles.
What Is The Average Cost To Move A 4 Bedroom House?
For a local move charged by the hour, you could be paying $100 an hour for a crew of 2 movers and a truck. Considering it's a 4 bedroom house, you'll likely be paying for 3 – 5 movers, which can increase your rate to $150 to $170 per hour. Count the 8 to 12 hours it'll take for the job to be done, and you have a total of around $1,200 to $1,800 with no additional services. For a 100 mile move, you may pay around $3,300 for a normal move and $5,300 for throwing in insurance and packing services.
How Long Does It Take To Move A 1 Bedroom Apartment?
Studio apartments or 1 bedroom apartments usually take around 2 – 3 hours to move. This can change if you have many things to move, any bulky or odd objects to move and obstacles like stairs to navigate.
Can I Hire Movers Just To Load A Truck?
Yes, many moving companies have labor services as part of their additional services. When you hire labor, you'll generally pay for the number of people needed and how long they'll be working. Large and bulky items like pianos and pool tables may increase your total cost, as will the requirement of equipment or packing items. Hiring labor works well for those doing a DIY move and have rented trucks to transport their furniture and items.
Also See: Tips for Moving into a Studio Apartment