Instant Moving Company Quotes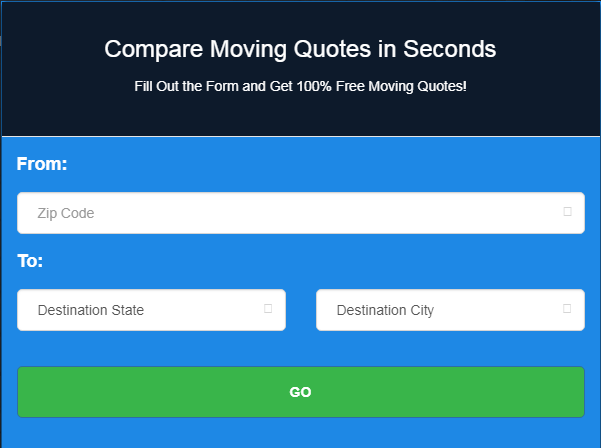 Cross-country moves can be a real pain in the neck both figuratively and literally. National Moves involve so much work that you can easily get lost in all the chaos and stress of it all. But now, you can relax and take it easy thanks to 9Kilo Moving. Our company is made up of hard workers all aimed at helping you conduct a fast and easy move across the country. Just tell us what you need and we'll give you exactly that. Get instant moving quotes for FREE from top moving companies in the USA.
The Price is Right: What You Need to Know About Moving Companies Quotes
It feels like you have to be a visionary CEO to pull off a successful move. Whether you move across town or relocate the family cross country, you need to plan each step of the moving process thoroughly. Before you decide on which moving company to hire, you must ask for an estimate that determines the cost of one of the least liked things we have to go through in life.
You have to receive moving companies quotes from more than one company.
The timeless adage "You get what you pay for" is perhaps most true for customers in search of the best moving company. With that in mind, the question turns to what exactly are you paying for when you hire a licensed and bonded moving company?
What are the Types of Moving Companies Quotes?
What are the three primary types of moving companies quotes? If you do not know what binding, non-binding, and binding not to exceed estimates mean, you should read on to learn more about moving quotes.
Binding Quote
A binding quote represents a mover's guaranteed fixed rate for relocating your stuff. It is typically based on how much your possessions weigh. If you agree to sign a binding cost contract, you can expect to pay exactly the amount listed in the contract. The only downside to a binding contract that if the cost of the move ends up being less than expected, you still must pay the fixed price listed in the moving agreement.
Non Binding Quote
Although a non binding quote is calculated by the projected weight of your possessions, it is not a quote set in stone. Movers estimate total weight, but it is not until moving day that they determine the actual weight of the things you need to move. This means the price quoted in the moving contract can change.
Binding Not to Exceed
Considered the best moving quote option for an out of state or long distance relocations, binding not to exceed moving quotes work like binding quotes. However, there is one difference that benefits moving company customers. Like a binding quote, you pay a fixed price for the estimated weight of your belongings. The difference with a binding not to exceed moving quote is you enjoy cost savings if the actual weight of your stuff falls below the estimated weight written into the moving contract.
See also: Best Out of State Movers in the United States
Flat Rate vs. Hourly Rate Moving Company Quotes
Selecting the right moving company involves considerable research. Just when you think you have nailed the moving exam, you are asked one more question.
Do you prefer a flat rate or an hourly rate for a moving quote?
Both types of moving quotes have advantages and disadvantages. Which rate plan you decide to go with depends on the type of move you plan to make, as well as how much cargo a mover needs to strategically pack inside a truck.
Overview of an Hourly Rate
About 75% of professional movers charge by the hour, especially moving companies that perform mostly local moves. The billing clock begins when the moving company arrives to pick up your things at home and/or at a storage facility. Hourly rate plans typically include the time it takes to drive from point A to point B, which means you should factor in the time of day when you can reap the most cost savings. Moving during the morning or evening rush hour is not recommended for hourly moving quotes.
Professional moving companies consider several factors for calculating moving quotes. Any heavy furniture will definitely slow down the move. You can also to expect to pay more per hour for relocating from a top floor inside an apartment complex to one of the top floors of another apartment complex. The downside of hourly moves is delays can send the price a move considerably higher. Poor weather and unexpected traffic jams outside of rush hour are the main culprits for boosting hourly rate payments.
Overview of a Flat Rate
Moving companies invariably require an in home visit to calculate flat rates. The moving professional responsible for conducting an in home assessment predicts how long it will take to move the heaviest objects from each room onto a truck. Flat rate plans also factor in driving distance, the number of flights of stairs, and tight turns that lead to the truck during pickup and from the truck during delivery.
Although having a moving professional visits your home to determine a moving quote can be inconvenient, the result is a much more accurate estimate of how much you can expect to pay for a medium or long distance move. The onus on getting flat rate moving quotes right is one the mover, not the homeowner. Unlike an hourly rate, fixed rate moving company quotes do not change unless there is something written into the fine print that covers an unexpected increase in the time it takes to make a move.
Let's review a fixed rate example for moving piano:
Scenario #1 – Moving 10 miles across town
Flat rate-$75
10 miles at $2.00 per mile-$20
20 stairs at $4 a stair-$80
Total-$175
Scenario #2 – Moving from Boston to New York
Flat rate-$100
90 miles at $2 per mile-$180
10 stairs at $4 a stair-$40
Total-$320
Remember that $320 is just for the piano, although a standard piano will probably be the most expensive item to move.
Factors for Calculating Moving Estimates
When you plan a move, you want to learn about the final cost of the move. Although cargo weight plays a significant role in determining how much you spend to hire moving company, other factors play a role in calculating the final cost of relocating you and your family to the other side of the city or the opposite coast of the United States.
Let's say you sign a non binding moving quote contract at the end of July for a Labor Day weekend move. During the ensuing six weeks, fuel prices soar to increase the estimated cost of moving your possessions. The moving company will hike the price of the move to account for the rise in gas prices. Moreover, how far you move, as well as how many vehicles it takes to relocate you and your family, can alter non binding moving quotes.
Finally, you have to decide how much moving insurance to purchase. This is an especially critical cost factor for customers planning to move fragile items and luxury goods that include fine jewelry. Full value insurance protection will cost more, the but the peace of mind knowing your possession are fully covered in case of loss and/or damage is well worth the increase in the cost of moving quotes.
Questions to Ask for a Moving Company Quote
The key to receiving accurate moving quotes involves asking the right questions. Any cost stone left unturned can lead tone or more costly unexpected surprises.
Which of the types of moving quotes do you use?
What are the terms of the insurance policy?
Are there any hidden fees tucked within the moving contract?
How long has the moving company operated in your state?
Does the mover outsource any of the labor?
What is the timeline for completing the move?
Hidden fees are a particularly troublesome issue for customers that sign non-binding moving quotes. For example, a mover might add language to a contract that puts you on the legal hook to pay for damage to one or more of the vehicles used to relocate you and your family. Another hidden fee that can set you back financially is charging a penalty fee of every extra day it takes to move you into a new home. A mover might include a few standard accessories in a binding moving contract, but leave out many other accessories that will increase the final moving bill. Discovering hidden fees is a must to receive accurate moving companies quotes.
How to Obtain Accurate Instant Moving Quotes
Before the Internet became commercially mainstream, consumers had to perform detective-like work to receive accurate moving quotes. Extensive research combined with receiving easy to understand moving contracts took considerable time. The advent of online search engines and quickly accessible websites dramatically changed the way we learned about moving company quotes. However, it was not until moving companies began offering real time moving quotes online that the moving process became much easier to take. You can visit individual mover websites to receive moving quotes or go to third party sites that compare moving quotes offered by several companies.
When moving day arrives, the last thing you want to worry about is the cost of the move. Know what you are going to spend for relocating your family by receiving accurate moving quotes online. In addition, make sure the mover sends you a digital confirmation of a binding not to exceed moving estimate.
Moving Cost FAQs
How much does a moving company cost?
The cost of hiring local moving companies is around $30 per hour per mover. If you are moving a 2 bedroom apartment, it should take 3 movers close to 6 hours, so the cost will be about $540 for labor. For a long distance relocation, the cost of moving is around $3750 for an average weight of 5000 lbs.
What is the average cost to move a 3 bedroom house?
The cost to move a 3 bedroom house out-of-state or more than 100 miles is $1000 per room and $.50 per pound.
How much does a full service move cost?
The cost of full service move is $30-$50 per hour per mover. It includes planning, packing, moving and unpacking. For a 4 bedroom house it usually takes 2 movers 10 hours to pack and another 10 hours to move, which means the minimum cost for full service movers will be $1200.
How much does it cost to move cross country?
The cross country moving cost of a 3 bedroom house is around $7,000-$10,000.
If you are looking to relocate cross country anytime soon, this list of top 10 cross country movers in USA will help choosing the right company.