How to Choose a Moving Company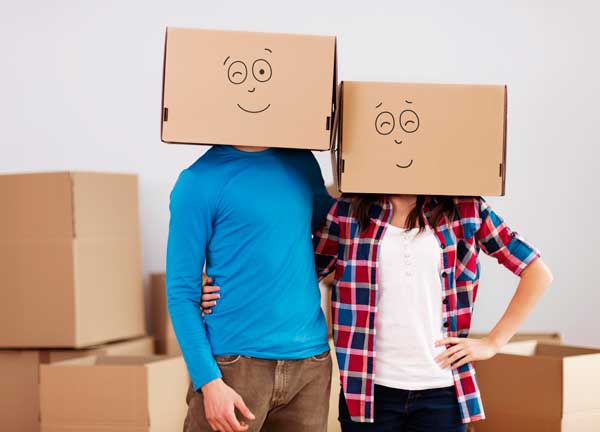 Choosing a moving company definitely comes with its own learning curve. Taking the time to master the steps for your first move will definitely stand you in good stead.
Why is this, you might be wondering? The average adult living in the United States will move approximately 11 times
for reasons ranging from a job transfer to a housing change to the need to care for an aging loved one.
Unfortunately, out of the approximately 40 million people who move locally, regionally or nationally each year, up to 38 percent report having post-move trouble with the moving company they hired.
Here, customer complaints against moving companies may range from belongings held hostage to extra undisclosed fees to damage or loss of personal items or worse. Other common complaints include no-shows and late arrivals, shoddy packing and impersonation of a legitimate moving company.
Without the know-how to hire a professional and reputable moving company for your upcoming move, this already-stressful event just gets that much more stressful.
In this article from 9Kilo Moving, learn the key steps to take to help you choose a moving company that will honor their commitments in full and handle your possessions with care.
1. Do Extensive Research Locally and Online
Researching a local or interstate moving company should include two phases: local research and online research.
Local research
Your own network of family, friends and neighbors is your best resource for finding a trustworthy and reputable referral to a moving company.
You can find out which moving companies did a great job for people you know as well as get tips for how to cut costs before move day.
Most of all, getting local referrals from people in your network can narrow down your search to a hand-picked list of moving companies.
But local research is generally not sufficient to completely vet a moving company – you also need to find out more about the company by researching online.
Internet research
In this day and age of widespread internet use and online independent review entities, if anyone anywhere has a complaint about anyone or anything, you are nearly guaranteed to hear about it.
However, that is only if you actually take the time to go on line and do your own independent research to discover what other customers are saying about the moving company you are considering hiring.
Take a look at the company's Better Business Bureau (BBB) rating and complaint resolution history (it nearly goes without saying that if the movers don't have a BBB listing, move on to the next company on your list).
Investigate Yelp, YP and other independent review and customer advocacy sites to find out how the company did handling other customers' moves. Another great site is ProtectYourMove.gov.
Contact independent trade and transportation associations like the American Moving and Storage Association (AMSA) and the Federal Motor Carrier Safety Administration (FMCSA) to discover if any formal complaints have been lodged against the company.
View the company's social media feeds to see how (or if) they respond to customer complaints and verify that they are legitimate and active.
Click here to view the list of best moving companies in USA.
2. Gather Multiple Estimates Before You Select "The One."
Researching a moving company is about as fun as packing up all your belongings and cleaning your house before your move (so not very fun).
But taking the time to do your homework and gather multiple quotes can really pay off!
Even if you absolutely love the first moving company you talk with and they assure you that their bid is the lowest estimate you will receive, don't take their word for it. Gather at least two more estimates.
When you do this, make sure the company is willing to come out in person to view your possessions and understand the size and scope of your move, evaluate any valuable or fragile items and generate the most accurate quote. This is the best way to avoid extra charges at the other end of your move.
Once you have the moving quotes in hand, it is time to do something really not fun – read the fine print. Get out your pen and highlighter and go through the contract with a fine-tooth comb. Understand what might cause your move to be delayed or withheld (sometimes this can be as simple as transporting a non-allowed houseplant across state lines!).
Get copies of the mover's customer complaint resolution policy in writing. Be sure you understand the insurance coverage and how it works to make a claim.
Ask any questions that you have and do not accept less than satisfactory answers on any point. After all, this is your entire life that will be packed up in the company truck. You want to be sure you get it all back unharmed and on time on the other side.
3. Look For Each of These Warning Signs (And Others)!
Each one of these warning signs should give you sufficient pause to consider un-hiring a moving company before they load the first box of your belongings.
Showing up in a rented or unmarked moving van.
Unless you have hired your friend's teenage son to coordinate your move, you should never see an unmarked or rented moving van sitting in front of your house on moving day. The truck logo should match the moving crew's uniforms, which should match the letterhead on which your contract is printed.
In the same way, if the moving crew is sloppily dressed, not in uniform, reeks of smoke or anything else or acts in an unprofessional manner, this is sufficient cause to call off the move until you can figure out what is going on.
It won't be easy or convenient if this happens to you, but the extra hassle may pale in comparison to getting taken to the cleaners by an unscrupulous crew.
Understand that rogue or renegade movers do exist and have been known to impersonate real crews. Some such companies have sent angry customers all the way to a criminal grand jury to try to make things right!
Cannot give you written proof of a licensed, insured and bonded crew
Just like you wouldn't want to permit a cleaning crew into your home without knowing they aren't going to help themselves to your belongings before they leave, in the same way finding a mover that takes the time (and goes to the expense) to license, insure and bond their workers is vital.
This information should be displayed prominently on the mover's website, in the moving contract and, if you ask for it, in writing in the form of official, current documentation.
The DOT (or the local equivalent) is missing from the moving truck
If you are moving across state lines, the moving truck your crew shows up in should also display a sticker with the U.S. DOT (Department of Transportation) number that was issued to the moving company by the FMCSA (Federal Motor Carrier Safety Administration). issues a U.S. DOT number to licensed interstate movers.
If your move is only taking you across the city or state, the FMCSA can help connect you with local agencies that can verify the equivalent of a DOT sticker.
Your movers are late
Sometimes unavoidable delays do occur, such as traffic accidents that cause traffic to back up.
But if your movers are late, you should receive a reasonable explanation along with prompt updates regarding their estimated arrival time.
You are asked to sign anything blank
Under no circumstances should your moving crew or the moving company's customer service representative ever ask you to add your signature to any document, estimate or contract that is blank or partially completed.
This is a red flag of the highest order, as is a request to be paid in cash or a failure to provide an estimate and written contract.
The company has no address or suspect contact information
Consider why any legitimate business might want to hide their physical business address, email address or phone number. You probably can't think of any, right? This is because legitimate businesses value their reputation and strive to stay accessible to customers.
Shady or sham businesses, on the other hand, are eager to fly under the radar and will do their utmost to make it difficult to reach them.
Be sure to check out the legitimacy of the physical business address, including showing up there to check out the premises if this seems warranted. Call the customer service number and evaluate what happens next. Be sure all the business and contact information matches on the website, the quote estimate, the contract, the business cards and elsewhere.
If there are discrepancies, it may be time to walk away and find another mover.
4. Be Sure the Movers Give You a Copy of the "Your Rights & Responsibilities" Booklet
Luckily, state and federal agencies have made it a legal requirement to provide customers with a written copy of their rights and responsibilities for their own move. So if your moving company does not proffer a copy on their own, or seem eager to provide it when you ask, this is not the moving company for you.
Why is this so important? The truth is, if you do the most thorough job of selecting a moving company, things can still fall apart if you don't familiarize yourself with your part of ensuring a successful move. Failure to discharge your own responsibilities may result in delays or denials with any loss or damage claims you file on the other side.
For example, according to FMCSA, one of your primary responsibilities is to hire a reputable moving company to move your goods!
You are also responsible for understanding every word of anything you add your signature to, including the process for making a claim if something goes wrong.
If your move contains fragile or high-value possessions, you may also have extra responsibilities for notifying the moving company and preparing these items to be moved.
Yet another area where many customers don't realize they have responsibilities is when it comes to disallowed items. It is your job to ensure none of your items to be moved are disallowed under state or federal law.
Pesticides, alcohol, food, some plant species and similar items may all be disallowed in the moving truck. If you want these possessions to accompany you on your move, you will need to make alternate arrangements on your own to transport them.
If your move is held up because an inspection mid-route reveals that disallowed items are on board, you will be on the hook for any fees or penalties the moving company may assess for the delay.
5. Never allow yourself to be rushed or pressured
Finally, even if you feel very stressed out about your move and just want to get it all over with already, do not let on to the movers that you are not planning to dot every "i" and cross every "t" on the road to hiring a moving company and coordinating your move.
Instead, take the time to create a special folder for your move. File every document related to your move inside in date order. Keep good notes about every conversation you have with your moving crew and the customer service personnel. You never know when you made need this during or after your move.
You can be sure that any moving company that tries to put pressure on you during the vetting and hiring process will likely put even more pressure on you during and after your move – a stress you really don't need on moving day.
By taking the time to pick a moving company with a great local and online reputation, impeccable licensing and credentials, clear and easy-to-understand estimates and contracts and a customer-first focus and presentation, you can look forward to a moving day experience that is worth the work and the wait.