How to Avoid Moving Scams and Frauds
Life is full of proverbial potholes, some of which involve the scamming of consumers into handing over money for services not rendered. One of the most notorious industries for the running of scams and frauds is the moving industry. From taking deposits and not showing up to do the work to hiding numerous fees within a moving contract, the moving industry has earned the bad reputation of being a business that sometimes is not on the up and up.
Most movers operate with the integrity consumers expect a business to have. However, a few rotten apples spoil the entire batch, which means you have to know how to avoid moving scams and frauds.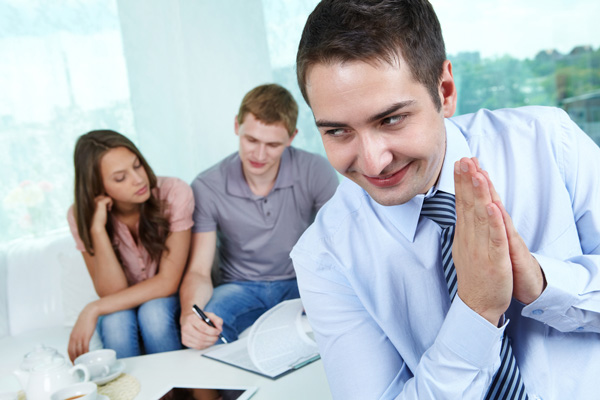 Overview of Moving Scams and Frauds
As the federal agency charged with deterring moving scams and frauds, the Federal Motor Carrier Safety Administration (FMCSA) offers consumers several tools to vet movers and select the companies that operate ethical businesses. The FMCSA also monitors what it calls "rogue movers" that try to take advantage of naïve consumers by implementing deceptive moving practices. Rogue movers have a wide variety of methods for scamming and defrauding customers, including scamming customers through disreputable bidding techniques.
Stay Alert for Unethical Bids
One of the ways to determine whether a moving company is legitimate is how the company issues moving estimates. A legally valid mover will inspect all of your stuff, as well as ask the right questions pertaining to the logistics of your move. Logistical questions relate to the timing of your move, as well as your packing needs. Your role in the moving estimate process is to ask the right questions and pay attention to potential bidding scams.
Low Ball Bid
Some movers understand where the floor sits in regards to moving estimates. To earn the business of customer prospects, the movers issue low ball bids that are lower than any other moving estimate. Make sure to understand the total cost of a moving estimate, before signing the moving contract.
Phone Call Bid
Some moving customers make the mistake of answering questions over the phone and then receiving a moving estimate. There is no way a reputable moving company will present a bid based on the information gleaned from a phone call. You need a representative from each of the movers on your shortlist to visit your home and inspect the cargo you plan to haul across town or cross country.
Volume Bid
This type of questionable bid is calculated by the cubic footage of the space needed to move your stuff. It does not involve figuring out an estimate based on the weight of your cargo. Volume bids often run much higher than bids calculated by the weight of the moving cargo. Federal law has outlawed volume bids for interstate moves, but you should not accept such a bid for a short term move within the same city.
In and Out
Although the in and out bid involves an in-home inspection, the length of time to perform the inspection is questionable at best. Any mover under consideration must diligently perform an in-home evaluation to calculate an accurate moving estimate.
Finally, avoid any moving company that presents a bid and wants a handshake of confirmation in return. Rogue movers typically want to avoid the legal necessity of signing a moving contract.
Tips for Detecting Moving Scams and Frauds
The most effective way to avoid moving scams and frauds is to understand how to see the scams and frauds as they unfold before your eyes.
Beware of Unusual Requests
Unusual requests include the request for a substantial down payment or the full payment of a moving bill before the day of the move. The requests are usually followed by another request: "We only accept cash for payment." Another unusual request is to ask moving customers to extend the time of a move by a day or more. Some moving contracts contain legal language allowing movers to charge more for moves that take longer than what is stipulated in the moving contract.
Watch Out for Shell Companies
Not the classic shell company that is created to avoid taxes, but a shell company that looks and acts like a moving company, but it is not a moving company. Any moving company on your shortlist must have contact information posted on the company website. If you find a phone number, an email address, and/or a mailing address is incorrect, take your moving business elsewhere.
See also: How to check USDOT Number
Conduct an Inventory of Your Stuff
A prospective moving company does all of the right things. It visits your home for a lengthy inspection. The company presents a written moving contract. Everything seems fine, that is until the mover insists on taking inventory of your things. This timeless tactic is performed because unethical movers can claim an item "lost" was never part of the original inventory. If a moving company asks to perform an inventory of your possessions, politely decline and move on to the next mover on your shortlist.
Rushing through the Planning Process
Unethical movers operate on the principle of "The fewer questions customers ask, the easier it is to scam and defraud them." Never allow a moving company to wave off questions. If you do not understand a part of the moving contract or you have not received clarification for the moving estimate, make sure to ask questions to understand every aspect of your move.
Terms and Conditions Trigger Concern
Some movers write terms and conditions that violate federal and state consumer protection laws. The language used to write the terms and conditions is unclear in regards to how the mover will protect your stuff. Other terms and conditions can include legal jargon; only an experienced lawyer can decipher. Avoid any moving company that presents terms and conditions that make you feel uneasy.
How to Protect Yourself against Fraud Moving Companies
It is one thing to notice red flags that scream, "We are a rogue moving company." It is quite another thing to know how to protect yourself against rogue movers.
Start with the FMCSA Website
You have several online resources you can refer to that should weed out unethical moving companies. Your first stop in cyberspace should be the website operated by the FMCSA. The FMCSA website presents a regularly updated list of certified local and long-distance moving companies.
Perform Research by Using the Better Business Bureau
As the preeminent consumer advocacy organization, the Better Business Bureau (BBB) performs several functions to help consumers avoid moving scams and frauds. The BBB website has a section devoted to presenting customer feedback. It also rates every business operating in the United States. Consider movers that have achieved the highest rating issued by the BBB, which is A+. The BBB also issues alerts concerning unethical moving companies.
Yelp and Google
Now that you are educated about prospective moving companies finish your research by reading the customer reviews left on site such as Yelp and Google. You should be able to determine a pattern of scams and frauds committed by unethical movers.
Use Your Close Network
Word of mouth advertising remains relevant in the digital era. Ask friends, family members, and professional peers about the reputation of the moving companies that have made your shortlist.
Federal law requires licensed moving companies to give customers an informational brochure called "Your Rights and Responsibilities When You Move." If a mover on your shortlist refuses to provide you with the 25-page brochure, you should cross the mover off your list.
Here is the list of best moving companies in USA for your upcoming long-distance relocation!
Also See: Address Fraud: Everything You need to Know | Tips on what to do If Movers Are Holding Your Things Hostage