Where to Sell Clothes for Cash Online When Moving Out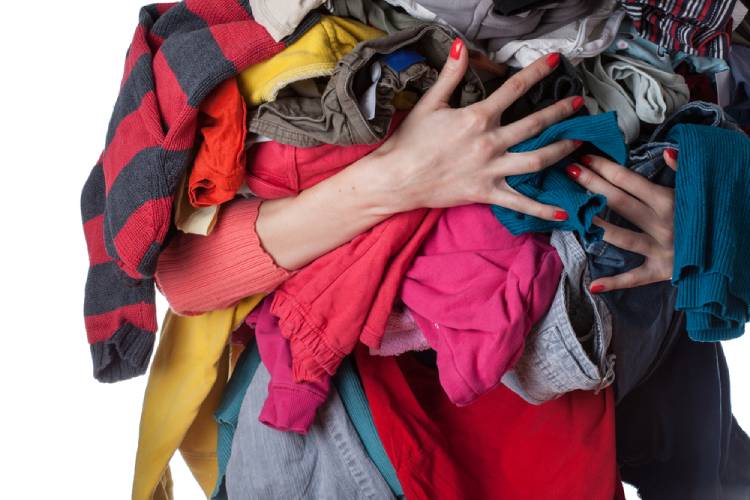 When moving out of your house you're compelled to go on a spring-cleaning mode. Decluttering your wardrobe would be on the ultimate checklist of things you wish to clean before you move out. There's a good chance that few of your clothes haven't seen sunlight in dog's ages, so why not resurrect them to life by putting them up online for someone else to use? It's also the best possible way to ensure you're not packing a truckload of unwanted clothes to your new place.
Selling your clothes online has other benefits too. It's a way for you to make some extra cash when moving out. You give your clothes a second life and get organized in your new house the Marie Kondo way.
In this blog, we'll be helping you out by going over some of the best apps and platforms where you can sell your clothes online and make cash out of it.
While we're at it, you can also expect to find valuable information regarding the fees involved when it comes to selling clothes for cash online. This might beg the question, do you have to handle the shipping process too? Don't you worry! We got that covered too, alongside any other costs and deductions involved in the process of you selling your clothes online when moving out. So read on about where to sell clothes for cash online to be able to make the best possible decision for yourself.
1. eBay
eBay needs no introduction, simply because this platform is one of the biggest online markets. It has been in the business of selling and buying pre-owned products since 1995. Safe to say that the traffic for your product on this website would be decent enough, because eBay brings in 182 million users! Hence, eBay makes it to the top of our list. While there is often good competition here, there's still better chances of your product being sold if listed properly. After all, it's eBay!
The first thing to do is sign-up on eBay and find a similar listing. For instance, if you're selling a Nike shirt, simply find out how much the other Nike shirts are selling for and price your item at approximately the same range. That way, you're playing it safe in order to ensure your item gets sold. You can sign up on eBay for free, but you still pay 10% of the selling price to the company once your item is sold. So, if you sell a shirt for $10, eBay takes $1 commission. Other than this fee, you would also be charged a $2.9% payment fee and $0.30 listing fee.
For an auction listing, you could be charged anywhere from $0.10 to $2. Auction listings are great because they are time-sensitive. You could have a clothing auction for 3,5,7 or 10 days. This could work best for you if you wish to sell your clothes quickly. But keep in mind that you will have less control over the final price.
For shipping: You can select the fixed shipping fee or ask the buyer to pay the shipping cost at the post office.
Key Takeaway
eBay is safe, tried and tested by millions and has an online market that is very much alive.
This platform takes a 10% commission.
2. Poshmark
Poshmark is another great platform that's easy to use and growing to be the leading online marketplace to sell your clothes. On Poshmark, you have no listing fee and once your clothing item is sold, Poshmark takes a 20% cut off the amount you charged. For sales under $15, Poshmark takes a flat commission of $2.95. We advise you to filter out the clothing items that have been sold successfully on Poshmark so you can create your own list of similar items to sell.
Those of us who use this app more frequently would already know that labels do matter and are preferred on this platform. We'd recommend specifically selling your branded clothing items on this app because there is a higher demand for it here. The platform even has a section called, 'Top selling brands this week', where you'll come across labels such as Nike, Victoria's Secret, American Eagle Outfitter, Zara, Michael Kors, Kate Spade and more. This only means it's time to fetch those branded pieces in your closet to star on Poshmark for you to make some cash out of it.
Do note that on Poshmark, you must create the reach of your product by making sure it's getting enough shares. It's all about connecting with a network of shoppers on it and the more your listing is shared, the better the chances of it reaching out to other networks and getting sold. One thing is for sure, you can be delighted about how easy it is to set up your account here. It certainly won't take you more than 60 seconds because the interface is designed to be convenient.
For Shipping: You do have the option to ship out your clothing item via Poshmark. The flat rate charged for this service is $7.11 for expedited shipping on all orders. This shipping fee is paid for by the buyer.
Key Takeaway
On Poshmark the listing process is easy to set up and free.
This platform takes a 20% commission.
3. Mercari
Mercari is one of the newer members in the marketplace, which is yet another good answer to your question, where to sell clothes for cash online. It also happens to be a platform where you can post your listings for free. The app is appreciated and loved by many specifically because the shipping process is made convenient. When you're listing your item on Mercari, they provide you with an estimated cost for shipping immediately after you enter your zip code. It also recommends the shipping label you should use and how much it would cost you.
By simply clicking 'calculate shipping fee', you find the best shipping deal for you. For example, they would provide you with the shipping price offered by FedEx, USPS, UPS and more. You can simply select the option most convenient to you and this ultimately lets you determine the cost of your product. Depending on the shipping cost, you can increase the price of your product before listing.
This platform also has something known as the 'Smart pricing option', where it automatically adjusts the price based on demands and notifies you about people interested in your item. You can also lock down the price you would negotiate upto, so that there's no back and forth in the negotiation game.
You can sign up on Mercari for free. Best part is that you don't have to pay any fee to list your items for sale, and Mercari just takes a flat 10% commission on your clothing items once it's sold. The platform does give you enough clarity about the areas where there are deductions before you list your item, consequently making it easier for you to know how much you could earn post the sale.
Key Takeaway
Mercari handles the shipping process efficiently so you can make an effortless sale.
This platform only takes a 10% commission.
4. ThredUP
There's no way that one of the largest online thrift stores wouldn't make it to our list. ThredUP is no doubt an ideal marketplace if you don't want to invest any time in the selling process. All you have to do is order a FREE clean-out kit from ThredUP, fill up the clean-out kit with the clothes that you wish to sell, drop that kit at a mail carrier and voila! You get cash or credit once your items are sold out.
They also have a donation clean-out kit where you won't earn cash, but ThredUP gives out $5 for every bag you donate to a charity of your choice. ThredUP is a great way to clear your closet of items that could earn you some cash as well as clothing items that you wish to donate. It's one organization that handles both for you.
Be sure to inspect the items you put in the clean-out kit because they must be in good condition for resale or it would be recycled. You could have the items that aren't sold returned to you. Although, you would have to be prepared to shell out $10.99.
You can count on ThredUP to take care of photographing your items for sale, listing it out and handling the shipping process as well. Do note that your clean-out kit might take around a month to get processed. If you want your kit to be processed faster, $16 would be deducted from your earnings. Keep in mind that this platform would constantly update you on the status of your clean-out kit, so make sure you're checking your emails to know your total earnings and which items got sold.
Key Takeaway
A great consignment app where you don't have to put in much work to sell your clothes.
This platform takes 20-95% commission.
5. Tradesy
Tradesy is your ideal place to sell designer labels. The platform is restricted to reselling luxury fashion items. This means you'll have high-end clients willing to pay a good price for designer clothes you currently own. Feel free to press your luck, because this is one of those places where you'll have good chances of making a profit on everything that says Louis Vuitton, Chanel, Saint Laurent, Gucci and the likes. You can think of Tradesy as a platform that helps you realise the resale value of all those luxury items in your wardrobe.
Tradesy also has a pricing algorithm that helps you set up the right cost without doing much research. There is no fee to list your products on Tradesy, but they do take a 19.8% cut for any item sold for $50 or more. For anything less than $50, you are charged a flat commission fee of $7.50. The website provides you with 3 shipping methods: You can print a label from your Tradesy account, you can receive a shipping kit or handle shipping independently.
For Shipping: The method must be selected prior to listing your item on the platform because this cost ultimately decides the final price shown to a potential buyer. A prepaid shipping kit comes with the label. Everything else required for packaging would cost you $10.50. Tradesy also has a feature that removes the background from a picture you upload to make your clothing item look neat and visually appealing. Sellers often turn to Tradesy to sell their wedding outfits, simply because this is one app that has a complete section on their website dedicated to selling pre-loved wedding clothes. You could definitely rake in some cash by selling on this section.
Key takeaway
A great consignment platform to sell pre-loved designer and luxury clothes.
This platform takes a 19.8% commission for items sold above $50.
Things To Keep In Mind When Selling Clothes For Cash Online
Your description of the product must be accurate. Take inspiration from products that have been sold and notice the key words used. Brand name, size, fabric and color must be mentioned.
Take pictures of the front, back, labels and even pictures of areas that have a small flaw. Be honest about it and make sure there's enough light in your room when you capture your picture.
Give yourself time to prepare and get used to how the platform works.
See also: How to Pack Clothes for Moving | Organizing Your Closet After a Move
Conclusion
Ultimately, where to sell clothes for cash online would be contingent on the level of convenience, pricing structure and percentage of commission which is more beneficial to you. Sure, these are many ways of making a quick buck by selling your clothes when moving. But these are surely some of the most reliable online platforms out there for you to make a decent amount of moolah!