Best Moving Tips for Smooth Relocation
Whatever your reason for moving may be, the actual act of doing it probably isn't your idea of fun. It's natural to dread having to prepare for a move and to actually complete it, but there are ways to make the process as smooth and easy as possible. Read on for expert advice on getting through your upcoming move with ease.
Moving Tips and Packing Advice
Create a Moving Checklist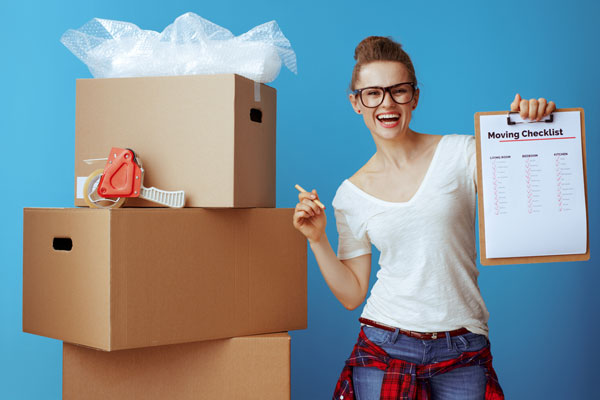 Stay on track with your move from square one by establishing and following a moving checklist. Here's a rough breakdown of what to include:
Two months before – Start preparing for moving day at least two months ahead of time. Sort through everything in your house and purge whatever you don't need anymore. Start doing research on local moving companies, and stick with those that offer on-site estimates and that have USDOT numbers. Finally, set up a moving binder or folder in which to keep purchase papers, moving contracts and other important paperwork.

Six weeks before – Order the supplies that you'll need for packing and moving. Take measurements of your new house to predetermine how everything can be arranged. Start using up perishables like frozen foods.

One month before – Select a moving company; get a written confirmation of the details. Start packing items that you won't need until after your move. Separate valuables like heirlooms and important files, and keep them in a safe box that you will personally transport. Request a change of address from USPS either online or at your local post office. Have your medical records forwarded to your new doctor's office, and notify important parties like utilities and banks of your impending move.

Two weeks before – Schedule a day off for moving day. If you have a safe deposit box at the local bank, empty it and store its contents in the safe box that you will keep with you. Touch base with the moving company to ensure that they will be there on the correct day. Consider tuning up your car if you will be driving it a long distance.

1 week before – Refill any prescriptions that you will need to ensure that you don't have any interruptions. Pack suitcases with a few days' worth of items so that you don't have to dig around for essentials after getting to your new home.

A few days before – If you're moving your refrigerator, defrost the freezer. Double-check again with the moving company about details of the move. Make plans for paying for their services, and be sure to include money for a 10 to 15 percent tip.

Moving day – Verify with the moving company first thing to ensure that they will be on time. Using the provided packing list or bill of lading, perform an inventory to ensure that everything that is supposed to be moved is being moved.
Here's one of our detailed articles about moving checklist: https://9kilo.com/national-moving/what-should-be-on-your-moving-checklist
General Moving Tips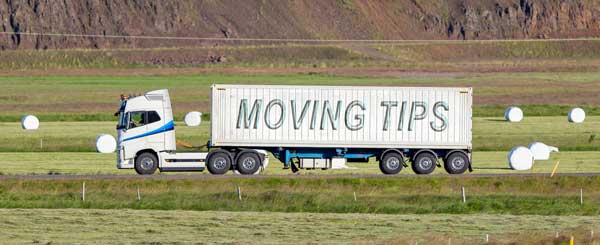 From a few months beforehand to the day of the actual move, here are some tips to make the process easier:
Start early – Give yourself at least two months, if possible, to prepare for moving day.

Have the right attitude – Sure, no one relishes the process of moving. However, as with so many things, attitude is everything. Go into the process with the attitude that you can and will get everything done on time and in the right order – and be flexible because even the best-laid plans can sometimes go awry.

Set up a moving folder – Keep all of the important documents related to your move in one folder or binder. These may include things like your moving contract, confirmations from utility companies and rental and purchase papers.

Purge everything you can – Don't bring unnecessary things with you to your new place. Inventory everything in the home and decide which items can be donated, sold, thrown away, recycled or otherwise purged. You'll have less to pack prior to moving and less to unpack upon arriving at your new place.
See also: List of Charities for Donation Pick Up

Book services early – Try to schedule your move so it falls in the middle of the month and in the middle of the week, when moving companies tend to be much less busy. Make sure that there will be a parking space for the movers at your new place on the big day. Book any other services that you'll need, including renting supplies, cleaners and painters, as early as possible.

Invest in moving equipment and supplies – At least a few days before moving day, invest in essentials like box cutters, packing tape, permanent markers, garbage bags and paper towels. If you're doing the moving yourself, you should also acquire a furniture dolly, door stoppers, tie-down straps, rope and pads and covers for furniture.

Set up utilities for your new place – As soon as the dates have been finalized, contact utility companies for your new place and alert them of when you need service to begin. Keep records of these transactions in your moving binder to avoid confusion. You should also contact the providers for your current place and alert them of your move-out day to ensure that service is stopped in a timely manner. It will be useful to go over our change of address checklist article.

Get moving quotes – If hiring a moving company, get quotes from at least three different places before making a decision. Make sure that each company comes out and provides an on-site estimate, and keep copies of the quotes for easy comparison. Alternatively you can get instant moving quotes from reputed moving companies right here at 9Kilo.com.

Photograph items you'll be moving – Go through your home and take photographs of everything that will be coming with you on your move. If something gets damaged in transit, you will have an easier time filing a claim for reimbursement. Also, photograph the back of electronic devices like TVs before pulling out all of the wiring; that way, you can easily reconfigure everything at your new place.
See also: TV Packing Tips

Do a final check of your old home – Ensure that you don't inadvertently leave stuff behind by methodically going through every cupboard, drawer, cabinet, closet and even appliance. You may be surprised to find stragglers that you may have otherwise left behind.

Clean the bathrooms and kitchen at your new place – Prior to moving, if possible, visit your new place and clean the bathrooms and kitchen. Stock bathrooms with clean towels and toilet paper so they can be ready for use as soon as the moving truck arrives. A first apartment checklist will be useful when moving to a new home.

Hire sitters – Depending on your situation, you may also need to hire sitters for children or pets. That's especially helpful in the case of young kids who can't really help out. Having someone to mind your pets on moving day will give you one less thing to worry about.
Packing Tips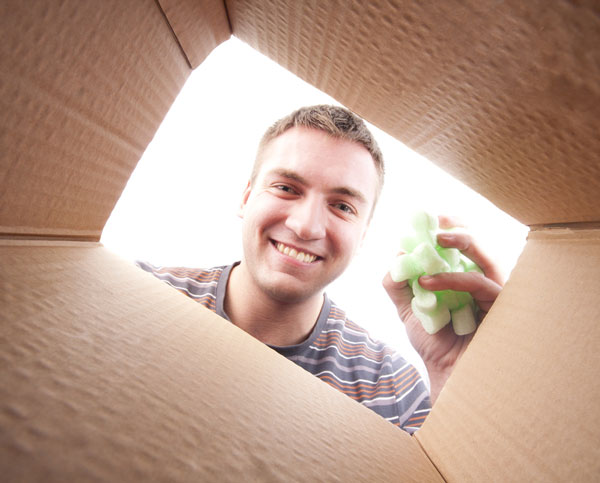 Even if you hire movers, you will likely be responsible for boxing and packing everything that you need to move. Here are some handy tips for doing so as effectively as possible:
Pack off-season, unneeded items early – Start packing as early as possible. You should be able to box up off-season items and other things that you won't be needing until you arrive at your new place.

Pack essentials to keep with you – The night before the move, pack up a bag with things that you'll need during the move and immediately after arriving at your new place. If there are larger essentials that you'd like to keep handy right away, pack them in a clear box for easy viewing and finding.

Use the right boxes – Make sure that you have a mix of different sizes of boxes. Pack heavy items like books in small boxes to prevent them from becoming too heavy. Likewise, pack lighter items in larger boxes.

Pack boxes into the truck strategically – Keep your items safe for the journey to your new home by placing the heaviest boxes on the bottom and near the front of the truck. You can then place lighter boxes on top of the heavier ones or more toward the back of the truck.

Keep items organized – Pack items from the same room in the same boxes. Use labels to clearly mark which room each box is destined for at the new place. You can also either jot down what's inside each box on its exterior or set up a coding system with a separate list so you can easily find what you need later.

Fill gaps in boxes – Once a box is full, eliminate any gaps or spaces with bunched-up newspaper, bubble wrap or other materials. That way, the items inside the boxes won't be able to jostle around as much and will be less likely to become damaged.

Tape boxes with care – Minimize the risk of boxes breaking open during transit by taping them up with care. Using high-quality packing tape, go over the bottom and top seam of each box twice. Next, wrap packing tape a few times around the top and bottom edges for extra protection.

Bundle fragile items and protect them properly – Wrap each dish with packing paper, and then bundle five to six together at a time and wrap again with more paper. Store dishes upright in boxes to minimize the risk of breakage. Stack cups and bowls with packing paper between them and wrap into bundles of three or four. Consider using pillows and blankets for padding; also, clean socks can be used to protect wine glasses and other stemware during transit.

Get creative to get the boxes you need – Before buying any moving boxes, check Freecycle, Craigslist and Facebook Marketplace for people who are giving away unneeded boxes. Recycling drop-off points, liquor stores and bookstores are also good places to check. Use laundry hampers, bins and suitcases as moving boxes too; the latter are especially useful for moving books.

Pack electronics in their original boxes – If you have saved the boxes from big-ticket electronic items like computers, printers and flat-screen TVs, pack those items back in those boxes for safer transport. This also makes it easier to know where those items are at any given point.

Track your moving truck with an iPad – In the case of a long move, it's normal to fret about where your items are as they move from point A to point B. Consider packing a powered-on iPad or iPhone in one of the boxes, and then use the Find My iPhone feature to keep tabs of where the truck is at any given moment.

Cover open toiletries with plastic wrap – Keep things neat by opening the tops of toiletries like shampoos and lotions and securing the openings with plastic cling wrap. Replace the top after doing that, and the odds of anything leaking or making a mess will be drastically reduced.

Seal drawers to secure items within – Dresser drawers can remain full and reduce the number of boxes that you'll need. However, to keep things neat and tidy while they are jostled about, use press-and-seal plastic wrap over each drawer. The items within them will stay in place, so you'll have even less to do upon arrival.

Use baggies for hardware and cords – As you disassemble items for the move, place screws, nuts, bolts and other hardware in small baggies. Tape the baggies onto the backs of the items for easy retrieval later. Do the same thing for any cords that go along with devices in your home, or you may find yourself searching high and low for them later.

Vacuum-seal out-of-season clothes – Since you won't need out-of-season clothes right when you arrive, consider vacuum-sealing them prior to the move. They can then easily be stored at your new place until you are ready for them, and it will give you one less thing to have to figure out when unpacking and organizing your new home.
Conclusion
As you can see, the more care and planning that you put into an upcoming move, the more smoothly it's apt to unfold when the day arrives. By starting early, being organized and purging whatever you can, you will have less to do on actual moving day. Furthermore, unpacking and getting all situated at your new home will be that much easier.