Change of Address Checklist for a Smooth Relocation


VanLines Inc
Secure Storage
Easy Booking Process
Fully Trained Employees
GET A QUOTE

Colonial Van Lines
Storage Services
Long-Distance Moves
Corporate Relocations
GET A QUOTE

Moving APT
Available Nationwide
Award-Winning Movers
Extensive Vetting Process
GET A QUOTE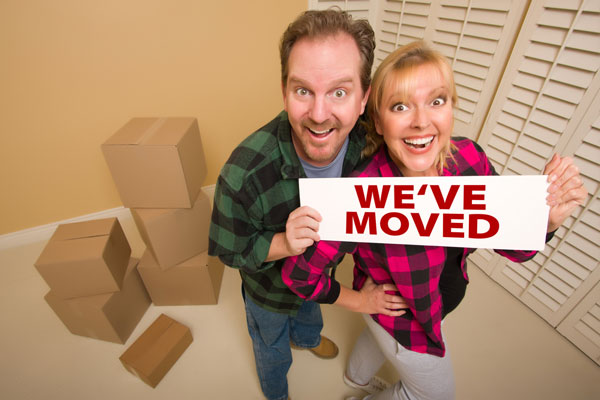 Moving is more than just loading boxes and unpacking. You have to also change your address so important mail is sent your way. The earlier you do this, the better. After all, you do not want to miss important bills and updates or face overdue fees or fines. The following includes a general checklist of places that will need your new address.
Here's the list of places and people you should notify the change of address
Post Office
The first place on your checklist should be the post office (USPS). You can have your mail forwarded to a new location for up to a year. The USPS makes it easy to update your address. You can do it online and even schedule when the forwarding services should begin. It is best to do this a week before the moving day, as long as your new location can receive mail then. It will be nice to have a seamless transition so all important bills and mail arrives without an interruption. You can also visit any post office and change your address in person too.
See also: How to Set Up a PO Box
Government Agencies
The Department of Motor Vehicles (DMV), or its equivalent in your state, needs your new address as soon as possible. This updates your license and registration. Otherwise, you could be fined for delaying on this. You should also touch base with your auto insurance company. Different places have different rates. Insurance companies could accuse you of fraud if you do not update them on your new address. You should be able to update this information online.
Two other agencies that need the new address are the IRS and Social Security Office. To update your address with the IRS, use the 8822 form. You only have to update the Social Security office if you receive benefits from them. Lastly, you should update your voter registration information so they know which district you will be voting in. This is important because it updates which polling location you should go to. Again, you can update your registration online.
Also See: Address Fraud: Things You Should Know
Electricity Company
Electricity is important. You should schedule this in advance so that everything is transitioned before the move. You can transfer your current service or cancel it. All you need is the new address. Thanks to the Internet, this can also be done online. If you have questions about rates, give the company a call. You can schedule the electric to start the night before the move or morning of.
Cable & Internet Service Provider
No one wants to move into a new home and not have cable and Internet up and running. This small luxury makes everyone feel better. Give your cable company a call so they know when service should begin. They may even have some discounts for your new zip code, so you could end up saving money by making this call. You should be able to keep your equipment, which makes the move even easier.
Phone Provider
Your cell phone provider will want to know your new address too. This ensures they know where to send your bill. If you end up needing services, repairs or advice on an upgrade, your provider can also direct you to the closest store to support you. Updating your address takes just a few moments. Simply give your provider a call or go online and change it there.
Miscellaneous Utilities
Depending on the location and type of home, you may have to reach out to some other utilities too. For example, if you worked with a plow company during the winter or a local recycling company, they should know about this move. Additionally, if you had lawn care or had water and sewer fees, these are other utilities to update on your move.
Insurance Companies
If you have home or renters' insurance, make sure to let them know where your policy should be transferred to. A new zip code or type of home could mean shifting rates. If you are moving between apartments, some landlords or property managers will want proof of your policy on file. Some renters' insurance policies will even cover you during the move. If something breaks or is damaged, you could receive support. But this will not happen if you do not communicate with the providers. Not switching your address could void the policy, which is dangerous if something happens. It is always better to be safe rather than sorry!
Employer
You should let your employer know your updated address as soon as possible. This affects your tax forms and pay stubs. Make sure to update your address even if you have your pay direct deposited into your account. After all, your tax forms are usually mailed out, and you will want them to go to the right location.
Financial Institutions
You might forget to update your bank and credit union card after you talk to the USPS about your move. However, the post office will only forward mail for a limited amount of time. If you have any school or auto loans, make sure they have the new address too. You do not want to miss important account information. People often forget to update other types of financial groups like an IRA/401K group or another type of investment account. Make sure these groups are on your checklist.
Credit Card Companies
You may have one credit card or five. Regardless of the number, take the time to update your address here. If you are shopping online, you may be asked to verify your identity by giving the mailing address or zip code for your cards. And of course, credit card companies routinely send out rate, policy and service announcements. To update your cards, you can give them a call or go online. It should only take a few minutes.
Health, Dental, and Life Insurance Companies
Take some time to update your health, dental, and life insurance companies on your new address. This can affect not just rates but your access to services. This ensures you know which providers are in your area, rates are competitive, and you never miss important mail like updated cards or policy changes. And of course, your primary doctor and other health care providers should know about your move too.
Streaming & Payment Services
Do not forget to change your address for common streaming services like Netflix or Hulu. This goes for other types of services too: from Apple Music to Audible. If you use payment services like PayPal, you should update your information here too.
Memberships
Do you go to a gym? Do you hire cleaners throughout the year? If so, make sure these places have your new address too. You do not want to miss out on their services. If you are moving far, they may have other affiliates near you too.
Subscription Services
Do not forget to update your subscriptions! This ensures you still have your magazines or receive your monthly clothing or box subscriptions without an interruption. If you are apart of loyalty programs at stores, you should also let them know about your new address. This ensures you do not miss out on great coupons or deals.
Professional Organizations
Take some time to make a list of any clubs or organizations you are apart of. For example, if you are an alumnae of a university, you should let them know your new address for any events or updates they have. If you donate money to a favorite non-profit or cause or are apart of a professional organization, they will want to know your new address as well.
Loves Ones
In the midst of a move, you may forget that loved ones will want your new mailing address. After all, they will want to know where to send holiday cards, party invites and more. One of the best ways to share your updated address is to send out a mass email to loved ones or to use change of address cards. You could also let people know via a mass text or with a post on social media.
Making Your Checklist
Roughly a few weeks before your move, you should make a list of people who need your new address. Start with large organizations like the government or post office and move down through the different types of services you receive. One of the smartest things you can do is pay attention to the mail you receive; which places need the new address, which items are junk mail, etc. As you receive new mail, you can update the addresses then and there. This makes it easier to pack, plan and manage this move.
Your new address is a hot commodity. Taking some time to plan your move and how to update folks is important. Otherwise, you could miss important events, bills and information. Changing an address can take just a few moments thanks to the Internet. Do not procrastinate; starting earlier makes this an easier process. If you stay organized, you will not have to try and track down lost packages or have a gap in important services.