What Should Be On Your Moving Checklist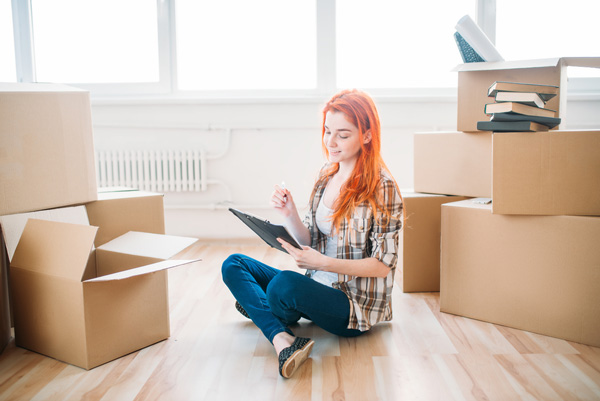 When you research what you need to do before relocating your home or office to another city, you should know that many of the articles and blog posts online present printable checklists of things to do. Unfortunately, many of the checklists include specific times to complete each task on a moving checklist. Although the timing is important for relocation, the fact is many moves are performed on short notice. From relocating because of a job to moving your family to another city because of the need to be closer to an ailing relative, you might not have the time to time stamp your moving checklist.
Regardless of how much time you have before moving day, you have to put your home on the market or inform your landlord about the move as soon as possible. There is no time stamp here, just the call for acting with a sense of urgency. You also need to find a place (apartment or condo) to live, which can involve going through a virtual tour of a property followed up by an in-person visit to confirm what you saw online.
After you take care of the big stuff like buying the new apartment, the time has come to answer the question of what should be on your moving checklist.
Moving Checklist – Everything That You Need To Know
Let's look at a moving checklist of 10 essential tasks that should be on your relocation to-do list:
Perform Research on Moving Companies
If you plan to move across the street or even a few blocks away, you can enlist the help of friends and family members to provide the labor and the moving vehicles needed to complete the move successfully. However, most moves involve longer distances and hence, require the services of a bonded and licensed team of professional movers.
The first task on your moving checklist is to research every moving company on your shortlist. Start by referring to the Better Business Bureau (BBB) web page devoted to the moving company. Read the customer feedback left on the BBB page, which should give you the most accurate account of the integrity and professionalism of the mover. The BBB page devoted to the moving company will also list any complaints that were filed by customers.
The next step for researching moving companies is to read the customer feedback left on websites such as Yelp and Google. Look for specific trends in commenting like whether a mover offers 24-hour per day customer support by phone and/or through the company website. Finally, ask your friends, family members, and professional peers about any specific recommendations for hiring the right moving company. Make sure any mover you hire specializes in performing the type of move you expect to make.
Click here to get the list of best moving companies in USA!
Ask for a Non-Binding to Exceed Moving Estimate
#2 on your moving checklist should be to beware of the moving company that insists on presenting a moving estimate over the phone. There is no way any mover will be able to provide a reasonable moving estimate, without first performing a detailed home inspection. Movers typically inspect the cargo to estimate the total weight of your stuff for a move. Cargo weight is by far the most influential factor in determining an in-home moving estimate. You should ask for a non-binding in-home moving estimate, which is an estimate that closely reflects the final cost of relocation. You do not want any unpleasant financial surprises tucked within the moving contract.
Should It Stay or Should It Go
#3 on your moving checklist has to be de-cluttering. With the weight of your cargo playing a huge role in determining the cost of relocation, why not lighten the load, so to speak, by giving away the stuff you can either do without, or you can find a replacement once you arrive at your new home. For example, maybe the time has come to change out the dining room table. Father Time has taken a toll, and the table weighs enough to need its moving truck. Give the dining room table away to a charitable organization like Goodwill or the Salvation Army to reduce the amount of cargo weight packed in the moving truck. You also will provide someone with a more affordable way to entertain guests in the dining room. Another way to downsize your items is to hold a yard sale, which you can run to generate money for covering some of your relocation and moving expenses.
Familiarize Yourself with Your New Home
Getting to know your new neighborhood is an important task on your moving checklist. This is important even if you plan to move down the street. You want to get an idea where everything will go, as well as meet a few of your new neighbors. If your move involves traveling hundreds of miles, allot enough time to visit your new city to become acclimated to what the city has to offer. You will have to enroll the kids in school, as well as discover where you will shop for clothing and groceries. Yelp and TripAdvisor offer substantive reviews of city libraries, restaurants, and cultural attractions.
Acquire Free Packing Supplies
The reason why most moving checklist emphasizes on acquiring free packing supplies is because long distance moving take a large chunk out of the family budget. Between taking care of the costs of moving your stuff, you also have to deal with paying for gas, food, and one or two nights of temporary shelter. Another cost that can add to the final moving bill quickly is the cost of moving supplies. You do not have to pay for tape, boxes, and padding. You have several options for obtaining free moving boxes. Many businesses discard sturdy cardboard boxes, and all you have to do is time your arrival on the days when the businesses receive the product. Stay away from the boxes left behind by grocery stores and restaurants. Focus on big-box retailers like Best Buy and The Home Depot that discard cardboard boxes, which are strong enough to secure electronics and home improvement products.
Packing Ahead of Moving Day
We mentioned it is sometimes hard to time a move to give you enough time to take care of everything that needs to be done for relocation. There is one task on our moving checklist that does require sequential timing.
That one thing is called packing.
Far too many people treat packing for a move like they treated studying for final exams. They wait until the last minute, and they come up with plenty of excuses for the procrastination.
"I didn't want to start packing until I was ready to pack perishables."
"The packing boxes didn't arrive on time."
"I wrenched by back."
One thing that you will notice in every moving checklist is to pack your belongings and essentials sequentially and to do that; you need to plan is based on the time you have left and the items that you wish to relocate.
By packing your belongings based on how frequently that particular item is used will help you place those items appropriately in the boxes.
No one we have ever met enjoys packing for a move, but you can make it at least bearable by getting a head start. Start by packing the clothes that are out of season. Then, store every kitchen accessory you can do without until moving day. Another tip is to organize heavy items next to the area where you plan to pack up the truck for moving day.
Contact Everyone that Needs to Know about Your Move
Whether you are moving into a new home or relocating your office, one thing you should include in your moving checklist is to inform everyone that needs to know about your move. Here is another thing you can do the minute you find out where you are going and when you plan to make the big move. Because of the hustle and bustle of moving, some people forget to tell a few friends about their planned relocation. Long before you plan to move, let every utility company know about your move to ensure the gas, water, and electricity are turned off on time.
Stop by the Post Office
Email might have taken over how we communicate with friends, relatives, and professional peers, but we still receive enough snail mail to warrant a trip to the post office before moving day. It is important to have your mail forwarded to your new address in case you forget to reach out to someone you love or a business that will eventually need to contact you about something important. As we said, the stress of moving can cause mistakes, including forgetting to let everyone know that needs to know about your move.
Update: Here's a detailed article about "Change of Address Checklist"
Know Your Rights!
Moving companies do not conduct classes that educate consumers about their federally granted rights. Many movers live by the mantra that "what you do not know cannot hurt you." When you have a little downtime before the big day, spend a little time reading the Rights and Responsibilities handbook written by the Federal Motor Carrier Safety Administration (FMCSA). The FMCSA offers its helpful handbook in both print and digital form. You need to know your rights when it comes to a moving company losing your stuff or being responsible for some of your valuables suffering from impact damage.
Peace of Mind
The last item on your moving checklist is to gain the peace of mind you need to deal with the inevitable unexpected problems that arise during a move. One thing we recommend you do is to contact the moving company to verify all the major logistical components of the relocation. You should verify the day and time of the move, as well as the size of the moving vehicle you have reserved. If you are traveling a long distance, then confirming the moving route is a good idea.
Make relocation a lot easier by knowing what should be on your moving checklist.
See also: Questions to Ask Yourself Before Moving | Nationwide A to Z Moving Checklist