Home Depot Moving Boxes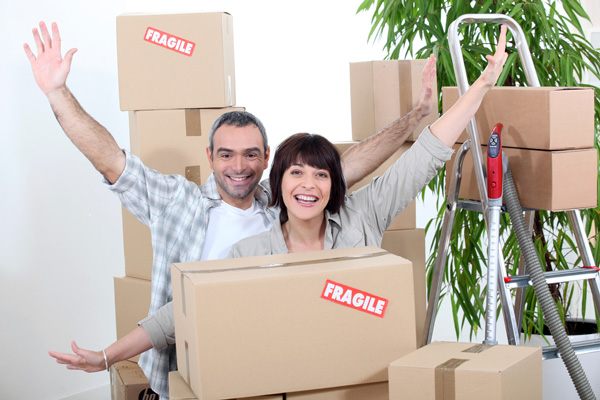 Moving is an excruciating process that doesn't take place overnight. Every step in your moving journey is a crucial one and should be paid attention to. One really important yet often overlooked aspect of moving is packing. Rightly done, packing can literally make your moving experience better and the most important thing to decide while packing is finding the right kind of moving boxes.
As they say, every move is different and so will your requirement for moving boxes! But don't worry, we are here to sort it out for you. We will take you through the various kinds of moving boxes available–primarily the ones provided by Home Depot Moving, which has a wide range of good quality moving boxes for you to select from.
Types Of Moving Boxes
The right kind of box is an extremely important choice and is often difficult to source but Home Depot aims to make it easier for you. Home Depot is the largest home retailer company in the United States and is especially known for its high and premium quality moving boxes that can fit almost every item ranging from the smallest to the most massive ones. Home Depot has become the go-to destination for many customers over the years for their moving supplies and that is primarily owing to the excellent quality, variety, and reasonable pricing of their products.
Standard Moving Boxes
A standard moving box is one that can fulfill most of your basic storage needs. They are recommended for you when you are packing or storing items that are not too fragile. They come in various sizes and are known to be pocket-friendly so getting them in bulk is also be a good idea. There are 5 types of standard moving boxes provided by Home Depot which are mentioned below:
Extra Small Boxes
This is the smallest box in their range of moving boxes. The size of these extra small boxes is 15" x 12" x 10". Each of these boxes is priced at $0.78 and can hold the total weight limit of up to 65 pounds. It is used for general packing requirements but in case of heavy moving, you are advised to go for heavy-duty boxes instead.
Small Boxes
This is your standard-sized box for all your storage needs. It is also the top-selling variety of the Home Depot storage range. The size of a small standard box is 16" x 12" x 12". Each box is priced at $0.98. The small boxes are a bit bigger than the extra-small ones in size but they, too, can hold a weight of up to 65 pounds. These boxes are usually recommended for small moves.
Medium Boxes
The medium-sized boxes are a great pick when it comes to storing and moving your basic supplies. A medium box comes in the size 22" x 16" x 15", can hold up to 65 pounds of weight, and is priced at $1.48 each. These boxes are ideal in case you want to move your toys, clothing items, and small appliances.
Large Boxes
These are the bigger boxes in the standard size that come in the size of 18" x 18" x 24". The large boxes are priced at $1.78 each and can hold up to 65 pounds. You can easily store and move your lampshades, pillows, stuffed animals, and a lot more in these boxes.
Extra Large
These boxes can fit your larger items like comforters, pillows, kitchen crockery, etc. They have plenty of space and come in the size 22" x 22" x 21". They are priced at $2.48 each and can hold items up to 65 pounds. All of these boxes are made of brown, recycled cardboard and can be used in multiple ways.
Heavy-Duty Boxes
Heavy-Duty Boxes are the ones we recommend in case you are planning a long-distance move or for your long-term storage needs. These boxes have more capacity and strength to go through the rough patches of your moving journey. The heavy-duty boxes come in various sizes which are mentioned below:
Small
These boxes come in the size16" x 12" x 12" with each box priced at $1.78. Each of these boxes can hold up to 85 pounds and will be perfect for small items like crockery, office supplies, and even books.
Medium
The medium heavy-duty boxes are of the size 22" x 16" x 15" with each box priced at $2.68. They are great to store heavy and fragile items in, especially if you want to preserve stuff in non-climate-controlled areas like attics, garages, warehouses, etc. They can hold up to 85 pounds and come with double-wall heavy-duty construction, making them a great fit for your tricky moving needs.
Large
The large heavy-duty option is a huge double-layered box of the size 18" x 18" x 24". Each large heavy-duty box is priced at $3.68 and can carry weight of up to 120 pounds. Like all the other heavy-duty boxes, the large box also comes with a handle for stability and is made with thick cardboard to store the larger delicate items which need to be shipped.
Extra Large
The extra-large heavy-duty box is basically a stronger and more stable version of the standard extra-large box. It is pretty spacious and can hold the biggest appliances you will need to pack in its 22" x 22" x 21" size. The extra-large boxes are priced at $4.98 each and can hold up to 120 pounds.
Moving Kits And Specialty Moving Boxes
Other than standard and heavy-duty boxes, Home Depot also provides moving kits and specialty moving boxes. Moving kits can sort your entire packing process because it provides all the moving supplies you could possibly require and saves you time, effort, and energy. The price of these kits depends entirely upon the number of supplies you will opt for but they generally range from $23.92 to $422.49. They can also be customized as per your needs.
The specialty moving boxes are the ones for you if you've been struggling to find the right packing supplies. These moving boxes include wardrobe boxes that are available in standard and heavy-duty types. Depending upon your need, you can check your options out on their official website and place your order.
In case you want options for moving your precious artifacts like televisions, art pieces, and the like, they've got options for you! They have three kinds of boxes available, all of which are adjustable. Sizes range from medium to extra-large. They are all heavy-duty boxes and their prices lie between $16.48 to $34.98. You can check their availability on their website and in case your local Home Depot store doesn't have the item you need, you can always order it from the website and get it delivered to the store without any additional charges. Once the item is delivered, you can go to the store and simply pick it up.
Perks Of Selecting Boxes From Home Depot
With a growing market, there is no doubt that you will always have multiple options, which is true in the case of moving boxes too. Here is why choosing Home Depot for your packing supplies is the smarter choice:
Home Depot is the biggest retailer of moving boxes and holds the largest market share in the field too. It sells over 75 million boxes yearly which shows the trust and reliability that they have built over the years.
Home Depot has high-quality, corrugated cardboard boxes that are not only excellent in grade but will also hold up very well over your moving journey, no matter how bumpy it gets.
They make their moving boxes with recycled paper thus contributing to saving about 1.4 million trees a year and nearly 570 million gallons of fresh water. The recycling process uses only about one-third of the amount of water that a regular process would use.
They have easy returns and refunds available so in case you do not need the boxes or have bought additional pieces, they will be happy to provide you with a refund.
The biggest benefit of getting boxes from Home Depot is their user-friendly online experience where you can browse through all the categories of boxes and products available which can be directly delivered to your home address too.
Some Tips To Make The Best Of The Moving Boxes While Packing
Like everything else, packing too is an art made perfect through practice. However, sometimes, a few well-researched, intelligent tips are all that is required to make your packing journey easier. Here are a few things to keep in mind before you start packing:
It is always a good idea to begin your packing by sorting out your items into various categories. Getting them categorized will help you organize better while also giving you an exact approximation of the number of boxes you will need.
We would suggest you start by segregating your fragile and hard items first and then, further divide them according to size.
Once you have done that, you will be required to make an estimate of the number of boxes you will need, ranging from extra small to extra-large ones.
If you're looking to move a lot of items, go for the moving kits or buy boxes in bulk as they will be slightly cheaper. You can also return the boxes in case you end up buying more than you need.
Know that heavy-duty boxes are your best friend when it comes to fragile items while standard boxes would do for the normal non-delicate items as they come in varied sizes ranging from extra small to extra large.
Get the most number of small standard boxes because not only can you fit many items in one but they are also the cheapest moving boxes option. Instead of buying a large box, get multiple small ones if they suffice. They are also perfect for small, heavy items such as books, appliances, kitchenware, pantry items, etc. The small-sized boxes typically measure 12-14 inches long.
Get separate wardrobe boxes for your suits, dresses, and other clothing items and accessories as we are sure you don't want your precious belongings to get messy or damaged amidst the chaos of moving and other household appliances.
Get insulated foam container kits in case you need to move frozen items from the refrigerator.
Always use labels and markers and clearly label all the boxes so that you don't go crazy trying to find the stuff you're looking for while unpacking in your new house.
Get special lamp boxes for your precious lamps because they most likely wouldn't fit in the regular-sized moving boxes. These boxes are long, angular, and designed to help prevent any accidental damage to your lamps.
Always try to buy your packing supplies along with your moving boxes. When it comes to this, Home Depot can be your one-stop destination as it saves your time as well as unnecessary trips to the store when you have so much on your plate already.
FAQs On Home Depot Moving Boxes
Does Home Depot Give Free Boxes?
No, Home Depot does not generally give free moving boxes. They have their own widely popular selection in-store and online. Home Depot is one of the cheapest places to purchase moving boxes from, with the smallest box priced at $1.48 each. Though sometimes, there is a possibility that if you call ahead, an employee might be able to reserve any unwanted packaging for free that they aim to discard.
Are Home Depot Boxes Good For Shipping?
Yes, Home Depot has the best and cheapest options when it comes to shipping boxes. Their heavy-duty collection is one of the sturdiest and most convenient ranges which comes with handles, double layering, and can hold any fragile item steadily. The boxes offer full protection, are completely recycled and environment-friendly, and are a brilliant option for shipping.
Related: How and Where to Rent Reusable Moving Boxes
What Is The Difference Between A Moving Box And A Shipping Box?
Shipping boxes are generally the standard boxes that are made of normal cardboard. They are mostly used for in-home relocations, small moves, or basic storage needs. They come in various sizes starting from extra small and extending to extra-large sizes.
Shipping boxes are stronger and also known as heavy-duty boxes. They are perfect for shipping as they come with a handle, a double wall for layered protection, and are durable in nature. They are used for shipping because of their rough-and-tough nature.
Also See: Best Long Distance Moving Companies in USA | What You Need to Pack in an Essentials Box When Moving