What to Do with Packing Materials After a Move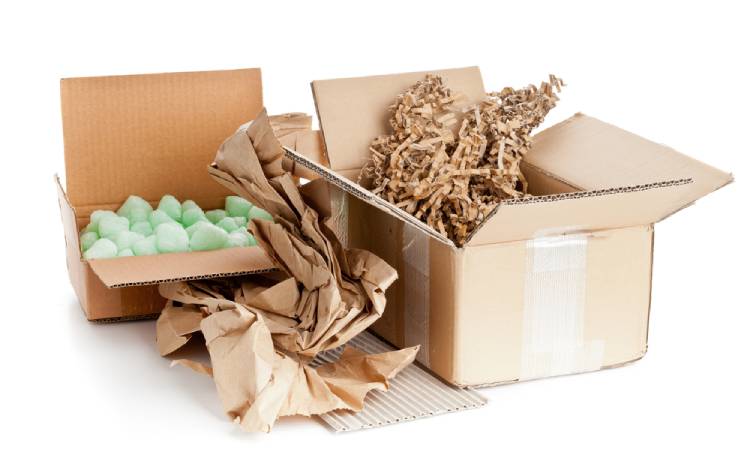 The process of moving is not the easiest of affairs so congratulations on making it to your new home successfully. It certainly calls for celebration, but there's one more thing that needs to be tackled post the move – and that's unpacking! We hate being a party pooper, but let's not leave behind the consequence of unpacking, which is dealing with all of the packing material lounging in the house.
There's no denying that the packing supplies used for the move served you well. Corrugated boxes, bubble wrap, packing paper and foam sheets surely ease the entire moving process by warding off danger to your items. But now that the move is over, they may look pretty useless sunbathing in your house.
While unpacking, you might feel unsure about what to do with them and begin to wonder about the options you have. It may seem like a tough nut to crack but we've got a few interesting ideas for you. Read on to learn more about what to do with packing materials after a move.
Our blog sheds light on ways to deal with some of the common packing materials used when people move homes. We'll go in order of most used to least used materials and discuss the various options you have to manage this party obstruction.
Corrugated Cardboard Boxes
A corrugated cardboard based box is the most used packing material during a move. There's no room for arguing on this one because it's going to be the only material that's taking lots of room in your living quarters too. It's possible that you have a minimum of 30 boxes lying around. If you previously lived in a two-bedroom apartment, your box count could go upto 60 boxes. So, you can already picture the floorspace these boxes will take.
If you know the number of boxes you're dealing with, the next step would be to inspect all of them and differentiate the boxes that have a second life from the ones that don't. Immediately flatten out the good boxes and segregate them from the ones that don't look too good. This way, you automatically know that the flattened boxes is an indication that they have some future use. Be sure to store the good boxes in a dry and clean area.
If the boxes are in good shape, you can either decide to sell them for some extra cash or donate them so that it's useful to someone who is in need of moving boxes.
Places Where You Can Sell Moving Boxes For Cash:
eBay
Craigslist
BoxCycle
Freecycle
U-Haul Customer Connect
Boxsmart
You can list your relatively good boxes on these websites and earn a reasonable amount in return. Listing them out on these websites helps the boxes reach people on the lookout for second-hand boxes just like you did in the past.
What To Do With Boxes That Don't Sell?
Donate
If you prefer donating boxes, you want to make sure that they are delivered into the right hands. While taking the donation route, it's necessary that you first check with friends, relatives and neighbors, if they would be interested in taking a few boxes from you. There's a slim chance that within your friend circle there's someone who also has plans to move out, but it's worth asking them. Simply because in all likelihood, they may know somebody else who needs moving boxes.
If you have no luck with people you know, you can look up NGOs and charitable organizations in your locality that need boxes. Places of charity always require boxes to parcel food or clothes to the less fortunate, so your boxes could be perfect for the role here. You can also offer the boxes for free to students who are on the hunt for second-hand cartons to pack up for dorm life. Students would already be dealing with college debt so receiving good boxes is the best opportunity for them to save.
Your fourth option is to put up a simple post on a Facebook group to connect with individuals in your vicinity in need of boxes. You can even try Instagram if you're familiar with the app and put up a story with pictures of the boxes. When the post is put up, ensure you've written something along the lines of how you're willing to send out a definite number of moving boxes.
Do your best to ask around your neighborhood too and find people who would accept hand me downs. Take your chances with people in your locality itself so that you're saving yourself the trouble of sending it out to a distant place. While asking around in the neighborhood, you would eventually become familiar with the faces and possibly get comfortable with the community too.
Tip – Use the app NextDoor to get to know your neighbors and the community events that are in the pipeline. NextDoor is essentially like being on a social networking group but just for neighborhoods, to share information on events and exchange useful information to help neighbors out. You can consider starting a discussion there to convey your need to donate your moving boxes.
Repurpose
Your next option for your boxes would be to find a new purpose for them. There are innumerable ways to reuse boxes and you can get creative with the ways you repurpose the box. We've mentioned a handful of ideas below.
How To Repurpose Moving Boxes
Storage
Some boxes are great to store seasonal items like the bulkier winter outfits, tents and summer vacation items like floaties that we don't really use on a daily basis. These items just end up occupying space at the bottom of our wardrobes. So, why not pack it neatly in a storage box until it's time to use them again? Your moving boxes will come in handy to pack cleaning supplies, cans of paint, DVDs, photo albums, old books, Christmas decor and much more. Think of other items you can store in your moving box instead of discarding them.
DIY Projects
If you have little kids in the house, you can consider using the boxes for a DIY art project. Children love building forts and castles with cardboard boxes. You could work on making a playhouse out of the bigger boxes. Always choose to save the box for a school art project. The boxes would be handy for creating a booth for a science fair or it could even be used as raw material for a fancy dress competition. If you have the time, you can even bring home a puppet show for the kids by reusing the boxes you have to create a play theatre. Play cars, play post office, play robot and using the box as a ball pit are just a few DIY projects you can take up with the kids.
These are just a few ways you can reuse the boxes to keep kids entertained. But let's not forget our furry friends who love boxes just as much as the kids do. Cats especially have a crazy obsession with cardboard boxes and it's most likely that you've seen a funny video of a cat having the time of its life with a cardboard box. Since you would have spare boxes with you, we'd recommend saving them for a DIY cat shelter project. Similarly, dogs don't have the same crazy obsession but they do love to snuggle and use cardboard boxes as a bed. So why not upgrade that cardboard box into a comfortable bed by wrapping it with blankets and fabric to make it cosy enough for your furry friends to enjoy?
Apart from DIY projects, you can make use of the boxes when Christmas is around the corner. Because that's exactly when the hunt for boxes to pack presents begins. Which is why we recommend keeping a few smaller size boxes in the store room to use for packing gifts. The moving boxes with smaller dimensions work great to ship presents during the holidays.
There are a million other ways to get creative with cardboard boxes so that they find a new purpose in the house post relocation. We definitely see the boxes as a great source of raw material for arts and crafts at home and we hope you're beginning to see it too.
Recycle
Now, there might be a bunch of boxes that got damaged in the moving truck and can't really be donated or reused. Which only means it's best to send these boxes out to a local recycling center and see if they would be happy to recycle the boxes. Do make a phone call before you actually go with the boxes to find out the requirements the company has with taking worn out cardboard boxes and whether a pick up option is available.
If you have a designated recycling bin in your neighborhood, you can consider disposing the boxes there once you've flattened out the boxes. Use a box cutter or scissors to cut the tape that holds the box together and ensure you're sending out a dry cardboard box.
You can consider sending your boxes to these centers for recycling:
Boxsmart
American Box and Recycling
United States Recycling, Inc.
Compost
Did you know that cardboard can save your home garden and lawn? Well it's true and it does this by:
Improving the quality of the soil because it's rich in carbon
Preventing invasive weeds from taking over your plants
Cardboard boxes were originally made from trees itself and have contents in them that are rich in carbon. Therefore, adding cardboard to your compost enriches it and helps maintain the oxygen and moisture needed for a good compost. If you wish to use cardboard in your compost, be sure that the cardboard has no plastic lining, tape or stains from cleaning products. Refrain from using a box that held your bathroom bathing supplies and perfumes. You can shred pieces of cardboard and add them to your compost heap. The shredded material must be combined with the green materials in the compost such as dead leaves, vegetable and fruit skin, and manure. The compost should be ready within 8 months depending on the method you used to create it.
Eco-friendly tip: To ensure your packaging was as eco-friendly as possible, remember to accept second-hand boxes that are in good condition. Make use of the suitcases and plastic containers at home to reduce the number of boxes you'll have.
Bubble Wrap
Bubble wrap as a packing material safeguards all the fragile breakables during the move. You probably used a generous amount of it to wrap wine glasses, chinaware, glass plates, fragile decor and more. But now it's time to decide whether you should save it or chuck it in a recycle bin. Since bubble wrap isn't inexpensive, we'd highly recommend saving it for a new occasion.
It's possible that you have an artwork or fragile gift to ship to friends and family back home. So, why not make use of the free sheets of bubble wrap available at your place for future shipping needs? But only do so if the bubbles are intact and the bubble wrap's in good condition. After all, the shock absorbing bubbles are the real deal. It's why bubble wrap helps with padding.
Here's 6 Other Ways To Repurpose Bubble Wrap:
Use It To Stack Glass Plates In A Cabinet
Every house usually has a special dining set that's only taken out on special occasions such as Christmas, New Year and Thanksgiving. To ensure the safety of such glass plates or sets, we recommend wrapping them each in bubble wrap before stacking them all together in a cabinet. This prevents the plates from attaining scratches and also makes sure there's no dust collecting on them.
Protect Your Furniture
When you invest time into furnishing your house, it's only natural that you'd want to protect your couches, chairs, beds from any damage. It can be tough to do this when you're away on a vacation. But that's when you can make use of the sheets of bubble wrap to cover your couches and chairs from collecting dust. That way, you save your furniture and find a way to repurpose the bubble wrap at home.
Use Bubble Wrap As An Insulator
This is an inexpensive home hack to keep the heat inside your home even when outside temperatures drop low. You can easily save on winter energy bills by using a bubble wrap as window insulation. Follow these steps to do so:
Measure all the glass window panes at home.
Cut a bubble wrap sheet that matches those measurements.
Next, spray some water on the glass window.
Post that, spray the bubble wrap sheet with water.
Then, go ahead and paste it on the window.
Be sure to place the bubble side against the window.
Don't forget to take them off once the season is over. It can be very easy to forget about taking them off, especially if you installed these bubble wrap insulators in the basement. However, remember to take them off or it could cause some permanent damage to the window panes.
Keep Your Bags In Shape
If you have a collection of handbags or even a few, you can stuff them with bubble wrap so that they don't lose the shape they held when you first purchased the bag. We suggest also trying this hack with boots or shoes you own to preserve their original shape.
Use It As Insulation For Plants
Yes, just like cardboard, even bubble wrap has proven to be useful in the garden, as it can protect your plants from harsh weather conditions. To use bubble wrap as an insulator, all you have to do is place a sheet of it on the bed of the pot and poke a few holes to leave space for the drainage of water. The sheet of bubble wrap will prevent the roots of the plants from freezing during a harsh winter.
Take Bubble Wrap Camping
If you're carrying your cooler while camping or if you need something to roll up the beer cans, bubble wrap is your camping friend. You can even use bubble wrap to protect car seats and car mats from dirt and water carried by your camping shoes into the car.
Lastly, have fun with the bubble wrap. You were going to anyway. Sure, popping the bubbles is a great stress buster and a form of entertainment for kids too. Just make sure you don't use this bubble wrap again because it would be counterproductive.
Eco-friendly tip: You can always find alternatives to bubble wrap such as towels, socks, bedsheets, pillow covers, comforters and clothes as cushioning for packing fragile items. Try to reduce the use of bubble wrap as a packing supply and selectively use it so you don't have an excess of it.
Packing Paper
Now the next material that everyone on a move deals with is tons and tons of packing paper. When you start unpacking, there's going to be paper everywhere and it can make it seem like a vortex of wind just passed your house. But don't worry, once the paper is straightened out, it's pretty easy to store and reuse. Ideally, it's best to first straighten out the paper with the fans off so you can fold them neatly into manageable rectangle shaped pieces. Once you're done folding, you can stack them up in ziplocks before placing them in a storage drawer. If you ask us, it's best to store and reuse packing paper instead of tossing them into a bin.
Here's 7 Ways You Can Reuse Packing Paper:
1. Line Your Drawers And Cabinets With Wrapping Paper
Just like you used packing paper to line the bed of the corrugated box, you can now use it to line shoe cabinets as well as kitchen drawers. Simply place a straightened out sheet of packing paper before placing anything else in a wardrobe, drawers or even glove department in your car dashboard. This saves you the task of wiping and makes cleaning way easier.
2. Helps Clean Mirrors And Windows
Unprinted packing paper works best to clean mirrors efficiently just like a professional would. The texture of wrapping paper makes it possible to have a shiny mirror leaving behind no evidence of fingerprints and liquid marks. We suggest using the excess wrapping paper you have to give an insanely effective shine to mirrors, windows and windshields.
3. Use Packing Paper To Scoop Pet Poop
Managing your pet's poop can be easier when you have sheets of crumpled packing paper. The most practical way to pick poop while on a walk is newspaper, but since you would have an alternative, you can also use the crumbled scraps of paper that's lying at home as a poop picker. This would eventually reduce the stock of wrapping paper at home.
4. Great To Use During A Renovation
Everytime you have to redesign or remodel even the smallest things in your house, you can consider using a sheet of wrapping paper to protect the floor or carpet from stains and smudge marks. These sheets can come to your rescue to protect your table and carpets during a painting session with kids too.
5. Lining The Dustbin
You can make bin liners out of the leftover wrapping paper. It's an eco-friendly alternative to line the dustbin instead of using plastic liners. This way you can handle your kitchen waste. Isn't it a simple solution you can adopt to put the paper to good use?
6. Drying Shoes
The insides of closed shoes can take ages to dry, so why not use packing paper? It's a harmless lifehack that works fast to dry shoes. Once the shoes dry up, place some more crumpled paper inside the shoes before you store them. This helps maintain the shape of the shoe.
7. Use It For Packing Gifts
Exchanging gifts is common for birthdays, anniversaries, weddings, holidays and we're sure there's plenty of other occasions when you need to pack a gift. That's when you can fall back on the extra wrapping paper to fill the void in boxes where you place scented candles, frames, crockery, delicate mugs and more.
---
Conclusion
If it hurts you to see moving boxes, bubble wrap and packing paper go to waste, we hope our blog, what to do with packing materials after a move, inspires you to find ways to recycle, donate and reuse them. Adopting these three practices can bring a sustainable change to your unpacking journey.