Guide to Cheap Moving Boxes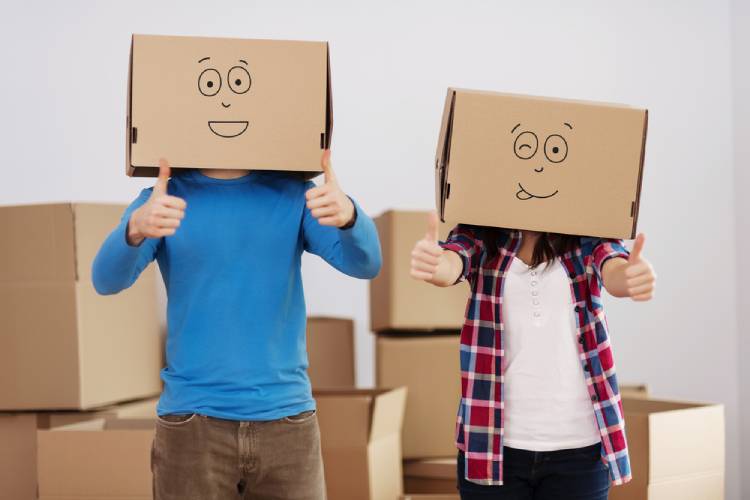 If you're planning for a move, then you already know how expensive it can get, and if you don't, well, you're in for a nasty surprise. From hiring a moving company to incurring any number of additional expenses throughout the process, moving homes can create an unpleasant dent in your bank balance. A good way to circumvent the frightening prices is by looking out for cheap or free packing supplies. Plus, packing yourself means you don't have to spend on packing services. Read through our comprehensive guide to cheap moving boxes and start to save up on that precious moolah.
Approximate Cost Of Moving Boxes
Before you get into looking at cheaper alternatives, take a look at the prices of different box sizes. Of course, these are estimates and are the market average, and costs will differ depending on where you go.
Small boxes: $1 – $1.70 each
Medium boxes: $2.35 – $2.79 each
Large boxes: $3 each
Extra large boxes: $3.75 each
There are also extra large boxes that you can get a hold of; with a size of 6 cubic feet, these are perfect for large mattresses or bulky items. They generally cost around $3.75 each. In terms of specialty boxes, wardrobe boxes are fairly common. These are perfect for hanging clothes, and cost around $15 each.
Home Depot
Home Depot has tons of locations across America, which is what makes box shopping from them so easy. But before you drive off to your nearest Home Depot, make sure you check out HomeDepot.com first. You can make use of their accurate visual representations to understand just how big or small the boxes are, and you also have dimensions for more accurate measurements.
You can also place your order for boxes online itself and pay to have them shipped to your house. Alternatively, you can ship the boxes to your nearest Home Depot store for free. If you'd rather head to the store yourself and shop around, the website can let you know how many boxes are in stock at the store. You can buy just one single box or buy sets of them, available in packs of 10 and 25. Home Depot also has pre-packed moving kits that include things like tape and plastic wrap.
Cost Of Moving Boxes From Home Depot
Small Moving Box: $0.98 per box
Medium Cardboard Box: $1.48 per box
Large Cardboard Box: $1.78 per box
Extra-Large Cardboard Box: $2.65 per box
Also See: Home Depot Moving Boxes
U-Haul
U-Haul is a great solution for people looking to move the DIY way, but the truck rental company also has a ton of great choices when it comes to cheap moving boxes. U-Haul has moving boxes and entire kits up for grabs so make sure you check out their website. You can either have them delivered to your house or sent to the nearest U-Haul store. All standard-sized boxes i.e. small, medium, large and extra large, have a lower bundle price. You'll be saving up a fair bit of money if you buy the boxes in packs of 25, 20, 15 and 10 for each size respectively.
But what if you buy too many and they go unused? Simply hold on to the receipt and take the box to the nearest U-Haul store to get a full refund. An even better tip is to look out for the "Take a Box, Leave a Box" area; every U-Haul store has one! This is where previous customers will leave behind gently used boxes and other moving items. U-Haul boxes are built to be sturdy and can withstand a couple of moves, so this is an easy way to get hold of some boxes for free. You can also exchange products in return for lightly used boxes off their U-Haul Exchange page.
Cost Of Moving Boxes From U-Haul
Small Moving Box: $0.99 per box, $21.75 ($0.87 each) for a pack of 25
Medium Cardboard Box: $1.49 per box, $27.40 ($1.37 each) for a pack of 20
Large Cardboard Box: $1.99 per box, $25.05 ($1.67 each) for a pack of 15
Extra-Large Cardboard Box: $2.49 per box, $23.70 ($2.37 each) for a pack of 10
UBoxes.com
Anyone who's a pro at steals and discounts will tell you to hit the factory outlets for discount prices. UBoxes.com gives you just that — moving boxes, fresh from the factory, supplies directly to consumers and businesses. The one problem? UBoxes.com is an online retailer, so you'll only have dimensions to gauge the size of the boxes when placing the order. The good thing is that you can also get a hold of other moving supplies at low prices like packing tape, bubble wrap, and stretch wrap.
Bundle together boxes, buy a pre-made packing kit, or custom create your own kit — you can do this all with UBoxes.com. Minimum orders of $35 can avail free shipping of all your supplies.
Cost Of Moving Boxes From UBoxes.com
Small Moving Box: $30.94 for a pack of 15, $42.50 for 25
Medium Cardboard Box: $30.94 for a pack of 10, $42.50 for 20
Large Cardboard Box: $32.50 for a pack of 6, $44.63 for 12
Extra-Large Cardboard Box: $42.50 for a pack of 10
Lowe's
Lowe's has everything you could ever need for your home improvement and design projects, including a neat variety of moving boxes and packing supplies. Similar to the others mentioned in this blog, you can choose to shop around the store yourself, place the order online and pick your order up from the store, or have it delivered to you at your home. Alongside regular boxes, Lowe's also has specialty boxes like jewelry boxes and wardrobe boxes that are cheaper than normal.
Also See: Where to find Wardrobe Boxes for Moving
Cost Of Moving Boxes From Lowe's
Small Moving Box: $0.97 per box
Medium Cardboard Box: $1.58 per box
Large Cardboard Box: $1.98 per box
Extra-Large Cardboard Box: $2.78 per box
Amazon
The world's largest retailer often has some good discounts and steals, and considering they sell everything, of course they have moving boxes. While there's a range of brands and boxes you can choose from, we recommend the Bankers Box SmoothMove boxes. These boxes are durable, have handles for easier carrying, and come at cheap prices. However, remember the golden rule: cheap doesn't always equal good. Thoroughly go through customer reviews and the product description before you purchase the cheapest boxes you see.
Cost Of Bankers Box Boxes From Amazon
Bankers Box SmoothMove Small Box: $26.72 for a 10-pack
Bankers Box SmoothMove Medium Box: $40.46 for a 10-pack
Bankers Box SmoothMove Large Box: $38.15 for a 5-pack
Cheap Cheap Moving Boxes
Just like the name suggests, Cheap Cheap Moving Boxes is an online retailer that sells moving boxes to customers with prices that are almost always lower than that of retail stores. The way they pull this off is by purchasing boxes in bulk, by the 18-wheeler truckload to be exact, directly from a leading producer. By removing the middleman, they get to sell millions of boxes at cheaper prices to customers across the country. Plus, they have warehouses across America, which enables them to have short delivery periods and free delivery for orders above $35.
Cost Of Moving Boxes From Cheap Cheap Moving Boxes
Small Moving Box: $39.99 for a pack of 25
Medium Cardboard Box: $24.99 for a pack of 10
Large Cardboard Box: $29.99 for a pack of 6
Extra-Large Cardboard Box: $39.99 for a pack of 10
Other Options For Cheap Moving Boxes
Walmart
With several outlets across the US, and some even open 24/7, you know you can rely on Walmart for nearly everything. Before you head off to the store, we recommend heading to their website to browse through everything, since they have several boxes in different sizes. There's a range of brands for you to choose from, and you can opt for their delivery services if you'd rather not haul it home yourself.
Craigslist
One of the oldest online marketplaces, Craigslist is still very much in use. If you don't mind using some gently-used moving boxes to pack up less important items, Craigslist can be a good place to start your search. Make sure you post an ad that lets people know you're looking for free or cheap moving boxes. Once that's done, head to Craigslist at the start of the week to see if there are any posts from people selling lightly used boxes.
IKEA
IKEA does sell moving boxes, but they may not be the best for variety. Nonetheless, if you have an IKEA nearby, drop in and check out their moving box. Made of sturdy material, it measures 22x13x16 ¼ ", and costs $5.99 for 2.
Staples
Staples has options for free delivery and curbside pick-up should you choose to purchase your moving boxes from them. You won't be able to buy single boxes since Staples sells them in large bundles. They also have a range of packing supplies.
FAQs about Cheap Moving Boxes
What Is The Cheapest Place To Buy Moving Boxes?
All of the places we've listed out are perfect to find moving boxes sold at cheaper rates. Apart from these, you can also look into procuring boxes from the moving company you're working with since these can be cheaper or delivered to you for free. Companies like Gentle Giants can pay you for all the boxes you return to them and they have full refunds on unused boxes.
Where To Get Free Boxes For Moving Near Me?
When it comes to getting free boxes for moving from around you, Craigslist is a good place to start. Make sure you check out Facebook's Marketplace feature and also hit up neighborhood groups on Facebook and WhatsApp. Finally, head to Reddit and post an inquiry for free or cheap boxes on subreddits for your city and neighborhood.
Where Is The Cheapest Place To Buy Cardboard Boxes?
Any of the places in our blog like Walmart and UBoxes are perfect for cheap cardboard boxes. While some of them sell plastic crates or recyclable containers, all of them sell cardboard boxes.
Does Home Depot give free cardboard boxes?
No, boxes are not given for free at Home Depot.
Do supermarkets give away boxes?
Yes, most supermarkets give away free boxes that usually vary in size, and you just need to ask for one. They want to make sure they are reused and not thrown out.
How much do moving boxes cost?
The average cost of moving boxes averages out to $1-2 per box, but it can depend on the size and type of supplies. For instance, large furniture pads will be more expensive than regular small moving boxes.
Does USPS give free boxes?
Yes. The USPS will provide free boxes for all of its customers.
How do I ask for free boxes?
Use your community to find free boxes for moving. Reach out on Facebook or email lists and search the pages you are a member of, looking for posts about people giving away their old furniture or items they don't need anymore. If not, post in those groups asking if anyone has any spare cardboard boxes that might be given away.
How can I get free cardboard boxes?
Free cardboard boxes are available at many local supermarkets. Check with local restaurant supply, grocery stores, or recycling centers in your area to see if they offer boxes for free or at a low cost. If you need an especially large size like a kitchen box or shoebox-size, contact the company first before heading out on your search so that you know what sizes they have available to give away. You can also try posting on social media to see if any of your friends might have some extra boxes lying around their home that they would be willing to share with you!
Should I pay for moving boxes?
When you pack up all of your belongings for a long-distance move, it is always wise to buy some moving boxes. You can usually get free ones from the store if this is just an in-town job like cleaning out that old closet or putting away those dishes, but as soon as furniture and heavy items enter the equation, you should grab yourself some sturdy cardboard containers, so everything makes it arrive unscathed.
See also: Free Moving Boxes | How Many Boxes Do You Need To Move