Types of Moving Boxes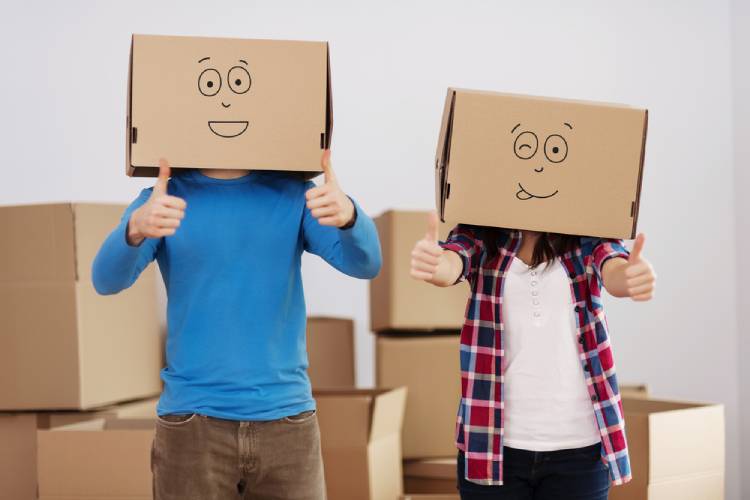 Familiarizing yourself with types of moving boxes before a move is definitely a wise move. From different sizes to different materials, as well as a whole range of specialized boxes, there's an astonishing range of moving boxes available to pack all kinds of everything. Knowing exactly what boxes are perfect for what items ensures you have the optimal packaging and protection for your things.
Read our guide on all the types of moving boxes so you can start getting the best packing material for your household items.
Types Of Moving Boxes By Size
The most basic way of categorizing moving boxes is by size. Often, the size of the box comes with a rule on how much weight it can withstand. However, as a rule of thumb, always stay at least 5 pounds below the listed weight limit of each of the boxes, and avoid over-packing at all costs. This can be a major safety hazard, with the risk of your items spilling out and damaging themselves. Or worse, it could also end up hurting you. So keep reading on for a better understanding of the different box sizes.
Small Boxes
Small boxes are generally 1.5 cubic foot moving boxes, with dimensions that are approximately 16 x 12.5 x 12.5 inches. They can carry up to 60 pounds in weight. These are the most commonly used types of moving boxes, as their small size makes them easy to move around. Moreover, they are fairly durable just as well. These boxes work well when packing small but heavy items like small kitchen appliances, books, canned goods, shoes and anything else that falls in the same fraternity.
Medium Boxes
These 3.0 cubic foot moving boxes measure 18 x 18 x 16 inches, and can carry up to 65 pounds. These are also often used alongside the smaller boxes. Medium boxes work well for slightly larger appliances, decorative pieces, electronics, and other household items.
Large Boxes
Large boxes are certainly bigger than medium boxes, measuring 18 x 18 x 24 inches as a 4.5 cubic foot box. However, the weight limit stays the same at 65 pounds. These can be used for the bulkier items like linens, large lamps, appliances etc.
Extra Large Boxes
Measuring in at 22 x 22 x 21.5 inches, these 6.0 cubic foot moving boxes are truly huge. However, always remember that the size of the box is not an indication of its durability. These boxes can carry up to 70 pounds in weight but it is extremely important to ensure you do not stuff these up. They become extremely heavy, and are a logistical nightmare to move. Use them for large, bulky items that do not weigh too much like blankets, winter clothes, pillows, cushions and big soft toys.
Types Of Moving Boxes By Material
The instant anyone mentions moving boxes, you're probably thinking of cardboard boxes. A staple in every move, most people are so used to them that they remain in the dark about all the other types of boxes that exist. From plastic boxes to wooden crates to foam, we've covered types of moving boxes by material and what they're best used for.
Cardboard Boxes
Cardboard boxes are a must with every move, and have been since they were invented in the latter half of the 19th century. Of the many advantages Cardboard Boxes have which lead them to being used so often, the main one being their affordability and durability. Corrugated cardboard is made such to be durable and endure long moves and heavy weights, giving your household items and appliances some reliable storage. Add to this the availability in a range of sizes, and the efficiency in terms of being able to easily pack, pile, move and store them.
Cardboard boxes are also great to use in that they are eco-friendly, and can easily be broken down. However, unless there's some major damage, the durability of a cardboard box lasts for at least two moves if not more. Of course, that depends on how you use the box, the way it was handled and the weight and volume of things that were kept inside. Although, you can easily save them if you know you'll be moving again in a few years, or sell them off for some extra cash, assuming they were in good condition.
Cardboard boxes cost between $1 and $2.50, and the cost varies depending on size. Since you'll need a lot of boxes for your move, you can also look into getting free boxes by checking Craigslist, asking your local liquor stores and libraries, and asking friends and relatives if they have any.
Plastic Boxes
Plastic bins are also a great way to transport your things. The plastic makes them extremely durable, and saves its contents from things like dust, damp and moisture. The lids fit on tight and the structure is such that it saves you the worry of the lid coming off or the bottom caving out. Plastic bins are usually opaque or transparent, enabling you to look at the contents easily. Most bins have handles at the side, enabling you to get a firm grip when lifting the box up. Additionally, they can also be stacked one over the other, saving you a lot of space when packing things up.
Buying plastic containers in bulk for a move isn't really the greatest idea, nor is it environment-friendly. However, you can just as easily rent plastic moving containers. In almost all cases, the containers will be delivered to your doorstep, and picked up from your new home once you've finished unpacking. One container usually rents out at around $1.50 a week. With no assembling or extra taping up to be done, they add an element of efficiency to your move that can help speed up the packing.
Insulated Foam Containers
Often for moves going over shorter distances, you may not want to completely clear out your fridge and freezer of everything. While you have the option of a cooler, you can also go for an insulated foam container. The foam helps to keep contents at a low temperature throughout the move, and have a foam lid to go on the top. What you should know is that the foam containers will be placed inside another cardboard container to keep it secure.
Wooden Crates
Wooden crates are not a common packing material, and are meant solely for objects that need exceptionally secure packing. Owners of artworks, sculptures, antiques, musical instruments, collectors' items and other objects of value can make use of wooden crates to safely transport their items. The best part about the wooden crates is that you can custom-make them to whatever size and dimension you need.
The wooden crates are heavy but secure, normally made of thick plywood, and extremely durable. The crates have steel clips to secure it, and they come with a removable panel or a lid to make using it easier. You can also choose to have the crates padded with a soft, protective layer. However, customizing these crates doesn't come cheap. But then again, they certainly are well worth the price.
Specialty Moving Boxes
If you're someone who is picky about how your items are packed, want the best of packaging for the move or are simply curious to know more about types of moving boxes, you're at the right place. After all, simply having cardboard and plastic boxes is far from enough. We've covered a range of boxes that are built with the intention of being the perfect moving boxes for specific things.
Wardrobe Boxes
If you've been mulling over how to pack hanging clothes or your fancy high-end clothes, turn to wardrobe boxes. Perfectly structured to provide protection to your precious garments, wardrobe boxes come in a range of sizes. They can be vertical for hanging clothes, or horizontal to lay down clothes.
Vertical Or Standing Wardrobe Boxes:
Standing wardrobe boxes are designed for hanging clothes, and are fitted with a metal hanger bar on which to hang your clothes. They quite literally resemble mini-closets, protecting your clothes from dirt, wrinkles and damage. These are the lifesavers for those special hanging clothes you tend to so carefully. Standing boxes come in a range of sizes, mainly small size (24" x 24" x 34"), medium (18" x 18" x 46") and large (24" x 24" x 48"). This helps with ensuring all types of hanging clothes can be fitted whether its a suit coat or an evening gown. The bottom of the standing wardrobe box tends to be empty, so utilize this space by packing in lightweight items like throw pillows, soft toys or purses. Make sure to not pack any heavy materials in, as it is not meant to carry that sort of uneven weight.
Horizontal Or Flat Wardrobe Boxes:
Acting like drawers, horizontal wardrobe boxes can take a few sets of neatly packed clothes. These are not as easily found as standing up boxes, and our recommendation is to use regular plastic boxes for the clothes that you can fold up instead of investing in a flat wardrobe box.
With no unnecessary stacking, packing or taping, wardrobe boxes provide the ultimate protection for your clothes. Just ensure that your box is assembled and shut correctly to avoid it accidentally snapping open or breaking during transit. However, wardrobe boxes don't come cheap, ranging from $20 to $60 for one. They also take up a lot of space in the moving truck. We recommend reserving wardrobe boxes for your most precious clothes and simply securely packing up the rest.
Jewelry Boxes
You've got that right, there are custom-made boxes that are meant to store your valuable gems and chains too. Lined on the inside with a soft, velvety cloth, the box ensures your jewelry is protected with that padding. The outside of the box is generally made of durable materials like wood or metal that are meant to keep its contents secure. Lids of jewelry boxes fasten on firmly and you won't have to worry about them accidentally opening during the move. While jewelry boxes certainly are a secure way to transport your precious jewelry, they sure are bulky and do take up space.
See also: How to Pack Jewelry For a Move
Mattress Boxes
We get that you might not always want to replace your mattresses, and there could be several reasons for that. While you can usually rely on mattress bags for transit, consider mattress boxes for the extra special ones. Built to securely transport the bulky objects, mattress boxes offer much-needed support and protection to your mattresses. Additionally, other objects like water beds or sleep sofas may need the added protection offered by mattress boxes too. They come in a range of sizes to fit standard mattress sizes like single, twin, king, or queen.
TV Boxes
Similar to a picture box, TV boxes can be assembled in two parts to best protect your TV screens. The boxes are extremely durable and strong, and can also be used to transport large glass table tops. We definitely recommend securing the TV with adequate corner protection and layers of bubble wrap before putting it into the TV box. Almost every TV size, from 30 inches to 70 inches, ought to be able to fit into TV boxes.
Dish Barrels And Glassware Boxes
Measuring in at around 18 x 18 x 28 inches, dish barrels get their name from the wooden barrels that once upon a time were used to ship fragile chinaware overseas. Dish barrels are heavy-duty boxes, perfect to store fragile items like glassware, crystal and chinaware during a move. They are made of corrugated cardboard which is much stronger, thicker and sturdier than regular cardboard. Plus, the thicker double-walls add extra cushioning to better absorb travel shock, ensuring protection for your dishes.
Since dish barrels are common when it comes to packing glassware, they come equipped with dividers. These help to keep the individual items firm in their place, preventing them from coming in contact with each other during the transportation. And lastly, the boxes are multi-layered, ensuring that your items are truly secure in one place, evenly distributing the weight and ensuring you make the most of the space. This structure makes it a sturdy box that is not likely to get knocked over or cave in, or dent when stacked next to other boxes.
Of course, you can always purchase cell dividers and use them in an ordinary cardboard box, but ensure the box is in top-notch sturdy condition, securing it with loads of tape if you have to.
Lamp Boxes
12 inches wide, 12 inches long, and 40 inches high, lamp boxes are the perfect vertical fit for your lamps, hat stands and other oddly-shaped tall items. However, most lamp boxes are to be packed from the top, vertically. Make sure you have someone to help you slide the lamp in so you don't end up dropping it or hurting yourself.
See also: How to Pack Lamps and Lampshades for Moving
Picture Boxes
An alternative to creating a customized wooden crate for paintings is using a picture box or a mirror box. They are a type of telescopic carton i.e. boxes that are assembled in two parts. This allows you to effortlessly customize it to any size you wish. Think of it as a way to easily pack even long, oddly shaped frames, or even small tabletops for that matter.
If you're still worried about your frames, look into purchasing frame protectors that can add an extra layer of assurance and protection. However, ensure you use good quality, strong filament tape to join the two sections together. This will help them stay secured together without coming apart or buckling under the weight.
Bankers Boxes And File Boxes
File boxes are perfect to store important documents, records, and other such items. As the name suggests, they are ideal to file sets of papers in, and come in dimensions of 15″ x 12″ x 10″. Bankers boxes on the other hand are perfect for office setup items like files and folders, pens and papers, and other stationery. Equipped with handles and secure structure, they are easy to move and easier still to stack one over the other.
---
Conclusion
Making sure you've got the perfect types of moving boxes for your possessions is definitely important, but a smooth move hinges on several other aspects as well. Make sure you have a moving timeline in place to pack up each of your items in their designated boxes, and finally, make sure you have the right moving company that can safely haul everything to your new home.
See also: Guide to Cheap Moving Boxes
Frequently Asked Questions
What boxes to use for moving?
Moving boxes are generally made from corrugated cardboard and come in a variety of shapes and sizes. Depending on the size of your items, you can purchase small, medium, large or extra large size moving boxes. There are plastic boxes, insulated foam containers and wooden crates to accommodate different items like toys, stationery, antiques, etc. You can also use specialty moving boxes for packing your wardrobe, jewellery, art work, dishes, etc.
What are the different size moving boxes?
Moving boxes come in different sizes like small, medium, large and extra large.
Small size boxes: 1.5 cu ft, 16 x 12.5 x 12.5 inches
Medium size boxes: 3.0 cu ft, 18 x 18 x 16 inches
Large size boxes: 4.5 cu ft, 18 x 18 x 24 inches
Extra Large size boxes: 6.0 cu ft, 22 x 22 x 21.5 inches
What kind of boxes are there?
Moving boxes come in all sizes right from small, medium and large to even extra large. They also come in different kinds of materials to accommodate various kinds of items.
Cardboard boxes: Household items, appliances, etc.
Plastic boxes: Books, clothes, toys, toiletries, etc.
Insulated Foam Containers: Frozen food, perishable liquids, etc.
Wooden Crates: Artworks, sculptures, musical instruments, etc.
Specialty Boxes: Antiques, wardrobe, dishes, glasses, etc.
What to pack in large boxes when moving?
You can pack various items like your lampshades, bedsheets and pillows, blankets, clothes, shoes, appliances, etc in large size moving boxes.
Where to get free boxes for moving near me?
Craigslist is one of your best options to find free moving boxes under their 'free' section under the heading 'for sale'. Other than that, you can check your local bookstores, liquor shops, restaurants or grocery stores for free moving boxes.