Where to Buy Moving Boxes


VanLines Inc
Secure Storage
Easy Booking Process
Fully Trained Employees
GET QUOTE

Colonial Van Lines
Storage Services
Long-Distance Moves
Corporate Relocations
GET QUOTE

Moving APT
Vetting Process
Award-Winning
Available Nationwide
GET QUOTE
Our Take
Price
Rating
Minimum Shipment Size
Storage
Booking Deposit
Cancellation Policy
Quoting Options
Discounts

Best Overall Value


GET QUOTE

2+ bedrooms




Free 30 Days




10%

Free up to 72 Hrs

Phone / FaceTime / Text

Senior / Same day Booking

Best Industry Reputation


GET QUOTE

1+ bedrooms




30 Days




20%

Free up to 72 hrs

Phone / Facetime

Seniors Discount

Best Customer Service


GET QUOTE

1+ bedrooms







Free up to 72 hrs

Phone / Virtual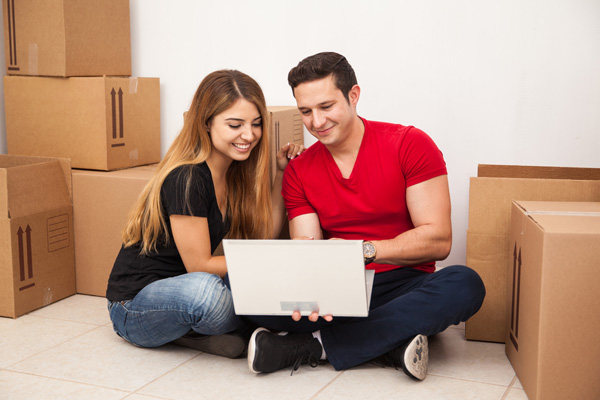 You have created a list of the supplies you need for pulling off a relatively painful move. The list contains packing supplies, including the purchase of dozens of cardboard boxes that comes in a wide variety of sizes. Okay, your packing supplies list covers everything you need to secure your stuff. However, you have to discover where to buy moving boxes.
Let's look at why buying moving boxes is a good idea, before delving into the five best places to purchase boxes used for relocation.
Why Buying Moving Boxes and Packing Supplies is a Good Idea
The skeptics among us are probably thinking, "Why to buy moving boxes when I can pick up what I need for free." Yes, finding free moving boxes is a cost-effective way to remain within the relocation budget, and we will address free moving boxes later. Nonetheless, purchasing packing supplies, especially moving boxes is also a good idea, and for one important reason.
When you buy moving boxes, you can expect to receive boxes of high quality.
The boxes discarded by a business might not be in the best shape. Think about produce boxes that are soaked with moisture and hence, deliver inferior quality. When you conduct a move, you cannot afford to have your stuff fall out of the bottom of boxes when you are loading up a truck or unloading stuff in your new home. The five best places to buy moving boxes offer rugged cardboard boxes that are in mint condition.
All you have to do is to ensure the cardboard boxes you buy remain in mint condition. Store the boxes in a dry place that is away from the hustle and bustle of relocation.
The 5 Best Places to Buy Moving Boxes and Packing Supplies
Are you ready to purchase moving boxes, but you have no idea where to begin looking? Well, we present five time-tested outlets that allow you to buy the highest quality corrugated moving boxes as well packing tape, bubble wrap, wrapping paper and more.
Shop Corrugated Moving Boxes Online at Amazon
Let's face it: Commerce is quickly moving away from traditional brick and mortar stores to online where you can find just about anything you need. Even big-box retailers have a strong online presence to meet the shopping needs of customers. With just the click of a mouse, you can order any size moving box you need by visiting the online giant Amazon. You can find a large and extra large, sturdy box to secure your big screen television, as well as several smaller boxes to store apparel. Amazon is a great place to buy moving boxes because the online retailer allows consumers to leave feedback about virtually every type of product. This means you can order the highest quality of moving boxes that have been given the ultimate seal of approval by a large number of consumers.
Here are a few other reasons to use Amazon as your go-to supplier for moving boxes:
Amazon Prime members get their boxes shipped in two days
Amazon delivers moving boxes to your doorstep
You buy boxes, without having to leave your home
Detailed descriptions help you make the right buying decision
Shop Any Time of the Day at Walmart
Moving day is typically a frantic event, and with time running out, you realize you are short a few moving boxes. It is late at night, and just about every retailer is closed.
Except for the retail giant of all retail giants, Walmart
Most Walmart stores operate 24 hours a day, seven days per week. So, if you come up short in the moving boxes department, you can conveniently fill the storage void by heading over to your nearest Walmart. With more than 5,000 stores in the United States, you should not have to drive far to play catch up on relocation. If you have time to spare, Walmart offers corrugated moving boxes online.
Even better, you can also stock up on other items while you are shopping for moving boxes at Walmart.
Home Improvement Storage
Unless you like to dabble in a little birdseed, you cannot pick up your groceries and moving boxes at Lowe's. However, the home improvement big-box retailer offers home improvement products that you can use when you arrive at your new home. Lowe's also sells moving and packing supplies that include any size moving box you need. Not only can you pack your tools and home fixtures in the moving boxes sold by Lowe's, but you can also store your dishes, apparel, and electronics.
Lowe's offers a nifty online version of its stores. You can filter items like moving boxes that are available at the closest store. Lowe's also lets customers know how many moving boxes the home improvement retailer has in stock, which prevents you from wasting your time by shopping at a Loew's that is out of the right size boxes for your move.
Another Option for Home Improvement Storage
They say the devil is in the details, but there is nothing devilish about the amount of detailed attention that The Home Depot pays to its line of moving boxes and other moving supplies like wrapping paper, packing tapes, bubble wraps etc. The home improvement giant not only offers a wide variety of moving boxes to accommodate every relocation need, but it also presents a visual presentation of each size box to give you a clear idea about dimensions. This allows you to plan how to pack your stuff while you are in one of The Home Depot stores. In addition, The Home Depot offers customers a project guide that recommends the most effective ways to pack and unpack your stuff. You can also order a kit online or in-person that is customized to match your packing needs.
Truck Renters Rejoice!
One of the primary reasons for performing a do it yourself move is to save money on the final moving bill. By renting a truck, you have more control over fuel costs, as well as how many miles you need to drive to your new home. U Haul is by far the best option for purchasing boxes for customers that plan to rent one of the company's trucks. When you walk into a U Haul store, you will see a display of the moving boxes available, which means you can buy moving boxes on moving day to ensure you have enough storage for your things. Like The Home Depot, U Haul offers moving kits and another type of moving supplies to make the store your one-stop shop for all things related to moving and relocation. You might find an appealing discount offered by a U Haul store that bundles the price of moving boxes into the price of renting a moving vehicle.
Obtaining Moving Boxes on a Tight Budget
We recommend supplementing your inventory of store-bought moving boxes by finding moving boxes and other types of packing supplies. Can you still receive the same level of quality as the high-quality moving boxes that you find at the five best places to buy moving boxes?
The answer is yes if you know where to look.
U Haul and Uboxes to the Rescue
U Haul operates a unique program call the Customer Connect Box Exchange. The company allows customers from all over the United States to connect with other customers that offer moving supplies. The free service requires you to enter where you live and a keyword phrase such as "Free Moving Boxes." Many of the free boxes provided by the Customer Connect Box Exchange come from customers that have recently completed moves. Similarly Uboxes can help you get packing supplies delivered at your doorsteps at an affordable price.
Craigslist
Considered the ultimate consumer marketplace, Craigslist has a section devoted to free stuff. In addition to acquiring free boxes or even boxes that you buy, you can also shop for other items that you need to complete for a successful move. When you complete your successful relocation, you can pay it forward by offering free moving boxes on Craigslist.
Friends and Family Members
Perhaps there is not a quicker way to find free moving boxes than by hitting up a few friends and family members. You can trust your closest friends and relatives to give you high-quality boxes that will withstand the punishment inflicted by relocation. Post a tweet or a message on Facebook to get the free moving boxes ball rolling.
Big Box Retailers
We have already talked about buying high-quality boxes from large retail outlets and companies like U Haul and Uboxes. Well, the same companies receive product daily, which means you should be able to find durable boxes discarded by each retailer's dumpster. Stores like Best Buy will provide an abundant source of moving boxes that can handle strong impacts.
Bookstores
Bookstores like Barnes & Noble are a great source for moving boxes. Books must be stored in highly durable boxes that never rip or tear. Unlike big-box retailers, bookstores receive their inventory as needed, which means the delivery schedules for bookstores is irregular. You can contact a representative at a bookstore to learn more about when the business receives its inventory of new books.
Finally, whether you buy moving boxes or pick up a few for free, remember that grocery stores are not good sources of providing high quality moving boxes. Most discarded grocery store boxes are moisture-laden, making the boxes a poor choice to secure your stuff. Stick with businesses that do not sell food and beverages.
See also: Different Types of Moving Boxes | Cheap Moving Boxes