Your First Apartment Checklist: Everything You Need To Know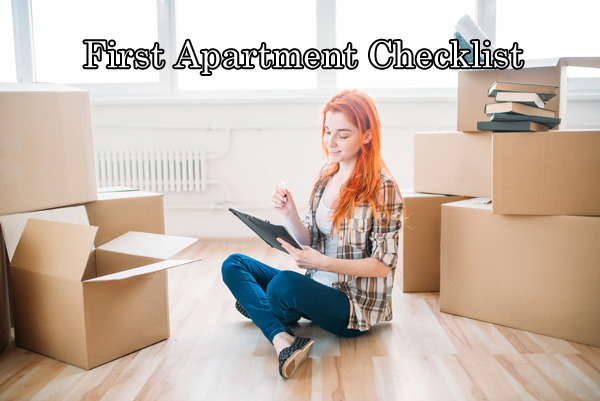 So, you're ready to move into your first apartment. This is an exciting time. Whether you are moving into an apartment in your college town or just ready to move out of your parents' house and be on your own for the first time, here is a complete rundown (first apartment checklist) on everything you need to know.
Finding the Right Place
The first thing you need to do is find an apartment that's right for you and your roommate or roommates if you are going to have any. Many people who are moving out on their own for the first time cannot afford a place without a roommate or two. When deciding what you can afford make sure you consider the rent amount, the utilities and general cleaning and upkeep as living expenses. Make sure you are clear in regards to what utilities you will be responsible for paying. Utilities can include water, electric, gas, cable, wifi, television service and phone service. Some apartments have all of the utilities included, some include one or a few, and some don't include any at all, so you will be responsible for paying them in addition to the monthly rent. You'll need to decide how many bedrooms and bathrooms you will need depending on how many people will be living in the new apartment. If you are going to be living alone you may only need one bedroom and one bathroom. Also consider having a second bedroom to serve as your office and a guest room if you can afford it.
See also: Utility Bills 101
Getting The Furniture, Electronics, Appliances and Everything Else You Need
Once you've figured out how many bedrooms and bathrooms you require and have found the right apartment you will need to decide what furniture, electronics, appliances and other items you need. The exception would be if you are going to be renting a furnished apartment. Even so, if some furniture is included, you may need a few more pieces to make the place your own. Most apartments will include appliances in the kitchen such as a refrigerator, oven, range top, dishwasher, and possibly a built-in microwave. Some will not include a dishwasher or built-in microwave because those aren't considered absolute necessities. Most apartments will either have a laundry room or laundry closet in-unit, with a washer and dryer included. Some won't have it inside the unit and will have a coin laundry area somewhere else in the building. Take a walk through the new apartment, either physically or in your mind, and write down every piece of furniture, electronic device, and appliance you will need for each room.
See also: How to Move a Dishwasher | Where to Buy Cheap Furniture
Here is a list to give you ideas:

First Apartment Checklist: Entry Area
Rug
Coat Rack
Shoe Rack or Mat
First Apartment Checklist: Living Room or Family Room
Comfy Couch (Consider a couch with a pull-out bed for guests.)
Side Table
Coffee Table
TV
TV Stand (Unless you plan on mounting a TV to the wall, if the landlord allows it.)
Stereo
Portable Surround Sound System (Consider a system with the speakers on stands so you don't have to put holes in the walls.)
Lamp
Book Shelf
Pictures
Plants
Rug
Other Décor
First Apartment Checklist: Dining Room or Eating Area
Table with Chairs
Buffet or China Cabinet (If you want one and if space permits.)
Rug
Lamp
First Apartment Checklist: Kitchen
Table with Chairs (If you have a separate eating area in the kitchen and a separate dining room you may decide that one set of table and chairs is enough. Perhaps consider putting a smaller, taller pub-like table in one of the spaces, or turning your dining room into an office, workout area, or something else that suits your needs.)
Rug(s)
Counter Microwave (If there's not one built-in.)
Toaster or Toaster Oven
Coffee or Cappuccino Maker
Pots and Pans
Baking Dishes or Pans
Plates and Bowls Set
Serving Plates and Bowls
Glasses and Coffee Mugs
Silverware
Utensils
Plastic or Glass Containers
Mixing Bowls
Crockpot or Any Other Fun Appliances You Want (Such as a Popcorn Machine, Waffle Maker, etc.)
Cleaning Supplies, Dish Soap, Dishwasher Detergent, Hand Soap
See also: How to Stock a Kitchen for the First-time
First Apartment Checklist: Bedroom
Bedframe
Mattress & Box Spring
Bed Side Table(s)
Dresser
Vanity
Lamp
Rug
TV
TV Stand
Desk and Chair
Telephone (If you are going to have a land line.)
Checklist for Second Bedroom, Office or Other Rooms or Areas
Desk and Chair
Filing Cabinet
Lamp
Rug
Daybed
Workout Equipment and Weights (If you workout at home.)
Craft Set-up and Supplies (If you want or need a craft area.)
Anything Else You Can Think of For This Extra Room or Space
First Apartment Checklist: Bathroom
Rug
Hamper
Shower Curtain
Towels (Bath Towels, Hand Towels, Washcloths)
Tissue Holder, Toothbrush Holder, Cup
Vanity For Personal Supplies and/or Makeup
Stand-Alone Shelf
Soap and Hand Soap
All of Your Personal Supplies and Cosmetics
Laundry Room Checklist
Laundry Detergent
Dryer Sheets or Wool Balls
Laundry Basket
Iron and Ironing Board
Vacuum
Tools
Now that you have a new apartment checklist of everything you need, decide what you are taking from where you currently live and decide what you need to purchase and start purchasing everything. If you cannot afford to purchase everything at once, consider asking for these items as birthday, Christmas or as other holiday gifts from your parents, grandparents and extended family members. Or consider having an open house party when you first move in. Many people will bring a gift to an open house party. Some people even register at a department store or online so family members and guests know what they need.
Getting Ready For Moving Day
When the big moving day is approaching you will need to prepare and make arrangements. You will need to start packing, find a moving company if you need one, arrange for help from friends and family members, set up your utilities, change your mailing address, set up your internet, cable or TV provider, and more. Being organized and prepared ahead of time will make moving day run more smoothly. There are bound to be inconveniences or unexpected things that come up or happen, so don't expect everything to go like clockwork. If it does, you'll be happily surprised.
Get Boxes and Start Packing
Get boxes and start packing ahead of time. There's nothing wrong with packed boxes sitting in your closet, room, garage or basement for a few weeks before moving day. Start collecting boxes a few months ahead of time. Ask family members, friends and coworkers for boxes. Sometimes retail stores or grocery stores will let you pick up some boxes if you call and arrange it ahead of time. Liquor stores are a great place to get boxes if you are moving bottles, glasses or something else where you need a box with a divider. If you know anyone else who has recently moved perhaps they still have boxes for you to use. Put the word out on social media that you need boxes. Of course you can always purchase boxes if you absolutely need to. Getting free boxes will obviously cut down your moving expenses.
Hire a Moving Company or Arrange For Help Moving
If you are going to hire a moving company and it's in your budget it's best to get it scheduled a few months or weeks ahead of time especially during the busy moving season. Moving companies are always busier in the spring and summer. There are large moving companies that have many employees and different size trucks, and there are smaller moving companies. If you don't have too much to move consider a smaller moving company where you can hire two people and a smaller truck, for example. Many moving companies or professionals will consult with you and be able to give you advice on what size truck you need, how many people you need to move your items and how many hours you need to hire them for.
If you are not hiring professionals and still need help moving, ask your family members and friends for help. Perhaps offer to pay them a small fee or offer to have sandwiches catered or buy pizza and drinks for everyone on moving day. Many people are happy to help if you have helped them in the past or offer to reciprocate someday. Some people will help out of the kindness of their hearts, like your parents for example. You will need to rent a moving truck or make sure you have a couple vans, trucks or sports utility vehicles to move everything in. If you need to rent a moving van or truck the company will help advise you on what size to rent depending on the amount and size of furniture you are moving. Sometimes they ask you how many rooms you are moving and the size of the van or truck is based on that. Make sure you call far enough ahead of time to reserve a moving truck as they get booked up too. If you don't rent a moving van or truck make sure you positive that everything you are moving will fit in your car and any vans, sports utility vehicles or trucks your family and friends have for you to use. The last thing you want to happen is to get stuck at the last minute and not be prepared.
Put Utilities in Your Name
You will have to arrange to have the utilities put into your name. This can be done online or with a phone call to the utility companies. Do this about a week before your lease starts. Be sure you know what utilities you are responsible for paying and what, if any, are paid by the apartment complex or landlord. Have the services start the day your lease starts. This is especially important if your lease starts a couple or a few days before moving day. Some apartment complexes or landlords fine you if you don't have the utilities set up in your name on the day the lease starts. Be sure to give the utility companies your mailing address if you want a paper bill mailed to you, your email address if you want the bills emailed to you and sometimes you can set up direct pay with your bank account. Do what is easiest and what works best for you. You want to make sure your utility bills are paid on time.
Change Your Mailing Address and Forward Your Mail
You will want to let everyone know you have a new mailing address. Tell family and friends, change your mailing address with government authorities, and change your mailing address with every company you get mail from. You can go online to USPS.com and fill out a forwarding mail notice. This will have your mail forwarded for awhile, until you change your mailing address with everyone.
See also: How to Forward Your Mail When You Move
Here is a list of places to consider changing your mailing list:
Family Members
Friends
Your Workplace
Drivers License/DMV
Passport
Social Security
Bank
Credit Card Companies
Investment Companies, 401K, Retirement Accounts
Accountant
Magazine Subscriptions
Church
Workout Clubs
Sports Programs
Professional Organizations
Online Accounts or Shopping Accounts
Any Memberships You Belong To That Mail You Something
Your School or Your Child's School
Doctors, Dentist and Other Medical Professionals
Life Insurance Company
Health Insurance Company
Rent Insurance Company
Automobile Insurance Company
IRS
Voter Registration
Attorney or Court
Vet
Library
Park District
Cell Phone Company
Here's a detailed article on the topic – change of address checklist: https://9kilo.com/national-moving/change-of-address-checklist-for-a-smooth-relocation
Set Up Your Internet, Cable or TV, and Telephone Providers
You will need to set up your internet and wifi services, your cable or television provider and your land-line telephone provider. Many times you can combine services and have them provided by just one company. Sometimes this is less expensive and sometimes it is not. Some people are opting to not even have a telephone land line and just use their cell phone. And some people are opting out of cable or satellite TV and just using online websites where you can get TV shows, such as Netflix, Hulu, and so on.
There are a few other things you can do to prepare for moving day, as well. If you need to take off a day or a few days of work it's best to give your employer as much notice as possible if you are taking a vacation or a personal day. You may want to order the catering or pizza you are providing for everyone on moving day ahead of time. If you are the type of person who wants to make sure the new apartment is clean and have the apartment cleaned by someone you hire make an appointment with a cleaning company ahead of time, as well. Anything else that you can think of to have done ahead of time will save you time, money and stress.
Moving Day
Now it's time to get excited for the big moving day. A few days before moving day you may want to confirm with the moving company, rental truck company, cleaning company and any family and friends who are helping you. The night before moving day be sure to get enough rest. You may experience a range of emotions which can include excitement, stress, sadness, fear, and more. Don't let this get the best of you. Moving into your first apartment is a part of becoming independent, a right of passage and an important time in your life. Dress comfortably and wear comfortable shoes on moving day. And don't wear anything that you don't want to get a little sweat or dirt on.
Getting Settled
Now that moving day is over you will have to unpack, put together and arrange furniture and go grocery shopping. On your first shopping trip make sure you get the essentials, such as condiments, spices and cooking ingredients you always want to have on hand. You'll also want to get enough food for a few days. This can be a fairly big shopping trip. Also, if you haven't done so already, be sure to get cleaning supplies and any other supplies you need that you didn't get from the above list.
Congratulations on getting your first apartment. Hopefully this is experience is a positive one for you and your family. It is one of the biggest changes in life so be prepared to deal with some emotions. Hopefully they will be happy emotions. If you didn't get everything done ahead of time it's a good idea to look back on the list to make sure everything gets done. It will make for a much smoother transition into living on your own in your first apartment. Being organized and on top of things like paying bills is important. Put reminders on a calendar or in your smart phone if you need to. General upkeep and keeping the apartment clean is also important. It will make for a healthier place to live. Also, your landlord may want to do periodic checks or inspections to make sure you are taking care of the apartment. Welcome home!
See also: Common Household Problems to Fix Before You Move in