How to Stock a Kitchen for the First Time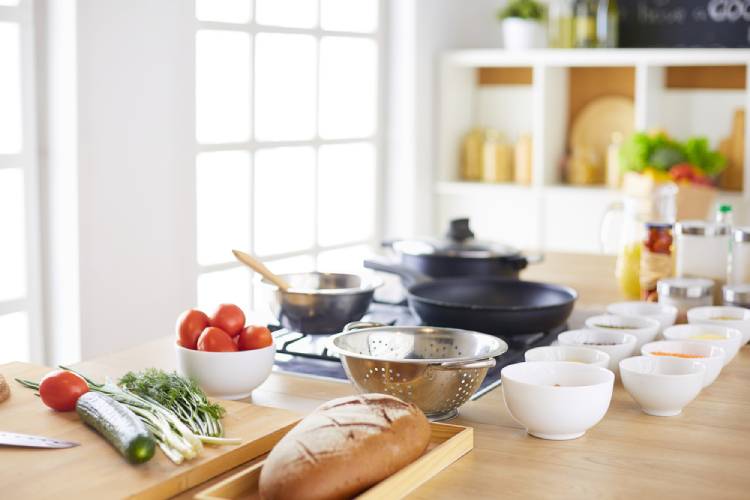 When you Google a question like this, you have finally started adulting. Stocking up your own kitchen is a healthy choice you make as it is a step away from all those ready-to-make foods and take away junk food. No one can survive on instant noodles forever, be it students starting a new life miles away from home or working couples hardly finding time away from their laptops. At some point or the other, you need to stock up the kitchen and put all the YouTube videos you saw to use.
If you are moving across the country or across the world, you cannot carry all the kitchenware in the limited cargo that airlines allow. So you need to stock that kitchen up right from scratch. Though it's going to take you many days, it's no rocket science. By the end of it, cooking a meal all by yourself will feel like an accomplishment. So to get you started, we have cooked up a guide for you:
What Does A Well-Stocked Kitchen Look Like?
A well-stocked kitchen does not mean walking into a fridge full of food. There is so much more to it than just a stock of food. Remember walking into your mother's or grandmother's kitchen and finding different tools for cooking. Finding all the ingredients that cater to multiple flavors, all tools to cook up any dish, and every item at the right place are all indicators of a well-stocked kitchen. Such a kitchen can not be designed overnight.
But if you choose to not stock your kitchen, you'll start identifying the need for missing kitchen items only when you start cooking. But you don't need to jump right into the advanced kitchenware yet, start slow and just learn from the process of stocking up. Here's how you do that!
Making A List
When you move into a new home, you will be greeted with an empty pantry. Note the basic items you need to shop for in order to cook your meals in the first week. Don't prepare a long checklist and add the entire supermarket to the cart. This way you will end up buying more than your needs, resulting in you spending a fortune on things that will stay ignored in the fridge or pantry. Go for the necessities first, and bit by bit fill up the entire pantry.
We have compiled a list of things you can include in your shopping list. But don't just go by our word, your preferences will differ based on whether you like to bake or cook. Even your ethnicity will determine what you shop for; not everyone needs the same spices for their food! So keep it flexible and make your own list of things you might need. Refer to the list below in case you get stuck.
Urgent Essentials You Might Need:
Milk
Fresh fruit
Fresh vegetables
Eggs
Butter
Bread
Oats
Flour
Sugar
Coffee
Meats
Yogurt
Cheese
Salt
Pepper
Garlic powder
Onion powder
Oregano
Chili powder
Paprika
Cumin
Cinnamon
Lentils
Quinoa
Rice
Cereal
Nuts
Items that Can Wait:
Vegetable oil
Canned tuna
Canned soup
Ketchup
Mustard
Sauces
Frozen meals
Frozen pizza
Frozen vegetables
Frozen fruit
Ice cream
Baking mixes
Baking soda
Baking powder
Cornstarch
Vanilla extract
Trail mix
Granola bars
Canned fruit
Canned beans
Dried pasta
Granola
Peanut butter
Jelly and/or jam
Crackers
Honey
Olive oil
Visiting The Supermarket
Once you have made a checklist of the things you need to shop for, get ready for the supermarket. Include baby food in your checklist if any of your children are under 1 year of age. Before that, check if your refrigerator is functioning properly after the move. If it is new, then check if the installation and setup are completed.
Though you might have already cleaned your new home, it's never a bad idea to clean the pantry shelves once again. Because once you start stocking up, cleaning the pantry is going to be difficult. A small tip before you drive to the supermarket will be having a heavy meal/snack before going shopping. An empty stomach is going to tempt you into buying unnecessary things that appeal to a hungry consumer's mind. So eat some instant noodles or grab a hamburger on the way to the supermarket.
Once you are inside the supermarket, don't go haywire and buy everything on your checklist. Buy the essential items like dairy, spices, bread, etc. that can sustain you for a week. When buying perishable foods, shop less so they don't go to waste if you forget their presence in your kitchen. Remember that you don't have to fill up the entire fridge and pantry right in the first week after your move. You can make several trips to the grocery store if something is amiss.
Visiting The Departmental Store
What's the use of all those ingredients if you don't have the equipment to whip them into a meal? You need a separate trip to the departmental store to get your hands on some kitchenware. It can range from basic wares like bowls, spoons, and saucepans to appliances like blenders, kettles, cookers, etc. Before you get any confused, go by this mantra: prioritize!
On your first trip to the departmental store, buy essentials without which cooking even the basic breakfast is impossible—like a pan and spatula to fry bacon and eggs. If you are shopping for kitchenware for the first time, you don't need expensive ones. The basic kitchenware at Target or IKEA will be sufficient and useful.
Stick to the list you make and don't get a load of kitchen gadgets just because they are cheap. A clear minimal kitchen counter is much better than a cluttered one. At the same time, don't go too minimal, get a set of four dishes, spoons, and forks even if you are single. Though you should shop according to your needs, the list we have compiled below can help. This is curated keeping in mind you already might have a kitchen stove:
Kitchenware To Buy In First Week:
Drinking glasses
Mugs
Plates, bowls, spoons
Sauté or frying pan
Larger pot for pasta
Small pot for soups
Jars for storage
Chef knife
Scissors
Gaslighter
Cutting board
Silicone spatula
Serving spoons
Dish soap and sponges
Dish drying rack
Can opener
Kitchen Gadgets That Can Wait:
Serrated knife for bread
Paring knife
Cheese grater
Grinder
Microwave/Oven
Baking sheet
Casserole dish
Oven mitts
Coffee maker
Dry measuring cups
Liquid measuring cup
Measuring spoons
Hand mixer or hand-held blender
Pressure cooker
Toaster
Electric kettle
When you are walking the aisles of the departmental store, don't forget to add some miscellaneous items to the cart. They can easily skip your mind, popping up in your mind only after you spend some time in the kitchen. They include:
Kitchen apron
Trash can
Corkscrew
Pepper grinder
Vegetable peeler
Mesh strainer
Utensil crocks
Spice rack
Coasters
Setting Up Your Kitchen
Once all the stock is in, it's time to put them in their right places. Keep the dairy in the fridge first. Place all the kitchenware in cupboards and cabinets, keeping glassware separate from other materials. Now let's get down to understand where the perishable and nonperishable food items go:
Things That Go In The Fridge
Dairy products like milk, cream, yogurt, butter, and cheese should be stored in closed bottles and containers. Perishable fruits and vegetables like grapes, apples, carrots, lettuce should be stored inside the fridge to keep them fresh. Make sure to clean and dry them before you toss them inside the fridge. Store the eggs near the main body of the fridge away from the door to keep their temperature consistent. While storing meat, place them in ziplock bags or air-tight containers on a low shelf. Frozen vegetables and ice creams should go on the bottom shelf, as it is the coldest part in most refrigerators.
Items That Stay Fresh In Room Temperature
Though it's easy to toss tomatoes inside the fridge along with the other vegetables and fruits, it's going to be a big mistake. The artificial cold temperature of refrigerators ruins the texture of tomatoes. The same goes with bananas, they need room temperature to ripen. There are chances that bananas might decay if kept in the fridge. Store onions and garlic in the pantry. Coffee is best stored outside in an airtight container to retain its essence. Items like potatoes and honey need a cool and dark spot in your pantry. Refrigerating bread will make them stale, so if you don't want dried-out bread for breakfast, keep them outside.
Make Use Of Window Sills
Put the kitchen window sill to some good use. Did you know that you can actually grow herbs on a window sill? A few months after planting herbs on your window sill, you can actually stretch out a hand towards fresh herbs to flavor your meals. These herbs can include parsley, chives, basil, cilantro, thyme, etc. You can even plant lettuce and use it when you are in the mood for some fresh salad.
Making Place For Snacks
You'll be lying if you deny craving for snacks and savories. Apart from all the healthy foods stocked in your pantry and fridge, make some space for comfort foods too. You can store items like crackers, cookies, candies, popcorn, and chips on a lower shelf of the cupboard or pantry. We specifically recommend placing them on a lower shelf so they don't catch your eye every time you enter the kitchen. Store up healthy snacks too, like dried fruits and unsalted nuts.
Setting up a kitchen isn't a difficult task, but you might feel lost at some point. Call your friends or family; everyone has a kitchen and they surely can help you with setting up your kitchen. If you are moving as a student, you might be on a tight budget. In such cases, don't hesitate to ask friends if they can spare some extra food stock. Consider getting a food bank hamper if you are low on pantry supplies. In the end, you can save money by shopping only for essentials to cook up a decent meal.
FAQs
How Long Does It Take To Stock Up A Kitchen?
It can take you anywhere between two days to two weeks to stock up a kitchen. It completely depends on how fast you want it to be filled, how many trips you are willing to make to the supermarket, and so on. We would suggest taking it slow and stocking it over a period of two weeks so you don't end up buying unnecessary items while shopping in one go. If you stock you with good foresight, the supplies in your pantry can last you even as long as 3 months.
What Does It Cost To Stock Up A Kitchen?
You can keep aside $175 and $345 to stock up your kitchen, this will include all your groceries with perishable and nonperishable items. But budget separately for all the kitchenware and appliances. Getting modern appliances can burn a hole in your pockets. Planning and budgeting for appliances will avoid unnecessary expenses. If you are on a budget, postpone buying non-essential appliances and kitchen gadgets.
How Do I Keep A Track Of Perishable Items In My Kitchen?
An organized way to keep track is by making a dated master list of all items in your pantry. Include the number of items and their quantity in this list. Every time you use some item for cooking, update it in the list. Keep the master list attached to your grocery list. As soon as an item gets struck off your master list, add it to your grocery list. This trick is going to save you a lot of effort and ensure an inventory that never goes wasted.
See also: First Apartment Checklist | How to Pack Small Kitchen Appliances