How to Pack Small Kitchen Appliances


VanLines Inc
Secure Storage
Easy Booking Process
Fully Trained Employees
GET QUOTE

Colonial Van Lines
Storage Services
Long-Distance Moves
Corporate Relocations
GET QUOTE

Moving APT
Vetting Process
Award-Winning
Available Nationwide
GET QUOTE
Our Take
Price
Rating
Minimum Shipment Size
Storage
Booking Deposit
Cancellation Policy
Quoting Options
Discounts

Best Overall Value


GET QUOTE

2+ bedrooms




Free 30 Days




10%

Free up to 72 Hrs

Phone / FaceTime / Text

Senior / Same day Booking

Best Industry Reputation


GET QUOTE

1+ bedrooms




30 Days




20%

Free up to 72 hrs

Phone / Facetime

Seniors Discount

Best Customer Service


GET QUOTE

1+ bedrooms







Free up to 72 hrs

Phone / Virtual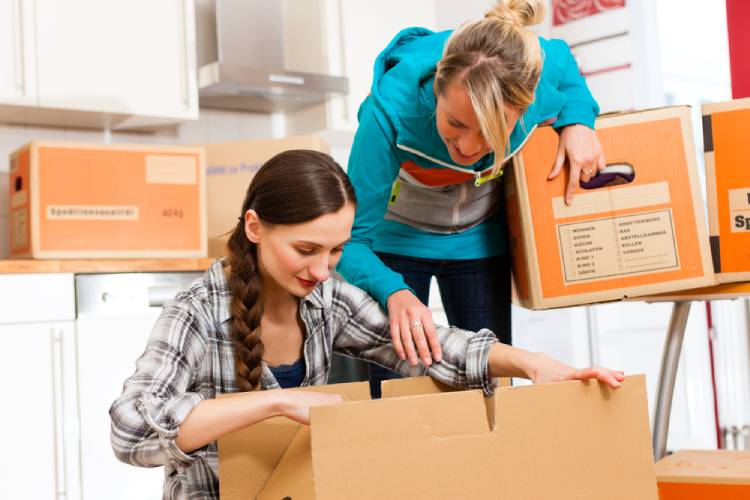 When you're moving, the last thing you want to worry about is packing up your small kitchen appliances. Packing small kitchen appliances can be a daunting task. There are so many things to consider! What if you forget something important and your appliance doesn't work when you get to your destination? Not to worry – with a bit of planning, you can pack your small kitchen appliances like a pro.
Gather the Packing Supplies
Before you begin to pack your small kitchen appliances, you should have yourself a good packing station. The last thing you want is to be running around the house looking for stuff while moving boxes start toppling over all around you! Gather together some:
Boxes – It's best to pack small appliances in boxes as near to their real size as possible. If you have the original packaging your items came in, that is ideal. If not, the goal is to obtain strong boxes that are somewhat larger than the appliances themselves. Packing many tiny kitchen appliances in one big container is also an option.
Packing Paper– You'll need a lot of soft packing paper to protect the kitchen equipment during transit. You'll also require the paper to fill in space as you wrap up the electrical appliances. Dish towels are another excellent way to fill in gaps in your movers. If you run out of packing paper or just don't want to use too much, you may use dish towels as a filler.
Packing Tape- To bundle the papers and seal the boxes, you'll need packing tape.
Cable Ties – Cable ties are required for keeping cords in place. Alternatively, packing tape or rubber bands might suffice here.
Permanent Marker – You should probably label all of your boxes anyhow, but just in case, keep a permanent marker on hand so you can write the names of your small appliances on the boxes.
Organize Your Small Kitchen Appliances
Before you pack up your tiny kitchen appliances, double-check that they're worth taking with you or not! If you have many of them, it's best to sell or donate appliances that don't work correctly or take up a lot of space.
You may have a little appliance that has been difficult to operate recently. You could keep an unusable one for no particular reason, hoping to get it fixed but never finding the time.
It's conceivable that you've wanted to replace a kitchen device for some time now, and the upcoming move is the ideal moment to get rid of your old one and purchase a new one.
Even though you'll most likely be transporting and storing all of your tiny kitchen appliances, it's a good idea to go through them to decide which ones aren't worth packing and transporting for any reason. Appliances that only see the light of day once a year should also be listed for sale or given away.
Wash Your Small Kitchen Appliances
If there are any hard-to-clean areas of your appliances, now is the time to take care of them. Before you pack your small kitchen appliances, you should wash them. In most situations, you won't completely clean your appliances, so a damp cloth or wet wipes should suffice. Wait enough time for the electric units to dry out thoroughly before wrapping them up with paper after you've done it.
Wipe down the outside of all appliances before you pack each one up. While this may seem like an overly simple step, it's crucial for preventing damage during transport. Wear and tear will be minimized if you take a few minutes to ensure that the appliances are sparkling clean. If your tiny kitchen appliances are clean, you should skip this cleaning step.
Unplug Your Appliances
Next, unplug the kitchen appliances. It's important to unplug the appliance before you pack it so that there's no risk of electrical shock or short-circuiting. Not only can this damage your appliance and cause an insurance claim to be denied, but it can cause your insurance to double in cost. The cost for this extra insurance is sometimes so much that it's nearly the price of another plan. Unplug all appliances, even if you'll be packing them up immediately.
Disassemble the Small Kitchen Appliances
Instead of attempting to cram all of your small appliances together, disassemble them. These components, such as the tray in your microwave and the blade in your food processor, must be packed carefully and separately. Arrange these component pieces next to each other before wrapping up everything so you know what goes together and can pack them into the same box.
For the most part, this is a precautionary measure to prevent components from shifting about or within the device and causing transportation damage. Blenders are one example of a kitchen appliance that is simply too big to be used as-is; thus, they must be deconstructed – the plastic or glass jars should be removed and packed separately.
Small kitchen appliances are easy and straightforward to disassemble and pack. But in case you get stuck, look up their operation manuals or seek online assembly instructions.
Secure the Electric Cords
Small kitchen appliances may cause tripping, and their power cords might scratch the connected equipment. And this is precisely why this procedure is so important: It's about keeping the cables of those kitchen gadgets in place to avoid any issues at all. If a kitchen equipment's power cable can be removed from the central unit entirely, remove it. Then fold the wire in half a few times without too much pressure, wrap it completely in soft packing paper, and tape it to keep it from unfolding.
If an appliance's power cord won't detach from the device, fold it carefully, keep it in place with zip ties or rubber bands, and finally wrap it in packaging paper and tape it down.
When you pack small appliances, keep in mind that the smaller the box is, the closer it will be to its actual size. Most of the time, this means a small to medium-sized box will work. Avoid packing several little things together in one larger container because it's never a smart idea to fill a box with too much stuff even properly secured.
Wrap the Appliances in Packing Paper
Once you've located the ideal box, wrap the small kitchen appliances in packing paper. Once you've been working for a few minutes, you'll probably have a box with enough packing material to fill it up. Wrap the appliances one at a time so they don't collide together, and so they can be kept separate from larger items within the box.
If the small appliance has a fixed door, wrap it tightly with packing tape from the outside. Then wrap each object in packing paper, including small parts. For fragile components and the main bodies of each device, use two to three layers of paper. Wrap the paper firmly and fix it with packing tape to keep it in place.
Line the Boxes with Packing Paper
Next, line the bottom with a bed of crumpled packing paper. This will cushion each appliance and provide a surface to set it on while you wrap it in more precious bubble wrap or soft-packing peanuts. There's no need to wrap up both sides of your small appliances, but be sure to leave an access point so you can get them out when you need them.
You might also use crumpled newspaper instead of normal packing paper since the ink won't be able to reach the appliances and may cause ugly stains. If you have any bubble wrap, it can be utilized to construct that initial bottom cushion, which must absorb any bumps along the journey.
Place Small Kitchen Appliances in Box
Put the wrapped small kitchen appliances into their box. If you have a medium-sized box, it is advisable to place them all in one single layer. However, if the appliances can't fit, try your best to lay them out, so they are not touching each other. Remember that when there's no room left for packing material, you should keep the kitchen appliances themselves off of the bottom of the box.
Fill the Gap with Crumpled Paper
Use more crumpled paper to close up any spaces left open by the appliances. Continue to fill any remaining room with soft packing materials until you're certain it's completely packed and won't move around inside of its container. This may require you to use some of the packaging material you've already used, but it's better to be safe than sorry.
Close the Boxes
Now that the small kitchen appliances are in their box and everything is secured with packing materials, tape down or seal the container. Some people prefer to add labels, but this is just a waste of time and tape if the boxes are sealed well. Write the destination on the box if you need to, but be aware that it can still get damaged when handled by professionals, although most companies have a system for returning items.
If you want to provide extra security for your small appliances, seal a second box around the first box. This will make it much more difficult for your small kitchen appliances to break free during transit, but it also requires extra tape and cardboard.
Affix the Box's Label
When you are done, label the box with its contents. For more specific purposes, write down every small appliance packed inside of it. Also, write down whether any fragile or expensive components must be handled with care. With packing all set up and labeled, you're ready to ship out your small kitchen appliances.
Don't Forget the Instructions Manuals
The last thing you want is for something important to be left out of a box. Your appliance's instruction manuals are tiny and easy to overlook, so it's important to be thorough. Make sure you pack up all of your appliances' instruction manuals along with the main unit or place them in a box by themselves. You don't want to miss something like turning down the heat on your stove before putting it away for storage!
Conclusion
Small kitchen appliances are essential for any household, but they can be a hassle to pack and ship. By following these simple steps, you can ensure that your small appliances arrive at their destination safely and without damage. Be sure to label the boxes correctly and provide extra packing material if needed. Most importantly, don't forget to include the instruction manuals!
Frequently Asked Questions
How do you pack kitchen appliances for shipping?
You'll need at least a handful of rolls of packing tape, as well as a lot of packing paper. Make sure you get at least one large roll of bubble wrap and soft moving blankets. You'll need a dolly and straps to pick up the appliance on the dolly because most appliances are hefty. Follow the above-mentioned tips to pack your kitchen appliances for shipping.
How do I ship small kitchen appliances?
To protect your equipment, wrap the power cable with packing paper.
Cover the unit with a paper pad and tape it in place.
Pack the appliance by lining the bottom of a box with crumpled newspaper.
Fill in gaps with crumpled paper, then label the box.
How do you pack a toaster oven for moving?
Wrap small appliances, such as a toaster oven, in packing paper and then tape them. If the appliance is larger, like a microwave, use paper padding. The finishes on the devices are protected by wrapping them in foam, bubble wrap, or paper packaging. It is important to seal the exterior and interior of the appliance with plastic repair tape.
How do you pack breakable kitchen items?
Wrap everything securely in plastic wrap to keep groups together. If they're breakable things, wrap each one separately before stacking them. Otherwise, you may simply insert a piece of packing paper between them. Fill the gaps around your plates and bowls with miscellaneous stuff.
Also See: List of Cheap Movers in the US | Steps to Survive a Last-Minute Move