What to do When Movers Break or Lose Your Stuff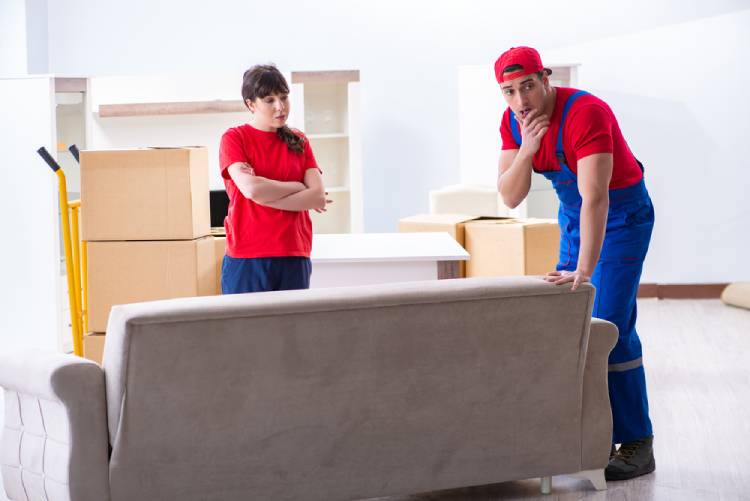 Movers breaking or losing your stuff is certainly a moving nightmare come to life. A scenario that's even worse is when they hold your belongings hostage until you pay them the amount they desire. The whole ordeal of dealing with such situations makes moving so much more stressful than it already is. It's also one of the main reasons people are apprehensive about hiring movers.
Fortunately, there are a couple of things you can do to get decent compensation or reimbursement for items that are lost or broken during a move. We'll get into that and share tips on how to avoid picking a fraudulent moving company. After all, it's best to safeguard your belongings from illegitimate movers. Read about it all in our guide on what to do when movers break or lose your stuff.
Precautions To Take Before The Move
Before we go into the details of what you could do once movers break or lose your stuff, let's understand a few easy precautions that can be taken to avoid being in such a situation.
Create An Inventory
To stay on top of all the boxes you're moving, it's absolutely necessary to create a master list of everything that's getting moved. A neat and organized inventory will help you keep track of the number of boxes and items you're taking along with you. Consider this a non-negotiable task that must be completed before moving day.
Whether you choose to keep track with a physical binder or an online spreadsheet, make sure you have a couple of copies so that you can provide one to the moving company. On delivery day, your inventory will serve as a guide and tell you which boxes made it safely and which sadly didn't make it.
Also Read: Create A Moving Inventory List To Track Your Boxes
Pay Attention To Expensive Items
At the time of packing and creating your inventory, make a note of the expensive items. The list could include your antiques, artwork, fragiles, or even your TV. Once you have a comprehensive list to refer to, you can begin taking pictures of all these items. Remember that anything that has a valuable price tag must have various photos taken of it.
We suggest that you take these pictures from different angles and save them on your computer immediately so that you have a date and time stamp to go back to. Upon noticing damages like a scratch or a crack, you can immediately open the folder filled with the pictures you took. The proof gives you the upper hand for when you wish to reclaim funds for the damage done. The photographs are important because they serve as factual evidence and will make your argumentative statements stronger.
Pack Well
When packing, you have the opportunity to protect and secure your belongings in a manner to best protect it from speed bumps. Be sure you're using sturdy boxes and are taping the bottom with enough tape so the items inside don't fall through.
Also make it a point to use enough packing paper and bubble wrap when it comes to packing fragile items. Once you pack a box, lift it to check the weight and double check that it's not overpacked. Leave enough buffer space at the top and don't forget to label even a single box. An unlabeled box could easily get misplaced and it will probably be too late before anyone realizes it's missing.
Get Valuation Coverage
All professional moving companies are legally required to provide value protection, and a high-quality moving company will offer you different kinds of coverage options. You must choose the one that suits you best so you have some reimbursement in case of damage to your belongings.
Typically, your moving company will offer you these two types of valuation coverage:
Released Value Liability Protection: As per this policy, movers will pay you 60 cents per pound for the broken or lost item. This means that if you have a 20-pound piece of fragile glassware that's worth $1000, you'd just get $12 – a very small fraction of the total value of the broken item. If you have plenty of expensive items, this is not the ideal path to take. You'd hardly get your money's worth of repairing or replacing the item that was broken or lost.
Full Value Replacement Protection: Full Value Replacement Protection is also widely known as Full Value Protection. This is the more expensive yet recommended route to approach if you have a good number of expensive items that you're moving. With this insurance option, your movers will repair, replace or pay you for replacement for the item that they broke or lost during the move. There are a couple of conditions that allow a customer to opt for this plan. One of these is that the value of your belongings must meet a certain mark and only then can you opt for this coverage option.
All in all, you won't get very far with Released Value Liability Protection in terms of reimbursements for damage. And in the case of Full Value Replacement, things could look more inviting but be prepared to pay a larger upfront cost. Keep in mind that the coverage offered by moving companies is not the same as insurance, and you can also opt for third-party insurance over and above paying for coverage.
Also Read: What Is Moving Insurance And How You Can Pick The Right One
Understand The Moving Contract (Bill Of Lading)
At the time of booking a moving company, one of your primary responsibilities as a customer is to read and go over the Bill of Lading. This simple step can help you understand what you're signing up for. The Bill of Lading will state the conditions and solutions set down by the moving company for when any issues arise.
Make sure you understand the terms and all the fine print laid down before actually putting down your signature on it. Legally, your mover is liable for when they lose or break any of your belongings so this should be mentioned in the contract. We suggest keeping your Bill of Lading safe because it will only make your case legally stronger if things go south.
Things To Do If Your Belongings Are Lost Or Broken
File Claims Without Delay
As soon as you know that an item from the truck is lost or broken, we suggest you begin the paperwork to file a claim against your movers. To file a claim, you'd need to take photographs of the damaged items. Parallel to that, you'll need to present a picture of how the item looked prior to the move. It goes without saying that time stamps of when the photo was taken must be prominently displayed.
According to the rulebook, you'd normally have 9 full months to file a claim from the date of delivery but it's best to not delay the process. Upon receipt of the claim, your mover will have 120 days to compensate you for the damages or loss of your belongings.
You must note that in case you don't reach a satisfactory settlement with your mover, you have the option to request for arbitration.
What Is Arbitration? – All moving companies are required to be part of an arbitration program where disputes regarding damage claims are settled by a neutral party (known as the arbitrator). The arbitrator will be the sole decider and have the final word on the settlement.
Filing a civil lawsuit is the other approach if you're not happy with the settlement, but it can be quite expensive. It's also time consuming because it involves hiring a lawyer and going through the various steps like the pleadings, trial, appeal and so on. You will need to dedicate plenty of personal time from your schedule once you go down this road.
Report The Moving Company On Online Platforms
Once you're sure that you've just become a victim of a moving scam, it's necessary to put out an alert about the company on certain reputable platforms. By doing so you'd be saving someone else from falling prey to the tricks of the unprofessional movers.
The simplest way to report the movers is by writing your experience with them on commonly browsed platforms like Google Reviews, Yelp and Facebook. Writing your experience on social media platforms will warn your friends, family and so on. But to take things up a notch, you should also leave a review for other customers that gives details of what happened to you on the following –
Better Business Bureau (BBB): The Better Business Bureau is a private nonprofit organization that focuses on improving trust in the marketplace. One of the marks of a reliable company is an A+ accreditation from the BBB. You can look for the profile of the moving company you hired and leave a formal complaint on the website of the BBB. It's also advisable to check previous reviews and ratings of a moving company on the website before you hire them.
Department Of Transportation (DOT): Consider filing a complaint with the US Government DOT as well. It does a good job of keeping a record of the number and categories of complaints filed against a moving company's USDOT number. Head to the Federal Motor Carrier Safety Administration (FMCSA) website to file your complaint. The FMCSA keeps track of patterns of complaints, and this will eventually help bring down a fraudulent moving company. Something to note here is that FMCSA won't individually solve the issue; it'll instead remain in their records and help them gauge if a formal investigation is required.
American Moving And Storage Association (AMSA): The AMSA is a nonprofit trade association that represents members of the professional moving industry. If you wish to truly spread the word about a company's lack of professionalism, fill out the general complaint form available on this platform's website. If the complaint is critical, AMSA can revoke the moving company's membership thus giving a sign to other potential customers that the company is fraudulent.
Overall, we'd also suggest that it's necessary to refer to these 3 organizations at the time of researching a moving company. You can get enough information and insights to gauge the credibility of the mover via the Better Business Bureau, Department Of Transportation (DOT), American Moving And Storing Association (AMSA) and the Federal Motor Carrier Safety Administration (FMCSA).
Also Read: USDOT Number – What Is It And How To Check It?
Things To Keep In Mind To Avoid Hiring Fraudulent Movers
Take some time to read and understand a booklet by the name "Rights and Responsibilities When You Move". You'll mostly receive this informational copy from your mover itself. This booklet is prepared by the Federal Motor Carrier and Safety Administration (FMCSA) and will help you get a holistic understanding of all your rights as a customer hiring movers.
Your mover could be unreliable if they ask you to pay a large deposit upfront before even delivering your belongings to you. Ideally, you should be paying just 20-25% of your total although this will vary from company to company. We also suggest paying via credit card because it can help you avoid a loss in case of fraudulent activity.
Always shortlist at least 3 moving companies before settling for one company. Once you identify the 3 most capable and trustworthy movers, pick the one that suits your needs best.
Make sure the moving company is upfront about scheduling your delivery window and also willing to state it in the moving contract too. This will let you know the possible dates on which the truck could arrive and know when to act if the truck doesn't arrive.
Spend enough time doing extensive research on the moving company you consider. Google Reviews and ratings on platforms like the Better Business Bureau are good places to start verification of the legitimacy of the company.
Avoid booking a moving company that refuses to do an on-site inspection and perform an evaluation of your belongings being moved. A reputable moving company would always want to take the time to understand the value of the belongings they have to move.
Conclusion
It isn't easy to see your favorite showpiece shattered into pieces or even worse, never arrive at your new home. But mistakes happen, and filing a claim, using the arbitration process or taking the issue to small claims court are portals through which you get compensation for the broken or lost items. Overall, now that you know your mover's liability in the event of any damages and the sort of role you play, you should be able to handle such an unforeseen event.
FAQs
Do Movers Pay For Damages?
Most moving companies have conditions in place to pay for damages stated in the Bill of Lading. To get reimbursed, you will have to estimate the amount of damage done and take photos for evidence you can begin the process of filing a claim. You will then have to wait for a reimbursement offer. Also ensure you have some sort of coverage plan in place.
What Happens If A Moving Company Loses Your Stuff?
Upon confirmation that your movers have lost or misplaced your stuff, you should prepare to file a claim against the company. We also suggest that you read the moving contract (Bill of Lading) to understand the process the company has in place for such a situation.
A reputable company will most likely compensate for the loss of your belongings but a crooked moving company might not revert to the complaint. This is why it is extremely important to spend enough time picking a top-notch company.
Do Moving Companies Lose Your Stuff? Though not always, there certainly are several instances of moving companies losing their clients' possessions. In fact, there are over 7,000 incidences of lost items and scam moves reported to the Federal Motor Carrier Safety Administration (FMCSA) on average each year, This is why it's important to get insured and to know just what to do in case this happens to you.
See also: How to Recognize Honest Nationwide Movers | What To Do If Movers Are Holding Your Things Hostage