Emergency Moving: Steps to Survive a Last-Minute Move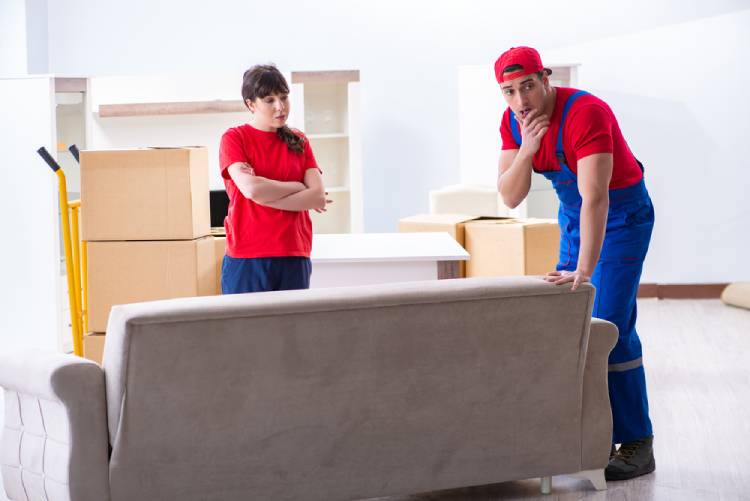 It's challenging to move home for various reasons when you're concerned about the financial strain. You say goodbye to your dear friends when you leave them. You could be leaving behind family members, buddies, or anybody else important to you. You may be fearful about what lies ahead in the future.
Despite all the planning and preparations you have made, there's always that nagging feeling in your stomach telling you that something could still go wrong. The bottom line: Moving is hard.
Moving on short notice is not for the faint of heart. If you have little time to prepare for a move, it will add more stress to an already devastated environment. However, it will be nerve-wracking if you must relocate in a hurry or emergency.
It's not anything new to be moving in a state of emergence. It can happen to anyone: You find out your company is moving, or you're being transferred on short notice. You're in a panic. How will you get everything moved? For the next few days, weeks, or months, where will you live? What about pets and plants? And what if there's an emergency like a natural disaster forces you to leave before your new home is ready?
Don't worry, and this article provides some steps on how to survive these last-minute moves with minimal stress and maximum efficiency.
Step 1. Don't panic
It's natural to feel panicked and overwhelmed when you're in the middle of an emergency. However, if you panic, you'll only make things worse. There's no use in making rash decisions or taking unnecessary risks. Instead, you should keep your cool, calm, and collected if you want to have a chance at resolving the problem.
Keep in mind that decisions made in a state of panic are not usually the best decisions. You may regret them later on. The main issue, though, is that it's already too late when you realize something is wrong. So try to remain cool and level-headed so you can make good judgments.
Take a deep breath to relax as much as possible and think about your relocation choices before proceeding.
Also See: How to Manage Stress When Moving | Ways to Stay Calm During a Move
Step 2. Start by finding a good place to stay
If you're in a hurry to relocate, you may not have time to find a permanent place. In this case, you'll need to find a temporary solution. You may have to get creative and think outside the box.
Here are some ideas:
Stay with friends or family members
Rent a room or apartment from a friend or acquaintance
Find a short-term rental (such as an Airbnb)
Check into a hotel or motel
The important thing is that you don't spend too much time stressing about the where and how. No matter your situation, there are always options available to you. It may not be ideal, but it's better than being homeless. Just do your research beforehand to find the best option for your needs. Just take things one step at a time. You may also read our article on How to Find Temporary Housing when Moving.
Step 3. Get your transportation done
Once you have a place to stay, it's time to focus on getting your transportation done. This is especially important if you have a lot of belongings to move. You can use the following ideas to get your transportation done.
Rent a truck or van
Use public transportation or ride shares
Car
It's important to choose the option that will be the most efficient and least stressful for you. You'll need a moving truck to transport all of your belongings from one location to the next. If you're renting a truck or van, make sure you have enough space for everything you need to move. Remember to get quotations from two or three firms before making a selection.
If you're moving from the city to the burbs, you'll probably need a vehicle, use public transportation, or rideshares. Make sure you have enough money to cover the costs. The sooner you've organized your moving process, the more time you'll have to tackle everything else.
Also Read: Two Men and a Truck Review | Budget Truck Rental Review
Step 4. Create a last-minute moving checklist
Creating a moving checklist to manage the high levels of tension with an emergency relocation may help. A very detailed moving checklist will come in quite useful. This checklist should include everything from packing your belongings to calling the utility companies in your new location.
When you must relocate on short notice, the optimum solution is to employ a specialized reduced form of a regular moving calendar since you won't have time to complete all pre-move activities. By having a checklist, you'll know what still needs to be done, and you can plan accordingly.
This will help take some pressure off and make a move less stressful. If you're not sure how to create a moving calendar, there are many templates online that you can use as a guide.
Considering how much time there is until they move, categorize these activities into things that must be done right away, what can wait a week or two, and what needs to be completed in the days immediately preceding the relocation. Then add in what you'll have to accomplish on moving day. As new activities occur to you, note them in your moving calendar.
Step 5. Thinking beyond boxes
Packing is mostly the first thing that comes to mind when faced with a move, especially a last-minute one. But what about all of the other tasks you'll need to take care of?
Schools:
Contact the school district and provide them with your new address
Enroll your child in the new school district
Get copies of your child's transcripts and records
See Also: 10 Best Public High Schools in the U.S. | How Can I Keep My Child in the Same School if I Move?
Employment:
Give your employer notice that you're moving
Get a letter from your employer stating that you're employed there and on what date your employment will end.
Start putting together a resume
Look for job postings in your new area
You may also read our article on Job Relocation Guide
Utilities:
Call the utility companies and provide them with your new address
Arrange to have the services turned on in your new location on or around the day you're moving
Disconnect the services at your old location
Insurance:
Contact your insurance company and provide them with your new address
Review your policies to make sure you're still covered in your new location
If you have pet insurance, contact the company and provide them with your new address
If you have health insurance, contact the company and provide them with your new address
In a time crunch, it's easy to forget about some of the details of moving. But by taking care of these essential tasks, you'll be one step closer to a successful relocation.
Step 6. Move only your essentials
When you're moving on short notice, it's important to be strategic in what you take. You don't want to overpack and wind up with a vehicle that is too heavy to move or items for which you'll need extra packing materials or to pay high transportation costs and the hassle of finding a storage spot.
Don't bother loading and moving any objects that
1. You don't like
2. You don't want, and
3. You don't intend to use it soon.
Instead, focus on packing only the essentials. Anything that can be easily replaced can stay behind. Essentials include Clothing, Toiletries, Furniture necessary for your daily life, Bedding, Kitchen supplies, and Necessary electronics.
Packing these items will help you feel more settled in your new home and make the transition smoother.
Step 7. Get rid of unwanted items
One of the best things about moving is that it provides an opportunity to get rid of unused or unwanted items. If you're moving on short notice, this is the perfect time to declutter your home. Go through each room and get rid of anything you don't need or want.
Keep supplies in three separate piles: donate, recycle, and trash.
Donate: You may give pretty much anything to Goodwill, as long as it isn't damaged. Bags of clean laundry and fluffy towels may be donated to your local animal shelter, while ready-to-eat food (particularly canned) will go a long way at your local food pantry.
Recycle: Electronics, paper, cardboard, and other materials that can be recycled should be placed in designated recycle bins.
Trash: Anything that can't be donated, recycled, or repurposed should be thrown away. This may include broken appliances, furniture, mattresses, and other large items.
By decluttering your home before you move, you'll simplify the process and reduce the time it takes to settle into your new home.
Also Read: Where to Donate Clothes Near You | Where to Donate Your Furniture
Step 8. Hire a junk removal company
If you have a lot of junk to get rid of, consider hiring a junk removal company. These companies will come to your house, remove all junk, and take it away for disposal. This is a great option if you don't have the time or energy to get everything yourself.
For quick and efficient clean-up, a professional waste removal firm like 1-800-GOT-JUNK, Junk King, College HUNKS Hauling Trash, LoadUp, and Waste Management can help you.
Based on the number of workers at the site, trash removal businesses charge for items by item, by the hour, or both. This makes it easy to budget for your move and ensures that you won't be charged for anything more than you need. While hiring a team to clean out the garage and assist with manual labor may cost several hundred dollars, it allows you to focus on other things.
Also See: How Does Junk Removal Work | Cost of Junk Removal
Step 9. Set up a packing station
Creating a packing station is important if you're moving on short notice. This is a designated area where you will pack all of your belongings. By having a specific space for packing, you'll be able to stay organized and efficient.
The packing station should include the following:
Boxes of various sizes
Tape
Markers
Scissors
Packing peanuts, bubble wrap, and other packing materials
Labels
Plastic bags for screws
Nextdoor.com and the U-Haul Box Exchange are two great places to locate free moving boxes, liquor stores, and large retail shops. However, finding free boxes and other moving supplies takes time. It may be worth it to purchase these materials from U-Haul, Home Depot, or even Amazon if you're in a hurry.
You can set up your station on any flat surface, such as a kitchen table, dining room table, or floor. Just make sure that everything you need is within reach.
By having all of your supplies readily available, you'll be able to pack quickly and efficiently.
See Also: How to Use Packing Paper For Moving? | Leading Packing Supplies Sources for Your Move
Step 10. Use quick packing tips that work
A few packing tips will help make your move go more smoothly.
Pack now and sort later: Packing is time-consuming, so starting as soon as possible is best. By packing now, you'll have less to do on your move. And, if you don't have time to pack everything, you can always leave the essentials until last.
Set up boxes as you need them: If you're packing a few items at a time, set up the boxes as you go. This will help keep everything organized and make it easier when it comes time to pack the boxes.
Pack heavier items on the bottom and lighter items on top: Heavier items should be packed on the bottom of the box so that they don't move around during transport. Remember to pack everything tightly during the relocation.
Pack fragile items in bubble wrap: Fragile items should be protected with bubble wrap or packing peanuts to prevent breaking; you can also wrap them in soft materials like socks and towels.
Pack electronics in their original boxes: If possible, pack electronics in their original boxes. This will help to protect them during transport.
Label each box: By labeling each box, you'll know exactly what's inside and where it needs to go when you arrive at your new home.
Read Also: How to Pack Heavy Items for Moving | How to Pack for a Move – Packing 101 Checklist
Step 11. Pack an essentials box
One of the best ways to make the transition to a new home smoother is to pack an essentials box. This box should include all of the items you'll need for the first few days or weeks in your new home. This box is also known as the First-Night box to avoid confusion.
Some of the items you should include in your essentials box are:
Toothbrush and toothpaste
Shampoo and soap
Bedsheets and a blanket
A change of clothes
Towel
Basic kitchen supplies, like plates, cups, and silverware
You'll have everything you need to settle into your new home by packing an essentials box. And, you'll avoid having to go through all of your belongings and pack them up again.
You may read our article on What You Need to Pack in an Essentials Box When Moving to get more information on this.
Step 12. Alert friends and family of your move
One of the best ways to make a last-minute move less stressful is to alert your friends and family of your plans. This way, they can help you out in the days leading up to your move.
If you have children and own pets, ask a friend or family member to watch them for a few hours on moving day. This will ensure that they are safe and out of the way while carrying them, allowing you to focus on getting everything packed and ready to go.
Ask a friend or family member to assist if you're having trouble carrying big objects. By having help from friends and family, you'll be able to get through your move with less stress.
Read our article on moving with Pets.
Step 13. Paperwork well
One of the most important things to remember when moving is to keep all of your paperwork organized. This includes your moving permit, driver's license, and registration forms. Make sure to keep all of these documents together in a safe place.
You may also want to keep a copy of your passport, social security card, and birth certificate with you during the move. This will ensure that you have all of your important moving documents with you.
Step 14. Hire a last-minute moving company
One of the main advantages of dealing with professional movers is that they can help you when things are tight. If you're feeling overwhelmed by the thought of moving, consider hiring a last-minute moving company. These companies offer quick and efficient service, and they can help make your move go smoothly.
If you have movers coming, it's fine to leave a few things until they arrive; keep in mind that packing materials and labor costs will increase because you're calling in last-minute emergency moving services, and you'll probably spend more than normal movers' rates.
Before hiring a last-minute moving company, make sure to research their reputation. Read reviews from past clients to get an idea of what to expect.
Also See: List of Cheap Movers in the America | Moving Advice for Beginners
Conclusion
No matter what your emergency is, moving is always a stressful process. By following the steps we've outlined in this article, you'll be able to make a move less stressful and more organized. If you're having trouble carrying big objects or packing fragile items, ask for help from friends and family. And, don't forget to keep all of your important documents organized and safe. With these tips, you'll be able to make a smooth transition to your new home.
Frequently Asked Questions:
How do you handle the last-minute move?
Don't get worked up. Use your time wisely. Take a long breath and make a thorough plan for relocating before you begin working.
What should I do if I'm running out of time for moving?
Consider hiring a last-minute moving company if you're running out of time. These companies offer quick and efficient service, and they can help make your move go smoothly.
Is hiring movers worth it?
Hiring movers can be a great way to reduce stress during a chaotic time. Make sure to do your research before hiring a last-minute moving company.
Will my pets be at risk when I'm moved in an emergency?
No. they won't, but pets should be kept safe and out of the way during a move, and you may want to ask a friend or family member to watch them for a few hours on moving day to avoid the risk of any menace.
What should I do if I'm having trouble carrying big objects?
If you're having trouble carrying big objects, ask a friend or family member for help. By having help from friends and family, you'll be able to get through your move with less stress.